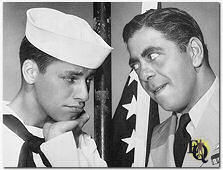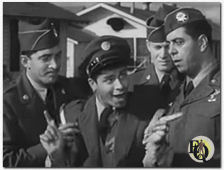 Above left: Sailor Beware (1952) Jerry Lewis and Robert Strauss.
Above right: (From L to R) Dean Martin, Jerry Lewis and Robert Strauss in Jumping Jacks (1952)

True stardom would not be his until Stalag 17. Robert Strauss is an animal or rather, the "Animal" of Billy Wilder's subversive 1953 World War II POW yarn, Stalag 17. Distinguished by his deep baritone croak, Strauss originated that role on Broadway several years before reprising it in Wilder's famous adaptation. The role gained Strauss widespread recognition, including an Academy Award nomination for Best Supporting Actor. His wife Audrey had a small part in Stalag 17 as Russian woman prisoner.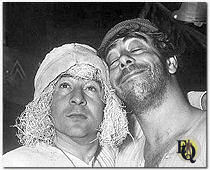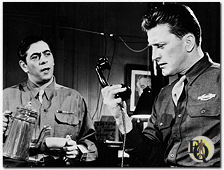 Above left: Sugar Lips Shapiro (Harvey Lembeck) and Animal (Robert Strauss) laughing their way through the war in Stalag 17 (1953).
Above right: Robert Strauss opposite Kirk Douglas in 1953's Act of Love.

He went on to become one of the most recognizable faces of the '50s, popping up in TV and film roles alike. His memorable comic characters included a maniac called "Jack the Slasher" in the 1953 Bob Hope comedy film Here Come the Girls .
Due to an illness Robert collapsed on the set of Atomic Kid (1954). Three-quarters of the scenes had already been shot at Republic, but Mickey Rooney was very fond of Strauss and insisted that the picture wait until he's better. With the prospect of Strauss being bedded for a month, Mickey felt so sure that it wasn't a heart condition that he's insisted on waiting. He telephoned Herbert Yates in New York who consented to the postponement.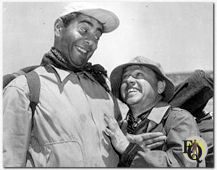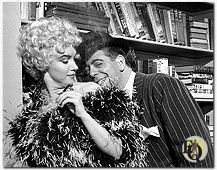 Above left: Robert Strauss with Mickey Roony in Atomic Kid (1954)
Above right: Robert appeared in The Seven Year Itch.

Robert appeared again under the direction of Wilder in his 1955 Marilyn Monroe comedy, The Seven Year Itch, this time as Mr. Kruhulik, a gawking janitor. The character actor had the opportunity to work with other legendary performers as well, and played the shady Schwiefka opposite Frank Sinatra in The Man with the Golden Arm the same year. Strauss appeared in the 1956 war film Attack! with Jack Palance, Eddie Albert and Lee Marvin.
Strauss still had a hankering for his bar days and, reportedly in 1956, contemplated opening a restaurant near his home at Nyack, N.Y.
Following his appearance in Broadway's Portofino, a short-lived 1958 disaster, Strauss went on to character roles in The Bridges at Toko-Ri and Wake Me When It's Over, plus a number of low-budget films for producers like Albert Zugsmith. He also played Daisy Mae's cretinous suitor Romeo Scragg in the 1959 musical comedy Li'l Abner, based on the Broadway show.
In 1960 Robert and Audrey divorced. Robert married Virginia Deeb the following year in Santa Barbara on Nov 17. 1961.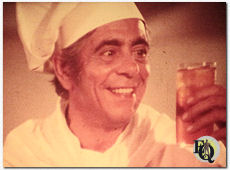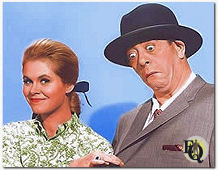 Above left: Robert Strauss in a 50s-60s commercial for "Salada Iced Tea".
Above right: Strauss had a recurring role on Bewitched (1966) as conniving private investigator Charlie Leach.

Strauss became familiar to television viewers through his appearances in Bonanza (1962), The Beverly Hillbillies (1967), The Monkees (1967), and a recurring role on Bewitched (1966) as conniving private investigator Charlie Leach, who was one of the few mortals who knew Samantha was a witch. He also appeared on The Alfred Hitchcock Hour (1965), The Phil Silvers Show (1956), and Green Acres (1966). He played a goldfish-poking bad guy who was a murder victim in the 1959 Perry Mason episode, "The Case of the Dangerous Dowager." He played Pete Kamboly in a 1965 episode, "The Case of the Thermal Thief."

His final film consisted of a solo "tour de force" performance in the experimental feature The Noah, in this one-man-show (filmed 1968, not seen until 1975), Strauss played the only survivor on earth after a nuclear holocaust.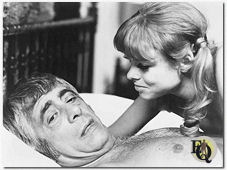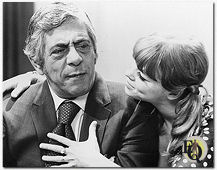 Above Dagmar's Hot Pants (1971) had Strauss playing opposite Inger Sundh.


Strauss was incapacitated during the final years of his life from the effects of a paralyzing stroke. A stroke in December 1974 left him in a coma. He died from an additional stroke on February 20, 1975. Cremated his ashes given to family or friend.