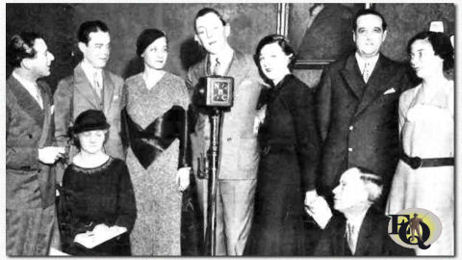 Above: Cast of Moonshine and Honeysuckle Stanford, Ben Lackland (David), Theresa Whittler (Gypsy). Louis Mason (Clara), Ann Elstner (Cracker) Bradley Barker (Len Boyd and "Bones") and Sara Haden (Piney). Seated: Lulu Vollmer and Robert Strauss (1933).

The cast of Moonshine and Honeysuckle (NBC, 1933-1936). (see above) Robert Strauss played Pink. In 1936 following the success on radio Moonshine and Honeysuckle was also performed in theatres, directed by the author, Lulu Vollmer, it featured Robert Porterfield, Robert Strauss and Theresa Whittler in the cast.
Author Lula Vollmer, whose Moonshine and Honeysuckle ran for two years as a weekly radio dramatization returned to the air in 1934 with a serial comedy-drama of mountain folk Grits and Gravy. The episodes, described the adventures of Cahe Crump, a moseying, happy-go-lucky mountaineer who "gets the call" to be a preacher. With Cahe will be his wife, Sugar a son Lips, and other typical characters. Robert Strauss, himself a native of the Tennessee mountains had the lead role. Others in the cast are Marjorie Mayne, William Anthony Janney, George Gaul, Fred Stuart and Peggy Paige.
Bob Strauss also played Nappy Beagle in Lulu Vollmer's Southern Mountaineer serial The Widow's Son. (1935-1936)
By March 29. 1937 Our Gal Sunday was announced as a new dramatic series based on the play in which Ethel Barrymore delivered her famous line "That's all there is, there isn't any more!". It was to be heard Monday through Fridays from 12:45 to 1:00 PM. The sketches described the adventures that befell a young orphan girl and her two old guardians who devoted themselves to guiding her life in the environment of a modern mining town. Evelyn Abbott appeared in the title role. Robert Strauss and Jay Jostyn were heard in the roles of miner "Lively" and "Jackie," respectively. Our Gal Sunday was broadcast on CBS from 1937 to 1959
Mrs. Wiggs of the Cabbage Patch premiered on CBS Feb. 4 1935. The soap moved to NBC a year later and end production Dec 23. 1938. Between 1936 and 1938 Strauss got a recurring role as "Pa Wiggs".
In 1935 Hillbilly Heart-throbs (which premiered on May 22. 1933 aka Heart-throbs of the Hills) became Dreams of Long Ago (NBC Nov 6, 1935 - Nov 30. 1938) it was a drama based on old folk songs and was presented like a musical play. Starting Oct 10. 1937 Robert played about 20 episodes, the last one on Oct 9. 1938.
Still unmarried, in 1938, he purchased a home on the Cold Spring - Carmel Road about one quarter mile from Mckeel's Corners and made extensive alterations.
CBS broadcasted a 15 minute adventure called Howie Wing. Howie (1938) was a daring young air ace with the Cadet Aviation Corps who later became co-pilot for Capt. Harvey, the owner of a South American airline. In January,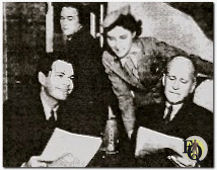 1939, Kellogg promoted Howie Wing by arranging the first dramatic broadcast in radio history made from an airplane, Howie Wing, a Saga of Aviation. (Jan 20, 1939). The cast included: William Janney (Howie Wing); Mark Parker (Donna Cavendish); Neil O'Malley (Capt.Harvey); Robert Strauss (Typhoon Tootel); Raymond Bramley (Burton York). Typhoon nears his half -century birthday, but he's still tops as a mechanic. He served under Harvey in the War, and has stuck closer than a brother ever since, even though the captain has tried to shake him off. As a new character in he furnishes the comedy relief in the show.
Above right: In January, 1939, Kellogg promoted Howie Wing by arranging the first dramatic broadcast in radio history made from an airplane, Howie Wing, a Saga of Aviation. (Jan 20, 1939) (L to R) Bill Janney ("Howie"), sound effects man Alexander Binnie, Helen Jacobson was the stewardess and actor Robert Strauss on an unspecified United Airlines airplane, January 20, 1939.

In 1939 George Zachary, a young executive at CBS was playing with the idea of an hour long detective where the listeners could match their wits with the leading character in solving the riddle before he could. Fred Dannay & Manfred Lee provided the scripts for the hour long Adventures of Ellery Queen (1939-1940). Robert Strauss played the part of Doc Prouty during this first season. To prevent the plot leaking out Zachary would keep the final part a secret even to the actors who played in it. At the last dressed rehearsal all was revealed and it didn't take long for the actors to organize a pool, the winner being the one who unmasked the culprit. Ted de Corsia (Velie) and runner-up Robert Strauss were the most frequent winners.

On Sep 1. 1940 he was heard together with Jean Adair in Home Remedies a morning radio show billed as "another Merritt P. Allen comedy".
Robert W. Strauss was found dead from carbon-monoxide gas in his car in the garage in the morning of Nov 11. 1940 by the caretaker of the estate Charles Harmon. Harmon last saw Strauss Saturday afternoon and discovered the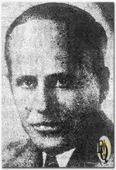 body when he returned to work. Robert Strauss had been living there alone for about one year and a half. Three notes were left by Mr. Strauss, giving financial reverses as the reason for the suicide.
One was addressed to Mr. Harmon, giving instructions for the care of the place; one with instructions to call the coroner, and the third to his family in Chattanooga, Tennessee, where Strauss was born and lived most of his life.
Coroner David Cathcart, of Cold Springs, was called and Dr. Coryell Clark, medical examiner, who pronounced the man dead from carbon-monoxide poisoning. He is believed to have died on Nov 9. 1940. The coroner rendered a verdict of suicide by intent, and gave a removal order for the body to Cunningham funeral parlor in Cold Spring, where the body was shipped to relatives in Chattanooga. He was buried there on November 14 with military honors. He was survived by a brother, a sister, both in Tennessee, two nephews, two nieces and a grandniece.