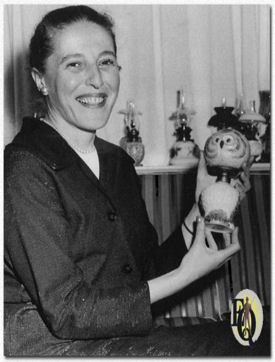 MRS. FREDERIC DANNAY of Larchmont, wife of one of the two creators of the famed Ellery Queen detective stories is pictured in her home.
(Picture courtesy of Richard Dannay)

"2 Mrs. Ellery Queens Figure In Famed Detective's Life"

By MADELAINE WILSON


LARCHMONT -
Every time you refer to a mystery story as a "Whodunit", you are dating yourself. Fashion, style, trend — whatever you want to call it—hits mystery stories as surely as it hits the dress you buy this season, and woe to the mystery writer who doesn't recognize this. Today, it's a "Whydunit". The psychological approach. Between the "Whodunit" and the "Whydunit", there was the "Howdunit", which featured weapons.


2 Mrs. Ellery Queens

And who tells us all this? Mrs. Ellery Queen, herself. The Mrs. Ellery Queen who lives in Larchmont, that is. There are two of them, you know. Mrs. Ellery Queen of Larchmont, and Mrs. Ellery Queen of Roxbury. Conn. And the biggest mystery of all is: which Mrs. Ellery Queen is the more important? Which Mrs. Queen's husband plotted the story? Which named the characters, wrote the beginning, wrote the ending? In other words — who dun it? But nobody's telling.


It's a Partnership

Legally, the two Ellery Queens are Frederic Dannay of Larchmont, and his cousin, Manfred B. Lee of Roxbury. They're like hand and glove, rock and roll. Chester and Mr. Dillon. And they've been that way since 1929 when, for kicks, they teamed up to enter a magazine detective novel contest, won it and decided "This is for us."
Their writing partnership has been described as "probably the most successful collaboration in literary history."
And it's all done by telephone. "What telephone bills they run up!" exclaims Mrs. Queen — Mrs. Dannay. "But each wants to work where he lives and the phone calls are cheaper than traveling back and forth."
Which man does which part of the story? There's that question popping up again. But you're not going to get the answer from vivacious, low-voiced Hilda Dannay. She vows she doesn't know.
She quotes her husband as saying, "We (my cousin and I) have made plenty of mistakes over the years but choosing Ellery Queen for the name apparently wasn't one of them."
Because he works at home "and he writes all over the place: the only rooms I can call my own are the living room and kitchen." Mrs. Dannay serves as shield between him and the inevitable interruptions.
When they were first married, she thought it would be handy to have a man around the house. Forget to buy butter? Coffee out? Fred was nearby, perhaps just sitting and looking into space. So she'd ask him to run down to the store.
"Look," he told her. "No matter what you think, I am working."
So now she understands.


Separate Phones

They have separate telephones— mostly because his is engaged by ill consultations with the Connecticut EQ and (2) dictation to his secretary who maintains his office in New York City. (For 18 years, he has edited the Ellery Queen Detective Magazine). (sic) "Fortunately I am not a shopper; I enjoy staying home. My friends understand. Our meals are regular — although he may not know what he's eating when his mind is involved." she says. During the three years she was president of Hadassah in Larchmont, she had most of the board meetings in her home so she'd he there to answer phone and door bells. "No. the women didn't bother him. I'd give him a week's notice they were coming and he'd be prepared for it."


Important things

Important things that that have happened to the Dannays during the past year: they sold his fine Ellery Queen Collection of more than 3,000 first editions and manuscripts of detective stories to the University of Texas, he taught creative writing at the university for one semester, and they were made honorary Texans.
About his writing class. "He'd never discourage anyone from writing," she says.
A graduate of Hunter College with a master's degree from Columbia. Mrs. Dannay was working on her doctorate when she met and married Fred.
Their two sons are Douglas, a Phi Beta Kappa, married and in the army in Cleveland. Ohio, who recently won a scholarship for Harvard graduate school, and Richard, a Harvard sophomore, who is majoring in social relations.
(From The Herald Statesman, Yonkers, New York Jun 6. 1959)