Born as Peter Sydney Ernest Aylen in London in 1923, the only child of Lieutenant General Sir Sydney Turing Barlow Lawford, (1865-1953) and May Sommerville Bunny (1883-1972). At the time of Peter's birth, however, his mother was married to Capt Dr Ernest Vaughn Aylen, one of Sir Sydney's officers, while his father was married to Muriel Williams. May and Ernest Aylen were living apart. May confessed to Aylen that the child was not his, a revelation that resulted in a double divorce. Sydney and May wed in September 1924 after their divorces were finalized and when their son was one year old. His early childhood he spent in France (his mother's childhood nickname for him was Pierrot) and, owing to his family's travels, was never formally educated. Instead, he was schooled by governesses and tutors, and his education included tennis and ballet lessons. When he was older he had Spanish, German and music added to his studies. He read only selected books: English fairy stories, English and French classics; no crime stories. May proofed an ambivalent mother, alternately uncaring and over possessive. Lady Lawford dressed Peter in girls' clothing until he was 11.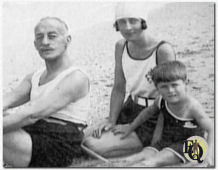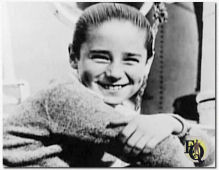 Above left: Peter Sydney Ernest Aylen, with his parents Lieutenant General Sir Sydney Turing Barlow Lawford, (1865-1953) and May Sommerville Bunny (1883-1972).
Above right: The nomadic existence of his parents denied young Peter Lawford of a formal education.

Around 1930, aged seven, he made his acting debut in the English film Poor Old Bill. At the age of 14, Lawford severely injured his right arm in an accident when it went through a glass door. The injury greatly compromised the use of his lower arm and hand with irreversible nerve damage which he later learned to hide. The injury was judged to be serious enough to prevent his entrance into the armed forces, which his parents had planned. Instead, Lawford decided to pursue a career as an actor, a decision that resulted in one of his aunts refusing to leave him her considerable fortune, as originally planned.
His parents preferred to travel around the world and indulge in a lavish lifestyle, largely provided by their wealthy friends. As the Lawfords' fortune had vanished after the war began in 1939 their welcome ran out and Peter had to provided for them by starting to work (Below left).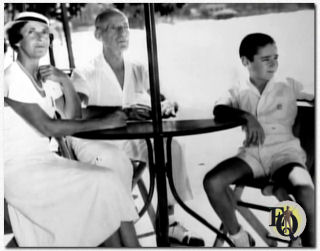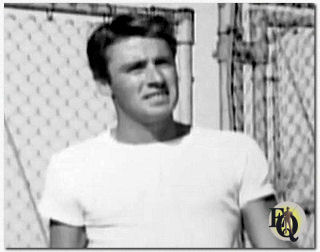 Above right: Lawford around 16 years of age.



As a young actor, Lawford worked as an usher at the Westwood Village Theatre in Los Angeles. Prior to the Second World War, Lawford had gained a contract position with Metro-Goldwyn-Mayer studios. Once he signed with MGM, his mother reportedly insisted that studio head Louis B. Mayer pay her a salary as her son's personal assistant, which Mayer declined. She then claimed that her son was "homosexual" and needed to be "supervised". This damaged the relationship between her and her son.
This volatile relationship with his mother, an inferiority complex due to his lack of education led to a steadily worsening dependency on alcohol and drugs.
In 1938, he made his Hollywood debut in a minor part in the film Lord Jeff. His first role in a major film production was in A Yank At Eton (1942), starring Mickey Rooney, in which Lawford played a snobbish bully. His performance was widely praised. During this time, Lawford started to get more leads when major MGM stars Clark Gable & James Stewart were drafted into the war. Later, it was Good News (1947), co-starring June Allyson that became Lawford's greatest claim to fame. Following his success in films, Peter Lawford provided his parents with the money and social standing they had previously lost.
Starting 1946 he also made some radio appearances.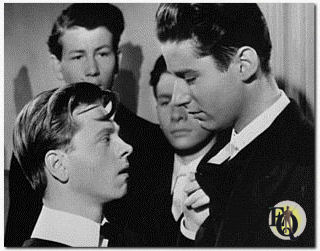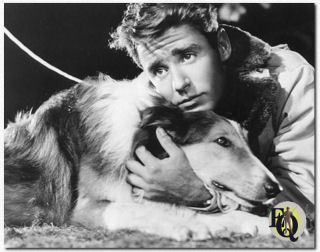 Above left: Peter Lawford's first role in a major film production was in A Yank At Eton (1942), starring Mickey Rooney, in which Lawford played a snobbish bully.
Above right: June Lockhart, Laddie (one of Lassie's pups) and Peter Lawford in Son of Lassie (1945).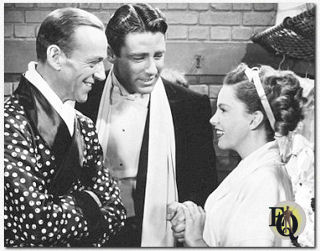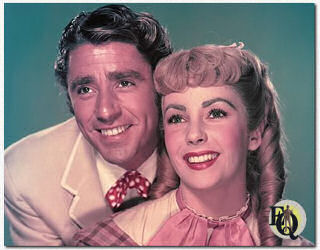 Above left: Fred Astaire, Peter Lawford and Judy Garland in Easter Parade (1948).
Above right: 1949 Peter Lawford and Elizabeth Taylor in a publicity shot for Little Women.

In 1949 Lawford first met Patricia Kennedy, a younger sister of then-U.S. member of the House of Representatives, John F. Kennedy
Suffered second degree burns on his right hand and arm during a 1950 Jimmy Durante television show skit. Titanium tetrachloride was being used in the making of a smoking concoction and it accidentally spilled on him. Durante and Lawford were close friends and later performed frequently on stage in a song-and-dance nightclub act.
Probably Lawford's most controversial affair, amongst many, was with African-American actress Dorothy Dandridge. These two almost went public with their relationship at a Cole Porter party, but at the last minute both agreed that it would be a bad move for both of their careers. Thus the two arrived at the party separately (1953).
Lawford made his television debut in 1953 in a guest-starring role on Ronald Reagan's anthology series General Electric Theater. In 1954, he starred as a newspaper advice-to-the-lovelorn columnist named Bill Hastings in the short-lived NBC series Dear Phoebe with Marcia Henderson and Charles Lane.
His first marriage, in 1954, was to socialite Pat Kennedy. Peter admitted that his love for Pat was not instantaneous but "one that grew over a couple of years of running into her at different places." His proposal occurred during one romantic dinner when he casually suggested, "One day I would like to marry you." To his surprise, she replied, "How about April?" And April it was.

From 1957-59, Lawford co-starred with Phyllis Kirk in The Thin Man, an NBC series from MGM based on the novel by Dashiell Hammett.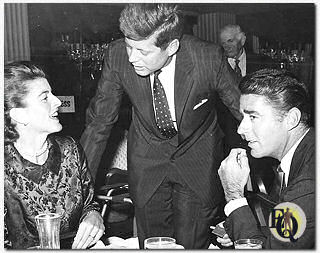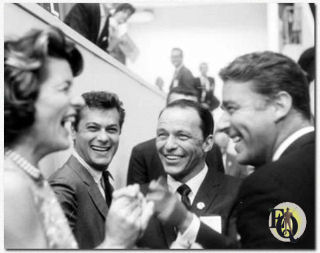 Above left: 1960, Patricia Kennedy, her brother John F. Kennedy and Peter Lawford.
Above right: Patricia Kennedy, Tony Curtis, Frank Sinatra and Peter Lawford share a laugh at the Democratic Convention in 1960.

Became a United States citizen in early 1960 so that he could vote for his brother-in-law John F. Kennedy in the presidential election later that year.

He was awarded a Star on the Hollywood Walk of Fame at 6922 Hollywood Boulevard in Hollywood, California on February 8, 1960.

Sinatra decided that his long-standing feud with Lawford (for once dating Ava Gardner) should and so Peter became a member of the "Clan" or "Rat Pack", with Dean Martin, Frank Sinatra, Sammy Davis Jr. and Joey Bishop. The five would appear together in the films Ocean's Eleven (1960) and Sergeants 3 (1962). They also performed on stage and were quite successful with their informal Las Vegas stage act during the filming of the first movie.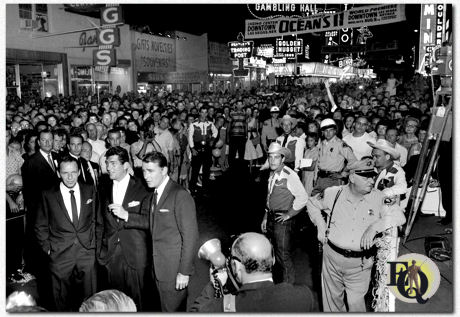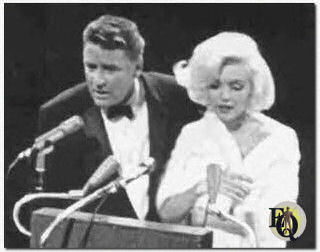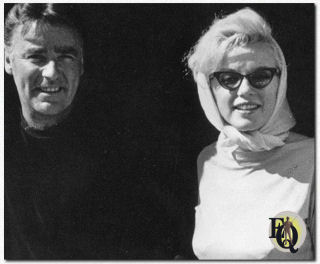 Top: Ocean's Eleven (1960) premiere with rat packers Frank Sinatra, Dean Martin and Peter Lawford in attendance!
Above left: Peter Lawford introducing Marilyn Monroe at Kennedy's Democratic Convention when she sang "Happy Birthday Mister President." (1962)
Above right: Marilyn Monroe and Peter Lawford at the Cal Neva Lodge, July 29, 1962.


The last person to speak to Marilyn Monroe before her death and man who introduced Marilyn Monroe at Kennedy's Democratic Convention when she sang "Happy Birthday Mister President." Peter introduced her on stage as "the late Marilyn Monroe", a joke regarding her unpunctuality, which seemed a lot less funny after her death, less than three months later.
As Peter also appeared to be a mysterious figure in the cover-up of Marilyn Monroe's death in 1962. She allegedly said to him: "Say goodbye to Pat [Kennedy], say goodbye to the President and say goodbye to yourself because you're a nice guy." Close friend Lawford and the other members of the Rat Pack were banned from Marilyn Monroe's funeral by Joe DiMaggio.

During a 1963 West Coast trip there was to be a scheduled visit to Sinatra's home by Lawford's brother-in-law, President Kennedy. Attorney General Robert F. Kennedy, who was long concerned about Sinatra's rumored ties with underworld figures, encouraged the President to change his plans and stay at Crosby's home, which (it was maintained) could provide better security for the President. The change came at the last minute, after Sinatra had made extensive arrangements for the promised and eagerly awaited presidential visit, including the construction of a helipad. Sinatra blamed Peter and severed their friendship permanently. Peter was supposed to appear in the Rat Pack movie Robin and the 7 Hoods (1964). He was replaced by Bing Crosby. Ostracized from Sinatra, Lawford never starred in another major motion picture again. Peter spent the remainder of his career guest-starring on Password, Laugh-in and other game shows as a relic of a bygone era.

Lawford was even rumored to have been gay or bi. He was romantically linked with actresses Lana Turner, Ava Gardner, June Allyson, Rita Hayworth, Lee Remick, Kim Novak, Judy Holliday, Evelyn Keyes, and socialites Sharman Douglas and Melissa Weston. Lawford did pick up the Kennedy practice of rampant womanizing and frequent drug and alcohol abuse. It got to the point in February 1966 that his first wife Pat, filed for legal separation and later divorce, becoming the first of the strictly Catholic Kennedys to do so. Lawford accepted blame, admitting to extramarital affairs. He remained, however, on good terms with the Kennedys. The once-professional actor now appeared late to studio shoots, made enemies of the producers at MGM and drank himself into a stupor on a daily basis. It wasn't long before Hollywood no longer came knocking.
Met his second wife, Mary Rowan (daughter of Dan Rowan), in December 1970 while he was appearing on her father's television show, Laugh-In (1967). Lawford married her in October 1971 when she was one day shy of 22 years of age; Lawford was 48.