llery Queen, Don't Look Behind You

b a c k
NBC, 11/19/1971 or 11/11/1971
96 minutes
Producer: Leonard J.Ackerman
Executive producer: Edward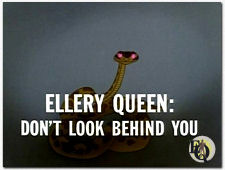 J.Montague
Director: Barry Shear
Screenplay from EQ-novel: Ted Leighton
Music: Jerry Fielding
Cast:
EQ: Peter Lawford
Inspector Queen: Harry Morgan
Sgt.Velie: Bill Zuckert
Dr. Edward Cazalis: E.G. Marshall
Mrs. Cazalis: Coleen Gray
Celeste Phillips: Stephanie Powers
Police Commissioner: Morgan Sterne,
Christy: Skye Aubrey

Queen remained off the home screen for thirteen years. Universal Pictures prepared a 2 hour pilot for a new series. Originally announced as Catch me if you can this easily forgettable murder mystery has famed detective taking over police-baffling Hydra case. Relationship between Lawford and Morgan starts out well but disappears as film progresses. E.G. Marshall plays a consulting psychiatrist who has an agenda himself and Coleen Gray his wife. Stefanie Powers is wasted as a suspect that gets involved with Ellery.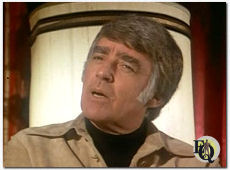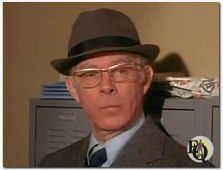 The casting of Ellery is preposterous: Lawford plays him as an over aged, mod "Swinging London" hipster. Harry Morgan, well-suited as the long-suffering Dad, has been rewritten as a long-suffering uncle. Thus resolving the difference in accents & age between the two actors.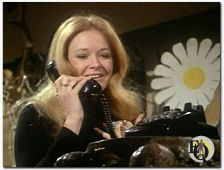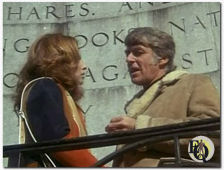 The plot structure of Cat of Many Tails is present here, but all of the story's subtleties and insights are tossed away.
It didn't help that the connection between the crimes, although clever, was revealed halfway through the movie. Since there are only two viable suspects, one of which is much too obvious, it doesn't take deduction to figure out the killer's identity.
The script was written by Richard Levinson and William Link. They changed the billing to "Ted Leighton" because they disapproved of changes made while they were vacationing in Europe.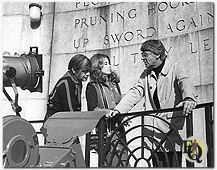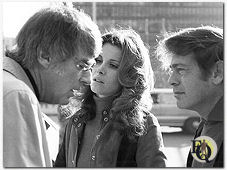 Above: Production stills from Ellery Queen, Don't Look Behind You with director Barry Shear, Stephanie Powers and Peter Lawford.