aye Brinker (Mar 29,1914 - Nov 5, 1991)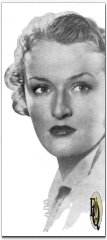 Marriages:
(1) Alvan Summerfield, Promotional manager for
a National magazine (Jun 16. 1938 - Aft. 1940)
Daughter: Anya Petar, dancer and choreographer.
(2) Manfred B. Lee (Jul 4. 1942 - April 3. 1971, his death)
Children: Christopher Rebecca 'Kit', Anthony Joseph 'Tony',
Manfred Bennington Jr. 'Man'; Rand Benjamin (Mar 18. 1951- )
Jeffrey Robert (Mar 1.1954 - Jan 5. 1990)
Stepchildren (Manfred - Betty Miller): Patricia Lee Caldwell,
Jacqueline Lee.

Sister: Mary Brinker Post (writer, 1907 - 1967)

Catherine Fox Brinker was born and raised in King County, Seattle (Washington) as daughter of Robert Hugh Brinker and Millicent Fox. At a very early age she took up acting becoming a stock player at the age of 12! (Drama gal at KOMO, Seattle).
Kaye is still best known for her "Virginia Dare Wine/Tobacco" radio commercials in the 1940s. At that time she got hundreds of fan letters from servicemen all over the world. But she had several jobs (radio writer, director, announcer, monologist, actress) in both Chicago, N.Y. and Hollywood area. She briefly even tried her hand at movies. The only performances known are as (uncredited) guest in Riddle Ranch (1935) and as Cherry Millett in the Western Desert Guns (1936). Mostly playing the other woman she was mostly found in theatre and radio. Reportedly she entered radio playing opposite Don Ameche.
In Chicago, a new adventure serial, Drums made it's debut on Jan 14, 1936. Written by Vera Oldham of Chandu, The Magician fame, the production was described as rapid-moving drama with a mixture of mystery, human interest and exotic atmosphere. In addition to William Farnum, veteran star of the stage and screen, the cast included Kaye Brinker, Myra Marsh, Bill Royal, Cy Kendall, Carlton Kadell, Louise Larabe,... . J. Donald Wilson was the narrator. Felix Mills provided incidental music.
Kaye Brinker, who was claimed as an interesting and promising discovery of William Farnum's certainly was gifted with a charming voice, which added considerable romantic interest to this mystery drama which could be heard four nights a week. According to the papers her performances in the first series of Drums were so successful that she was immediately whisked off to New York and a big Broadway contract on its completion and so by September 1937 her place on Drums was filled by Sally Creighton. In reality Kaye was working on Broadway since 1936 .

Directed by John Hayden and produced by A. H. Woods, the original Broadway production of the Ayn Rand play Night of January 16 opened September 16th, 1935 and ran for 283 performances until April 4, 1936 at the Ambassador Theatre in New York City. After which it took 'to the road' (Selwyn Theatre,...). By September 1936 it had Kaye Brinker playing "Karen Andre," "the penthouse siren with an emancipated soul".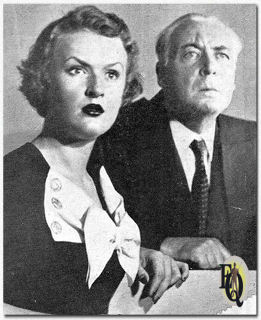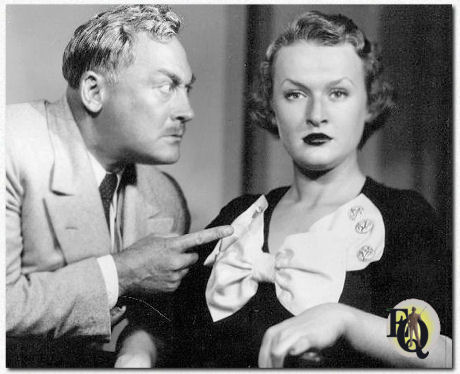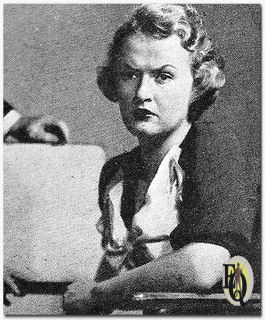 Above: Kaye Brinker as "Karen Andre" in The Night of January 16 (1936).

From May to September 1937 Kaye Brinker's did a program on WBBM for Commonwealth Edison which was called Everywoman. Kaye was a monologist, who wrote her own humorous sketches.
In 1938 Kaye was the head of the audition committee and in charge of production research. In order to judge the artist without being swayed by their personal appearance, the audition committee often sat in a special lounge, remote from the studio, and the voices are piped over. While the judges relax upon comfortable chairs and couches they make notations on the talent. In order to avoid the criticism that sex appeal is often the deciding factor in audition, WBBM assigns women staff members to talent of the same sex. "It's pathetic," Kaye Brinker commented on the vocalists, "but either they have beautiful voices and they can't express their souls or they know how to put their feelings across perfectly and they haven't the instrument with which to sing. And on the rare occasions when they have both, they're utterly lacking in that certain something that makes for box office appeal."
It was as production research director at CBS-WBBM in Chicago she started with Manhattan Mother, a script show on a five-times-a-week basis (1939) for which both she and Margaret Hillas were the main protagonists. Kaye played Patricia Locke, who gave up a career to raise her daughter, Dale, in New York. When the originating point of the series shifted from Chicago to New York Kaye resumed her part there. In fact Kaye made her last Chicago appearance over at WGN in Curtain at Tonight and starred in the original drama, Retake (September 02, 1938). Kaye was hostess in a show called True to Life which ran from 1939 to 1940.

The 1940 add below for Russeks Persian Lamb Fur Coats shows Kaye "fighting" the traditional female role pattern. We learn that she not only writes her own script but also directs them and even acts in them... which leaves her "very little time for shopping". An other article which also praises her many activities assured it's readers "She can, however, cook. 'Manfred loved good food,' she related."




Above: 1940 Add with Kaye Brinker for Russeks Persian Lamb Fur Coats.

In March 1940 she had to undergo surgery due to appendicitis.
In 1940-41 there was a series called We The Abbotts, about an average American family living in Middledale and struggling to remain financially solvent, in
which Kaye appeared as Isabel Kenyon next to John McIntire, Betty Garde,...
By then she was known for her work in Amanda of Honeymoon Hill and in the Johnny Presents series and she took up a role in the popular Mr. District Attorney "The Case Of The Man In Black" (Aug 5. 1941).
On Aug 30.1941 Kaye made her Broadway debut with Gladys George in Distant City. The play was meant to be one of the high lights of the legitimate season.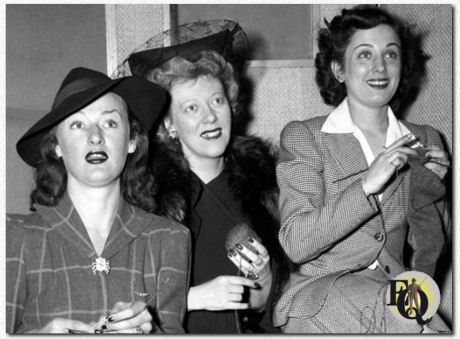 Above: CBS Radio actresses left to right, Kaye Brinker (plays Sheila Brand), Ethel Owen (portrays Dr. Molly Hedgerow) and Ann Shepherd (portrays Joyce Jordan, MD), knitting for the war effort. New York, NY. December 18, 1941. The Show ran on CBS from 1938 to 1945.


Manny Lee, author of Ellery Queen, happened to visit the NBC studio during a rehearsal on April 1. 1942 and met Kaye Brinker, who was featured in the week's story. They began dating at once and after only three months of courtship, Kaye Brinker married Manny Lee, on July 4,1942.
During 1943 Manny and Kaye moved to a charming old rented house at 5 Canon St.,Norwalk (Conn.) where they lived with his two daughters by his first wife, Kaye's daughter (Anya) by her first husband and their own newborn daughter Christopher Rebecca.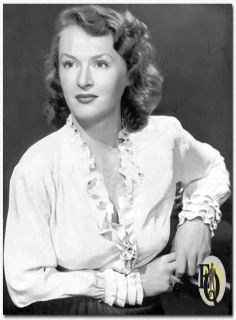 In May 1943 she played in Romance on WABC (New York) and CBS (picture right). Each week a popular love story was dramatized on this series. According to critic Wanda Marvin: " ... Altho her delivery is letter-perfect. Kaye Brinker's voice lacks the desired warmth ..."