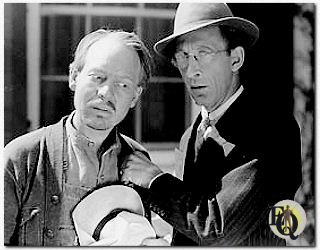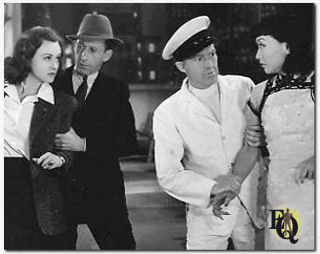 Above left: Lane in Ellery Queen Master Detective (1940).
Above right: Charles Lane (as Doc Prouty) holding back Margaret Lindsay (L) in Ellery Queen's Penthouse Mystery (1941).

His career was interrupted by World War II, serving in the Coast Guard his fellow crew members on an attack transport would amuse themselves by running and re-running one of his movies.
During his heyday, and Hollywood's, he would work from 9 to 5 at whatever studio he was booked for (he worked for many if not all of them), and then he would depart promptly for Pasadena, where his wife and two children waited.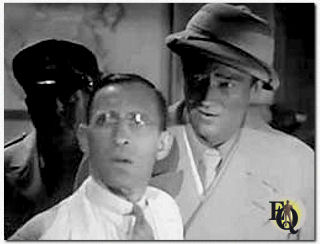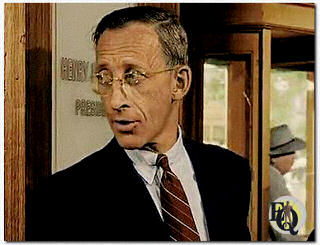 Above left: Charles Lane played Repkin to John Wayne's Captain Jim Gordon in Flying Tigers (1942).
Above right: In Capra's It's a Wonderful Life Lane played a real estate salesman (1946).

Mr. Lane routinely forgot the names of the movies in which he appeared. "When I get in the car, turn the switch and start home, I forget all about them," he told The New York Times in 1947. On at least one occasion, he was quite astonished to see himself turn up in a movie he had paid good money to see. His salary in 1947 was $750 a week.
Starting in the 1950s, Mr. Lane also became a familiar presence on television. Over the years, he made guest appearances on series like Perry Mason (1958), The Twilight Zone (1960) and The Munsters (1966). He had recurring roles as a crafty landlord on The Beverly Hillbillies (1963-71) and a penny-pinching railroad executive on Petticoat Junction (1963-68).
He met Lucille Ball when she was still an RKO chorus girl, and the two became friends. Years later he was a frequent guest on I Love Lucy and appeared in one of that series's most-watched episodes, the birth of Little Ricky, in 1953. As Lucy's husband, Ricky Ricardo (Desi Arnaz), anxiously waits outside the maternity ward for news, Mr. Lane, as another expectant father, confides that he already has six daughters. The nurse announces that his wife has just given birth to three more. Mr. Lane marches grimly from the room, muttering only two words: "Nine girls!"
The 1953 show attracted the biggest TV audience up to that time, no doubt aided by the news that Ball and Arnaz had their own son that same night.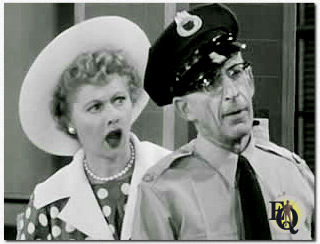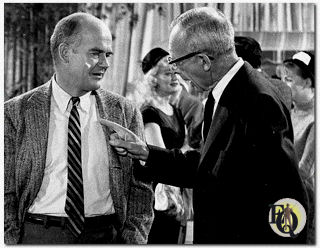 Above left: The Lucy-Desi Comedy Hour's episode "Lucy Goes to Mexico" (1958) (Season 2, Episode 1) had Lane as Customs officer.
Above right: Bob Sweeney (L) and Charles Lane (R) in "The Trailer" a 1959 episode from the popular Fibber McGee and Molly TV-series.

In 1963, Lane appeared in the mega-comedy It's a Mad, Mad, Mad, Mad World, playing the airport manager. (On the DVD commentary track, historian Michael Schlesinger wryly noted, "You do not have a comedy unless Charles Lane is in it.")
In 1973 his mother Alice died in her San Francisco home at the age of 100.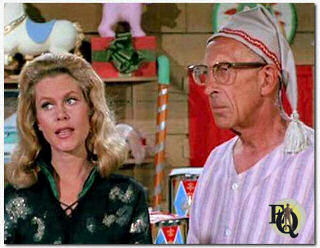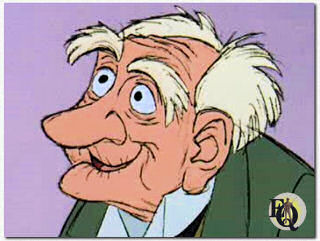 Above left: Elizabeth Montgomery and Charles Lane in a 1967 episode of Bewitched.
Above right:George Hautecourt, the lawyer in The Aristocats was voiced by Charles Lane (1970).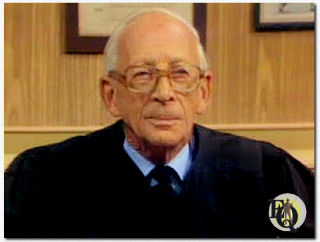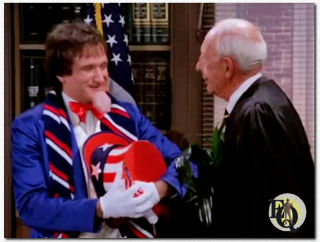 Above left: Charles Lane made several appearances as judge Anthony Petrillo in Soap (1978).
Above right: Robin Williams (L) as Mork opposite Charles Lane as Judge Baker in a Mork and Mindy episode called "Little Orphan Morkie" (1980).

Mr. Lane continued working well into his 80s. His last appearance in a feature film found him playing a priest with a taste for marijuana in Date With an Angel (1987).

Lane's persona has been referenced in The Simpsons: on the audio commentary to the episode "Marge in Chains", (May 6, 1993) its director Jim Reardon states that Lane's performance in It's a Wonderful Life inspired the character of the snide, humorless Blue-Haired Lawyer who appears in that and other episodes in the series (below left).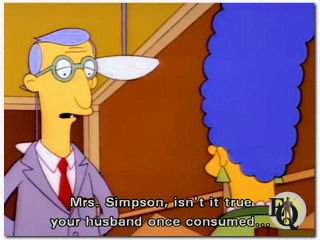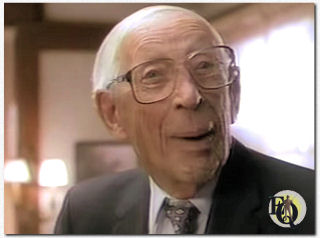 Above left: Lane's persona has been referenced in The Simpsons (May 6, 1993).
Above right: Lane in a 1995 remake of the 1970 Disney film comedy The Computer Wore Tennis Shoes.

He bid farewell to television in 1995, when he appeared in a remake of the 1970 Disney film comedy The Computer Wore Tennis Shoes.
Mr. Lane's wife, the former Ruth Covell, whom he married in 1931, died Nov 30, 2002. He continued to live in the Brentwood home he bought with Ruth (for $46,000 in 1964).
He never lost his enthusiasm. In 2005, when friends and industry admirers gathered to celebrate his 100th birthday, he accepted their plaudits from a wheelchair and declared, "If you're interested, I'm still available."
When it came to alcohol, he was a lifelong teetotaler. But his son noted that his father smoked a pack of cigarettes a day for 70 years, quitting only when he became short of breath. "I know that smoking kills people, and I must be the exception," Lane said then.

His final acting role as narrator was at the age of 101 in 2006's The Night Before Christmas.
Charles died on Monday in Los Angeles. He was 102. The weekend before he died, Lane was working on a celebration of his life, a project with former child star Jane Withers. The two had appeared in three movies together.

Above: Mr. Lane at home in Los Angeles shortly before his 100th birthday. (Credit Damian Dovarganes Associated Press, 2005)

His death was announced by his son, Tom Lane, he said he was talking with his father at 9 p.m. Monday. "He was lying in bed with his eyes real wide open," his son said. "Then he closed his eyes and stopped breathing." In addition to his son, his survivors include a daughter, Alice Deane; and a granddaughter Lucy Graves.