Born as Richard Charles Potter Coogan in Short Hills, New Jersey, to William Gordon Coogan and Dorothea Havemeyer Potter. William was a former vice chairman of the National Democratic Finance Committee and was a close friend of President Franklin D. Roosevelt, whom he urged to run for Governor of New York in 1928.

Richard's grandfather James J. Coogan ran for Mayor, and was the first Borough President of Manhattan after the consolidation of the five boroughs into the City of New York in 1898. He was married to Harriet Gardiner Coogan, a descendant of the Gardiners of Gardiner's Island. The Coogan family bought much real estate in the city before 1900, including the Polo Grounds, long the home of the New York Giants baseball team. Much of the land in the vicinity of the Polo Grounds, from Coogan's Bluff to the Harlem River, was owned by the Coogans, who gave portions to the city, including the Speedway, a favorite place for trotting races at the turn of the century, which is now part of the Harlem River Drive.
Richard was one of ten children. "You have to do something to get attention." In this category he excelled. His pranks at home and at school became legendary - at least to the local townsfolk, after he completely drained a wealthy neighbor's fishpond, and gave the fish to his mother in a burst of filial generosity. Also in the realm of local legend was his courage, especially when doctors reported he could never lead an active life as a result of rheumatic fever. He dispelled their doubts, and later became an ardent athlete favoring golfing, skiing, riding and water skiing.

A graduate of Morristown Preparatory School, his illness prevented him from accepting an athletic scholarship to Brown University and an appointment to West Point. With two careers closed to him, Coogan turned to a third - dramatics. In 1936 he was a spear carrier in Leslie Howard's production of Hamlet. During the run of that same production, Richard met the girl he was to marry, former actress and singer Gay Adams.
In 1940 he received a drama scholarship to Emerson College in Boston. There he studied play writing, journalism, pantomine, acting and radio.
After a year there he tried radio in New York and landed several roles eventually leading to the lead in Young Dr. Malone.

Richard has been acting professionally since 1943. At that time he was waiting for his Broadway "break," when he decided to try radio were he worked as an announcer and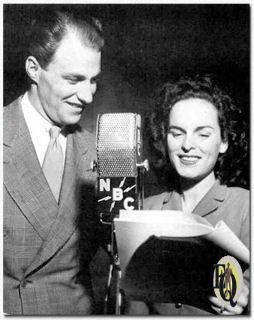 news anchor. He auditioned for -and won -the role of Abie Levy in NBC Radio's Abie's Irish Rose. And, incidentally, while performing that role at night, he was working in a defense plant by day. Richard Coogan and Mercedes McCambridge played Abie and Rosemary at one time during the three-year run from 1942-1944 (Right).
He had his most exciting moment before the microphones playing with Helen Hayes in the "Miracle in the Rain" episode of Front Line Theater (AFRS, May.15 1944)

He also was heared in The Fighting Senator (CBS, 1946) . On radio Richard portrayed Ellery Queen during late 1946 and early '47. Richard replaced Sydney Smith in the radio series but lasted only a few months himself. Anthony Boucher, who at that time was collaborating on the weekly scripts with EQ co-creator Manfred B. Lee, described Coogan's performance in a letter to Lee (25 October 1946) as "not quite so smug" as his predecessor's. (Nevins)

He appeared on Broadway in five different productions between 1945 and 1955, all of them short-lived except for Diamond Lil (1949-50) and The Rainmaker (1954-55) with Mae West.
My wife brought my six-month old son down to the theater, and I said, "Mae, could we have your picture with my son?" She said, "Darling, that's all I need is to have my picture with a baby." I said, "well, it will never be shown, it's just for him." So she relented and said, "okay, alright then. I'll let you do it." So she's in her full regalia with her big picture hat, and all her jewels sparkling, and my wife is holding my son, and he's just dazzled by the diamonds, you know. And they were this far apart, and he just reached out like that, and it looked as though he was going for, you know, here -- and she said, "this young man doesn't need any help at all, does he?"