harlotte Keane (Mar 8 1920 - May 13. 2017)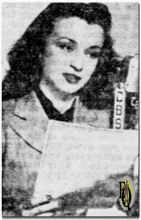 Marriages:
(1) Theodore Anders Pearson/Pehrson (aka Ted Pearson)
announcer (August 30. 1950 - October 5. 1961, his death)
Children: Jonathan Joseph (Oct 22. 1951) and
Dinah Josephine (Aug 29.1953)
Sisters: Ruth Lucille W. (Sep 19. 1924 - Aug 15. 2000),
Dolores (Laurie) (Nov 30. 1926 - Feb 1986)

Above right: Charlotte Keane played Nikki Porter in the seventh radio season of Ellery Queen (1946-1947).



Charlotte Grace Patiky was born on March 8, 1920 in Smithtown, New York City (Kings Park), New York, as daughter of Dr. and Mrs. Joseph G. and Miriam (Agnes) E. Crooke. Her father was of Jewish Russian descent. A skilled surgeon and an adept student of forensic medicine, Dr. Joseph G. Patiky of Huntington Station was coroner of Suffolk County and chief of the surgical staff of Huntington Hospital as well as surgeon to two fire departments in Suffolk County.
As Charlotte Patiky she was an honor student at Huntington High School and started her acting studies in the High School Masque productions. She continued her studies at Northwestern University's School of Speech and as a scholarship student at The Juilliard School of Music in New York. She bypassed the scholarship to continue piano studies in order to satisfy a dramatic inclination. On her return from Northwestern she modeled for John Powers.
In 1935 she was confined to her home with a severe attack of influenza.
She was first noticed in 1940-41 whilst she performed in a (barn) theatre, in Westport Conn. With performances in Mary's Little Lamb, Petticoat Fever and The Importance of Being Earnest where she played the role of Cecily Cardew, and reportedly won everyone over "
... wholesomely divine and scored heavily with a capacity house. .... Gorgeous presence, beauty, lovely eyes, and posture are a few of the attributes of this brilliant young actress. More must be heard of later."


By December 1943 Charlotte completed an Army Signal Corps film as typical American wife.
As a Powers model she won a network contest and entered radio to begin her professional acting career as Charlotte Keane. She started playing leads on such daytime programs as The Goldbergs
(1944)
, Lorenzo Jones, Aunt Jenny's Real Life Stories, Backstage Wife and Our Gal Sunday.

Charlotte Keane, played the part of Dora on the Goldberg radio program, in August of 1944 it was reported she seldom had the chance to answer to her own name.
In the course of her work she visited soldiers recuperating in several nearby hospitals and there she was always referred to as 'Dora'. When 'Dora' became the air bride of Sammy Goldberg and the next evening she was making her usual rounds at Halloran Hospital she found ample proof that the Goldberg Program had a large and loyal following among the men. No sooner had she stepped into the hospital corridor than half a dozen friends and fans note her changed "marital" status with loud cries of "Hy Mrs. Goldberg!"

She also appeared in Shakespeare's The Tempest at the Alvin Theater from January to February 1945 and she was seen in George Kelly's The Deep Mrs.Sykes.

With the signing of Vera Allen, Frank Tweddell, Juano Hernandez and Charlotte Keane (Tracy's sister, Laura Deen) for four of the key roles, Jose Ferrer has completed casting of his production for Strange Fruit, Lillian Smith's dramatization of her best-selling novel, which Ferrer directed. It began it's prior-to-Broadway tour in October 1945 in Montreal. In NYC it ran in the "Royale" for more than 50 nights.

Charlotte had auditioned with nearly 50 other girls for the Nikki Porter role, a permanent character on the Ellery Queen show, after Gertrude Warner announced her marriage and retirement in June 1946. In August she was chosen to play a leading role on a coast-to-coast CBS radio program, her first starring role in an evening radio program. Charlotte Keane played Nikki Porter in the seventh radio season of Ellery Queen

(1946-1947)

. And reprised it both

, in 1948, when Ford Theatre re-ran a first season (one hour long) episode "Bad Boy", and again in the 1954-56 television series.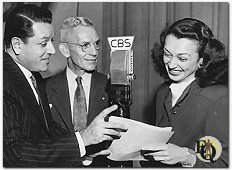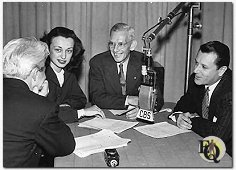 Above left: Warren Hull, Parks Johnson (When the Vox Poppers were armchair detectives) and Charlotte Keane before the CBS mike, (August 21 1946).
Above right: From Left to Right: Ellery Queen, Charlotte Keane, Parks Johnson and Warren Null.
Charlotte played "Clia", the raven-haired beauty on NBC's Light of the World (March 1947) Between 1947 and 1950 she appeared in several TV-series.
In 1948 she appeared on 'The Alerting of Mr.Pomeranz' a radio episode of Cavalcade of America (Ted Pearson was the announcer)
On TV Charlotte made appearances in Program Playhouse: Hands of Murder with Stephen Elliott, Milton Herman (1949).
She married Ted Pearson, a former singer and announcer on August 30. 1950 in California.
She continued working (also under the name Charlotte Pearson) until the late Fifties. The portrayals in The Adventures of Ellery Queen (Mystery is My Business) (1954-56) were given a certain degree of authenticity since Ames was familiar with his role and both Charlotte Keane and Hugh Marlowe had played their role on radio. Furthermore both actors came physically close to the image of the characters described in the books.

In Dec 1957 the family name was changed from Peterson/Pearson to Pehrson.
Ted died of a heart attack October 5, 1961 at his home in Eastchester, N.Y.

Charlotte did two stints in movies: Lola Keyring in The Colour of Funny (1999), and as receptionist in The Blind Date (2000).

Charlotte Pehrson passed away in New York on May 13. 2017 aged 97!



References

(

1)

IMDb and IMDb
(2) Old Time Radio Downloads
(3) IBDB
(4) OTRRpedia

Additional video & audio sources
(1) The Adventure of the Bad Boy Ford Theatre, Jan 4. 1948 (Full radio episode)
(2) The Alerting of Mr.Pomeranz full radio episode of Cavalcade of America


This actor profile is a part of the
Ellery Queen a website on deduction
. The actor above played Nikki Porter in an Ellery Queen radio en TV series.


Page first published on February 12, 2017

Latest update September 29, 2017