onald Cook (Sep 26. 1901 - Oct 1. 1961)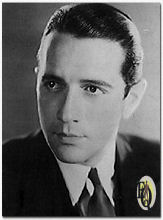 Height: 5' 11" (1,8 m)
Brothers:
Mortimer P. (1892 - 1976)
Ransom McCurdy (1893 - 1986)
Sister:
Marjorie (1892 - bfr. 1961)
Marriages:
(1) Maxine Dailey Lewis, radio singer
(Jan 16, 1934 - 1934, divorce)
Daughter: Donna Dailey Cook
(b. May 22. 1934)
(2) Princess Gioia Tasca di Cuto (1937 - until
Oct 1961, his death)


Donald Fenton Cook was born and raised in Portland, Oregon, to Frank Ransom Cook and Edith Parker.
He originally studied farming and inaugurated his theatrical career at the little theater in Portland. Cook graduated from the University of Oregon.
At one time he toured the west in a song and patter act. "Strictly small time," he explained. One day when he found himself in Kansas City out of funds and had to take a job as a bell-hop, he thought he was down on his luck. But he was wrong. It was strictly a gesture anyway, because his family is in the banking business and, although they then disapproved of his choice of professions, they never have felt any financial pain. Finally be got a job in the lumber business but was so stage struck he started acting in the Kansas City community theater and there Margaret Anglin saw him, liked his work, asked him to call at her hotel, and told him so. "It seemed too good to be true,' Cook related, "but soon I received a telegram instructing me to join an all-star touring company of "Rivals," featuring the late Minnie Maddern Fiske." This great lady of the stage, said Cook, taught him everything he knows about the theater.

He worked briefly as a bank clerk, but gave up the job to take a fling at vaudeville during the early 1920's. He was in 48 Hours Leave in San Francisco before making his Broadway debut in 1926 as Donn Cook, a name he used until 1930, in Seed of the Brute. Then he made a hit with Madge Kennedy in Paris Bound, playing another kind of husband..., the sort that goes to Europe for romances. Next he was in Half Gods and Rebound.
He started screen work in "shorts" before going on to feature films. It's fair to say Donald Cook came to films initially as leading man during the early sound era. Although he is certainly an expert and handsome actor, his features are not as strongly etched as most of the top stars of the screen. Subsequently relegated to supporting roles. Cook spent seven years in Hollywood playing in 30 films. He always seemed to project a dour personality, which was more effective as the shell-shocked war veteran brother Mike Powers of James Cagney in the film The Public Enemy (1931). He also played the protégé of crippled ballet impresario John Barrymore in The Mad Genius (1931), Bette Davis' love interest in The Man Who Played God (1932).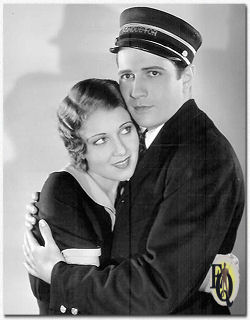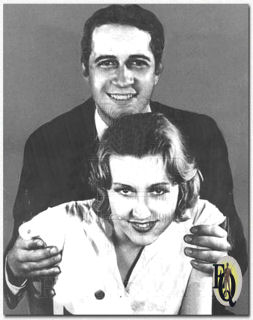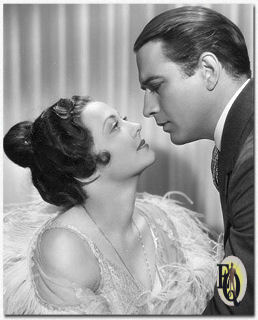 Above left: Cook was known for his portrayal of Mike Powers in the film The Public Enemy (1931) , here holding Rita Flynn ((Molly Doyle) in his arms.
Above middle: In 1932 Donald and actress Evalyn Knapp (a 1932 WAMPAS Baby Star, with Marion Shockley!) announced their engagement
Above right: Donald with Sylvia Sydney in Jennie Gerhardt (1933).

In 1932 Donald and actress Evalyn Knapp (a 1932 WAMPAS Baby Star, with Marion Shockley!) announced their engagement, whatever happened it didn't result in them getting married (Above middle).
Reportedly Donald Cook's "hobby" was collecting stray dogs and giving them a home until friends take them, so the actor has room for another. After moving into a new home in Beverly Hills, the actor built the wire enclosure for his five dogs and housed them safely before he moved his own belongings. The white dog was named Jean, after Jean Harlow (1932). In May-June of 1932 Cook had a concussion of the brain after being hit by an automobile.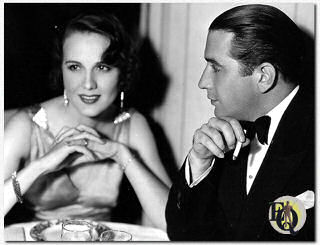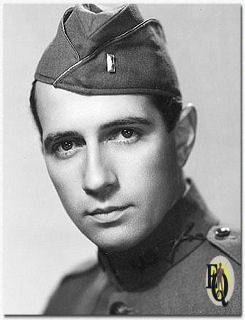 Above left: Mary Brian and Donald Cook snapped dining in the Gold Room of the Beverly Wilshire Hotel (1933)
Above right: Donald Cook as Lt. John Gregg in Private Jones (1933)

When in 1933 he met Maxine Lewis, radio singer, he proposed marriage to her on Aug. 11 and she accepted. On Nov. 16 Cook was named in a $100,000 breach of promise suit filed by Miss Lewis, who charged, among other things, that she was soon to become a mother. On January 13. 1934 Donald Cook and Maxine Lewis seem to have come to an agreement as was revealed that they are to be married privately on Tuesday January 16. "I'm terribly happy," said Miss Lewis in the newspapers. On May 22. 1934 in Los Angeles Maxine gave birth to a girl named Donna Dailey Cook. Shortly after they were married the romance went on the rocks. According to a suit for divorce filed June 29. 1934 Cook insisted after two days of honeymoon Cook on returning to Hollywood.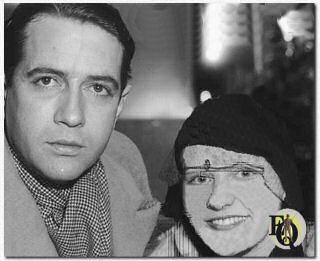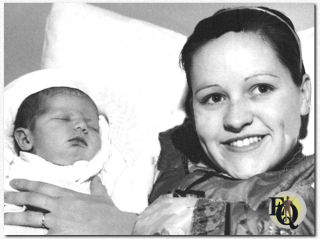 Above left: Donald Cook and Maxine Lewis obtaining their marriage license (1934)
Above right: Donna Daily Cook, 4 days old, daughter of Donald Cook, film actor, and his wife, the former Maxine Dailey Lewis, singer, was more interested in getting her full quota of sleep than in such things as picture taking when she was photographed with her mother in a Hollywood Hospital (May 26. 1934)


He was one of the first film actors to portray Ellery Queen. In The Spanish Cape Mystery, a low-budget 1935 mystery Cook plays Ellery Queen in a low-key, poker-faced fashion, which may not be terribly exciting but is actually closer to the original concept than most of the movie Queens. Cook's flirtatious Ellery is unrelated to any Ellery Queen novel. (Pictures below left and right)