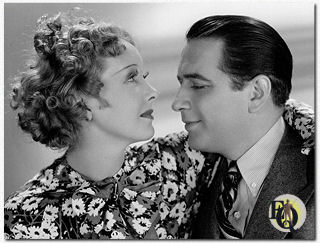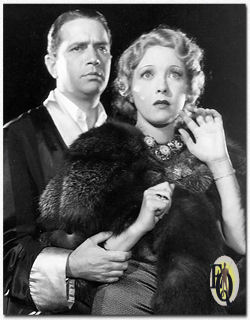 He played the role of Steve opposite Helen Morgan's Julie in the 1936 film adaptation of Show Boat, was one of the suspects in the Philo Vance mystery The Casino Murder Case, and starred as an heroic U.S. Immigrant Inspector of the Deporting Squad in the 1936 movie, Ellis Island.
In 1937 Cook married to former Princess Giovanna Mastro - Giovanni Tasca Di Cuto, with whom he resided on Long Island, NY. (aka Gioia Tasca di Cuto).
Less known is his work in old time radio. In CBS' Life Begins Donald Cook played Lloyd Crawford, Virginia's Craig's love interest. The series ran from Jan 22, 1940 until Jul 18, 1941. He also appeared in an episode of radio's Columbia Workshop, described as a very touching crime story, beautifully told, "Wings of An Eagle" was broadcast on Feb 23, 1941.
In 1941 Don he did an average of 10 a week but in the past had made as many as 35 radio broadcasts in one week. He lived In East 48th street in the Turtle Bay district and also had a farm at Cobalt, Conn.
He said not a word about his "art" He even called it "play-pretending." He didn't think that he will always be an actor. "An actor," he said, "has too many crutches... first the author writes his lines and then a director tells him how to deliver them. I'll get into something else eventually, maybe directing or writing."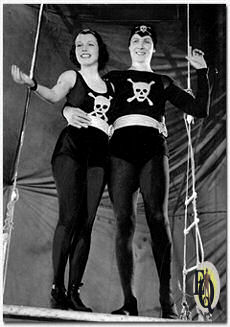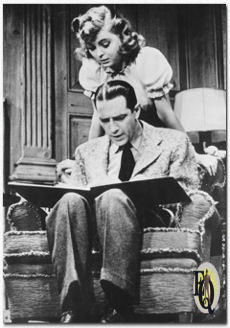 Above left:In Circus Girl (1937) trapeze artist Kay Rogers (June Travis) marries aerial-act member Charles Jerome (Donald Cook), who immediately become jealous of fellow-trapeze artist Bob McAvoy, and sets out to kill him.
Above right: A scene from the 1942 stage play Claudia includes Donald Cook and Dorothy McGuire.


It was the stage, however that gave him widest range to display his talents or comic lechery. He also enjoyed a comic lark opposite Tallulah Bankhead in Foolish Notion, and a 1948 revival of Private Lives. By 1950 he forsook films entirely in favor of stage work. In the original 1951 Broadway run of The Moon Is Blue he delighted Manhattan theatergoers as Barbara Bel Geddes' would-be-seducer (Below right). This play in which he starred that had the longest run, was made into a film that caused a scandal in its time because it used the word "virgin" while showing a woman's bedroom. Cook played the same role that David Niven played in the 1953 film.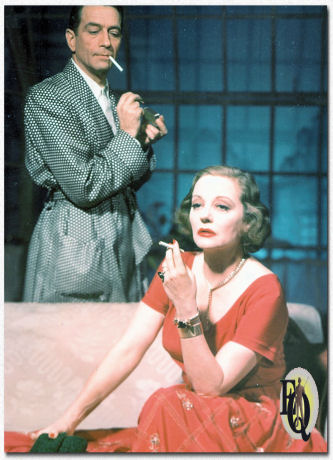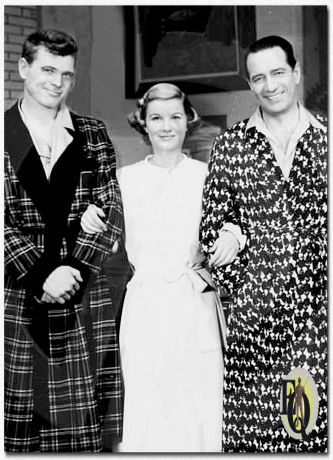 Above left: 1949 Press Photo Tallulah Bankhead with Donald Cook of Private Lives

That same year Cook was also heard on radio CBS's My Son Jeep. Donald Cook plays Doctor Robert Allison, a widower in Grove Falls, USA. He is left to raise his sweet thirteen year old daughter Peggy, played by Joan Lazer, and his ten year old son, Jeffery "Jeep" Allison, a mischievous ten-year-old boy reminiscent of Dennis the Menace (Jan 25 - Jun 14, 1953)
From 1956 Joan Bennett was seriously involved with Donald Cook, whom she referred to as the love of her life (he legally separed Gioia a few years before his death).
He also made television appearances in, Wanted: Dead Or Alive, Goodyear Television Playhouse, The Prudential Family Playhouse (1950), The Billy Rose Show and The Philco Television Playhouse. But perhaps he is best known for his role as "Tom Blake" in the television series, Too Young To Go Steady (1959).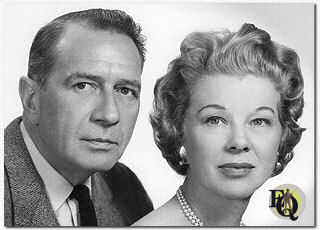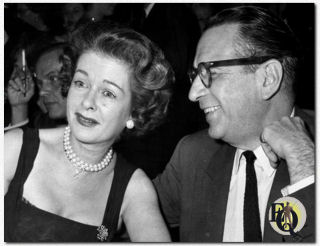 Above left: Donald Cook and Glenda Farrell in Masquerade (aka Lovely Star, Good Night) a play in 3 acts performed at the John Golden Theatre on Mar 16, 1959.
Above right: Candid picture of Joan Bennett and Donald Cook both guests at a recent Palace Theater party following the premiere of Pillow Talk (Oct 19, 1959).


epDonald Cook died in New Haven aged 60. His death came a day after he suffered a heart attack while here for the tryout of a new Broadway play. He was found semi-conscious on the flour of his hotel room after he failed to appear for a matinee performance of the French comedy A Shot in the Dark, an adaptation of the play L'Idiote, starring Julie Harris. Joel Thomas, the understudy stepped in but it was Walter Matthau who took over Cook's leading role in the play following his death.
Cook leaves his widow Joya (sic), from whom he was legally separated several years ago, and two brothers in San Francisco. He was buried at River View Cemetery in Portland, Oregon.
For his contributions to the motion picture industry, Cook was honored with a Hollywood Walk of Fame star located at 1718 Vine Street.