arion Shockley (Oct 10,1908 – Dec 14,1981)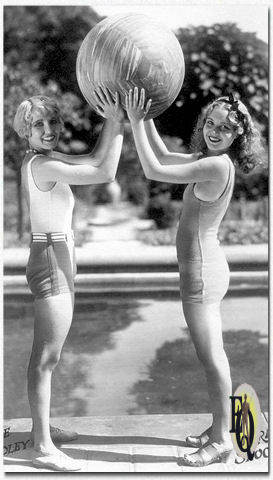 Name: AKA Marian...
Height: 5' 1" (1.55 m)
Eyes: brown
Hair: Titian
Sister: Eleanor Ione Shockley Udell (Apr 28. 1919 - Jun 30. 1979)
Marriages:
(1) Gordon Barry Thomson (Feb 15. 1934 - ?, divorced)
(2) George Zachary (Oct 5, 1939 - ca.1945, divorced)
(3) Bud Collyer (aka Clayton Johnson Heermance, Jr.)
(1946 - Sep 8.1969, his dead)
Children: Patricia Collyer (Mrs. John Zavitz) ('39-40),
Cynthia Ann Collyer ('40-41) and Michael C. Collyer
('42-43) All children are from Bud's first marriage to
Heloise Law Green.
Above right: A picture of a young Marian Shockley (1920s)

Born Marion Metier Shockley in Kansas City, Missouri to Percy Ambrose Shockley, a lawyer, and Lottie Laura Metier. As graduate of Northeast High School and the University of Missouri (majoring in history) and proud possessor of a Kappa Alpha Theta pin, she especially took to theatre and was one of the chief attractions of the International Players at the Vancouver theatre. She was offered an audition whilst on a vacation to Los Angeles and her acting career began. She claimed to be the only girl in Hollywood's history who walked into a movie studio with a pass on a sight-seeing tour and come out with a signed contract.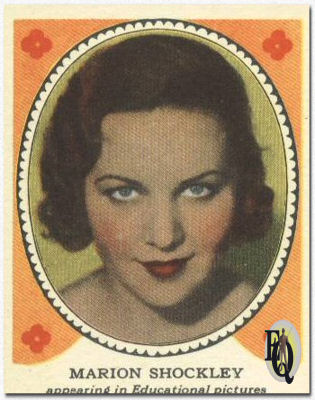 Above left: Marion Shockley "appearing in Educational pictures".
Above right: A comedy short Twisted Tails for Culver Pictures, Marion Shockley and famous 'drunk' Arthur Housman.

From 1930 until 1934 she played in some 19 B-movies. She appeared with Alice White in Sweethearts On Parade (1930) for Columbia and also in a number of Vanity two-reelers for Educational which included her screen debut The Freshman's Goat (1930). She co-starred as Tim McCoy's leading lady in the serial Heroes of the Flames and Bob Steele's in Near the Trail's End (1931), directed by Wallace Fox. This was the last of eight Westerns Steele did for low-budget company Tiffany and the only feature film to co-star Marion Shockley. The shorts were a series of Torchy movies... with titles such as Torchy's Two Toots (1932) with Ray Cooke. She is more known for her work in comedy shorts and radio. Offered an acting job with a Denver stock company, she performed in plays as Believe me, Mr. Xantippe (March 1934) and Three Cornered Moon (1934) in which she played the role Claudette Colbert played in the movie.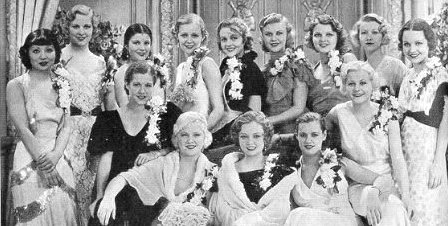 Above: Back, left to right: Toshia Mori, Boots Mallory, Ruth Hall, Gloria Stuart, Patricia Ellis, Ginger Rogers, Lillian Bond, Evalyn Knapp, Marion Shockley. Front left to right: Dorothy Wilson, Mary Carlisle, Lona Andre, Eleanor Holm, Dorothy Layton.

Shockley was the WAMPAS baby star in 1932. The WAMPAS Baby Stars was a promotional campaign sponsored by the Western Association of Motion Picture Advertisers in the United States, which honored thirteen young women each year who they believed to be on the threshold of movie stardom. They were selected from 1922 to 1934 and honored at a party called the WAMPAS Frolic. Those selected were given extensive media coverage. The awards were not given in 1931 and 1933 and ended after 1934 due to objections from the movie studios because of its independence.

Miss Shockley and Gordon Barry Thomson married on Feb 5, 1934 in Whatcom, WA, divorcing soon afterwards. She debuted in Broadway in George M. Cohan's Dear Old Darling (1936). The story suggested melodrama. Wealthy, retired Calvin Miller had been hounded by a sweet girl Jane Mayo (Marion Shockley) in her twenties, whom he met on shipboard and who has sent a photograph inscribed "To my dear old darling, with all the love of my heart and soul." Her mother (Theresa Maxwell Conover) appears soon enough, and the two gals prove to be blackmailers. This presents numerous problems for Miller, not the least that he has been courting the Widow Collins (Ruth Shepley). Matters are put in order only just before eleven o'clock. But the play was no melodrama. Indeed, it was billed as "A Comic Experience" but had to settle for a fortnight's stay.4

In 1938 she played the lead in Censored at the 46th Street Theater, a melodramatic comedy by Conrad Setter and Max Marcin and presented by Al Woods. Opposite Frank Lovejoy, Marion played Millicent Redmond. According to one critic she played a girl who has gone tremendously wrong and prompted the following comment: "As a bad girl she is charming."
After appearing in several shows which came off bruised by bouts with dramatic critics and the public, she grew disenchanted. "I decided," she says, "that no one but children of wealthy parents could afford to work in the theater. I went into radio."
She was an immediate success. Within hours after her first audition, at CBS, she was cast opposite Chester Morris in a dramatic skit on a Kate Smith show. Parts came thick and fast afterward.

In 1939 she was added to Phil Baker's stooge ranks on Honolulu Bound otherwise known as The Phil Baker Show, a radio musical comedy which also featured the Andrew Sisters.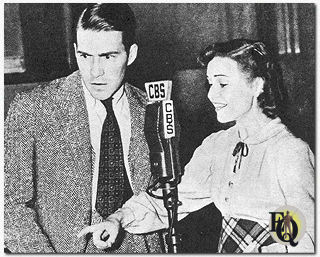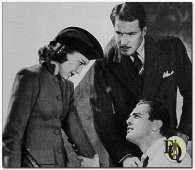 Above left: Hugh Marlowe and Marion Shockley
Above right: From an enactment of "The Scorpion's Thumb" by members of the radio cast. Marion as Nikki leads a character to a chair...


Confining her acting effort more to radio she was heard on Abie Irish Rose, The Guiding Light, Aunt Jennie, Kate Smith Hour, Road of Life and My True Story when in 1939, at CBS, producer Zachary was gathering his team for the radio version of The Adventures of Ellery Queen. In order to attract a more female audience, Dannay, Lee and Zachary added a new character to the stories: Ellery's secretary Nikki Porter. George Zachary, then the director of the show, didn't want Marion. George argued that Marion just wasn't right for the part, but three other Network officials outvoted him and the Shockley girl got the role, thus becoming the first actress to portray Nikki Porter, Ellery's secretary and low-key love interest. In the "Gum-Chewing Millionaire" she's a blonde professional typist who gets asked to work on Ellery's manuscripts. She then applies for the job of personal secretary. Marion and George Zachary, the radio series' producer, were secretly married on October 5, 1939, and Zachary made sure that Nikki was written out of the scripts during the weeks the newlyweds were off on their honeymoon. She played Nikki both opposite Hugh Marlowe and Carleton Young.
In October 1941 she returned from Caribbean cruise with her husband, "almost completely recovered from injuries from recent spill from horse".
Only when, in 1942, Zachary left Ellery Queen to become the program chief for the radio bureau of the Office of War Information they acknowledged their marriage.

Playing Carol Carroll in Manhattan at Midnight (NBC-Blue, Aug 1940) Marion played a young stage performer who learns about dramatics and love from a dramatic critic.
In July 1943 she was reportedly "an expecting mother", however she and George were not blessed with a child.
She also had a movie role in Stage Door Canteen (1943) and on radio she also had a role in The Adventures of the Falcon (1945).
In 1945 Manfred B. Lee decided to brake with the past on the Ellery Queen show and fire the actress who'd played Nikki for almost five years "...whose vacuity and lack of ability had caused the role to dwindle almost to the vanishing point." (Manny Lee, April 11. 1945)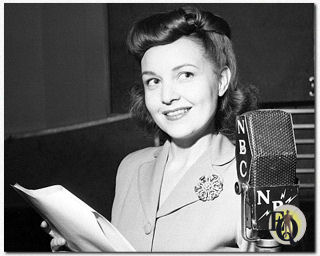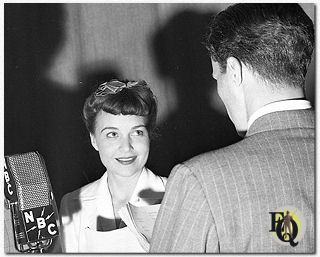 Above left: Marion Shockley as Nikki Porter.
Above right: Marion Shockley (Nikki) opposite Carleton Young as Ellery Queen in a photo for episode 92 "The Midnight Visitor" (1942)


Her first marriage ended soon after the war and in 1946, in Maryland, she was remarried to Clayton "Bud" Collyer. (Jun 18. 1908 - Sep 8. 1969) the radio star who starred in Superman. Together they'd appeared in Road of Life and in the longest running soap The Guiding Light. They had a eighteen-hour honeymoon in Atlantic City since they both had to get back to New York for radio dates.
The couple settled down in the big stone house in Greenwich, Connecticut.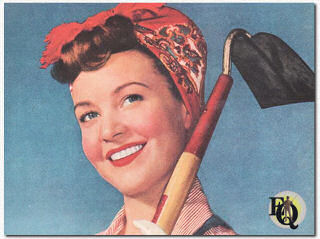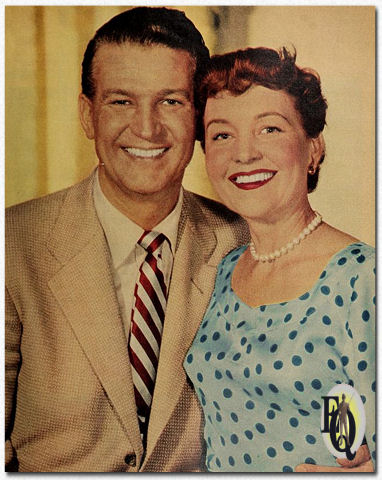 Above left: Marian (sic) Shockley on the cover of Radio Mirror (May 1943).
Above right: Bud Collyere and his wife Marion Shockley.


In the 50s she made the transition to TV. Collyer as announcer both appearing on radio and TV. His task reading out advertising lines. Marion appeared in the 1951 print ads for Blue Bonnet margarine and made her television debut on Hallmark Hall of Fame: The Other Wise Man airing 5 April 1953. She would retire from acting that same year.

After her husband died (1969) she took up various humanitarian causes and at one time served on the board of The Spence-Chapin Adoption Agency.
Marion passed away Dec 14, 1981 in Los Angeles.