Hugh Marlowe was born on January 30, 1911 as Hugh Herbert Hipple in Philadelphia, Pennsylvania, son of Mildred and George W.Hipple of Chicago.

He went to Senn High School in Chicago where he made his first steps on stage. He played football at Wisconsin.
Understandably he changed his name when he started out as an actor. Marlowe (sometimes credited as John Marlowe) usually was a secondary lead. He preferred character parts. Marlowe also has a way of speaking with clear and precise enunciation of words so that the audience has no trouble hearing and understanding what he is saying. Marlowe spoke Spanish, liked Classical music, read the Bible, Shakespeare, and Dante. He got that way in Marshall-Field's book department as a clerk. He hated chemistry but if he had had another chance at college he'd become a doctor or a chemist.
Started his career as a radio announcer at WHO in Des Moines, Iowa, and when he left the station his old job was given to another would-be actor named Ronald Reagan.
His radio debut was on Hollywood Hotel with Leslie Howard in "The Amateur Gentlemen" (1935) he has worked on The Kate Smith Hour, the American School of the Air as Jim on the Brenda Curtis series opposite Vicki Vola.
Marlowe gained experience at the Pasadena Playhouse, a celebrated movie-actors' training ground in those days, launching his film career in 1936. He made his stage debut in London and later debuted on Broadway in Arrest That Woman (1936). He made his film debut a year later in Married Before Breakfast (1937) as Kenneth.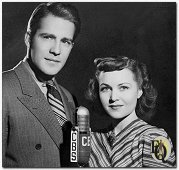 It is more and more common to (wrongfully) minimize the radio career actors had. As was the case with Hugh his days as a radio announcer were a steppingstone for his stage and movie career. He played Ellery Queen in the first season of the successful series (1940) opposite Marion Shockley, a role he would reprise for TV later (Pictured left). The 1940 Census states Marlowe as being 29 and "divorced" (!).

Over his career Hugh kept performing on Broadway. In 1941 he appeared in the Broadway play The Land is Bright as Wayne Kincaid. In this play he met K.T.Stevens, daughter of director Sam Wood. Co-starring in a 1944 Chicago production of The Voice of the Turtle, they married in 1946. The couple went on to grace more than 20 stage shows together, including a Broadway production of the classic film Laura (1944),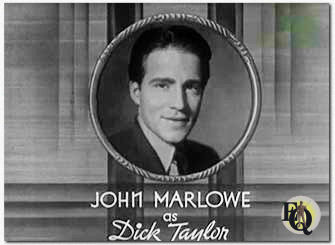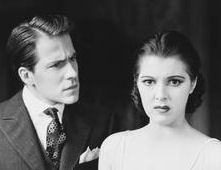 Above left: Marlowe's film debut as John Marlowe in Brilliant Marriage (1936).
Above right: Broadway play 1941-42 The Land is Bright as Wayne Kincaid opposite Diane Barrymore.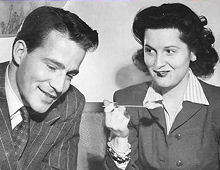 Above left: Mr. and Mrs. Hugh Marlowe (Edith Atwater), who are having a reunion with their Chicago friends while he is here to play opposite Gertrude Lawrence in Lady in the Dark at the Civic Opera House. (Jan, 1943).
Above right: K.T. Stevens and Hugh Marlowe, who were offstage principals in a marriage ceremony this week, continue to delight audiences with their make believe romance and bright comedy in The Voice of the Turtle, a Broadway hit (1946).
Marlowe appeared in such notable movies as Meet Me in St. Louis (1944), Twelve O'Clock High (1949), All About Eve (1950) (below left: with Bette Davis), Night and the City (1950) and The Day the Earth Stood Still (1951) with Patricia O'Neal (below right).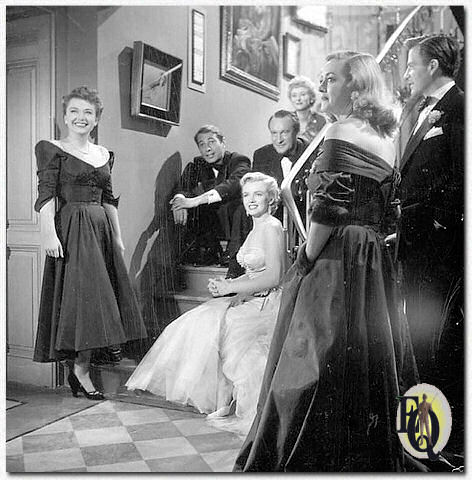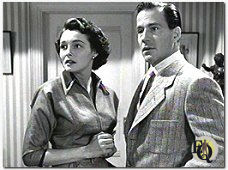 Making his first TV Guest Appearance in 1953's The Philco Television Playhouse episode: Train to Trouble (episode # 6.4). Soon thereafter he got the title role in The Adventures of Ellery Queen (1954-56) a role he already played some 14 years earlier in radio.
In 1954 Hugh Marlowe had this to say on TV sleuths: "In spite of what everybody says, a mystery plot is one of the few that can be solved in 28 minutes. You don't need Robert E. Sherwood to write it. I would rather do a 28-minute mystery well than some great classic that would require 50 hours of rehearsal and would fail because It couldn't be crowded into an hour."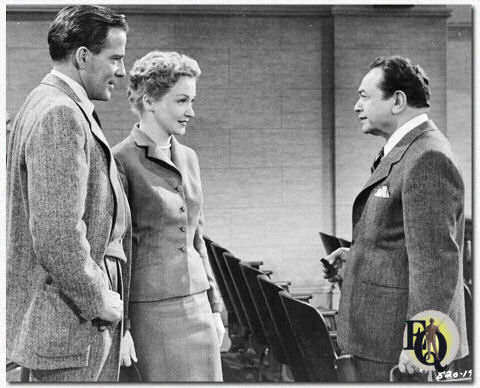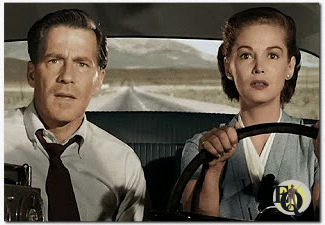 Above left: Hugh Marlowe, Nina Foch, Edward G. Robinson in Illegal (1955) where Marlowe plays a young, ambitious lawyer.
Above right: Dr. Russell Marvin (Hugh Marlowe) and his wife Carol Marvin (Joan Taylor) both scientists experimenting with rockets to probe the upper atmosphere for future space flight in Earth vs Flying Saucers (1956).


The TV series Alfred Hitchcock Presents (1955) has had several role for Hugh Marlowe playing Harold Skinner, Rev. Richard Fell, Dr. Ralph Mannick, Philip Baxter Sr., and Bernard Butler.
Racier than any of his on-screen roles was an incident that took place when Marlow was starring in Anniversary Waltz at the Alcazar Theatre in San Francisco in 1956. A few seconds after the curtain went down on the second act, his co-star Marjorie Lord slapped his face and sent him reeling. And Marlowe slapped her back. The tabloids loved it. HE KISSES, SHE SLAPS, HE'S FIRED, headlined the New York Journal-American.
Versions of the incident differed. The feud had started a week or so earlier when Marjorie Lord objected that Marlowe was "overly ardent in the love scenes." She accused him of inventing 'some quite violent embraces that weren't in the script at all." That night something happened to provoke the fight. In newspapers Marjorie was quoted "Frequently he...well, some things just weren't in the script," and "Mr. Marlowe didn't seem to be impressed with dialogue so I slapped him."
Marlowe replied "So I slapped her right back in the heat of emotion. And I told her, 'I wouldn't let President Eisenhower himself do that if I was right.' Then she said, 'You're never going to be allowed to kiss me like you did tonight any more.' That's all there was to it. She's a wonderful person." After the incident the actors finished the performance. The following night, however, when Marlowe showed up at the stage door, it was barred to him. The actor was informed his contract had been terminated.

The role of a doctor is a popular role for Hugh Marlowe. In Earth vs. Flying Saucers (1956) he played Dr. Russell A. Marvin, in World Without End (1956) he was Dr. John Borden and Doc Carozal in Castle of Evil (1966).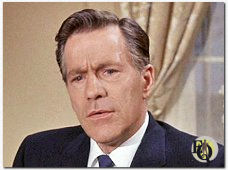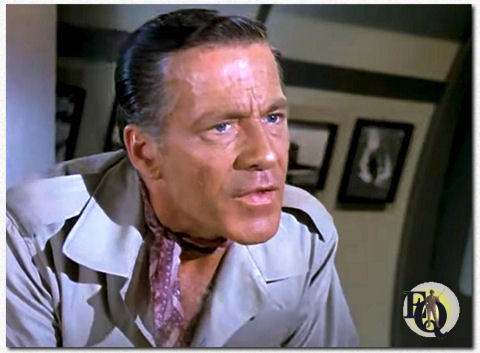 Above left: Hugh Marlowe in 13 Frightened Girls (1963)
Above right: In the episode from TV's Voyage to the Bottom of the Sea , "Thing from Inner Space" (1966) Marlowe played Bainbridge Wells.


From then on he appeared primarily as a television guest star, usually in westerns or crime dramas. In 1962, Marlowe played the part of Sam Garner in the episode "The Pitchwagon" on CBS's Rawhide. He made six guest appearances on Perry Mason, (1959-1965) playing several different characters he was Doctor Lambert, Brander Harris, Cmdr. James Page, Guy Munford, Jarvis Baker, and Ernest Stone.
The marriage with KT Stevens well until about 1966, when Hugh fell in love with his co-star, the talented young actress Rosemary Torri. They started an affair, and in mid 1968, Rosemary got pregnant. K.T. and Hugh divorced in a quick fashion and Hugh married Rosemary right after the divorce was made final. Their son, Hugh Marlowe III, was born in February 1969. 4

In off-Broadway productions Hugh Marlowe has been in The Deer Park (1967) and All My Sons (1974).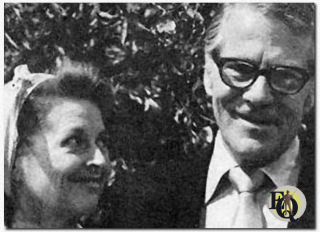 In The Last Shot You Hear (1969) Hugh played Charles Nordeck internationally famed marriage-counselor who demonstrates the use of his gun on his wife... (above left).
From 1969 to 1982 he was the last of four actors to portray the Matthews family patriarch Jim Matthews in the daytime serial Another World (above right).
On May 2, 1982 Hugh Marlowe passed away in his Manhattan apartment New York, New York from a heart attack.