Above left: George Nader as St.Johns Military Academy Student, aged 8.
Above right: George Nader at age 5 spending summer at his parents' beach home in Playa del Rey.


Born in Pasadena, Ca., as George Garfield Nader Jr., the son of Alice (née Scott), who was from Kansas, and George G. Nader, who was from Illinois.

He became interested in acting while in school. He pursued this interest at Occidental College, from which he earned a degree in English in 1943. He was on the swimming team. and was also president of the Dramatic Club. A native of Los Angeles, he went to Glendale High School. He joined the Navy and served as a communications officer in the Pacific Theater. After the war he appeared in several productions at the local playhouse in Pasadena Playhouse where he spent three years. There, in 1947, he met Mark Miller, who had one of the lead roles in a production of Oh, Susannah! Nader was in the chorus. By 1952 Miller began working as his business manager. He played bit roles in Hollywood films, played in a TV show pilot opposite Celeste Holm and was then costarred in his first major film, Monsoon (1952).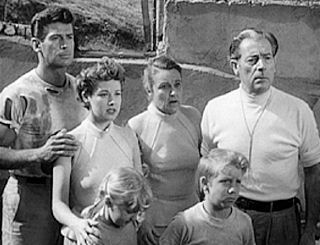 This led to several unbilled roles in a handful of movies that attracted the attention of director Phil Tucker who signed Nader for the lead in the infamous 3D thriller Robot Monster (aka Monsters from the Moon and Monster From Mars) (1953).

Above left: Claudia Barrett, George Nader, John Mylong star in Phil Tucker's Robot Monster (Picture used by permission Deeky Wentworth - El Topo Entertainment)
Golden Globe award winner (1954) for "Most Promising Newcomer," he was often found no match in contention with more famous leading men, such Rock Hudson, Tony Curtis or Jeff Chandler.
Nader landed roles in films such as Carnival Story, Six Bridges to Cross, The Second Greatest Sex, Congo Crossing, The Female Animal, Away All Boats, Man Afraid, Joe Butterfly, Flood Tide and Nowhere to Go.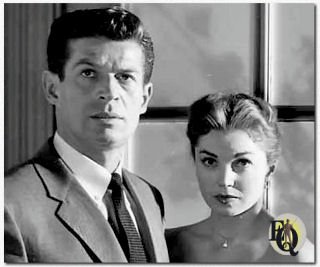 Above left: George Nader in Lady Godiva (1955) with Maureen O'Sullivan.
Above right: Unguarded Moment (1956) George opposite Esther Williams in a movie about a schoolteacher who is terrorized by one of her students.
Nader's screen career was virtually over by the end of the 1950s. Eager to project a heterosexual image the studio used arranged dates for Nader with several actresses.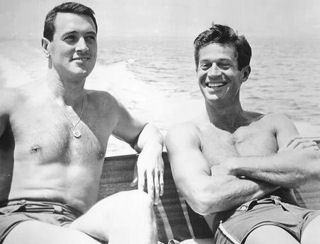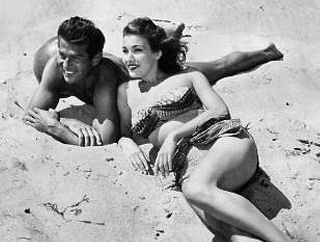 Above left: George Nader with pal Rock Hudson on Lake Arrowhead (50s)
Above right: George Nader in a Universal promotional picture with Julie Adams. They starred together in Four Girls in Town (1957)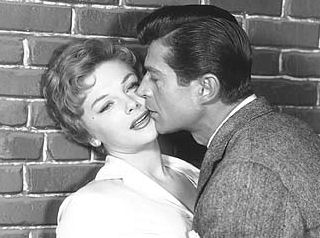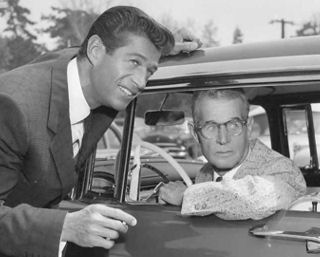 Above left: Joanna Moore and Nader in Appointment with a Shadow (1958). Nader plays a reporter whose career is ruined by liquor and redeems himself by breaking with his habit and helping in the arrest of a criminal.
Above right: George Nader with his father George Nader Sr. (1957).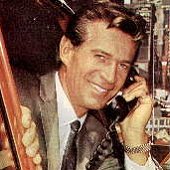 On Television, Nader starred in three short-lived series: The Further Adventures of Ellery Queen (1958), The Man and The Challenge (1960) and Shannon (1961). He also made frequent appearances on The Loretta Young Show as well as guest starring in episodes of Alfred Hitchcock presents.

Above right: TV's Shannon: an investigator of fraud, murder and espionage in the world of corporate America.

He lived in a ranch style house in the San Fernando Valley. As for leaving the Ellery Queen show George Nader wanted no part of moving to New York. During the 20 episode grind George worked six days a week with only 36 hours off between episodes. Few stars would have put up with the back-breaking schedule, but George accepted the conditions cheerfully. "I didn't want to give up the show," he said, "And I'm not walking out on it. The program is walking out on me. Nor do I hate New York city, as has been reported. My reason for staying here are simple. I was raised in southern California, my home and friends are here. I'm sort of a beach bum at heart, and I don't like the idea of getting that far away from the Pacific."
Nader had no complaints about Ellery, even if he wistfully wishes that the series hadn't gone into production so fast last fall.
"I've been an Ellery Queen fan as long as I can remember," he said, "and it was a great mistake on somebody's part to make Ellery a kind of combination of Mike Hammer and whoever else is the rage right now. It's been very irritating to me."
24 hours before NBC announced that Lee Philips would become the new TV Ellery, Nader only knew that Lee was on of a half dozen being considered. "I know they're thinking about Alfred Drake." he said "but I think he comes too high." He also named Steve Forrest and Ron Randall among the aspirants.

But in the mid 1960s, Confidential Magazine, threatened to publish the details of Nader's homosexuality. Supposedly the studio try to cut a deal. His career in Hollywood all but dead, Nader moved to Europe, where he continued to work steadily as he appeared in several German-Italian co-productions as FBI agent Jerry Cotton. The series (8 movies) proved immensely popular and still has a large cult following.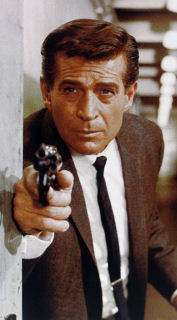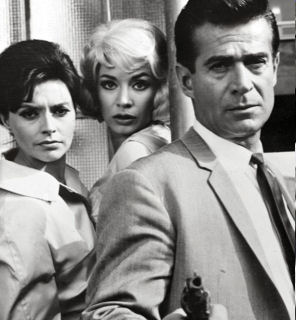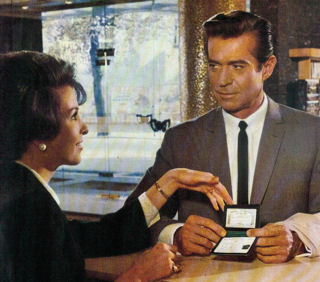 Above left: George Nader as Jerry Cotton.
Above middle: G-Man Jerry Cotton (George Nader) in Die Rechnung - eiskalt serviert.
Above right: The seventh Cotton movie Der Tod im Roten Jaguar from 1968.

In 1972 the couple returned to the States to divide their time between Palm Springs, CA and Hawaii. He retired in 1974 after sustaining an eye injury in a car accident and developing glaucoma.
He took up writing and his first (homoerotic) sci-fi novel Chrome (1978) had six printings. In addition Nader was the subject of an extensive biography Jerry Cotton - George Nader and his films published in 1998.
Only in 1986 after the dead of Rock Hudson Nader and Miller outed themselves. Hudson left most of his estate to them.
Miller said being outed wasn't the trio's greatest worry. When Rock died, with all the publicity, George and Miller said, "Well, they've outed us as gay, but not as Republicans." They believed that could hurt their career worse than being gay in Hollywood.

Nader and Miller recently completed a book called The Perils of Paul, about the gay community in Hollywood, which he did not want published until after his death.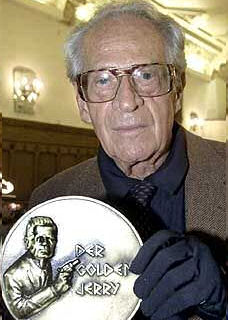 Right: In april 2000 Nader was honored with a Jerry Cotton film retrospective in Titisee-Neustadt, Germany.
Nader's last public appearance was at the 1st Annual Palm Springs Film Noir Festival in May 2001 where he received a standing ovation following the screening of the British film Nowhere to Go, co-starring Maggie Smith.

Nader was admitted to Desert Regional Medical Center in September 2001 with a mysterious bacterial infection, two weeks after returning to his Palm Springs home from vacation in Hawaii.
When the actor's condition worsened he was transferred to intensive care for observation. However, doctors could not find the source of his infection. He was moved to the Motion Picture & Television Fund Country Home in Woodland Hills one month later where he remained until his death on February 4, 2002 at the age of 80. Nader is survived by Miller, his cousin Sally Kubley and his nephew, actor Michael Nader. The actor's body was cremated and his ashes scattered at sea. A cenotaph in his honor (with Mark Miller and Rock Hudson) exists in Cathedral City's Forest Lawn Cemetery.