eorge Nader (Oct 19,1921 - Feb 4,2002)


Height: 6'1" or 1m85 cm
Weight: 180-lb or 81 kg
Partner: Mark Miller

Born in Pasadena, Ca., as George Garfield Nader Jr., he became interested in acting while in school. He pursued this interest at Occidental College, from which he earned a degree in English in 1943. He was on the swimming team. and was also president of the Dramatic Club. A native of Los Angeles, he went to Glendale High School. He joined the Navy and served as a communications officer in the Pacific Theater. After the war he appeared in several productions at the local playhouse in Pasadena Playhouse where he spent three years. There, in 1947, he met Mark Miller, who had one of the lead roles in a production of Oh, Susannah! Nader was in the chorus. By 1952 Miller began working as his business manager.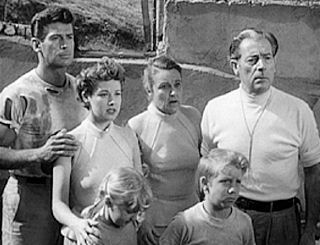 This led to several unbilled roles in a handful of movies that attracted the attention of director Phil Tucker who signed Nader for the lead in the infamous 3D thriller Robot Monster (AKA Monsters from the Moon and Monster From Mars). Soundclip on this page is from this movie (used by permission The Bad Movie Website)
Golden Globe award winner (1954) for "Most Promising Newcomer," he was often found no match in contension with more famous leading men, such Rock Hudson, Tony Curtis or Jeff Chandler.
Nader landed roles in films such as Carnival Story, Six Bridges to Cross, The Second Greatest Sex, Congo Crossing, The Female Animal, Away All Boats, Man Afraid, Joe Butterfly, Flood Tide and Nowhere to Go.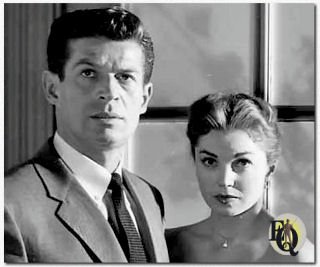 Nader's screen career was virtually over by the end of the 1950s. Eager to project a heterosexual image the studio used arranged dates for Nader with several actresses.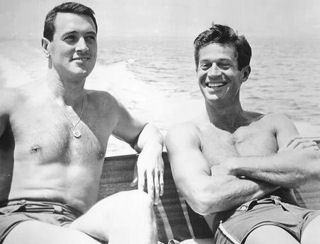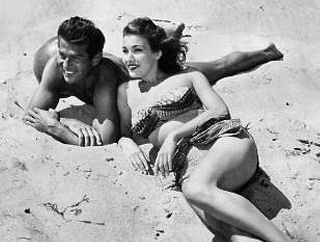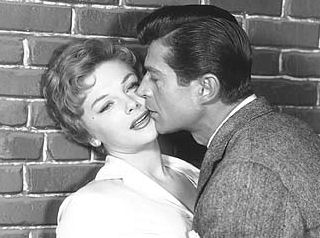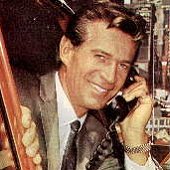 On Television, Nader starred in three short-lived series: 'The Further Adventures of Ellery Queen' (1958), 'The Man and The Challenge' (1960) and 'Shannon'(1961). He also made frequent appearances on "The Loretta Young Show" as well as guest starring in episodes of 'Alfred Hitchcock presents'.
But in the mid 1960s, 'Confidential Magazine', threatened to publish the details of Nader's homosexuality. Supposedly the studio try to cut a deal. His career in Hollywood all but dead, Nader moved to Europe, where he continued to work steadily as he appeared in several German-Italian co-productions as FBI agent Jerry Cotton. The series (8 movies) proved immensely popular and still has a large cult following (In april 2000 Nader was honored with a Jerry Cotton film retrospective in Titisee-Neustadt, Germany).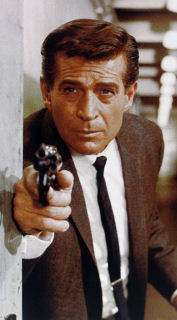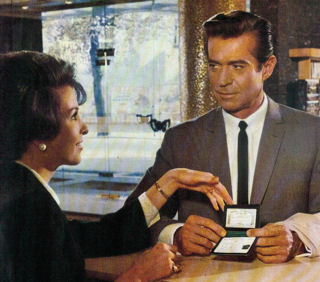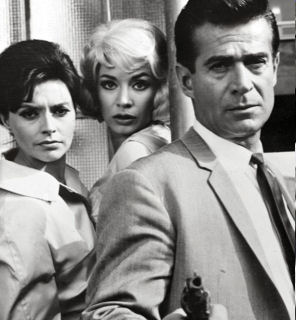 In 1972 the couple returned to the States to divide their time between Palm Springs, CA and Hawaii. He retired in 1974 after sustaining an eye injury in a car accident and developing glaucoma.
He took up writing and his first (homoerotic) sci-fi novel 'Chrome' (1978) had six printings. In addition Nader was the subject of an extensive biography 'Jerry Cotton - George Nader and his films' published in 1998.
Only in 1986 after the dead of Rock Hudson Nader and Miller outed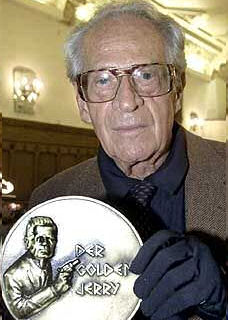 themselves. Hudson left most of his estate to them.
Nader and Miller recently completed a book called "The Perils of Paul," about the gay community in Hollywood, which he did not want published until after his death.
Hospitalized since September, 2001 George Nader died from pneumonia on February 4, 2002 at the age of 80. Nader is survived by Miller, his cousin Sally Kubley and his nephew, actor Michael Nader.