ee Philips (Jan 10. 1927 - Mar 3.1999)


Marriages:
(1) Jean Allison (actress) (aft 1950 - bef 1956, divorced)
(2) Barbara Schrader (1956 - Dec 31. 1980, divorced)
Daughters: Caitlin Meg Philips (b.Oct 09. 1957)
Julie Amanda Philips (b. Aug 14. 1960) actress


Lee Philips was born on January 10, 1927 in New York City, New York, USA. After attending public schools in Brooklyn he went to study (Bachelor of Arts) at the Adelphi College, Garden City, Long Island in New York with Harold Clurman (theatre director and drama critic). Whilst in college he started performing with an off-Broadway group Interplayers at The Circle Theatre, ....
After graduation (Class of 1950) he married another Adelphi graduate and actress Jean Allison but were later divorced amicably.
Appeared in two classic 1950s television productions: a episode of The Philco Television Playhouse: 'Marty' (1953) and Studio One's 12 Angry Men (1957) where, credited as Lee Phillips, he was Juror Number 5.
The sober, good-looking dramatic actor, acting career started on Broadway where in Jan 1954 he made his debut with "Mademoiselle Colombe" (Jan 06. 1954 - Feb 27. 1954). In "Wedding Breakfast" he replaced Anthony Franciosa (from Jan. 11 1955 until closing in Feb 26. 1955). He had some success whilst performing as the husband in Broadway's "Middle of the Night" (Feb 08. 1956 - May 25. 1957) but his popularity really peaked when he played Dr. Michael Rossi in Lana Turner's film version of Peyton Place (1957). No with any difficulty. Turner's lover at the time, the notorious Johnny Stompanato, would stand behind the camera and intently watch the actress during her scenes with Lee Philips.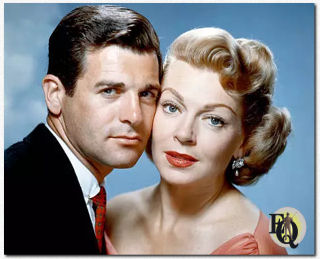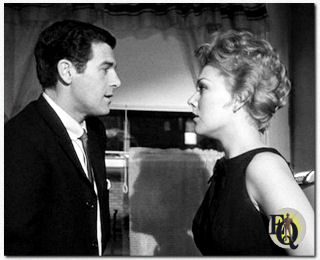 In 1956 Lee married Barbara Schrader and on Oct. 9 1957 their first daughter Caitlin Meg was born.
Past the halfway point of 'The Further Adventures of Ellery Queen' series (1958), he took over as Ellery Queen. Philips played Ellery as a man of awareness and compassion, substantially closer to the original concepts. Using only original scripts the show was produced on videotape rather than live and the title was shortened to "Ellery Queen".
In 1959 he again appeared in his Broadway success "Middle of the Night", this time on the movie screen opposite Kim Novak.