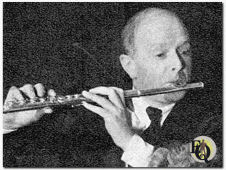 Above left: In 1945 William Smith played Philip Baxter (1945-1947), one of Boston's most attractive and richest widowers for years in Stella Dallas, based on the novel of that name by Olive Higgins Prouty, was heard Mondays through Fridays on NBC.
Above right: Poppa Dennis, aka minister Richard Dennis (Bill Smith) in The Brighter Day (1949).


After being heard in several episodes of Crime Club (1946-1947) for Mutual, he stayed with the detectives.

In 1947 the radio series The Adventures of Ellery Queen made many changes one being the introduction of Bill Smith as Inspector Queen. He stayed on for 10 episodes until the show moved to Hollywood.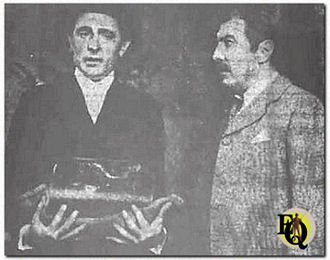 Above: William Smith, left, of 36 Lehigh court, Rockville Centre, played the part of Michael, an alcoholic servant, in the Russell Crease - Howard Lindsay (right) comedy, Life With Mother

(Oct 1948 - 1949). He liked the new name Michael Smith so well he took it for a stage name. Another reason was that he found the Actor's Equity already had listed a William Smith and Bill Smith.




Secret Missions (Mutual) had Bill Smith in at least 3 episodes. "Arctic Mission" wherein an agent is sent to Spitzbergen to find out if the Russians have been supplying sixty Nazi scientists still living somewhere beyond the Arctic Circle. (Aug 2.1949). Another episode broadcast on September 26. 1949 with an unknown title was about the first Russian explosion of a A-bomb.
Finally "The Case Of Colonel X" (Oct 3. 1949) was about a naval attaché in Poland who has discovered that the Polish shipyards have secretly been building submarines for the Russians.

1000 Dollar Reward (NBC, Jun 25. 1950 - Oct 10. 1950) was a Sunday game show hosted by John Sylvester, Bill Smith was in it. He also played Nick Charles for a brief time on radio's The Adventures Of The Thin Man (1941-1950) late in the series.

In the popular radio soap The Brighter Day Bill Smith (1949-1953) played Poppa Dennis, aka minister Richard Dennis played opposite daughter Liz Dennis (Margaret Draper) as housekeeper, sermon-typist and holder together of the family.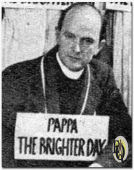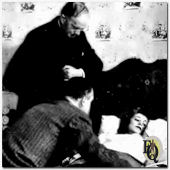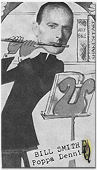 Above left: Bill Smith as member of The Brighter Day cast (1949)
Above middle: Pictured in their original radio roles - Bill Smith as Rev. Dennis, Les Damon as Larry, and Joan Alexander as Althea. (The Brighter Day was heard on CBS radio sponsored by Cheer, 1952)
Above right: Bill Smith in 1949 add for The Brighter Day.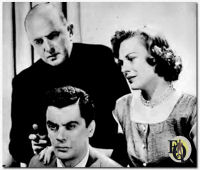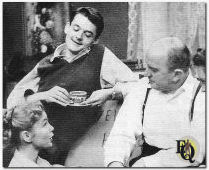 Above left: The Brighter Day, CBS radio. As pictured here, Bill Smith plays Reverend Dennis; Mary K. Wells, Patsy and Philip Pine, Alan (1953).
Above right: Harold "Hal" Holbrook (left) and Bill Smith (right) in TV's The Brighter Day.

Harold "Hal" Holbrook remembered auditioning for The Brighter Day TV show by the end of 1953 "...with an older actor, Bill Smith, who was going to play the minister/father. He was good, very natural - he'd been doing the role on radio and they were going with him on TV. I tried to be natural, too, and calm, but I wasn't..."
From the radio show only Bill Smith joined the program on TV, but departed the TV show after the 1954 season. He was replaced by Blair Davies. (pictures and video footage clearly show Blair Davis as Rev. Dennis before 1956).

In 1955 he was heard in a X Minus One #1 episode (April 24, 1955) called "No Contact".

In radio's Young Dr.Malone Bill played dr. Brown (1956 - 1959) opposite real life friend Sandy Becker (Jerry Malone). Whilst still living in (36 Lehigh court) Rockville in 1959 he was also seen on TV's From These Roots.

He did some stints for radio's Yours Truly Johnny Dollar (1961- July 29. 1962).

Again not much is known about Bill Smith after this radio/TV work. His wife passed away in 1975 and Bill died in 1992.


References
(1) IMDb
(2) Wikipedia
(3) RUSC Radio programs, biography is the "wrong" Bill Smith (!)
(4) IBDB
(5) OTRRpedia
(6) Radiogoldindex

Additional video & audio sources
(1) Oldtimeradiodownloads
(2) The Brighter Days Internet Archive full episodes
(3) Just A Little Flower Shop Around The Corner - Harold Stern
Biltmore Orchestra - Recorded March 22, 1933 (Bill Smith, vocal)
(4) Isn't It Romantic - 1932 Harold Stern (Bill Smith, vocal)
This actor profile is a part of the
Ellery Queen a website on deduction
. The actor above played Richard Queen in the Ellery Queen radio series.

Click Uncle Sam if you think you can help out...!

Page first published on July 1. 2018
Last updated July 24. 2020