No additional information


Although the internet has made it easier to research biographical information about many actors otherwise long forgotten, when it comes to correctly identifying someone the unending stream of information available on the internet can present its own difficulties. "Bill Smith" unfortunately is a combination of two very common names. This makes mis-identification a real risk. Have a look this IMdB list to see what we're faced with. "The" Bill Smith we're looking for isn't William Smith born on March 24. 1933. This last actor who, in my mind, forever will be Falconetti (Rich Man, Poor Man), did start his acting career at an early age. Physical appearances aside, he simply could not have been the actor who took on the roles 'our' Bill Smith played. The current online information on both of these actors tends to be sadly scrambled. Click on his picture to read the information we have sifted through and found to be correct.
As ever, we welcome you to add information to this page... to do so: just click Uncle Sam at the bottom of the page.
Bill Smith is believed to be born around 1900. At the moment little is known about his activities leading up to his radio work. Possibly he was in stock companies before he started off in radio.

In 1945 he maintained a durable radio role as Philip Baxter (1945-1947), one of Boston's most attractive and richest widowers for years in Stella Dallas, based on the novel of that name by Olive Higgins Prouty, was heard Mondays through Fridays on NBC.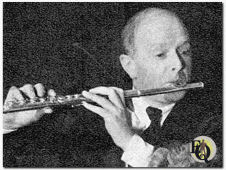 After being heard in several episodes of Crime Club (1946-1947) for Mutual, he stayed with the detectives.

In 1947 the radio series The Adventures of Ellery Queen made many changes one being the introduction of Bill Smith as Inspector Queen. He stayed on for 10 episodes until the show moved to Hollywood.

1000 Dollar Reward (NBC, Jun 25. 1950 - Oct 10. 1950) was a Sunday game show hosted by John Sylvester, Bill Smith was in it. He also played Nick Charles for a brief time on radio's The Adventures Of The Thin Man (1941-1950) late in the series.

In the popular radio soap The Brighter Day Bill Smith (1949-1953) played Poppa Dennis, aka minister Richard Dennis played opposite daughter Liz Dennis (Margaret Draper) as housekeeper, sermon-typist and holder together of the family.

Harold "Hal" Holbrook remembered auditioning for The Brighter Day TV show by the end of 1953 "...with an older actor, Bill Smith, who was going to play the minister/father. He was good, very natural - he'd been doing the role on radio and they were going with him on TV. I tried to be natural, too, and calm, but I wasn't..."
From the radio show only Bill Smith joined the program on TV, but departed the TV show after the 1954 season. He was replaced by Blair Davies. (pictures and video footage clearly show Blair Davis as Rev. Dennis before 1956)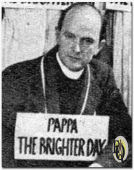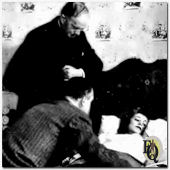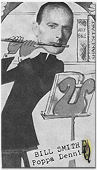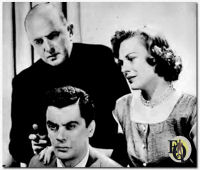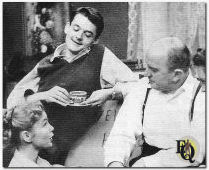 In Young Dr.Malone Bill played dr. Brown (1956) opposite real life friend Sandy Becker (Jerry Malone).

He did some stints for radio's Yours Truly Johnny Dollar (1961-1962).

Again not much is known about Bill Smith after this radio/TV work.
References
(1) IMDb
(2) Wikipedia
(3) RUSC Radio programs, biography is the "wrong" Bill Smith (!)
(4) OTRRpedia

Additional video & audio sources
(1) Oldtimeradiodownloads
(2) The Brighter Days Internet Archive full episodes
This actor profile is a part of the
Ellery Queen a website on deduction
. The actor above played Richard Queen in the Ellery Queen radio series.

Page first published on July 1. 2018
Last updated July 1. 2018

b a c k t o L i s t o f S u s p e c t s