Born March 6, 1916 as Virginia Lee Gregg, in Harrisburg, Illinois; daughter (and only child) of Edward William Gregg, a businessman and Dewey Alphaleta Todd, a musician.
The family in Harrisburg was close. Virginia lived with her parents a 325 E. Locust street where a historical marker honoring her stands today. Her home backed up to here paternal grandparents' home on E. Poplar Street. After the death of her maternal grandfather, Hugh Todd in 1919, when Virginia was three years old, "Grandma Luella" aka "Tennessee Todd" came to live with Virginia and her parents. She had one grandparent in the living room and from her backyard, could peek through the fence slats alongside the chickens and see her other grandparent's towering mansion. Many of her aunts and uncles lived within blocks of each other around the square that housed many of their family owned businesses. They did life together daily, with church practices, Sunday suppers, and songs around the family piano. Harrisburg was a happy place and many loved "little Ginny Lee Gregg." (8)
As an only child, Virginia and her mother, Dewey, were very close. She was Virginia's caregiver, playmate, companion, and ever-present anchor, while Edward was the pragmatic. Virginia admired her father but her mother was her solace. In 1921 when Virginia was 5, Dewey was diagnosed with "consumption" or tuberculosis. In the 20s often a slow death sentence. Just shy of a year after Dewey's diagnosis, the Greggs packed up their home and with six year-old Virginia in tow moved to California. It was a pilgrimage to the hope of prolonged life. California was a mythological beacon of sorts for those with incurable ailments including consumption. Certainly a difficult decision to bid farewell to many family members they would never see again. Grandma Luella stayed behind and moved in with other Harrisburg relatives. The three loaded what they could and bade farewell to family and neighbors and made the 1,937 mile journey. They boarded the Californian in Chicago and arrived after days in Altadena, California. There was a Saline Country family who made a similar migration to California. (8)
Her father worked in the absorption plant of an oil company Richfield Oil on Signal Hill, where he would work for 22 years. Dewey was functional enough at the beginning of their California move to go about some of her normal house duties and within the community.
From 1922 to 1935, the Greggs moved from house to apartment to bungalow to boarding house with one change of address after the other, all within a ten-mile radios. Biographer Bailey (8) suspects these moves may have been in part due to landlords or neighbors discovering Dewey's condition through the persistent cough, which back then could cause a panic. For fear that Edward or Virginia might be infected, there were rigid protocols the family followed, from separate beds, dishes, and personal effects. As Dewey weakened, Virginia assumed more and more of the household responsibilities. Edward's focused on providing for his family, with little consolation for his young daughter's grief. School was Virginia's solace, for at school, she could be what she was: a kid. She had two distinct trainings: school and home life. (8)
Virginia enrolled in the John Fremont Grammar School at Fourth St. and Termino Ave., Long Beach. It was while in the seventh grade at Jefferson Junior High that Virginia remembers having the most fun. She loved sports and excelled as pitcher on the baseball team. Her specialty was a fast curve and Long Beach teenagers had their own particular version of the tragedy of Casey-at-the-Bat when they stepped to home plate to face the blue-eyed Gregg gal with the super-duper pitch. She also enjoyed swimming, basketball, tennis, and track.
After the first few years in Altadena, Edward's young brother Roy, joined them with his wife Ollie and their children William, Helen and Dorothy. Virginia was great friends with first cousins Helen and Dorothy who were close in age.

In Washington Junior High School she met her best friends for the next years the bass viol. She was trained to become a musician and was very proficient on that instrument. She started in the seventh grade at Thomas Jefferson High School, L.A. and graduated in 1933. Afterwards she went on to attend Pasadena Junior College, now known as Pasadena City college where she majored in dramatics. After junior college, she studied at the Pacific Academy of Dramatic Arts where she won a scholarship for acting.
While Virginia was in school when she worked some at the Pasadena Playhouse, did a bit at little theaters and got her first paying professional job with the Pasadena Symphony, where she stayed for about 4 years.
When Virginia was nineteen when Dewey Alphletta Todd Gregg died on June 13. 1935, at the age of thirty-seven. She lived 13 years beyond the consumption diagnosis which was quite remarkable in those years. After Dewey's untimely death Virginia treasured her mother's jewelry, proudly wearing many of her pieces as parts of her every day. In several prints or productions a ring of Dewey's can be seen on Virginia's left pinky. She also wore her mother's cameo necklace and single dangling pearl until her own death. (8) Virginia's way of life changed drastically with the death of her mother.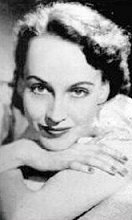 She left the symphony orchestra and joined up with 5 other young female musicians. They called themselves The Singing Strings and they were fortunate enough to be hired as staff at CBS-Radio then, after about a year, as staff at Mutual Broadcasting.
They lasted for a five-year run, with Virginia present for the first four. They cut several records, were presented at the Hollywood Bowl, performed with idols of the day and were hired as staffers for two different networks: CBS and Mutual.
Above right: Young Virginia Gregg part of The Singing Strings.

It was through her work at Mutual that she did a few on-air commentaries and MC spors that led to her ultimate decision to break away from the music business and pursue acting fulltime.
Virginia became enamored with a fellow symphony musician Louis "Lou" Butterman, tall, dark, handsome and eight years her senior. Lou was an impressive 6'1 at 195 pounds when Virginia met him, with brown eyes behind his glasses, brown hair, and an olive complexion. Lou, recently divorced, fell in love with the slender, dark-haired beauty.
Shortly after Dewey died her father remarried Gertrude Dooley Harris, a divorcee 12 years younger than Edward and only 14 years older than Virginia. Gertrude also had a young daughter 4 years older than Virginia.

Virginia got a place of her own. After a brief courtship she married Lou on August 16. 1937 in Orange County. The newly weds lived just two miles from downtown LA in one of the city's first suburbs: Echo Park.