irginia Gregg (Mar 6,1916 – Sep 15,1986)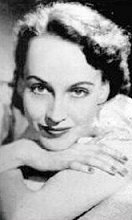 Height: 5' 7'
Weight: 129 lbs
Hair: light blond
Eyes: blue
Marriages:
(1) Louis Butterman, musician (Aug 16, 1937 - ?)
(2) Jaime Carrillo del Valle, Air Force Major,
radio producer-director
(Oct 15, 1947 or Apr 8. 1948 - Dec 22. 1959, divorced)
Sons: Gregg Bandini (Nov 11, 1948), Jaime Carrillo Jr.
(Mar 10, 1951), and Ricardo Bandini (Aug 17, 1953).
(3) Flavius Otto Burket(t) (Aug 12, 1962 - ?)

Above right: Young Virginia Gregg part of the "Singing Strings".

Born March 6, 1916 as Virginia Lee Gregg, in Harrisburg, Illinois; daughter of Edward William Gregg, a businessman and Dewey Alphaleta Todd, a musician. She came west with her parents at an early age and enrolled in the Fremont grammar school at Fourth St. and Termino Ave., in Long Beach. Her father worked in the absorption plant of an oil company on Signal Hill. It was while in the seventh grade at Jefferson Junior High that Virginia remembers having the most fun. She loved sports and excelled as pitcher on the baseball team. Her specialty was a fast curve and Long Beach teenagers had their own particular version of the tragedy of Casey-at-the-Bat when they stepped to home plate to face the blue-eyed Gregg gal with the super-duper pitch.

She was trained to become a musician and was very proficient on the bass viol.
While Virginia was in school when she worked some at the Pasadena Playhouse, did a bit at little theaters and got her first paying professional job with the Pasadena Symphony, where she stayed for about 4 years. She left the symphony orchestra and joined up with 5 other young female musicians. They called themselves "The Singing Strings" and they were fortunate enough to be hired as staff at CBS-Radio then, after about a year, as staff at Mutual Broadcasting. Virginia played the double bass; a talent acquired attending senior high school in Pasadena.

In 1941, she built a home in the Los Feliz district and furnished it in modern Chinese. "I'd rather spend a quiet evening there than brave crowded night clubs," she confessed. Not a bachelor girl, Ginny shares her home with a cousin and a fourteen-pound black Persian cat, Abdul. "It's Abdul who's lord and master there. He thinks it's his house."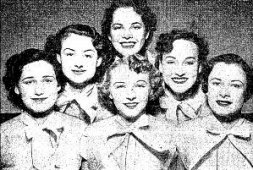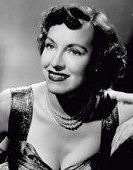 Above left: Virginia (Second row, right) joined up with 5 other young female musicians. They called themselves "The Singing Strings".
Above right: Publicity shot for Virginia as Brooksie in radio's Let George Do it. Francis Robinson first played Brooksie, then Virginia Gregg took the role through its best years. Both ladies played Brooksie smart and sassy.

Though she loved music she had dreamed of being an actress. In 1943 Virginia played twenty shows a week at the studio and had to rehearse for all of them, but she still managed to find enough time to play a few small parts and one lead at the Playhouse. Then, one day, while her orchestra was rehearsing the music bridges for a dramatic show at the studio, the leading lady called up to say she was too ill to make the broadcast. The director tore his hair. He couldn't find a replacement at the last minute. Virginia had listened to enough rehearsals to know the script and she asked if she could read it. The director didn't like the idea, but there wasn't anything else for him to do, so he gave her the script.
Virginia played the part on the air, taking her cues from a very nervous director, indeed. It wasn't until after the broadcast that she had time to tell him about her acting experience.
"I was also on staff at KHJ. I broke into acting there. I narrated one of our shows. Then they started using me on Johnny Nesbitt's The Passing Parade. If they needed a character, a voice, I did that. Then I did Rise and Shine, an early morning show with Jimmy Burton and Sam Pierce."
It was what she wanted. She gave up making music, sold her bass viol and followed her heart. This happened as radio itself went through a transition from small musical groups to larger name bands just before the war. Fortunately she had friends who were already in the radio business and they helped her get started in shows like the prestigious Lux Radio Theater. Producers and directors began to take notice of her and the jobs started coming in.
In 1945 she played a while in the Michael Shayne radio series.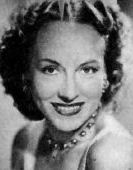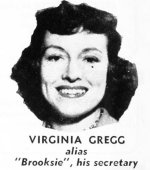 Above left: Virginia Gregg in 1946.
Above right: She played secretary "Claire 'Brooksie' Brooks" opposite actor Bob Bailey (detective "George Valentine") in Let George Do It on Mutual from 1949 to 1954.

In the 1940's Virginia seemed to be in all the shows on the air! Her specialties appeared to be westerns (mostly in movies) and "who-dun-its" (both radio and movies) although she was "Betty" on the Granddad of all soaps One Man's Family for 9 years. She also turned up on the popular medical series Dr. Kildare and the beloved Lum and Abner series. She played secretary "Claire 'Brooksie' Brooks" opposite actor Bob Bailey (detective "George Valentine") in "Let George Do It" on Mutual from 1949 to 1954. What George did was offer to clear up cases for other people who found them too tough to handle.

In the Summer of 1946 Prevention Preferred, was presented in cooperation with the 10th District Parent - Teachers Association. The dramatic programs were presented by a cast which included some of Hollywood's topflight actors. Frequently heard are Conrad Binyon, Virginia Gregg, Leone Le Doux, Tyler McVey, and Ted Von Eltz. Throughout the summer the program stressed disease prevention and safety precautions as they apply to playgrounds and camps, as well as psychological guidance work of playground supervisors in teaching youngsters to get along with each other.
Back to the "gumshoes" as of November 1947 Virginia starred briefly as secretary "Nikki Porter" with Larry Dobkin who filled the title role in The Adventures of Ellery Queen (CBS).
The Anderson Family broadcast from 1947-1948 was a situation comedy radio program billed as a "Hollywood Broadcaster's Production". In this enjoyable family program Virginia played Mary, wife and mother next to well actors such as Conrad Binyon and Charlie Lung.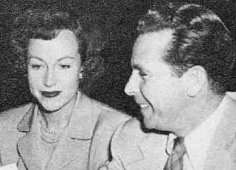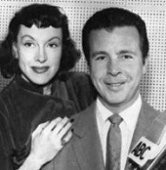 Above left: Preliminary run-through of a script for Richard Diamond, Private Detective. Virginia Gregg (Helen Asher) and Richard Powell (the detective), see what Diamond's up to today.
Above right: Dick Powell and Virgina Gregg during the ABC run of Richard Diamond from KECA Studio X in Hollywood.

She was "Helen Asher" to Dick Powell's Richard Diamond, Private Detective on NBC-Radio from 1949 to 1952 then on CBS-Radio for the 1952-53 season. "Helen" was the filthy-rich Park Avenue gal who was always trying to lure Diamond up to her gorgeous digs, where, if he ever did have time to get there he would head for her baby grand and burst into song!

Virginia also guest-starred on The Adventures of Philip Marlowe (CBS-Radio 1948-51) starring Gerald Mohr... (Dick Powell was actually radio's first "Marlowe") for which Mohr, in 1950, was named Best Male Actor on Radio by Radio and Television Life Magazine. Virginia was also "Betty Lewis" on the radio series Yours Truly, Johnny Dollar yet another "tec" series.
Virginia appeared many times on the radio and TV version (2 times) of Have Gun, Will Travel opposite the fine actor John Dehner who starred as "Paladin". Oddly enough this show originated on CBS-Television (1957-1963) as a starring vehicle for Richard Boone and was such a smash that CBS decided to develop it for CBS-Radio (1958-1960) as well. Generally this worked the other way around: from radio to TV!
Virginia played hundreds of roles on radio and some of her best came through her joining actor/director/producer Jack Webb's stock company as a result of which she was heard in one role or another about every other week on radio's well-received Dragnet. She was also starred in the two Dragnet films that were eventually made in Hollywood also in the TV series.