Born as Lucien Lee Bowman December 28.1914 in Cincinnati, Ohio (USA).
His thrice-married mother, Elizabeth "Bessie" Pringle Brunson Fauntleroy Bowman Clyde, grew up as Southern aristocracy on Kingstree, the Brunson family plantation outside Charleston, SC. But there was a hex on Bessie's private life. Both her mother and her grandmother would fatally burn - in accidents with a fireplace and an overheated stove, respectively. And her first husband, a dentist and mineral-water entrepreneur from Staunton, Virginia, contracted a debilitating illness. Bessie bore her second husband, Luther Lee Bowman, three sons: Lee, Pringle, and Hunter. After that marriage fell apart, Bessie married a wealthy distant cousin, William Clyde who supported Lee's pursuits of singing and dancing at the Cincinnati Conservatory of Music as well as varsity athletics (gymnastics and track) in public school. While Lee was attending high school in his native Cincinnati, his sister, Rowena, met with some success on Broadway, which more than ever inclined young Bowman toward acting. Nevertheless Lee enrolled as a law student at the University of Cincinatti where colleagues remembered his prowess in ice hockey, baseball and track. Both his parents were descended from a long line of lawyers, judges and ministers, so this didn't come as a total surprise.
From time to time his singing voice on the radio earned him extra spending money. Lee could not divorce the idea of an acting career. When Bowman entered Columbia University in 1932, he was bent on lawyering. Fred Astaire movies changed his life. "If he can do it, I can do it". He enrolled at the American Academy of Dramatic Arts.
So began a career as a stage actor and radio singer in the '30s. Following several years of stock, Lee entered a partnership as part owner of a New Hampshire stock company. His performances there resulted in his being signed to play the lead in Berkeley Square in New York. Talent scouts caught him in this, and the next year saw him in Hollywood making his film debut in Internes Can't Take Money (1937) . At age nineteen he had a Paramount contract. Following this he spent seven years playing second leads, often as a playboy thanks to his suave, elegant style and dapper, handsome looks.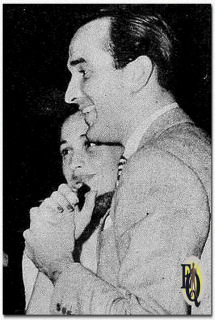 Helene Fleming and Lee (pictured right) first met at the West Side Tennis Club in August 1939. Lee's young brother Hunter says, "Helen was a good tennis player and she was not stupid, she set her sights on Lee and got him."
Not been able to get her stepfathers approval Helene in 1941 eloped with Bowman to Tijuana.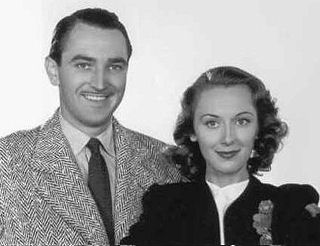 Above left: In Stronger than desire (1939) he played opposite Virginia Bruce and Walter Pidgeon, with whom he is often mistaken on photo credits.
Above right: Marjorie Main with Aline MacMahon, Lee Bowman and Zasu Pitts in the comedy Tish (1942).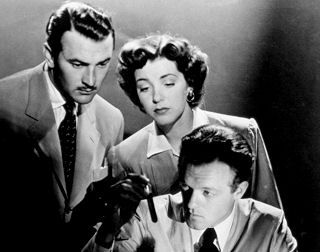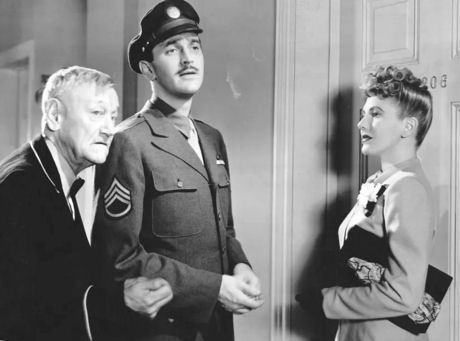 Above left: Fred Zinnemann's feature debut Kid Glove Killer (1942), a neat, an enjoyable whodunit about the hunt for the killer of the town's crusading mayor. Van Heflin, as the dedicated forensic scientist, demonstrates a mini-dustette to collect evidence from human scalps. Marsha Hunt plays his wisecracking assistant who despairs of his ever realizing that she's a woman, and Lee Bowman as the blandly suave killer. Ava Gardner has a tiny role as a waitress.
Above right: Jean Arthur and Lee Bowman in Impatient Years (1944) showing the reality behind wartime marriages...


The success of Cover Girl (below left) wasn't left unnoticed and Hollywood teamed Bowman several times with the lovely Susan Hayward. Hit it big time in the mid '40s, In 1948 Susan Hayward got nominated for her role in Smash-Up: The Story of a Woman (1947) The film loosely based on the life of Dixie Lee (wife of Bing Crosby) tells the story of a nightclub singer who marries a rising singer and falls into alcoholism when she gives up her own career.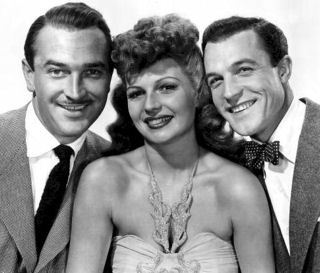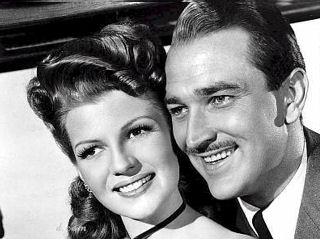 Above left: With the tagline "Too thrilling for words, so they set it to music! " Cover Girl hit the screens in 1945, it starred Rita Hayworth, Lee Bowman and an energetic Gene Kelly.
Above right: In Tonight and Every Night (1945) a photographer for Life magazine comes to London to do a story on a local theater troupe which never missed a performance during World War II. Flashbacks also reveal the backstage love affair between star Rosalind Bruce (Hayward) and a British flyer played by Bowman.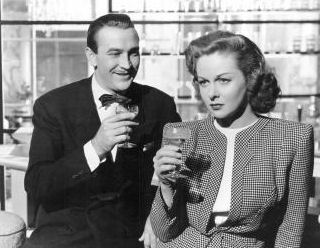 Above left: Joan Blondell, Dick Powell and Lee Bowman in a publicity shot for Model Wife (1948).
Above right: Susan Hayward got nominated in 1948 for her role in Smash-Up: The Story of a Woman (1947) The film loosely based on the life of Dixie Lee (wife of Bing Crosby) tells the story of a nightclub singer who marries a rising singer and falls into alcoholism when she gives up her own career.

Never a major star, he began concentrating more on his stage work in the late '40s. As many celebrities do, he also had several guest roles on radio (and subsequently on TV). On radio he was heard in Screen Guild Theatre (with Paulette Goddard), Inner Sanctum, several episodes of Suspense (1945) and Cavalcade Of America (1946-1953). In the Old Gold Comedy Theatre he starred in episode 4 "Vivacious Lady". A young university professor comes to New York to retrieve his errant cousin -- but promptly falls in love with a nightclub performer and marries her after a whirlwind romance. When he goes back home, he can't bring himself to tell his conservative and ultra-respectable academic family about it. Lee Bowman and Linda Darnell starred.
In the pilot for My Favorite Husband Lee Bowman played George opposite Lucille Ball. He had to bow out of the regular series due to contractual obligations. He was replaced by Richard Denning (CBS Radio July 5, 1948).
In House By the River (1950) directed by Fritz Lang. Louis Hayward accidently kills his maid while trying to seduce her, and enlists the aid of his crippled brother (Lee Bowman) to dispose of her body. Bowman is blamed for her death when the corpse washes ashore later. Also with Jane Wyatt and Dorothy Patrick.
He briefly starred in the TV series The Adventures of Ellery Queen (1950-51) as Ellery Queen. "I find myself working forty hours a week on just the twenty-four-minute Ellery Queen show itself. Additional guesting on such shows as Theatre Guild of The Air, Studio One, Curtain Call, Cavalcade of America serves to add hours to my work week, and break up my weekends with the family. On top of that, I'm active in several other business ventures ... ." (Left: Lee in the Ellery Queen Adventure "The Red Hook Murder")

After the EQ series he stayed on the East Coast to do Broadway shows, front TV spectaculars for an auto concern, supervising of his mother's 1,000-acre farm in Kingstree South Carolina (cotton, tobacco and timber), conduct a real estate-insurance firm with his brother, act as director of a commercial film concern, perform on a weekly drama over NBC radio and appear on the panel show, Masquerade Party.
During his 1952 Eastern activity he moved his household to a roomy home on Long Island.

Bowman also appeared regularly on television including several guest appearances in the television series Robert Montgomery Presents (1950-57). In Eye Witness (1953) he hosted this 30 minutes NBC show which premiered on March 1, 1953.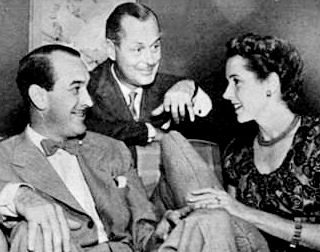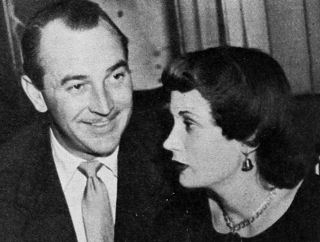 Above left: Robert Montgomery Presents, Lee Bowman, Robert Montgomery and Jane Wyatt, 1950. In the episode "The Awfull Truth'' Lee and Jane played Jerry and Lucy Warriner (Air date September 11, 1950).
Above right: Lee Bowman with his wife Helen Rosson in the Stork Club (1955).

In 1961 he played Private Investigator Jeff Thompson in Miami Undercover. This private Eye was hired by the Miami Hotel Owners' Association to keep the city crime free. Former boxer Rocky Graziano played assistant Rocky with Thompson posing as a sophisticated man about town. The First-Run Syndication series ran for 38 episodes.

After this Bowman retired from the screen except for a role in Youngblood Hawke in 1964 and the role of Ted Langer in The Fugitive episode: "Detour on a Road Going Nowhere" (1964). Beautiful Elizabeth Allen offers Kimble a one-night stand but Kimble refuses. Later on a bus fellow traveler Langer (Bowman) finds Elizabeth more than a little enticing. Elizabeth tells Kimble watch this and crosses her legs letting her skirt rise. Kimble looks away but Langer practically breaks his neck trying to get a good look. Elizabeth then demurely uncrosses her legs and pulls her skirt down and smugly smiles at Kimble. Langer's wife (40's movie star Phyllis Thaxter) has seen what happened and it is clear Langer will have some explaining to do. Elizabeth tells Kimble that he may be like Langer in a ten years, dreaming of the "legs that got away."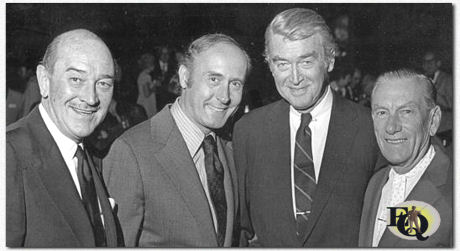 Above: Standing here (L to R) Lee Bowman, Henry Mancini, Jimmy Stewart and Hoagy Carmichael at a salute to Hoagy Carmichael, in Los Angeles, sponsored by the Indiana University Alumni Association, 1973.

After his role in The Fugitive he went on to become the radio and TV consultant for the Republican Senatorial and Congressional Committee in Washington (Mr. Bowman was hired by the Nixon administration) and later for Bethlehem Steel, coaching politicians and businessmen in speaking and on-camera techniques.
From 1974 until his death, he was Chairman of the Kingstree Group, an international consulting firm, which offers communication advice to business and political leaders all over the world. Kingstree's global headquarters is now located in London, England. Bowman was responsible for developing the 'conversational' approach to spoken communication, which is recognized today as the only successful model for business and political presentations and media interviews.
Lee died, 3 days before officially becoming a senior citizen, in Brentwood, Los Angeles of a heart attack on December 25. 1979.