On radio she was heard in "The Affairs Of Anatol" part of Mercury Theatre On The Air (with Orson Welles) (Aug 22.1938), The Mighty Show (as Sally of the high wire) (1938-39), Aunt Jenny's Stories (CBS, 1938), Big Sister (as Sue Evans Miller) (1939-1940), The Court of Missing Heirs (1937-1940) and Johnny Presents...(1937-1940).
"I also appeared in The March of Time and Cavalcade. And you might be amused to hear I was Miss Television of 1938. TV was exciting then. You saw new experiments tried out every day."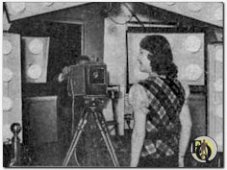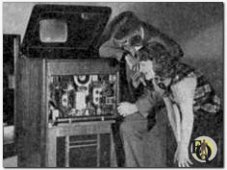 Above left: "Miss Television 1938" posing in front of a camera - note the amount of lighting required!
Above right: One of the receivers on display. "Miss Television 1938" looks on with interest.

She was called in for television after an audition for regular radio work. She played television's first long-run show, a dramatic sketch that ran 14 performances. Lewis had this to say on television: "There is something very intimate about a camera gazing at you several feet away and all the world watching through its lens. Compared with stage and radio, I think television gives the actor a greater Incentive for emotional expression."

Lewis served as an M.C. (Mistress of Ceremonies) whenever the studio needed her. "M.C." jobs however, weren't frequent. So in a 1939 interview she said "You don't get paid much in television. Nothing like what you get in radio. The hours and the way you work are much harder. I suppose I'm in television because I want to be among the first in something. The old pioneer spirit, I guess. There isn't enough television work to make a career of it yet." Which is probably why we continue to see Helen in radio and fashion gigs.

Then she found a satisfactory niche in radio and later in television. She did Ma Perkins (as Gladys Pendleton) for 15 years on radio. As "Ma Perkins" she frequently was seen in TV commercials. A pretty woman with tawny hair, bright brown eyes and a trim figure and she is a delightful person.
In 1939 the drama series Kate Hopkins, Angel of Mercy, starring Helen Lewis, Peggy Allenby, Constance Collier, and Clayton "Bud" Collyer began a 2½-year run on CBS Radio (Clayton later married Marion Shockley). She also played the part of the dew fairy in performances of Humperdinck's opera Hansel and Gretel (1939), had the leading role in The Pirates of Penzance, and has been soloist with the Schenectady Choral Club and took the lead in a production of the Light Opera Company, My American Cousin. In 1940 she shared an apartment in New York with Alice Smart, a secretary in advertising.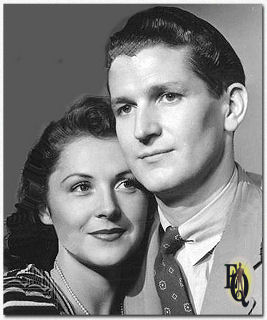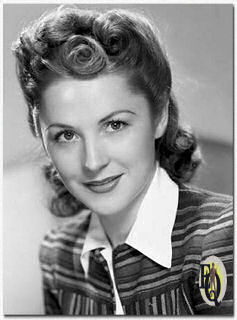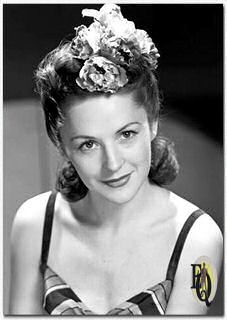 Above left: She played in CBS' Kate Hopkins, Angel of Mercy (1940) opposite Clayton Collier (who would later marry Marion Shockley).
Above middle and right: Helen Lewis models hair styles for a portrait in New York City. She has a role in the soap opera Kate Hopkins, Angel of Mercy (April 7, 1941)

When Helen started rehearsing for an Office of War Information show she met J. David Penn. A whirlwind courtship — met in August, 1942, and married seven months later on March 12, 1943 in New York. The ceremony was performed at a Fifth Avenue church in New York, where four years ago her brother, John Lewis, and Miss Jess Roy of Reno were married. The simple ceremony was attended by a few close friends and the attendants were Miss Alice Smart and Mr. Marty Elaine, who have been associated with the bride in radio work in New York.

David spent two-and-a-half years in the Army. Then at the close of the war he entered the State Department as a Special Press Advisor to the International Conference Division, a position he has held ever since. "It's a wonderful and really exciting job, but it is the reason we're so much and so often apart." Helen confided in a 1952 interview.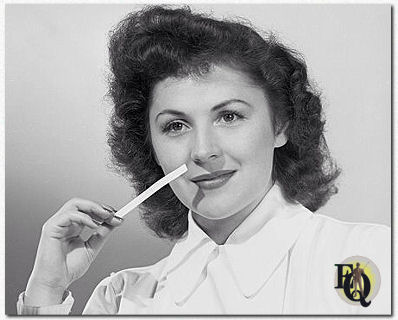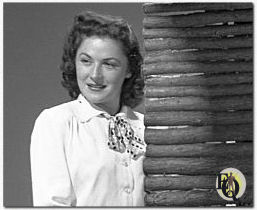 Above left: CBS Radio actress Helen Lewis wearing a WWII U.S.Civil Defense Air Raid Warden outfit and testing an "Imitation Poison Gas Odors" kit. She portrays Gladys Pendleton in the soap opera Ma Perkins (Oct 16, 1942).
Above right: Helen Lewis , at CBS with studio lights (September 14, 1944. New York, NY).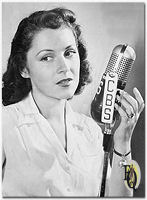 There's a human interest story of friendship, loyalty - and special talent - When Marion Shockley was seriously ill for nine weeks, her roll of Nikki Porter went right on, with few listeners realizing that Marion herself wasn't at her usual place behind the mike. So in the fall of 1944 she played Nikki Porter in Ellery Queen (Picture right). Helen took over the difficult job of impersonating - not only Nikki - but Marion Shockley playing Nikki! Helen is a gifted mimic who has imitated Queen Elizabeth, Eleanor Roosevelt, Ginger Rogers and many others on The March of Time. In this case she had the special benefit of long, close friendship with the subject of her impersonation.
Her involvement in radio continued with roles in series as The Shadow (Oct 14.1945 in "The Murdering Ghost"), This Is Your FBI (1945 - 1947), Adventures of the Falcon (1946), Matinee At The Meadowbrook (1946), Dick Tracy (as Tess Trueheart) (1947), Mystery of the Week (1947), The Ford Theatre (3 episodes 1947-48) and Road of Life (1949-1952) (as Maggie Lowell Dana)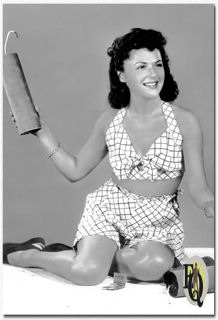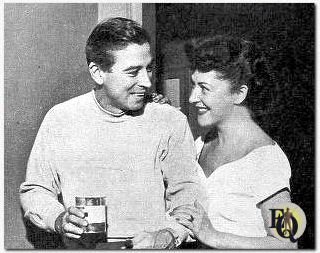 Above left: Promo for Radio's Adventures of the Falcon, June, 1946.
Above right: Helen Lewis with husband David Penn (1952).

On one or two occasions Helen has gone along on trips with her first husband David Penn. In September 1947 she went along to the Inter-American Defense Conference held in Rio, where—aboard the USS Missouri—she had the happy experience of meeting President Truman and General Marshall. It was on that same trip that she met the late much-publicized Evita Peron, once the first lady of Argentina. Domestic life was less glamorous since they had a small, compact, but attractive apartment in Manhattan. For whatever reason the marriage didn't last.

Roland Winters (famous for Charlie Chan) had already met Helen when both were in radio, he saw her first with Agnes Moorehead sitting on top of a grand piano playing jacks. Even before Roland's wife Ada Howe died in 1959, they already started a relationship.

When she and Winters travelled to Durban, South Africa in 1964 they played together (a rare event) in Never too Late a comedy presented in several South African cities at the invitation of Theatre International of Johannesburg. A 1964 newspaper article describes them as married four years ago. They hoped to spend some time in their summer house in Martha's Vineyard before the busy winter started.
Interviewed on the journey back Helen says: "But when we arrive home my husband may be playing in California and I may be in New York. That's show business. Meanwhile it's wonderful just to relax at sea. We really were very busy in South Africa."
When Roland died in 1989 only his first wife is mentioned in the obituary. Not much is known of Helen since 1964. Ada Howe's family describes Helen as "sweet" and that she "drank herself to death" in the second half of the 60s.