arbara Terrell (Oct 27, 1915 - Oct 31, 1963)






Eyes: brown

Marriages:
(1) Lt. Omar Bostick Sanders (Oct 1941 - 1946, divorced)
(2) Norman E. Weiss (July 18, 1947 - ? , divorced)
Uncertain: (3) Downer (? - ?, divorced)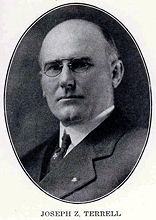 Joseph Z. Terrell (right) was born in Hanover County, Virginia, December 28, 1872. He had a common-school education and as a youth learned telegraphy and became a railroad operator. In 1892 he entered the service of the Baltimore & Ohio as an operator. He was operator, agent, yardmaster and held various other places in the operating, accounting and traffic departments. For several years he was agent, and was also freight and passenger agent. October 1, 1918, Mr. Terrell was selected by Governor Cornwell as warden of the West Virginia Penitentiary at Moundsville. He served from October l, 1918 until June 1, 1923. Mr. Terrell would be averse to classification as a prison reformer. Prisoners have been treated as human beings, and he has encouraged athletics, has introduced wholesome entertainment, including moving pictures, and so far as possible has conducted the institution with a view to inculcating a proper sense of individual responsibility and respect for law and training the individuals for responsible citizenship.
His first wife was Miss Suzy McAdams, of Morgan County, who died in 1907, leaving one son, Claude M. (b. 1896), later an attorney. In 1909 Mr. Terrell married Harriett E. Lee (aka Hattie) of Mineral County, West Virginia. After having lost a baby boy in 1910 they had a daughter, Barbara Lee who was born 27 Oct 1915 in Keyser, Mineral County, West Virginia, U.S.
When her father became warden from 1918 to 1923 she spent time in prison as daughter of the warden. In Debs His Authorized Life and Letters from Woodstock Prison to Atlanta David Karsner's 1919 biography of Eugene Victor Debs she is mentioned:
... At the warden's invitation we dined with him and his family that evening. As we chatted with Debs's keeper and his wife in their private apartments on the top floor of the prison, the warden's little girl, Barbara Lee, romped and played on the floor. Debs's name was mentioned frequently, and finally the brown-eyed baby looked up into her father's eyes and asked: ''Daddy, who is Debs?" The warden gently referred the child's inquiry to me. With a bound she ran over to me and climbed upon my lap. I had been playing* * patty-cake, patty-cake, baker's man" with her.
"Debs is a good, kind man," I told her, ''who loves all little boys and girls. And all little boys and girls who meet him come to love him, too. If he were up here now he would get right down there on the floor and play with you." The little girl danced off my lap and ran over to the warden, clapping her hands with Lee. * Oh, Daddy Mr. Debs is a kind man who loves children, and he plays with them, too; do you think he will ever come upstairs and play with me?" There was anxious hope in the baby's voice as she put her unanswerable question. None of us knew how to reply to the child whose imagination had been gripped by the thought of a possible playmate.
*'No, I don't think Mr. Debs will ever have time to come up and play with you, Barbara Lee," said her father finally, *'but you shall see him some day." The little girl ran back to me as though I could somehow bring into being the thoughts that raced through her mind. I told her that some day, when she had grown to be a big girl, she might be glad and proud that she had once lived in the same house with Debs. I told her that many of his friends would wish they could say they had lived under the same roof with him. She looked at me wonderingly with big, brown eyes." ...
Little is known about how Barbara took up acting. But she was described as a veteran actress by the time she landed the role of Nikki Porter.
In 1937 a group of young actors labored valiantly at the John Golden Theater in Manhattan with a farce-comedy called Places, Please, a play of backstage life by Aurania Rouverol. According to a critic they were aided and abetted by a very pleasantly disposed first-night audience but the three act play wasn't very amusing. Barbara played the role of Sylvia O'Connor.
The first radio incarnation of what later would become We Love and Learn was called As The Twig Is Bent and launched on March 24. 1941. It concerned the small-minded citizens of Beechmont and their resistance to a new school marm. Barbara Terrell (Andrea Reynolds) and George Coulouris played the leads in this version and it also featured Frank Lovejoy as Bill.
Living in Manhattan by the end of 1941 Barbara Lee got married to two-year-older Omar Bostick Sander, who was later wounded by a land mine in Normandy.
In February 1945 she auditioned for a part in radios The High Places, but it were Manfred B. Lee and Anthony Boucher who thought Barbara was excellent as a girl who could do anything a script demanded.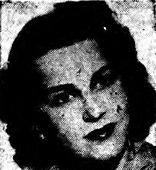 So she got the part of Nikki Porter that year. They even included more Nikki-Ellery interaction in their scripts. However she was let go by July of that same year for missing episodes and drinking on the job. Despite what some sources seem to indicate ("Nick the Knife" had Gertrude Warner as Nikki Porter) none of the episodes with Barbara seem to have survived.


Right: 1946 Newspaper clipping: "Veteran actress plays role of Nikki Porter, on the Ellery Queen mystery."

In 1946 she and Omar were divorced in Hillsborough, Florida. Within a year she would re-marry to Norman E. Weiss in Marion County, West-Virginia. That marriage wouldn't last either.

In 1960 her father Joseph died reportedly of a heart attack whilst visiting his son in Greenwich, Conn. Barbara lived in Chicago at that time.
She died in Cook County, Chicago, Illinois on Oct 31, 1963. She was buried between her parents.