The Mercury Theatre on the Air who produced live radio dramas briefly reappeared in 1946 and on Jun 28, 1946 Trudy appeared in Jane Eyre, the classic of English letters.
Trudy Warner was first married around May 1946, prompting a voluntary suspension of her radio career and her departure from the successful Ellery Queen Mystery program. Nikki was written out of the script until the middle of July when Charlotte Keane took over. Around this time rumors were going around another Ellery Queen series would be filmed with Gertrude Warner, 'the Nicky of the air waves', starring. This never came to pass.
Apparently the retirement/suspension was short-lived, since by 1947 she was again appearing in yet another array of daytime dramas, regular adventure series' and specials. This was the case in Studio One (1947-1948) the anthology series, created in 1947 by the 26-year-old Canadian director Fletcher Markle.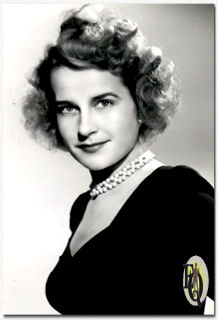 Sponsored by Proctor and Gamble, Joyce Jordan, M.D. was a radio soap opera that was broadcast from 1944 daily in 15-minute episodes. Starring Trudy Warner (1947-48), the program was about a young woman doctor and her interactions with her patients and other people in her work and personal life. Prone to daydreaming, Joyce's thoughts were heard throughout the program.
From his very first broadcast in 1936, the banker-hero of New England, David Harum, became an on-the-air crusader "for love ... for happiness ... and the good way of life." Never married, he resided in the home of his sister, Polly Benson (called Aunt Polly on the show) and her husband, James, who operated the local hotel. This 15 minutes serial at one point (CBS, 1948) featured Gertrude Warner as Susan Wells opposite Cameron Prud'homme (David), Charme Allen (Aunt Polly) and Kenneth Williams (Brian Wells).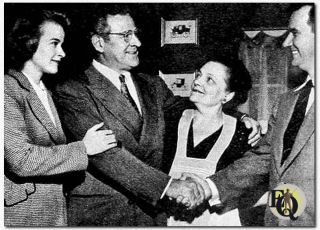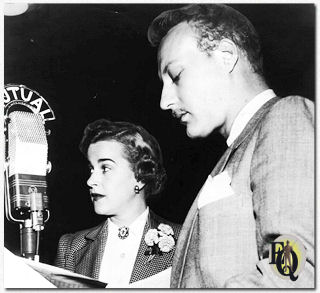 She was also appearing in several Cavalcade of Americas (1949-1952), as well as the now routine number of concurrent daytime soap operas. In Sep 1948 she appeared as Margot Lane [7th] in The Shadow, with Brett Morrison. Gertrude often contended that she was hired for her ability to scream. She held that role for more than 6 years until 1954. Sadly, because many of the Shadow's adventures were being recorded on magnetic tape at that time and then erased to use the tape over and over again, not many of Warner's broadcasts remain for new generations to hear.
Hosted by John Dickson Carr, Gertrude played in Murder by Experts 'The Dark Island" where a woman marries a writer when he rents a cottage on a lonely island owned by her father. Is he really, "The Scalpel Killer?" (Aug 8, 1949)

Opposite John Garfield she played Belle Mercer in "The Prizefighter and the Lady" in The MGM Theater of the Air (Nov 11, 1949)
Her off-the-air-waves activities include hospital tours for the Theatre Wing as well as courses in art and singing.
Learning about the lives of great Americans can be hugely entertaining as well as educational. The NBC anthology program American Portraits made the most of this during the programs lengthy run. 'A Storm At Monticello' featured Gertrude (July 17, 1951) and the same year Dimension X (July 19, 1951) featured stories that were literally "out-of-this-world," had her going to Mars.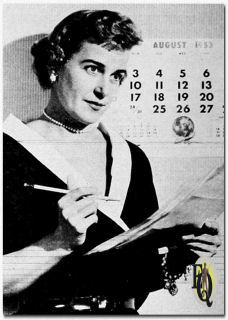 Whispering Streets, ran both on ABC and CBS Was originally a drama of life as seen thought the narration of a fictional female writer names 'Hope Winslow' (played by Gertrude Warner 1952-1960). Stories were complete in themselves until 1954 when it became a daily serial. The Hope Winslow character shared the host and narrators' role with Cathy Lewis, Bette Davis (ca.1958), Anne Seymour.
Because radio kept the actress busy, Trudy expressed little to no interest in silver or small screen work save for television commercials and a brief appearance (January 1960 to September 1960) as Claire English in TV's As the World Turns.
Returning to radio in one of the longest-running detective series Yours Truly Johnny Dollar (1961), Suspense (1962) and Theater Five (1964-65) a radio series whose title was derived from the fact that it was aired everyday at 5pm. Hosted by Fred Foy it was ABC's attempt to revive radio drama, so everything in the show was top notch.
Later in her life, she taught acting for television at Oberlin College and Weist Barron studios.
Gertrude Warner died in New York City on January 26, 1986 from cancer. Her successful radio career continued for 28 years and well over 4,000 performances. She was considered one of the queens of daytime radio.