Arthur B. Allen was born on April 8, 1881 in Gowanda, New York, USA as only child of Millard N. Allen, a druggist, and Eliza M. Bennett.
He spent his boyhood in Gowanda, New York. From the first, the stage interested him. He was one of those kids who organize amateur circuses and charge pins for admission.
In his youth, Arthur sought to emulate Hi Henry, the minstrel man, Hi Henry was Arthur's cousin by marriage and his patron saint by adoption. The young man staged amateur minstrel shows in his father's barn.
Even at Oberlin College, Ohio the old theatrical yen still gripped him. He studied at a conservatory and through his musical efforts held down a job as church organist for several years. A pretty good pianist and organist he also did some music teaching (Persia, Cattaraugus, New York). He played all sorts of parts in every dramatic offering. Then, out of a clear sky, a dramatic stock company came to town and he joined it.
So he became a member of the Jesse Bonstelle stock company in 1913 in the days when they played in the old Star theater in Buffalo. One of the few actors who have perfected the art of pantomime. Starting his professional career as an actor in Buffalo, Detroit, Northampton and Toronto he soon toured the country for many (4-5) years with such well known stage folks as James Rennie, James Gleason, Lou Tellegen, Herbert Corthell and Charles Gilpin. He claims to have appeared in more than 500 performances as a butler and to have worn out no less than a dozen sets of butler's livery during that time. After exclaiming "Yes my Lord" something like 10,000 times he moved on. From stock he went into road companies and later into Broadway productions.
As early as 1917 he was seen on Broadway. When Allen came to New York he played for two years in Emperor Jones (1920) with Charles Gilpin.
As a young man was prominent in Shakespearian plays, appearing with such artists as Walter Hampden and Forbes Robertson.
On June 30. 1921 he married Gertrude Elizabeth Watt and settled in Hempstead.
Arthur continued working on Broadway he played old Jacob in The Field of Gold, and was the inventor of the original horse and buggy in Winthrop Ames' White Wings (1926) and afterwards with Paul Green's Field God (1927). In Dec 1927 he was also featured in The Skinners with Frank Keenan, Catherine Willard, Josephine Hull, A. O. Huhan, and Roya Byron. Together with the last two Arthur played playing the parts of Pop Skinner's three cronies and drinking companions.
It was with amusement rather than bitterness that he remembered his early years when he was often considered "too small, too puny" to take part in theatricals.
In August, 1927, radio sought him. Gerald Stopp, director, is directly responsible for the "discovery" of Arthur Allen, as a radio headliner. Confronted with the "necessity" of finding some one to fill the role of Jeff Peters in the early ReTold Tales series (1927-1929), Stopp recalled a performance in which he had seen Arthur Allen act on the legitimate stage. During the subsequent interview the director was successful in his attempt to interest the actor in the radio series in which he was to co-star with Louis Mason (as Andy Tucker), another dramatic artist from the theater world. They played two confidence men, hard at work fleecing the innocent public.
The Wayside Inn (NBC, 1929), was a regional variety program and a forerunner of the daytime serial. Arthur played both Timothy Dexter and sometimes the part of Jack Spindle.

He was heard as "Gus" again with Louis Mason in "Gus and Louie" part of the Schradertown Band in 1929. Gus and Louie operated a garage. The musical background was supplied by Arthur Pryor's band, which took the role of a small town organization, with Gus and Louie as two of its musicians.
It was a friend who advised him to consider acting for radio audiences. But radio didn't appeal at the time, and he only grudgingly consented to appear before the microphone. As it turns out he ended up becoming one of the first actors of the legitimate theater to turn to radio performances as a profession. Even his mother and Aunt Harmony initially thought he would have done a lot better if he had stuck to his job in a Buffalo, New York, furniture store he soon was to be known all over America as of the most successful interpreters of Down East characters.
"There's a big difference between trouping on the stage and trouping on the air, but the things I learned in stock help me every night on the radio," Allen said. A spry, energetic little man, with quick-moving hands, thin narrow face, and mild blue eyes above a sensitive mouth and long chin, was just the sort of Yankee personality his radio voice indicated. For a man who made his living by talking, he moves his lips very little. "Long stage experience taught me the trick of throwing my voice from the back of the throat,'' Allen explained. "On the air I develop a slightly different voice for nearly every character. On the stage you have action costume and lighting effects to get your story and character to the audience. On the radio you have only your voice and the words, and you never know what effect you are creating until its over." Despite the difficulties of the medium, Allen said he liked radio because it insures what every actor always wants—"a full house."—no peeping through the curtains to see how many empty seats there may be.
The habits of many years on the stage are too strong for Arthur Allen, who acted some of the better character roles, to drop before the microphone. He usually went through the motions suggested by his part, or screwed his physiognomy up to resemble the type he was portraying.
He started working in radio during the late 1920s to great success in the efforts as a comedic duo with Parker Fennelly. Specializing in New England settings, together they probably created more shows in this "hillbilly" genre than anyone else before or since.
In 1927, ex-Broadway playwright William Ford Manley created a weekly anthology show known as Soconyland Sketches (Socony was an acronym for Standard Oil Company of New York). The scripts in the series attempted to re-create various historical events from the area served by the conglomerate. While Soconyland Sketches (Nov 1, 1927- ) did not set out to have continuing characters, Parker Fennelly and Arthur Allen both played village rubes, stereotypical dry New Englanders.
Some Soconyland sketches include:
Arthur Allen played Maule in "The House of Seven Gables"

"Old Bet, the Birth of the American Circus," sketch with Arthur Allen and Parker Fennelly (May 7. 1934)

"The Ethics of Pig", sketch with Arthur Allen and Parker Fennelly. (Sep 18. 1934)

"The Great White Teacher" written by Captain Peter Freuchen with Parker Fennelly and Arthur Allen (Feb 2. 1935)

"The Story of Major Andre" (Sep. 28 1931 & Oct 5. 1931) The tangled affairs of war which led to disaster for both Benedict Arnold and Maj. John Andre, the British officer who was executed for his part in the plot. Arthur Allen is cast as Josiah Smith the innocent American colonist who was with Arnold and Andre during the last days before Arnold's treachery was discovered.
Arthur Allen also played several characters in the Soconyland Sketches, the most popular were:
"Sebago Lake" was one of its most popular episodes several times repeated. A humorous yarn in which an uptight New York businessman took a springtime fishing trip to Maine. The show was stolen by one of Manley's repertory company actors, Arthur Allen, as the philosophical fishing guide who taught the city slicker a thing or two about real living.

One of the first roles Arthur played was David Harum, the quaint country banker who had a box full of mortgages and a heart full of kindness.
"David Harum's Hoss Trade" (Jul, 1928)
"David Harum's Christmas Gift" (Nov 20. 1928).

Grandsir, or Wilbur Z. Knox, the male half of the oldest couple in Snow Village. In his middle eighties, as lively as a terrier and as unreliable as New England weather. The oldest inhabitant couldn't remember when he and his venerable spouse Grammie agreed on anything. In spite of 50 years of domestic storms, they celebrated their Golden Wedding day.

Uncle Dan'l Dickey would never acknowledge that anyone managed him, although both Hattie (his wife, played by Agnes Young) and Margie do that. He is quick-tempered, generous, and impulsive, the complete opposite of Hiram Neville (Parker Fennelly), with whom he has been at swords' points for the past fifty years.
''The Coming of Margie" with Arthur Allen, Effie Lawrence Palmer, Parker Fennelly and Linda Watkins (Mar 25. 1930)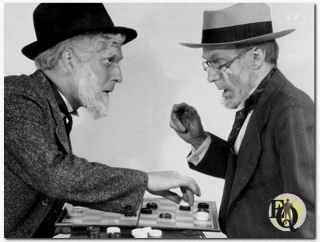 Above left: Arthur B. Allen and Parker Fennelly in a picture for Snow Village.
Above right: Uncle Abe Stetson (Phil Lord) and David Simpson (Arthur Allen).

Enter Phillips H. Lord, a native of Maine, who created Sunday Evening at Seth Parker's (NBC, 1929) with Lord himself as kindly old Seth Parker. While this series was still running Lord branched out into other forms of Yankee humor, creating Uncle Abe and David for Goodrich Tires (June 23, 1930 to May 9, 1931). Radio listeners were sitting around the cracker barrel of "Everybody's Equiperies", the general store in Skowhegan, Maine, while Uncle Abe Stetson (Phil Lord) and David Simpson (Arthur Allen), the proprietors, discussed their plans for the vacation in New York which they had been deferring for thirty long years. Halfway through the show's run on NBC they sold their store and moved to New York City. Some sources state Phil Lord was replaced by Parker Fennelly after a few weeks. Although 1930 and 1931 magazines still stated Lord as main character. (see picture above right)
Weeks after Uncle Abe and David went off the air, the formidable Lord/Allen/Fennelly trio was responsible for another series in this vein, The Stebbins Boys (June 22, 1931 to October 21, 1932). In the small town of Bucksport Point, Maine, two elderly brothers - Allen as John Stebbins and Fennelly as Esley Stebbins- were in business together in ... a general store. A great success only to be suddenly dropped from the airwaves by their meat packer sponsor Swift & Co., packers without explanation (see pictures below).