Born as Herbert Theodore Bergman to Jewish parents Henry Bergman, a merchant, and Rae Greenberg in New York City, New York on August 20. 1907 and nicknamed "Teddy". His father was born in Austria, his mother in Russia.
Although reportedly a confirmed pessimist since his grammar school days, Teddy enjoyed a fairly happy youth. Although in one newspaper article he mentioned one of the most dramatic and impressing moments of his life:"... when he was out in a row boat with his father and mother in Bronx Park during a storm".
As a youth he made vacation wanderings as a deckhand on transatlantic vessels. It was here that Reed supposedly developed his knack for imitating dialects.
Reed attended Washington High School (now George Washington Educational Campus). When he got the role of Shylock in Washington High's dramatization of The Merchant of Venice, Teddy got the footlight urge at the same time. Young Teddy wasn't much interested in stealing apples, hustling nickels, or evading the truant officer. He was a bookish boy who excelled in school, graduating from high school a year ahead of schedule.
Still under age for Columbia University, his goal, he spent the imposed interim studying drama, as a lark, at the American Academy of Dramatic Arts and then majored in journalism at Columbia University (Bachelor of Arts, Columbia, 1926).
At Columbia University he became the intercollegiate broad-jumping champion and also won the Eastern Intercollegiate Heavyweight wrestling title. He also wrote college plays, just to prove that a brawny arm could swing a delicate pen. Performing in the annual varsity show he was spotted by Ralph Rose, an Oklahoma candy tycoon and dropped out of school. So his first job in the show business was with the Ralph A. Rose Stock Company in Oklahoma City, where he portrayed Pierre of the Plains, which lasted one season (3 weeks). Next he headed for the Provincetown Playhouse in Massachusetts where he learned the rudiments of the stage and honed his acting talents in a cycle of sea plays by Eugene O'Neill, the same plays which later were made into a movie Long Voyage Home.
After that he tried a whirl behind the scenes as manager and production chief of the New Playwright's Theater, a little theater job which included everything from shifting scenery to shifting lines. This was a good experience, but little theater work didn't pay very well, so Reed took to the vaudeville boards.
For several years, Reed toured in vaudeville with his cousin, Harry Green (aka Henry Blitzer, 1892-1958) as well as with Bert Gordon. Trouping, he saved a stake of $2,800 and using a small windfall won in a crap game, he went into a business venture with Ralph Rose manufacturing candy praline. However they became granulated when distributed and that put them out of business (1927).
Made his debut over WOR in 1927 in The Singing Jailbirds.
Again he took to the road in stock companies, touring with What Price Glory, Road to Rome, and others. Times became slack and during the lull Ted put his big bulk to work as physical instructor and manager of a Manhattan gym club. There he taught S. L. (Roxy) Rothafel how to play handball, etc.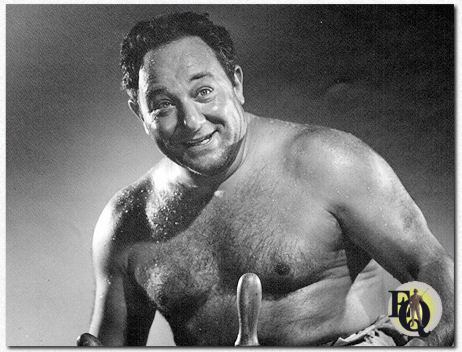 Above: Reed was atletic, as seen on a picture from his acting portfolio. (1950s). © Alan Reed Collection [digital resource], Pepperdine University Special Collections and University Archives (Used by permission)

His other job was working at the Copake Country Club (1929-1930) as "social director, entertainment producer and actor." "That's where I really learned to be versatile," he once declared. "One night a typical emsee, the next an announcer of a symphony program, then a straight dramatic part; maybe a stooge —just about Anything you can think of."
On to New York. Teddy joined up with the Theatre Guild and worked steadily on Broadway. He had a definite flair for comedy and worked under his given name.
It was inevitable that he would end up in radio where he became a prime announcer. Producers and directors found that Teddy could perform proficiently in over twenty dialects and he was kept busy.
He took his first radio audition in 1929, trying for a gangster part. He didn't get the job, so he went home and called up the director, threatening him in the best gangster idiom. "I'm just gonna tell you somethin'," he told the shocked producer. "I'm comin' into your office in a couple of minutes. You're gonna give me a job, or you're goin' for a ride." Then, he hung up and marched over to the producer's office. The director was so impressed that when he heard who was calling he gave Teddy the job after all. So he made his radio debut as Joe the Mug in True Detective Mysteries.

In 1930, Reed (billed as Teddy Bergman) he co-starred with Herbert Polesie in Henry and George, a CBS program that featured minute dramas, popular laugh makers interspersed with dance music selections (picture below left).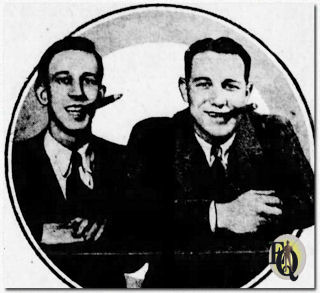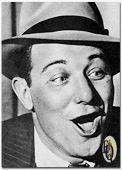 Above left: As early as 1930, Reed (right billed as Teddy Bergman) he co-starred with Herbert Polesie (L) in Henry and George, a CBS program that featured minute dramas, popular laugh makers interspersed with dance music selections.
Above right: Harvesters' Teddy Bergman (1936)

His first movie work was as narrator of the 1932 silent-film compilation Chase Me Charlie.
Actress, radio singer Finette Walker (1909-2005), appeared on stage in the early 1930s and was a chorus member in the original 1934 Broadway production of Anything Goes with Ethel Merman. He had met her at television station W2XAB (later WCBS-TV) in New York City. Funny thing, a few days before he met her, a buddy of his showed him a picture of Finette Walker and said to him :"See that girl? Is she a knockout? I have a date with her on Wednesday!" (This with evidences of pride). In the meantime Teddy met her and "it was one of those first sight things, I guess," to use his own phrase. He didn't realize it was the same girl whose picture he'd so casually glanced at, however, and he cut his buddy out of that Wednesday night date too. After just six weeks, he married her on Apr 5. 1932, a week before the opening of his new series Joe Palooka. One of their three sons followed in his parents' footsteps as an actor and took the professional name Alan Reed, Sr.
Teddy got his biggest break on The Eddie Cantor Show in 1932. Cantor had spent the past year razzing his orchestra leader, David Rubinoff, who resolutely refused to take a speaking role in the program. Undaunted, Cantor and writer Dave Freedman hired Teddy Bergman to impersonate the Russian-born violinist, giving him a ripe So-we-et accent straight from the steppes. The "Rubinoff" characterization was one of the big hits of the season, and made Teddy Bergman a big name around the studios. (7)
Teddy made three musical "shorts" Rambling 'Round Radio Row (1934, as "Blubber" Bergman), Teddy Bergman's International Broadcast (1936) and Teddy Bergman's Bar-B-Q in 1937.
In 1938 he landed one of radio's plumiest engagements for a dialectician, becoming a member of Fred Allen's legendary Mighty Allen Art Players. Here was the greatest assortment of dialect talent ever assembled on a single program: diminutive Bridgeportian Minerva Pious offered every sort of nationality imaginable in her feisty, shrill-voiced characterizations. Teddy Bergman replaced the masterful Jack Smart as everything from hyperactive movie executives to flouncing interior decorators. It was the highest-profile job of his career so far, and it began a collaboration with Allen that would last nearly a decade. (7)
Now part owner of Camp Copake, a summer spot near Craryville, New York, where he had his first job after leaving college. It's where he spends all his vacations (1938).
When directors said "Funny guy, but we need someone more serious here" once to often Bergman got around that roadblock by coming up with a whole new identity for himself, naming himself after his son, Alan Reed Bergman. "Alan Reed" began to get more dramatic work -- soap operas, nighttime melodramas -- while Teddy Bergman continued to get the comedy work. This bifurcated identity took its toll, however, and to make the bookkeeping easier, the performer finally adopted his pseudonym as his legal name in 1939.
Teddy appeared on Broadway in the William Saroyan play, Love's Old Sweet Song, his part called for him to have a completely shaven head (May 1940).
He remained a member of Fred Allen's stock company throughout the war era and, in 1941, Allen gave him the part he'd been waiting for his whole career -- a role that became, albeit briefly, a national phenomenon. Allen had, for several years, featured comic poets of one kind or another in his newsreel segments. Early in the new decade, one of Reed's distinctive voices began to get these assignments regularly -- a voice dripping with pompous self-absorption, the voice of a dignified yet ever so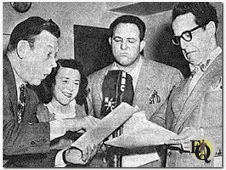 slightly fey artiste. Allen experimented with various names for this character before settling on the one that clicked. Throughout the war years, Alan Reed would be best known to radio listeners as the bard of Allen's Alley, Falstaff Openshaw -- and it was this role that, finally, made him a star. When Allen retired temporarily due to health issues in 1944, he presented Reed with the legal rights to the Openshaw character as a gift in recognition of his years of service to the program -- and Falstaff briefly resurfaced on his own program. Reed would further capitalize on the character in a popular series of children's recordings, helping to further cement the threadbare poet's place in popular culture. (7)


Above right: Fred Allen (L) with three of the Alley demimonde (L to R) Minerva Pious, Alan Reed and Kenny Delmar.

Resident poet "Falstaff Openshaw" always had an appropriate poem for the moment. World War II was blasting in Europe and Openshaw came up with these immortal opening lines of verse: "My little niece is saving grease to help to beat the Japs. To help to beat the Nazis she's collecting bacon scraps...."It goes on and ends with: "When the Axis time at last has come, and the world's restored to peace. The day that Hitler's goose is cooked my little niece will save the grease." (6)
In the fall of 1941 Alan sacrificed many well-paying radio job to take a role in the stage play Hope for a Harvest, with Fredric March. He did this because he hoped movie scouts might see him in it and offer him what he wanted more than anything in the world - a Hollywood contract.
They did, but then the war started and Alan refused the contract because he was afraid to move his family out to the West Coast. To make things worse, the play, although Alan got good critical notices (nominated for best performance in Hope for a Harvest, New York Critics Drama Circle), wasn't very successful. It closed a few weeks after it opened.
Back to radio where he was heared as Sol Levy (picture below left) in Abie Irish Rose (1942-1944). At one time Alan was doing thirty-five shows a week, which he cut down to fifteen when he started to do character roles in the movies. In 1943 Alan & his family did move to Beverly Hills. His first picture was Days of Glory where he played opposite Gregory Peck (picture below right).