arleton G. Young (May 26. 1907 - Jul 11. 1971)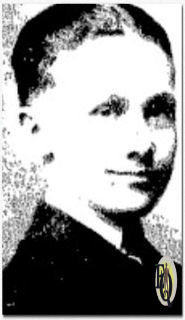 Social Security number 119-01-4558
Marriages:
(1) Unknown (? - bfr. 1935, divorced)
(2) Barbara Leonard Davis (Dec 31, 1935 -
Jul 11, 1971, his dead)
Children:
(1) Tony, aka Carleton L. (Jun 28. 1937 - Feb 26. 2002)
(2) Stephen (abt. 1941)
(3) Penny , aka Penelope (Nov 25. 1942)
Mrs. Alfred Gossner


Some confusion about his birthplace, Fulton and Manhattan all in N.Y. are mentioned but Carleton Garrettson Young was born in Westfield, N.Y. as the son of William Young and Floss Carri.
He had little intention of becoming an actor, but when the principal of his high school - who was also a minister with great love for the theatre- saw him act in the senior class play, he urged him to take up acting.
He received his preliminary training as an actor in Pittsburg. He attended Carnegie Institute of Technology, where he became "one of the most promising of its group of youthful Thespians".
He played leading roles in stock productions in Buffalo, Atlanta, and New York, and appeared in principal roles in productions on Broadway before coming West.

He made his radio debut in one of the Rin Tin Tin (1930) and went on to become one of radio's most successful and prolific actors with some 8,000 to 10,000 appearances in Radio.
He carried running roles in Carol Kennedy's Romance (as Dr.Craig), Stella Dallas (as Dick Grosvenor), Society Girl (1938-40), The O'Neills, The Story of Mary Marlin, Second Husband (played Bill Cumming), Hilltop House (as Dr. Robbie), Life Begins (as Winfield Craig), Portia Faces Life and Our Gal Sunday. He had leads in Front Page Farrell (as David Farell), The Count of Monte Cristo, Ellery Queen, Trouble House (1936-37, as Bill Mears) and Hollywood Mystery Time.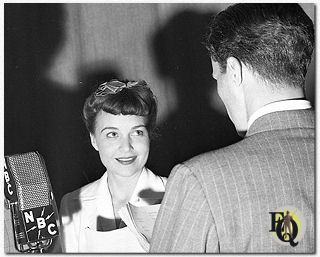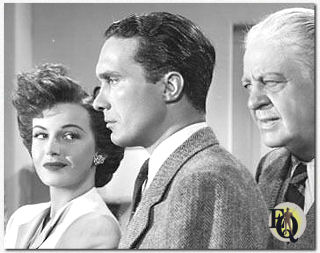 Above left: Marion Shockley (Nikki) opposite Carleton Young as Ellery Queen in a photo for episode 92 "The Midnight Visitor" (1942).
Above right: Frances Gifford, Carleton G. Young and Thurston Hall in the 1945 film Thrill Of A Romance.


In Front Page Farrell, Carleton Young , became the second actor, after Richard Widmark to play (1942-54) David Farrell. He took over from Hugh Marlowe as Ellery Queen in 1942-43, according to an article in Variety he left the series around August to take up his contract with 20th-Fox.
From 1943 to 1952 he played Edmond Dantes in the radio serial The Count of Monte Cristo.
He also played the lead role of Producer-Director Ted Lawton in some thirty-nine episodes of Hollywood Mystery Time (1945).

Carleton appeared in the motion pictures Bud Abbott and Lou Costello in Hollywood (1945), Kissing Bandit (1948) opposite Frank Sinatra, His Kind of Woman (1951), Hard, Fast and Beautiful (1951) and Close-Up (1951).