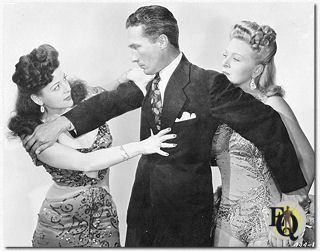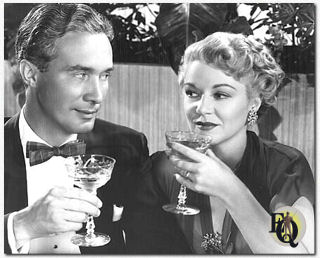 Above left: Queen of the Burlesque (1946) Carleton G. Young with Evelyn Ankers.
Above right: Claire Trevor and Carleton Young in RKO's Close-Up (1951).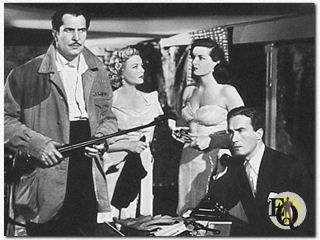 Above left: Hard Fast and Beautiful (1951), Ida Lupino with Carleton Young and Claire Trevor.
Above right: Carleton in His Kind of Woman (1951).


He portrayed Philip Gault (The Whisperer) on NBC Radio's The Whisperer (1951) Lawyer Philip Galt, due to a college football injury, lost his voice and can only speak in an eerie whisper. Galt infiltrates "the syndicate" in his native Central City to bring down organized crime from within; to the underworld, he becomes known as the Whisperer. Later, his voice is restored through surgery, but he continues to lead a double life as the Whisperer, relaying instructions by telephone from the syndicate bosses in New York (who don't know he's a mole) to their lackeys in Central City, whom Galt is actually setting up...
Blessed with both the good looks and an 'air' of a gentlemen, which only increased through the years, Carleton made a smooth transition to TV. Starting with The Unexpected (1952) and the earliest TV adaptation of Superman he made his first steps for the new medium.
In March 1955 Barbara Britton, Jan Merlin and Carleton were in a three-character drama called The Woman with Red Hair, at the Circle Theater in Hollywood. Carleton's teenaged son, Tony, attended rehearsals before the play was launched, and it was easy to see he'd follow in his father's footsteps when he grew older, choosing to perform as "Tony Young" for his film and tv appearances.

In 1959, in the season-two episode of ABC's Leave It to Beaver, Young played John Bates, the father of series character Gilbert Bates (Stephen Talbot). That same year, he was cast, along with Mary Castle, in the episodes "The Big Gamblers" and "The Confidence Gang" of Rex Allen's syndicated western series, Frontier Doctor. (2)
Other television roles were on The Loretta Young Show, Annie Oakley, Sheriff of Cochise, How to Marry a Millionaire, Perry Mason, M Squad, The Rebel, and Bourbon Street Beat. In 1960, he portrayed the character George McKean in "A Murderer's Return" of the ABC western series, The Life and Legend of Wyatt Earp, starring Hugh O'Brian. (Pictured left) (2)

On May 1. 1961 Young was arrested after a crash in which his wife Barbara and another woman were injured. He was later convicted for felony drunk driving. This coincided with Young's last television roles on the ABC/Warner Brothers drama series, The Roaring 20s and on NBC's Tales of Wells Fargo. That same year, his son, Tony Young, starred in the short-lived CBS western, Gunslinger. (2)

Carleton G. Young died of emphysema/cancer in Santa Monica, CA on July 11, 1971 and is interred at Inglewood Park Cemetery, in Inglewood, California. He and his son both died at the age of sixty-four.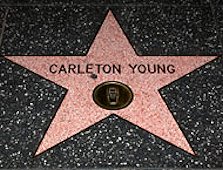 He was awarded a Star on the Hollywood Walk of Fame on the North side of the 6700 block of Hollywood Boulevard
He is often confused with actor Carleton Scott Young (No relation) who also appeared in movies and television shows.