One would have thought that Reese would have had a somewhat easier time during a tussle with Woody Allen in Sleeper (1973). However, as Gene Freese (3) noted in his 2017 book, Reese was injured during a scene with Allen and received 12 weeks of workers' comp. It was a knee injury, Leinenweber said, and it plagued Reese for the rest of his life. Freese wrote that when the actor "arrived in Hollywood, Reese felt obliged to do his own fights until he realized he was keeping stuntmen from their checks."
Tom Reese was a masterful villain, but he'll always be best remembered for his good guy role, Sgt. Velie, a cigar-chomping, bull-in-a-china shop cop on the TV show Ellery Queen. While the character of Sergeant Velie as the good Inspector's "right-hand man" is a necessary device, he makes it much more than that. He rarely smiles and gives us very few glimpses into the home life of Velie, yet still manages to make us feel he's part of our family (sort of the stern big brother type.) The main trait he conveys is that you know you can count on Velie. If the Inspector gives him a task, he'll be there to do it.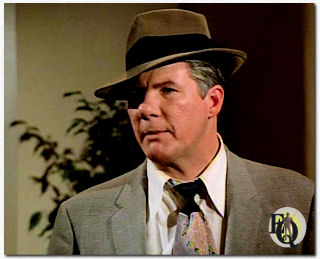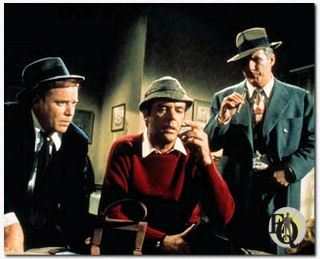 Above: Tom Reese as Sergeant Velie in Ellery Queen.

His relationship with Ellery is a different matter. He never says so directly, but it's quite obvious he's fond of him and even looks up to him. He refers to Ellery as "Maestro", showing he sees him as a leader in his milieu. (Pictures above left and right) And you get the feeling that while Velie plays the obedient son to Richard Queen, it's Ellery he'd prefer to be off sleuthing with. No episode showed his willingness to "play the game" better than in "The Mad Tea Party".
There is indeed one time when we get a small look into the Velie off-duty persona. That's in the episode, "The Adventure of Auld Lang Syne" (the New Year 1947 party where the initial murder takes place). Attending the party is non other than Mrs. Velie, played by veteran actress, Peggy Rea (more recently "Jean Kelley" in Grace Under Fire). There are those that have said that this was our insight into why Velie spends so much dedicated time to work, but the bond between the Velies can clearly be seen.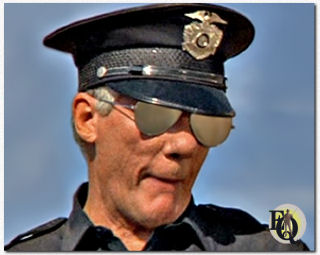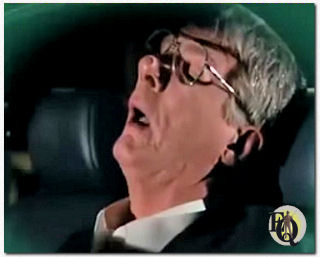 Above left: In a 1987 episode from Moonlighting, called "Cool Hand Dave: Part 2", Tom Reese played Grogan (guard). Above right: Above right: The hitman in "Murder Through the Looking Glass" (1988) from Murder She Wrote is played by Tom.


While Tom Reese's career ended in the late early 90s he had one role in 2009 as Inspector Riley in the film Dark and Stormy Night.
Until 2010 Tom was known to still attend conventions and film festivals.
His longtime friend Charles Leinenweber announced in March 2018 that Reese had died Dec. 12 2017 at a hospice facility in Studio City after a brief illness.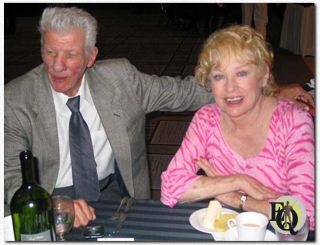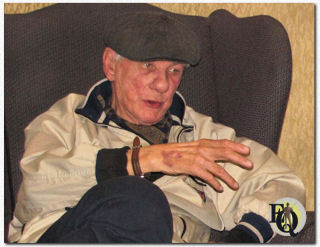 Above left: This 2006 convention saw Tom Reese and Lois Nettleton reunited. Both had starred in The Twilight Zone episode "The Midnight Sun" (1961).
Above right: Tom Reese at the 2010 Williamsburg Film Festival.





References
(1) IMDb
(2) "Tom Reese as Sergeant Velie" from Ellery Queen TV Series
Companion
(3) Classic Movie Fight Scenes: 75 Years of Bare Knuckle Brawls -
Gene Freeze 2017

Additional video & audio sources
(1) Marines Let's Go clip 1961 movie
(2) A Stroll down memory lane with Tom Reese YouTube