avid Wayne (Jan 30,1914 - Feb 9,1995)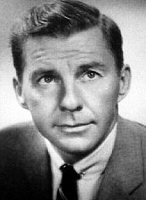 Length: 5' 7" (1,70 m)
Eyes: brown
Wife:
Jane Gordon Trix, (Dec 20, 1941 - Apr 16, 1993, her dead)
Twin daughters: Susan Kearney and Melinda (1946)
Son: Timothy (1948)

His Broadway, TV and film portrayals ran a gamut of characters ranging from a scientist trying to save the world to an ingenuous Asian bent on bringing happiness to GIs in a far-off land.
As well as an actor, David, nicknamed Davey, worked in Hollywood for many years as a special effects coordinator - including work with Wes Craven.
David Wayne was born Wayne James McMeekan on January 30th , 1914 in Traverse City Michigan.
His home life was rather sad as his mother Helen Matilda Mason died when he was four years old. His father John David McMeekan supported the family as an insurance agent.
"I went into my first play at 6. It was in Bloomingdale, Michigan, a little town, about 500 population. We had home talent plays at the opera house and my uncle directed them. From six years on there has never been a time in my life when I have not been working in the theater."

He attended Western Michigan University were he majored in business administration, then worked as a statistician in a big paint corporation in Cleveland where he joined a Shakespearean Repertory company. "In school I was on stage with the dramatic group as often as I was in the lecture hall; and, after an eight-hour day with paint, I put on plays with a little theater group. That meant six hours work each night; two hours rehearsing the play for the coming week, a couple of hours giving the play for the current week, then back for a couple more hours rehearsal on the future play, after the performance was finished."
The chance came in 1936 when the Cleveland exposition revived the Globe theater with streamlined Shakespeare. He won the role of Touchstone in "As You Like It." In 1938, he made his first New York stage appearance in "Escape This Night".
"Everything escaped, even the audience and I was out on the street in a week. I did commercial recordings and some radio; it kept body and soul together, but I was hungry oftener than not until I got the part of Fredric March's son in 'The American Way.' That job made me a Broadway actor."
Rejected by the army he volunteered as an ambulance driver for the British in North Africa. Two weeks before being shipped out to Europe he married Jane Gordon, daughter of Jean Gordon of the Metropolitan and actress. They had been playing in summer stock and knew each other quite a while. He was erroneously reported as being killed in action when the Germans were victorious at the Battle of Tobruk in North Africa. After the U.S joined the war he served in the US Army
In 1947 he landed the role that was to prove the sine qua non of his career. It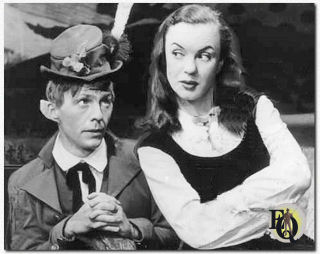 was as Og the leprechaun in the Irish fantasy "Finian's Rainbow," and its magical musical moments and satire brought him his first Tony, the first actor to do so ever. Next he introduced the world to everyone's favorite military innocent, Frank Thurlowe Pulver, the precocious ensign in "Mr. Roberts" in 1948. It was as Pulver that he first appeared opposite Henry Fonda with a crew haircut, a style that remained his signature for many years. Though Wayne's first Tony took him more than two decades, his second came more quickly.
While all of his major stage roles went to other actors in the film versions, Wayne enjoyed a substantial movie career of his own. He co-starred with John Forsythe and the play won that year's Pulitzer Prize for drama and the Drama Critics' Circle award. After his success in "Mister Roberts," he was invited to Hollywood for parts in two highly touted films, "Portrait of Jennie" and "Adam's Rib," both in 1949.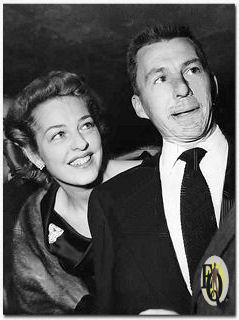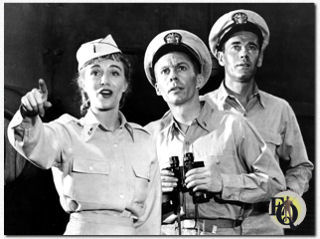 Of motion pictures he says: "I am not at all convinced the actor has enough responsibility of creation in films. It is too much a technician's field. That is why I think the movie actor should return to the theater from time to time to enrich himself." His motion picture roles proved as varied a blend as his stage work, from a small-town barber who ages 56 years in the 1952 underrated film "Wait Till the Sun Shines, Nellie," a hillbilly in "With a Song in My Heart" (1952) to theatrical impresario Sol Hurok in "Tonight We Sing" (1953).