he Further Adventures of Ellery Queen b a c k
(Ellery Queen)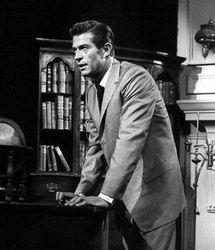 NBC, 1958-1959

Producer: Albert McCleery, Alan Neuman (NY)
Writers: S. S. Schweitzer, Howard Rodman,
Harold Gast, Warner Law,
Robert E. Thompson, Don Ettlinger,
Michael Dyne, Sheldon Stark,
Nicholas E. Baehr, William Mourne
Theme: Frederick 'Fred' Steiner
Music Director: Eddie Truman

Cast:
EQ: George Nader, Lee Philips
Inspector Queen: Les Tremayne

During the first twenty weeks Ellery was enacted by the far too young and handsome looking George Nader. Nader won the role after a coast-to-coast talent search that included sidewalk surveys of average people to get their views on what the sophisticated detective should look like. Scripts were poor and the acting abominable. In this series the idea was to do actual Queen stories, and six of the first eight were adaptation of the novels. Other writers' mystery stories were dramatized by making Ellery the hero character which didn't help much... The show was telecast live from Hollywood.
McCleery's biggest problem was finding an actor to play Queen. McCleery had long talks with Dannay and Lee. "After getting a run-down on the character, I built up a picture in my own mind of an attractive, not overly athletic man of maybe around 30, well-educated without being an intellectual snob - a man who might have gone to Dartmouth or Williams or Hamilton and who might have been on the swimming team. Not a football player. Not a Mike Hammer."
From a practical standpoint it was also McCleery's mission to find an actor who was "not in the $100,000-a-year class but who would like to be in it."
It wasn't easy and the choice was almost sheer accident. On a Wednesday afternoon in September, McCleery bumped into George Nader. They had worked together, and Nader gave him a cheery greeting. "Found your Ellery Queen yet?" he asked. McCleery said no. "I'd be interested myself if it weren't for that five-a-week business," Nader said.
"Five-a-week?" McCleery replied. 'You're thinking of Matinee Theater. The Queen show will be once a week." - "I'm interested," said George. By the next Wednesday Nader was rehearsing the first hour-long show.
McCleery, knowing an actor's tendency to start dragging when he's on a six-day work schedule in the same role, has taken steps. "I've hired five directors on a rotating basis," he grins. "That'll keep George hopping."
(from TV Guide, 11-29-1958: Ellery Queen 30 years later)

starring George Nader: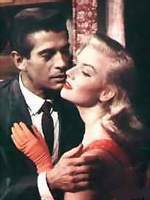 1* "The Glass Village"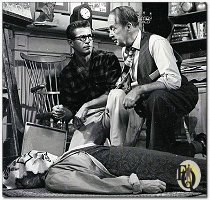 9/26/58
With Vaughn Taylor, Angela Austin



Ellery pays a visit to a cousin who is judge


in a New England village. When an elderly


woman painter is bludgeoned to death, the


townsfolk are quick to suspect a tramp who


was passing through the area. Against the


whishes of the judge and Ellery, a posse is


formed to go after the tramp.



This debut episode was propably the best

2* "The King is Dead"
10/03/58
scriptwriter Howard Rodman
With Ilona Massey, Torin Thatcher, Les Tremayne (3)

Ellery and Inspector Queen are approached by Abel Bendigo, a member of
the powerful Bendigo Munitions Company family, when the life of his
brother King is threatened.

3* "Ten Day's Wonder"
10/10/58
With Otto Kruger (2) Virginia Gibson, John Lupton, John Dehner (3)

Howard Van Horn, a young sculptor, asks Ellery to watch him during one
of his recurrent attacks of amnesia. Van Horn is afraid that he is committing
crimes during his blackouts.

4* "The Door Between"
10/17/58
Teleplay by Michael Dyne (3)
With Robert Lowery, Adrienne Marden (3)

Karen Leith, born and raised in Japan, comes to live on Washington
Square, where she lives the life of a recluse, concentrating on writing her
novels. The she meets an old friend, Dr.McClure, and soon they announce
their forthcoming marriage, which is opposed by the doctor's daughter.
When Karen is found killed, Mc Clure's daughter is accused.

5* "The Eighth Mrs.Bluebeard"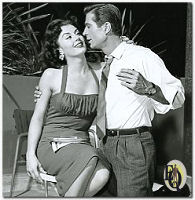 10/24/58
from a novel by Hillary Waugh, scriptwriter
Mel Goldberg
With Jann Darlyn (EQ's girlfriend), Jeanne
Cooper, Gene Raymond (1,3)

An insurance company is forced to pay out
$50,000 on a policy when a man's wife dies in
a canoe accident. The company believes that
the man has killed several wifes for their
insurance, and sends salesman Jack Graham
to bait a trap for the killer.
6* "Cat of Many Tails"
10/31/58
With John Abbott, Paul Langton (3)

The mayor of New York City calls on Ellery to help solve a series of
strangulations for which the police can find no motive but which they
believe to be the work of one killer.
7* "Death before Bedtime"
11/07/58
from a novel by Edgar Box (Gore Vidal)
With Neil Hamilton, Heather Angel (3)

Ellery accepts an invitation to visit Senator Leander Rhodes, who plans to
run for president. But shortly after Ellery's arrival, Rhodes is murdered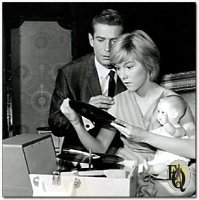 8* "Double, Double"
11/14/58
scriptwriter John Roeburt
With Luana Anders, Rhys Williams (3)

Ellery receives in the mail a number of
newspaper clippings relating a series of
supposedly accidental deaths in a small town
where he once lived. Then he is visited by a
young girl from the same town who tells him
that her father has disappeared and asks for
his help.
Episode 11/21/58 pre-empted
9* "So Rich, so Lovely and so Dead"
11/28/58
from a novel by Harold Q.Masur
With Eva Gabor, Thomas Gomez (3), Whit Bissell (stockbroker)

Ellery investigates the murder of a wealthy contess who was killed
shortly after appealing to him for help. A conniving stockbroker stalked the
wealthy heiress
10* "The Diamond-Studded Typewriter"
12/05/58
from a novel by Carlton Keith
With James Gavin, Olive Sturgess (3)

Alice Anthony asks handwriting expert Jeff Green to help her prove that
the late James Gavin is her father, who deserted her and her mother years
ago.
A notorious diamond smuggler forces Ellery to accept the gift of a typewriter
at gunpoint and is murdered shortly after.
11* "Four and Twenty - to Live"
12/12/58
from a novel by John Roeburt, scriptwriter: Robert E. Thompson

Ellery is menaced by a girl with a gun who wants him to phone the
governor and request a stay of execution for her condemned father.
12* "Paint the Town Black"
12/19/58
from a novel by David Alexander, scriptwriter S.S.Schweitzer

A friend gives a valuable small statuette to Ellery for safekeeping. Soon
afterward, Ellery becomes involved in international intrigue when he's
approached by strangers who first offer to by the statuette and, when her
refuses, attempt to steal it.
13* "The Hollow Man"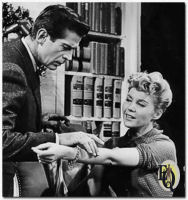 12/26/58
from a novel by John Roeburt, scriptwriter
Howard Rodman
With Frank Silvera (Sol), Whitney Blake
(Nina), Murvyn Vye (Marco) , Wesley Lau
(Max), John Goddard (Rocky), John Munroe
(Aldo), Russell Trent (Hobie), John Newton
(Lt.Anders).

Ellery becomes involved in the search for
former welterweight champion who's been
missing for five years.
14* "Bury me Deep"
01/02/59
from a novel by Harold Q.Masur, scriptwriter William Mourne
With Richard Long, Pat McVey and Joanne Linville. (2)

Ellery returns unexpectedly to his New York apartment and finds a beautiful
woman, apparently drunk and making herself at home. Shortly, however,
the woman dies, poisoned, and Ellery attemps to learn her identity and find
her murderer.
15* "The Jinn City Story"
01/09/59
from a novel by John Roeburt, scriptwriter Nicholas E. Baehr
With Peggy Castle, Vanessa Brown, Brian Keith, James Bell (1,3)

Ellery's plane is forced by heavy fog and bad weather to make an
emergency landing at a smalltown airport. There Ellery is approached by a
strange old man who asks him to help someone falsely accused of murder.

16* "Heir to Revolution"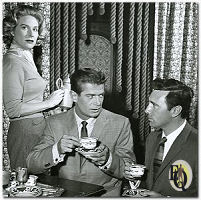 01/16/59
(original script) scriptwriter: Robert E.
Thompson
With Scott Forbes (British consul), Jeanne
Moody (wife of British consul),
Gusti Huber, Kurt Kasznar (3)

The U.S.governement asks Ellery to travel to
a South-east Asian monarchy which is on
the verge of being taken over by communists.
Ellery is one of the few people who can
identify a young man who claims to be the
rightful heir to the throne.


17* "The Murder of the Whistler's Brother"
01/23/59
from the novel by David Alexander, scriptwriter Sheldon Stark (1)
With Shepperd Strudwick, Eduardo Ciannelli (3)

The director of an art museum asks Ellery to recover a stolen Cezanne
painting within 24 hours so that it can be shown at an important exhibition.
18* "Death Likes it Hot"
01/30/59
from a novel by Edgar Box (Gore Vidal),
scriptwriter: Robert E. Thompson
with Anna Lee, Kent Smith, Julie Bennett, Vivi Janis (1,3)

A friend of Ellery's drowns in tropical waters, but Ellery knew his friend to
be an expert swimmer and suspects the death was murder.
Episode 02/06/59 pre-empted
19* "Margin of Terror"
02/13/59
from a novel by William P.McGivern, scriptwriter: Warner Law

During a speaking engagement in Naples, "Papa George" Dimitrovitch, a
former Soviet official who defected to the United States, is kidnapped by
Soviet agents who intend to force him to return to Russia. Ellery extends
his Italian vacation and tries to find Papa George.
20* "The Room Upstairs"
02/20/59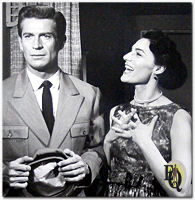 with Frankie Darro, Joan Hackett ? (3)
from a novel by Mildred Davis,
scriptwriter Don Ettlinger
With Marion Seldes (Hilda), Judith Braun
(Doris), Dayton Lummis (Mr.Corwith),
Dabbs Greer (Jake)

Ellery receives a call for help from a friend, a
small-town policeman who suspects that an
auto accident involving the daughter of a
prominent citizen is connected with the
finding of the unidentifiable body of a young
girl in the river. In the disguise of a chauffeur
Ellery wins the confidence of injured girl's
sister (Marian Seldes)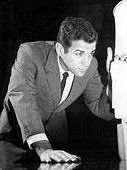 When the series switched to production in New York, Lee Philips took over the EQ role and the Inspector was completely dropped. Philips played Ellery as a man of awareness and compassion, substantially closer to the original concepts. Using only original scripts the show was produced on videotape rather than live and the title was shortened to "Ellery Queen".