he Adventures of Ellery Queen

b a c k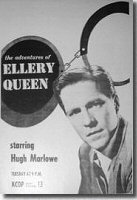 (Mystery Is My Business)


Syndicated (Norvin/Arrow), 1954-1956
for Television Programs of America, Inc. (TPA)
for First-Run Syndication
Directors: Charles F. Haas, Gerald Mayer, Ray Nazarro, Harold D. Schuster
Leon Fromkess (Executive Producer)
black & white, 30 min
Theme: Ray Carter (pseudonym for Maurice Krumbein)
Cast: Hugh Marlowe (Ellery), Florenz Ames (Inspector Queen),
Charlotte Keane (Nikki Porter)



Above right: 1954 Advert from Fortnight Magazine California - The Adventures Of Ellery Queen with Hugh Marlowe, Tuesday at 9:00 PM, KCOP Lucky Channel 13

The portrayals were given a certain degree of authenticity since Ames was familiar with his role and both Charlotte Keane and Hugh Marlowe had played their role on radio. Furthermore both actors came physically close to the image of the characters described in the books. The production values of this syndicated version were nil and the storylines poor. 32 episodes were filmed. In 1954 actor John Ireland sued the Young and Rubicam Add agency for dropping him for the lead for this series. Ireland eventually received an out-of-court settlement. Supposedly this proofed that actors who were labeled political nonconformist were banned from work.
Viewers and critics weren't mild for this series. As one critic put it: "Apart from that occasional touch and the fact that two of the characters bear the same names, there is no significant resemblance between the original stories and the TV series. They might as well build a situation comedy around the character named Hamlet and sit back and wait for the Shakespeare fans to crowd around." (Bob Blackburn - Ottowa Citizen, June 22. 1956)
The list of episodes with description and the first New York telecast date (followed by the production order). Some of the music used was also heard on the TVs-series for The Adventures of Superman.
The title was changed to Mystery Is My Business when rerun in 1956.
'Ellery' Release May 1

Off the nine properties, five are already in production (three are in release). "Ellery Queen," of which the first 13 are complete, goes into syndication May 1,
(Variety, Wednesday April 7, 1954)
ELLERY QUEEN
With Hugh Marlowe, Florenz Ames,
others Producer: Norvin Productions
Producers: Norman and Irving Pincus
Directors: Charles Haas, Ray Nazarro, Harold Schuster
Writers: Various
39 half-hours
Distrib: Television Programs of America

Television Programs of America's newest entry in the vidpix sweepstakes (and, incidentally, the first new series it's bringing out other than the shooting of Edward Arnold as host of the "Your Star Showcase" series) shapes as good standard nighttime programming fare that should have little trouble finding sponsors on a regional and local level. The Ellery Queen tie-in makes the property a familiar one, and it's well-timed to coincide with the 25th anniversary of the mysterioso books. A good production job and the multi - faceted cross plugging that it should evoke makes the series a good programming and sponsorship bet. There's not likely to he anything spectacular about the series. Film caught showed close attention to production details, good acting and direction and a standard story that eschewed violence in favor of the trick solution. Hugh Marlowe and Florenz Ames are well cast as Queen and his inspector father; rest of the cast in segment caught is excellent and if thesping standard is maintained, series should be among the top on that score. Ditto direction of Harold Schuster. If there's any complaint against the series, it's going to be that it isn't different enough from the rest of the mysterioso field. True enough, the type of crime portrayed and type of story line isn't going to be too different, but the series has two distinct characters in Marlowe and Ames, and they should prove sufficient to give the series a stamp of individuality. Chan.
(Variety, Wednesday April 21, 1954)
'ELLERY QUEEN' PROMOTION TELEVISION PROGRAMS of America, N. Y., is promoting its Ellery Queen film series by means of Ellery Queen paper-bound fiction books. Sealy Mattress Co., which sponsors the show in Baltimore and Washington, and the Lee Optical Co., advertiser in Dallas, have purchased 11,000 copies of the books for distribution to customers using Sealy's 200 retail outlets and Lee's three stores. Customers may select one of 20 different "Queen" books, which contain a letter inviting the recipient to view the series and giving appropriate information as to time, day and station.
(Broadcasting, November 1. 1954)
1* "Stranger in the Dark"
10/02/55 (27)
Other airdates: Dec 11, 1954
based on an episode of ABC's tv-series The Adventures of Ellery Queen
"A Touch of Death" 10/22/52
Scripted by Betty Loring & Jerry Sackheim
Director: Harold Schuster

A blind girl returns to her apartment too late to prevent her roommate's murder
but in time to brush her hand against the fleeing killer's face. Ellery devises a plan
to bring the face and the hand together again.
ADVENTURES OF ELLERY QUEEN, "Stranger in the Dark." WPIX,
New York. 1/2 Hour. 9 P.M., EDT, October 2, 1955. On Film. For Carter Drugs.

In the person of Hugh Marlowe, Ellery Queen comes to Television, and is
plausible and effective. The subject is entertaining of its detective story genre. The
story concerns the blind girl whose roommate is killed by an insane local delivery
boy who is "recognized" escaping by the blind girl's hands on his face. His efforts
to murder the blind girl are scotched just in time, of course, by Ellery, but it makes
for a taut, well-told tale, made more effective by virtue of good performances.
Television Productions of America produced.
(Motion Picture Daily, October 10, 1955)

2* "Mardi Gras"
10/09/55 (17)
Other airdates: Aug 31, 1955; Nov 26, 1955
With: Ivan Trisault

In New Orleans during Mardi Gras time, Ellery comes to the aid of a beautiful girl
who is being blackmailed after supposedly murdering her lover's wife
3* "The Golden Snow"
10/16/55 (29)
Other airdates: Aug 7, 1955

During World War II in Italy, two soldiers come upon a wrecked medical supply
truck and bury a shipment of morphine they find inside, planning to come back
after the war and smuggle the drugs out of Italy. Ellery becomes involved when
their attempt to retrieve the morphine leads to murder.
4* "The Trigger Man"
10/23/55 (16)
Other airdates: Aug 7, 1955

Ellery and Inspector Queen are called upon to break up a kickback racket
operating in the produce market.
5* "The Moll"
10/30/55 (13)
Other airdates: Jun 13, 1955

The young wife of a minister goes to Ellery for help after an anonymous donor
gives $ 20,000 to her church and her kid brothers is beaten by an unknown
assailant. It appears her ex-husband, a convict, came back to terrorize his ex-wife.
6* "A Fatal Signal" aka "The Fatal Signal"
11/06/55 (30)
Other airdates: Oct 1, 1955
Directed by: Ray Nazarro

A fire extinguisher is Ellery's clue to the solution when the much-hated pitcher of
a baseball team is found dead at the team's Florida training camp, apparently from
natural causes.
7* "Memoirs Unwritten"
11/12/55 (32)
Other airdates: Sep 28, 1956

Ellery is confused when a lonely middle-aged widow confesses to a murder of a
famed concert pianist.
8* "Woman on the Wire"
11/20/55 (23)

Ellery probes the love and hate relationships that led to the death of a member of
a high wire act involving two men and two women. The pocket of a blouse is the
clue Ellery follows to prove that the death of a trapeze artist was murder and to
trap the murderer.
9* "The Recluse"
11/27/55 (11)
Other airdates: Nov 18, 1954
based on an episode of ABC's tv-series The Adventures of Ellery Queen
"Companion to a Killer" 11/19/52
scripted by Irving Pincus and Betty Loring

A hotel bellhop murders the desk clerk and takes refuge in the room of a diabetic
old woman. Ellery uses a lump of sugar as part of a plan to capture the murderer
without endangering then hostage.
10* "One Week to Live"
12/04/55 (19)
Other airdates: Dec 9, 1954; Dec 4, 1955
based on an episode of ABC's tv-series The Adventures of Ellery Queen
2/3/52
Scripted by John C.Gibbs.

A bereaved widow is visited by a stranger who demands that she share with him
the insurance proceeds on her late husband's life. She goes to Ellery for help
and he decides to investigate the stranger's racket.
11* "Close-up of Murder"
12/11/55 (7)
Other airdates: Oct 23, 1954; Dec 16, 1954; Jul 1, 1955
based on an episode of ABC's tv-series The Adventures of Ellery Queen
10/29/52
Scripted by Henry Misrock.
Directed by Harold Schuster

Ellery becomes involved when the wife of a Hollywood producer is murdered
after the producer receives threatening letters - which the police think he sent to
himself.
12* "Design for Revenge"
12/18/55 (28)

A former district attorney, just released from a mental institution, decides to take
revenge on Ellery Queen for an imagined wrong that had caused him to lose his
job by comitting a series of baffling crimes. Ellery is called in to investigate.
13* "The Mask of Rosselli"
12/25/55 (14)
Other airdates: Dec 25, 1955
based on an episode of ABC's tv-series The Adventures of Ellery Queen
"The Two-Faced-Man" 10/15/52
Writer: Dwight V. Babcock
Directed by Ray Nazarro
With: Barbara Woodell

Ellery is baffled when an American doctor is kidnapped in Rome only to be
identified a few weeks later as a dangerous masked murderer
14* "Mr.Big"
Other airdates: Jan 19, 1955
01/01/56 (31)
based on an episode of ABC's tv-series The Adventures of Ellery Queen
2/10/52
Scripted by Betty Loring
Directed by: Ray Nazarro

Ellery suspects that the suicide death of a smalltime gangster is connected with
the operations of the underworld's Mr.Big.
15* "Custom Made"
01/08/56 (2)
Other airdates: Oct 7, 1954
based on an episode of ABC's tv-series The Adventures of Ellery Queen
10/08/52 scripted by Raphael Hayes and Helene Hanff
Directed by Harry Keller
With: Jalma Lewis (Dorothy Smith),Joey Pay (Larry Hacket)
Melville Cooper (Jason Beckworth)

When his date receives the wrong dress, Ellery offers to return it to the shop.
But when he arrives he finds a dead man on the shop floor.
16* "Woman in the Chair"
01/15/56 (15)
Other airdates: Oct 14, 1954 and Oct 21, 1954
Directed by Harold Schuster
With: Sherry Jackson

A little girl discovers the body of an unidentified woman in the home of a
famous Hollywood actor. Ellery and the little girl help the actor to prove his
innocence.





This photo probably was a promotional shot (for TV Guide or a similar trade magazine) for the old Ellery Queen TV series from the 1950's made by TPA. The tag on the back of the very shapely model reads "Ellery Queen Couldn't Pin Anything On Us. See Queen on 13 Tuesday, 9 PM."

17* "A Letter from the Dead"
01/22/56 (9)

An accountant for a big-time racketeer learns too much about the syndicate and
is marked for death. Ellery attempt to break up the syndicate.
18* "Doodle of Death"
01/29/56 (12)
Other airdates: Oct 28, 1954
based on an episode of ABC's tv-series The Adventures of Ellery Queen
4/23/52
Scripted by Betty Loring

Penciled doodles help Ellery connect the theft of a ruby from a jewelry store and
the death of a woman at an employment agency
19* "The Fix"
02/05/56 (21)
Other airdates: Oct 27, 1956
Directed by Harold Schuster

When a college championship basketball game is lost, circumstances indicate
that the star of the losing game was in on a fix. Ellery tries to uncover what
really happened.
20* "Once a Killer"
02/12/56 (10)
Directed by Harold Schuster

Ellery and his Dad are vacationing in Acapulco. Mystery immediately happens
when Ellery and his Dad hear a bloodcurdling scream coming from the woods!
They discover the dead body of a gorgeous redhead. Ellery's dad recalls
meeting a man in the hotel bar before somewhere. It turns out the man who
is on a honeymoon with his charming wife was once an infamous attempted
killer! Could he be the killer? And what's the motive?
21*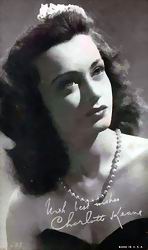 "The White Orchid"
aka "The Orchid"
02/19/56 (26) - Directed by Harold Schuster
Other airdates: Nov 25, 1954 and Dec 28, 1955

Ellery is baffled by the mid-winter deaths of
three people from sleeping sickness, a
tropical disease carried only by the African
tsetse fly.


Right: Charlotte Keane, who already had played
the role of Nikki in the Ellery Queen radio series
1946-47
22* "Death of a Wax Doll"
02/26/56 (25)
Other airdates: May 25, 1955
based on an episode of ABC's tv-series The Adventures of Ellery Queen
5/7/52 scripted by Betty Loring
Directed by Charles Haas

Ellery gets involved when a young boy,
visiting a wax museum to see a tableau of a
murder he has witnessed, is almost killed.
23* "Vicious Circle"
03/04/56 (18)
Other airdates: Jun 24, 1954

Ellery tries to help a assistant district attorney who was fired from his job and
disgraced because of his alleged association with a murderer.
24* "The Night Visitors"
03/11/56 (24)
Other airdates: Jul 1, 1955
based on an episode ABC's tv-series The Adventures of Ellery Queen
"The Man without Faces" 4/30/52 scripted by Henry Misrock
Starring: Paula Raymond (Marga), Peter Van Eyck (Rudi Lange), Rudolph
Anders ( Otto Kortmann), Richard Karlan (Willi), Henry Rowland (Heinz),
John Banner (Buehler), Jack Clinton (Joe Bailey)

While traveling in Germany Ellery witnesses the beating of a young couple by a
Neo-Nazi group wearing uniforms and masks. Ellery decides to expose it. He
meets with no success however until he meets an old innkeeper
25* "Dark Corridor"
03/18/56 (1)
Other airdates: Jul 22, 1955

Ellery goes to a quiet hospital to investigate the not-so-quiet murder of an
orderly.
26* "Death in a Ghost Town"
03/25/56 (6)
Other airdates: May 13, 1955 and Jul 6, 1955
based on an episode of ABC's tv-series The Adventures of Ellery Queen
11/01/51 scripted by Arthur Orloff, & Henry Misrock
With: Lynn Thomas (as Terry Wilson), (Kurt Freidrichs), (Tex Martin),
(Orville Dobson), (Frank Barstow), (Old Lady)

Ellery and his father find a body in a Western ghost town but it disappears
before anyone else sees it. Ellery suspects that somewhere in the ghost town
both the victim and the murderer are hiding.
27* "Double Exposure"
04/01/56 (3)
Other airdates: Jul 22, 1955
based on an episode of ABC's TV-series The Adventures of Ellery Queen
11/26/52 scripted by Henry Misrock.

A frightened father comes to Ellery for help when the kidnappers of his son
warn him not to go to the police. Ellery compares two photographs and comes
up with a clue.
28* "Blackjack"
04/08/56 (22)
Other airdates: Jan 27, 1955; Apr 21, 1955; May 19, 1955; and Jul 20,1955
Directed by Gerald Mayer
With: Frances Rafferty

While vacationing on a ranch in Nevada, Ellery witnesses a blackjack game that
ends in murder. His problem is that too many suspects are eager to confess to
the crime.
29* "Backfire"
04/15/56 ( 20)
Other airdates: Aug 29, 1956

Ellery becomes involved when a group of college girls devise what they think is
a scheme to the "perfect crime".
30* "Comeback" aka "The Last Payoff"
04/22/56 (5)
Other airdates: Aug 3, 1955
Working title "The Last Pay-Off"
Scripted by Jerry Sackheim & John C. Gibbs
Director: Ray Nazarro

This episode begins in a training gym. A fighter is in danger of dying of a
brain injury if he goes into the ring to meet the champion. Ellery tries to save
the boxer's life. Later, boxing champion Joey Vinson is killed and Ellery
investigates the murder.
31* "The Star of Kashmir"
04/29/56 (8)
Other airdates: Feb 17, 1955

The theft of a valuable sapphire, the murder of a janitor, and the receipt by the
police of an anonymous letter, exposing a diamond cutter as an ex-convict bring
Ellery into the case.
32* "Mission of Murder" aka "Mission for Murder"
05/06/56 (4)
Other airdates: May 25 1955; Aug 17, 1955;
Starring: Brian Keith (Rails), Rhys Williams (Jackson), Elisha Cook, Jr.
(Matty), Viola Rye (Rose la Monge), Richard Karlan (Alexis), Harry
Shannon (Harve Miller)
Script: Al C. Ward, Jerry Sackheim
Director: Ray Nazarro

An old Spanish good-luck coin that brings nothing but trouble to it's owner
arouses the interest of Inspector Queen and Ellery. In an old mission on the
water front they come face to face with brute violence and murder.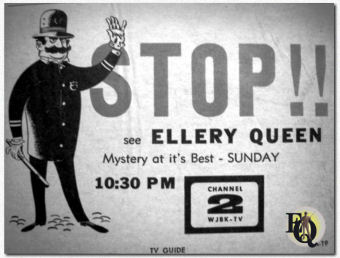 Above: Add from TV Guide for May 25, 1957: "STOP!! see Ellery Queen"

References
(1) Ellery Queen on the Small Screen by Francis M.Nevins Jr.
in The Armchair Detective volume 12, 1979
(2) The Live Television of Ellery Queen by Francis M.Nevins Jr
in The Armchair Detective volume 17, 1984
(3) IMDb
Last updated July 22, 2016