ichard Derr (06/15/1917 - 05/08/1992)




Height: 6' 2" (1,88 m)
Hair: brown
Eyes: brown
Marriages:
None
Brother:
Walter Rodman (b. March 1. 1910 - ), plant manager Columbia Mills, Trucksville, PA, married (aft 1930 - 1946 - ) to Alice Tindall (b.1910- Sep 30.1991).
Children: W. Rodman Jr. b.1933 (Sep 11. 1953 to Sandra Davis)
Kenneth Tindall Derr b.1937 (Sep 12. 1959 to Donna Carol Mettler)


Richard LeMar Derr was born in Norristown, PA, on June 15 1917 as child of Walter Rodman Sr. and Martha Kelp (b. Nov 10. 1883). Reportedly Richard made "headline news" five hours later, when his father bought a Liberty Bond in his name. By the age of five his father had learned Richard how to make martinis: "The best in town."

Their father died around 1926. Derr's mother and 7 years older brother Rodman were left to support the household. Richard and his brother made a pact. Richard would go to work after school to earn money to help send Rodman to college. Once Rodman was established, he would return the favor. After graduating, though, Rodman got married, and "forgot" the agreement to help his brother out. (Williams)
When he attended Stewart Junior High, "his voice deepened and awkward lankiness gave way to square-jawed, blond good looks." Derr proved to be popular in school. He auditioned for leading roles in plays and was awarded them, edited the school newspaper, was Vice President of his Senior Class, President of the Honor Society, and "Mayor" of the school. "I was always playing George Washington in some pageant or other but before I undertook the part of George I served my apprenticeship as Robin Washington, George's half brother, until my nose got big enough to handle the leading role." He graduated two years early, at the age of 16.
After graduating from Norristown High School (Pennsylvania) in 1933, he held a banking position of clerk at a Norristown bank. He studied with the American Institute of Banking, completing a 4 year course in 3 years. For three years he kept on acting with "The Dramateurs," a Norristown amateur little theatre group, doing standard "little theatre" plays of the period. He then appeared at the Hedgerow Theatre, a repertory theatre in nearby Moylan, Pennsylvania.
Pursuing his goal to be a professional actor, Derr became a student of Jaspar Deeter - the director/educator of the Hedgerow Theater in Pennsylvania, and honed his craft there for three years (in the evenings. Daytimes, he still worked at the bank.)

His acting career blossomed after appearing with Joe E. Brown in Elmer the Great and with Walter Hampden's Richelieu at the Maplewood, N.J. summer theater. Richard Derr was appearing in the six-hour version of George Bernard Shaw's Man And Superman when he was seen by the New York agent Maynard Morris.

Morris got parts for Derr in various plays, and finally he got his "big break." He'd gone to the 20th Century Fox studios in New York to "feed cues" to an actress - it was her screen test. But when Daryl Zanuck saw this screen test in Hollywood - it was Derr whom he liked. Derr signed a seven-year contract with 20th Century Fox. He boarded a train for Hollywood on Thanksgiving Day. He was met at the train station in Pasadena by studio personnel, and taken to an apartment in Westwood, near the studio. Derr soon bought a car, a new yellow Plymouth convertible, for $450, which he paid off in three months with his new salary. He was 24. It was 1942.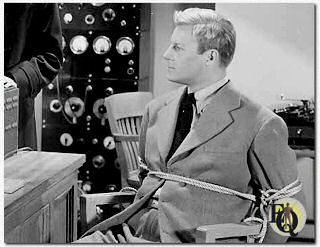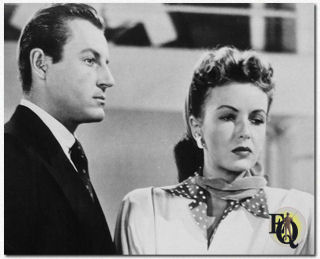 Above left: Richard Derr, bound with rope in Man At Large (1941).
Above right: Derr with Francis Gifford in 1948's Luxury Liner.

Derr's first movie was Charlie Chan in Rio (1941), Derr played a German spy in Man at Large (1941), which starred George Reeves, as well as a dozen other movies. He so disliked Tonight We Raid Calais (1943) (with Lee J. Cobb, Beaulah Bondi and John Sutton) that he broke his contract with 20th Century Fox.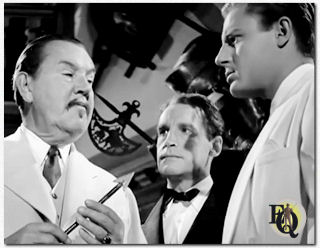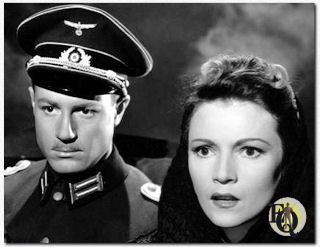 Above left: A second Chan film role would come with Castle in the Desert (1942). (From L to R): Sidney Toler as Chan, Henry Daniell and Richard Derr.
Above right: Derr as German officer in Tonight We Raid Calais (1943)
During World War II, Derr enrolled in the US Army Air Corps, and flew three years as a navigator on flights between between Miami, Brazil and Africa, for the Air Transport Command .
Returning to Hollywood, Derr began to appear in "A" pictures - such as Secret Heart (1946), The Bride Goes Wild (1948), Luxury Liner (1948), and Ingrid Bergman's Joan of Arc (1948).

After 2 weeks in the hospital his mother Martha Derr died on April 9. 1947 in Los Angeles, due to pancreatic cancer