awrence Dobkin (Sep 16.1919 - Oct 28. 2002)

Height: 5' 11"
Weight: 185 lbs 35 oz
Eyes: Brown
Sibblings:
Harold (Jun 6. 1915)
Francine L. (1927)
Marriages:
(1) Frances Hope Walker (married Aug 1942, divorced Jun 8. 1960)
Child: 1 daughter Debra (Deborah Janke)
(2) Joanna Barnes (married Jun 24. 1962, divorced Jan 16. 1967)
(3) Anne Collings (married Sep 23. 1972 - Oct 28. 2002, his death)
Children: identical twin daughters named Kristy and Kaela (1/1/1970)
Kristy became a writer and Kaela an actress. Anne's son Laird
was his stepson.

Born in New York City to immigrants (1905 - 1906) Sam Dobkin, a Russian restaurant owner and Austrian Frida Feder.
He began acting as a child on stage in the city of his birth and in off-Broadway productions in his early teens. He graduated from high school at fifteen (1934) so he was in City College New York before he was sixteen.
He found out about Drama School during his Broadway debut, initially he got a small role in Blood on the Moon by George Sklar but had to take over the lead from Alexander Scourby. His director said "'Go to my school. It's the best school I know of. At Yale University. It's the Graduate School of Drama. See if you can get in there. You'll get a better education there."
After several tries a much too young Dobkin attended Yale Drama School where he roomed with another future director, Richard Fleischer.

He understudied on Broadway and in New York and New Haven he began working in radio to pay for his studies. Playing an evil little boy on the WOR series The Ebony Elephant. Before World War II, he appeared on regional series on the Yankee Network and New York-based series such as Superman. Then in 1944 Glen Miller disappeared in the Atlantic and they tapped his unit to go to New York and fill in. They became Air Force radio propaganda unit Number Two, based at Number One Park Avenue, where the greatest danger was falling off a bar stool. He volunteered to go overseas and trained to lead a team of three into France. However when Radio Propaganda Unit #1, in Santa Ana, lost its star – Lee J. Cobb, Dobkin was "picked" because his voice was closest to Cobb's. While awaiting discharge from the Military, he acted on several civilian radio series that originated from New York including The Carrington Playhouse.


In the 1940's Lawrence Dobkin found himself involved in many radio shows. He turned out to be one of the considerably-more-than-competent stable of leading and supporting radio actors in OTR whom directors knew they could call on without a qualm for a variety of roles. Of course he had to be featured in a soap opera. Every radio actor worth his salt was in at least one. Dobkin was a supporting cast member of the Granddaddy and possibly the most beloved of all soaps One Man's Family (NBC-Radio, 1932-59) which was a proving ground and stepping stone for many a fledgling actor and actress on the way to stardom. Hundreds passed through the "Barbour Family's" lives... and there was always room for more.

The Saint (NBC-Radio, 1945 to CBS-Radio to Mutual and back to NBC-Radio, 1951) the doings of super-sleuth Simon Templar in which Dobkin played "Louie", Simon's cab-driver. There were five radio "Saints"... with Barry Sullivan and Vincent Price probably being the best-known. While playing Louie, he was asked to step into the lead role of Simon Templar to replace Tom Conway for a single episode — making Dobkin one of the few actors to portray Leslie Charteris' literary creation.
Dobkin began a prolific career in television in 1946, having worked as an actor, narrator and director. He appeared in an episode of the early syndicated series The Silent Service, based on true stories of the submarine section of the United States Navy.

On radio Dobkin then went on to perform in the leading role of The Adventures of Ellery Queen (1947). The show had the unwritten law that if the guest star guessed the murderer you had to vamp a different solution to the crime. Because only Ellery could solve the crime.

"That only happened the one time. Phil Harris was the guest star with Alice Faye on that episode. And about twenty-five minutes in to the broadcast, came to a complete stop, and, then Ellery, as an announcer, but still in the Ellery character, said to the audience in the studio, to the guest and to the radio audience, 'You now know everything that Ellery knows. So, you should be able to arrive at the solution before we play it out. Who do you think is the guilty party?'
Well, in the whole eighteen months that I did Ellery Queen, Phil Harris was the only one that guessed it. It was the first words out of his mouth and my job then was to talk him out of it, to make him reconsider. So quite calmly, I pointed out the evidence that worked in the other direction and he began to have doubts. When his doubts were fully voiced, I said we're out of time, we have to go back in now. So, we played out the rest of the show and with the final music sting, Phil Harris was out for blood. He came across that studio and he was ready to punch my head because I talked him out of his intellectual triumph."
(Interview Charles Dennis 2009) (Note: There is to our knowledge no episode of EQ which had Phil Harris and Alice Faye as armchair detectives).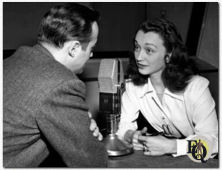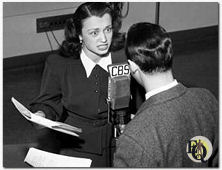 Above: "Incognito" Larry Dobkin as Ellery Queen playing opposite Charlotte Keane (Nikki Porter) in front of the CBS microphone.
When Dobkin was replaced by Howard Culver in 1948 Dobkin said "When I was replaced as the voice of Ellery Queen, nobody gave me any notice. They just told me not to come back next week. They never told me why. I had done it for two years. ..."
Playing Ellery Queen on both Coasts helped him gain access to acting jobs on Hollywood-based radio series.
"Television was on the verge of taking over. We were quoting Fred Allen's line about TV, 'If you don't look at it, it'll go away.' And we were still doing a 'live repeat' some three hours later for the East Coast. The network was avoiding recording the show for reasons of their own. That is, they were avoiding 'playing' the recording. I learned that when I slept through the repeat time and phoned the station in a panic, only to be told that they 'played the recording.' " (Dobkin in The Sound of Detection, 2002)

Dobkin was "Lt. Matthews" in another crime drama. The Adventures of Philip Marlowe at NBC-Radio, 1947-48 and CBS-Radio, 1948-51. The title role was played by, at first, Van Heflin, who became a well-known movie star then by that fine radio actor Gerald Mohr.
In 1948 NBC-Radio tried something that had never been done before. It offered its listeners a dramatic anthology which included great works of fiction that would allow for the receipt of college credits. It was called The NBC University Theater and stayed on the air until February of 1951. Dobkin was part of the cast that included the best actors that both films and radio could offer with movie stars like Angela Lansbury, Herbert Marshall and David Niven, among others along with radio stars Lou Merrill, Paul Frees, John Dehner and many more. Dobkin was in several episodes of Romance (CBS,1943-57) a charming anthology with a romantic bent that was beautifully written, directed and acted but never seemed to be able to find its proper niche on the air. As a result it was heard sporadically sometimes off the air for weeks or months at a time and could never build up the firm listening audience it so well deserved.
Dobkin was also a cast member of The Green Lama (CBS-Radio, 6/5-8/20/49) another very short-lived adventure series with Paul Frees starring as an American who spends ten years in Tibet developing special powers then returns home to use his gifts to fight crime.
In a switch, Dobkin was the announcer for the adventure series Rocky Jordan (CBS-Radio, 1948-50) which told the story of a young American who owned a cafe in Cairo, Egypt and wanted nothing more than to run his little establishment in peace and quiet but gets so involved in other people's affairs that he turns detective Jack Moyles starred. Larry Dobkin starred as one of four "Archies" the great detective's right-hand-man in The New Adventures of Nero Wolfe (NBC-Radio, 1950-51) in which the wonderful Sydney Greenstreet growls his way victoriously through the solving of the crime and still manages to stay at home and dine on gourmet meals.
Dobkin was "Dave the sergeant" in yet another "shortie"... the police drama The Man From Homicide (ABC-Radio, 6/25-10/01/51) with Dan Duryea as policeman "Lou Dana".

Then there was the short-lived crime drama The Judge (CBS-Radio, 1952) played by John Dehner in which Dobkin was featured as the police lieutenant.
Larry Dobkin made quite a few appearances on Gunsmoke (CBS-Radio, 1952-61) the well-loved Western forerunner to the television series of the same name.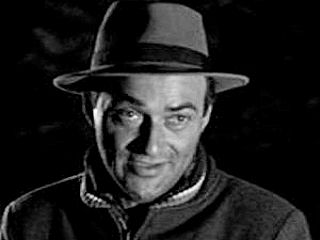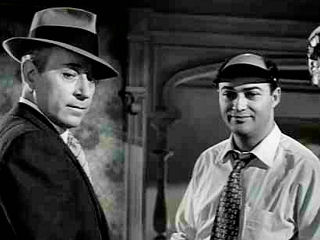 Above left: Larry Dobkin starred as one of four "Archies" the great detective's right-hand-man in The New Adventures of Nero Wolfe (NBC-Radio, 1950-51) in which the wonderful Sydney Greenstreet growls his way victoriously through the solving of the crime and still manages to stay at home and dine on gourmet meals.
Above right: George Raft and Larry Dobkin in Loan Shark (1952).