Born as William Dennis Gargan Jr. in Brooklyn, New York, USA and son of a bill collector/bookmaker and Irene G. Flynn.
Gargan is know to have had a series of jobs ranging from soda jerking to street car conducting but after leaving high school (St.James School, Brooklyn) he had a number of white collar jobs.
He first worked as a credit investigator and collection agent for a clothing firm. Once Gargan was shot at when he attempted to get a deadbeat customer to pay his overdue account. Next, he worked for about a year as a private detective with a New York agency for "$10.00 a day and expenses." Gargan did many of the usual detective jobs: guarding payrolls, tailing possible suspects, conducting stakeouts, and protecting clients with valuables. He was fired when he lost track of a diamond salesman he was supposed to be protecting. In 1924 he became bored with the routine of a regular job he turned to acting... .within a year he made it to Broadway.

Bill auditioned for, and won a part in Aloma of the South Seas (1925) on stage. Bill married Mary Kenny, a former dancer in 1928. A successful career on Broadway led, to his movie debut in Rain (1932) .

Early in his career, between acting jobs, Gargan got a job selling bootleg whiskey to New York City speakeasies.
In 1932 he won great acclaim for his work in Philip Barry's Broadway play The Animal Kingdom, leading to an invitation from Hollywood where he made his film debut in 1932.
In most of his screen appearances, Gargan basically played himself: a robust, handsome, high-spirited Irishman. His "serious" film work included noteworthy performances in Rain (1932), The Story of Temple Drake (1933), Four Frightened People (1934), and You Only Live Once (1937)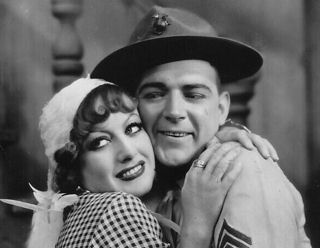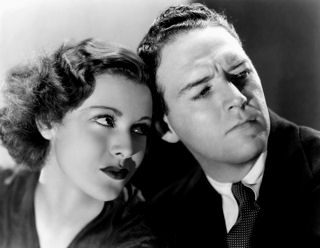 Above left: A W. Somerset Maugham tale provided the story for Rain (1932) Miss Sadie Thompson (Joan Crawford), a prostitute, quickly catches the eye of Sergeant Tim O'Hara (William Gargan)
Above right: Headline Shooters (1933) Reporter Bill Allen (William Gargan) gets the story regardless of the consequences but when Allen meets no-nonsense Jane Mallory (Frances Dee) he falls in love. Co-stars included Ralph Bellamy and Jack La Rue.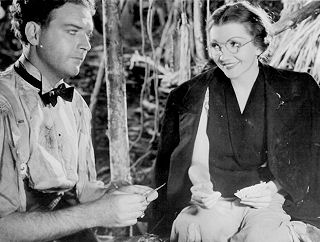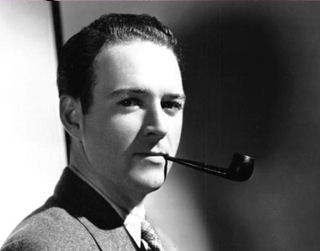 Above left: Stewart Corder (William Gargan) with schoolteacher Judy Jones (Claudette Colbert) in Four Frightened People (1934).
Above right: Black Fury (1935) brought us William Gargan as Slim Johnson opposite Paul Muni.
He was breezier, and more entertaining, in B-films such as Headline Shooters (1933), Man Hunt (1936), Wings Over Honolulu (1937), and Bombay Clipper (1942).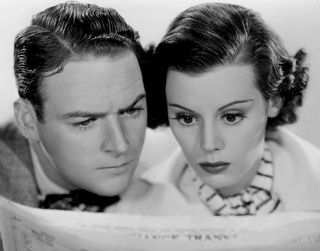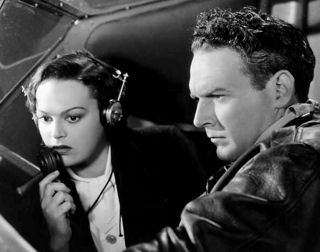 Above left: William Gargan and the wonderful Helen Mack in The Milky Way (1936) a Harold Lloyd talkie.
Above right: Sky Parade (1936) In this airborne adventure, three pals from WW I team up to run a commercial airline. Katherine DeMille and William Gargan.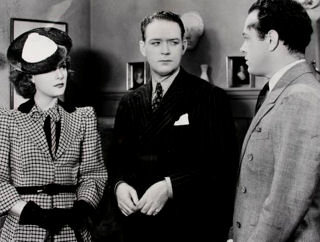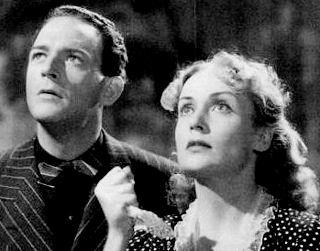 Above left: The House of Fear (1939) An actor, John Woodford , dies on stage during a performance of a play. His body is taken to his dressing room, where it disappears. The theatre is closed for over a year, and rumors that Woodford's ghost haunts it spread all over Broadway. A detective (William Gargan), posing as a producer , rents the theatre and attempts to present the same play, but all sorts of "ghostly occurrences" happen to try to thwart his plans. With Irene Hervey, Harvey Stevens.
Above right: For his work in They Knew What They Wanted (1940), he received a "Best Supporting Actor" Oscar nomination. Here he is pictured with co-star Carole Lombard.
For his work in They Knew What They Wanted (1940), he received a "Best Supporting Actor" Oscar nomination. Whilst during the '30s he played high-energy, gregarious leads in many "B"-movies and second leads in major films; later he moved into character roles e.g. I Wake Up Screaming (1941), Who Done It? (1942), The Canterville Ghost (1944), and The Bells of St. Mary's (1945) He played master detective Ellery Queen in three 1942 Columbia programmers. The series could have outlasted the war but the fact that he had no contractual obligation to a studio prevented him to continue the role. The series was so quickly shelved Gargan and Lindsay had to go on in an unrelated movie No Place for a Lady (1943).
"Bellamy's Ellery Queen movies grossed far more than did mine. "He's not Ellery Queen," audiences said of me."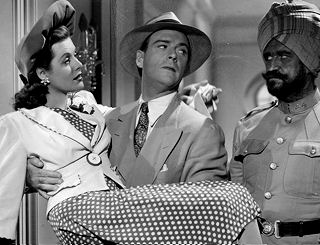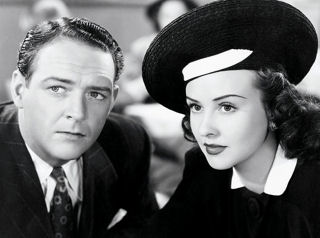 Above left: Irene Hervey with Gargan in the Universal's mystery Bombay Clipper (1942)
Above right: William Gargan with Margaret Lindsay in A Desperate Chance for Ellery Queen (1942)

At Christmas time 1943, Gargan went on a USO tour together with fellow film performers Claudette Colbert and Keenan Wynn. He spent several months visiting bases in China. Gargan mainly participated in sketches. He was also appreciated for his informal talks with the GI's and Gargan found the experience (which lasted past the first quarter of 1944) to be one of the most rewarding of his entire career. If William Gargan brought an air of authenticity to his roles as a private detective it's because of his youth (father) Gargan learned a lot about the gambling world and met a lot of interesting characters from across the spectrum of society. The main reason why Gargan was so convincing as a detective was that he was probably the only actor of his time who had actually been a private detective. Before heading into TV he had several roles on radio.
Indeed he was guest in panels on several radio shows, it wasn't long before he took up the detective parts. As the TV-age became into being it largely took over the existing radio formats of storytelling, quiet an industry at the time. Hence the fact that many stars from radio made the crossover. He portrayed detective Ross Dolan, a veteran detective who returned to his sleuthing job after being a sailor in WW II. Or as Dolan puts it, "a hitch in Uncle Sugar's Navy" on ABC Radio's I Deal in Crime (1946-1947).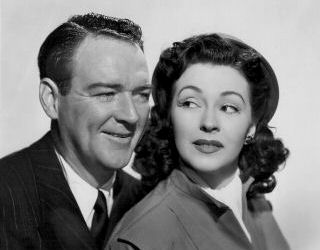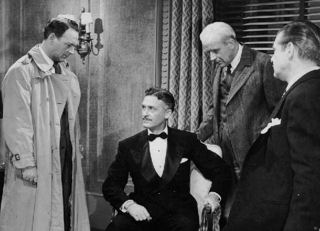 Above left: Follow That Woman (1945) was basically another "Thin Man" derivation, in a wartime setting. The story isn't always up to standard, but William Gargan and Nancy Kelly work quite well together.
Above right: "Two women's lives depend on what this man says!" scene from Night Editor (1946) starring William Gargan, Janis Carter, Jeff Donnell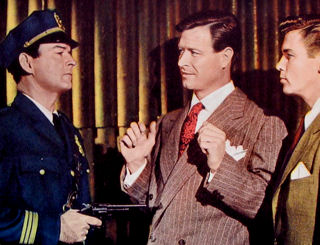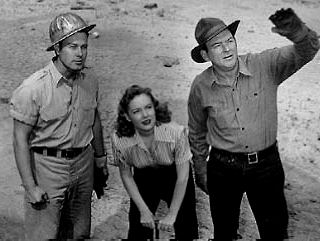 Above left: In Waterfront At Midnight (1949) Gargan (left) portraits a policeman who tries to capture a criminal but ends up charged with murdering his own brother.
Above right: Dynamite (1949) contractor William Gargan has his eyes on pretty Virginia Welles, Johnny Brown (Richard Crane) comes along to defy Gargan both at work and in love. In the end disaster comes to the rescue...