argaret Lindsay (Sept 19,1910 – May 8,1981)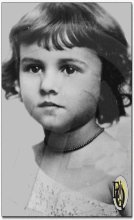 Height: 5' 5" (1.65 m)
Eyes: hazel
Partner: Mary McCarty
Second of 6 children. 5 Sisters and 1 brother John: The eldest Helen (with whom she lived for a while) married John Page Bueheler, Jane Gilbert (Susan Jane Kies) who was married to actor William Hopper. Lorranie was married to Fredrick C. Keuline (Chicago), Mary (Mickie) was the youngest sister who later in life lived with Margaret.

Lindsay appeared in about 80 movies, usually as the "other woman," a debutante, socialite or best friend. She bounced between A and B pictures, playing leads in some and supporting roles in others, and working with such top leading men as Paul Muni, James Cagney, William Powell, Errol Flynn, and even the up-and-coming Humphrey Bogart. The only thing she lacked was star quality. After leaving Warners she continued to appear mostly in B-movies, and later moved into character roles.
Born in Dubuque, Iowa as Margaret Kies, Margaret Lindsay was the daughter of a druggist, John Leo Kies who died in 1930, and Bertha L.Gilbert. She was the oldest of five children. "Peg" was a tomboy who liked to climb pear trees. She was a self-confessed "roller-skate fiend" who loved the circular sidewalk at Visitation Convent, "where I skated 'round and 'round till I was dizzy." She graduated from Visitation Academy, Dubeque in 1930 and studied dramatics at the National Park Seminary in Washington DC and the American Academy of Dramatic Arts in New York. She noticed that American actors were playing second fiddle to their British counterparts.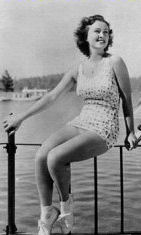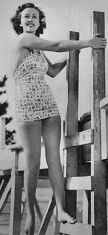 Unable to find roles in America, she went to London and gained stage experience there. She studied and mastered upper-class speech patterns, then returned and tricked ship reporters into thinking she was a British actress. She got her big break, a small but showy part in Fox's 1933 Oscar-winning "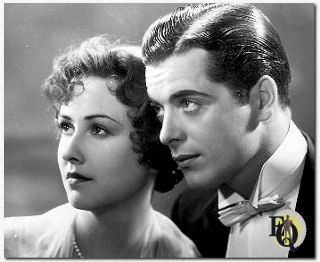 Cavalcade" by convincing a casting director that she was British-when, in reality, she had come to Fox directly from the set of a Tom Mix Western! As part of the supposedly all-British cast, she played a bride honeymooning on the Titanic.
We see her having a conversation with John Warburton on the deck of the ship, followed by the revelation of the ship's name on the life preserver after they walk away. "Cavalcade" records the years between 1899 when Robert Marryot leaves for England to serve in the Boer War and some 30 years, another war and several personal tragedies later. It was one of the few serious plays written by the usually urbane and comedic Noel Coward. This movie was the biggest money-maker of 1933 and won the Academy Award and rave notices in both the United States and, surprisingly, Britain.
Signed by Warner Bros. later that year, the attractive, raven-haired actress became one of the studio's workhorses, appearing in three dozen films between 1933 and 1940.
E.g. in 1933 she already co-starred with William Powell in "Detective Detective 62" (aka "Man Killer")
In 1935 she played the bride in "The Case of the Curious Bride" a Perry Mason mystery where we see Errol Flynn making his screen debut as corpse. Actually Flynn doesn't speak at all since his part only required a flashback scene with narration by Donald Woods.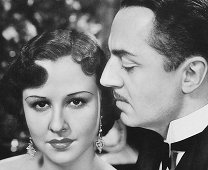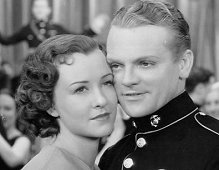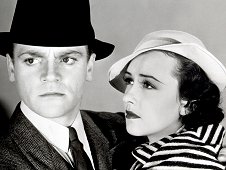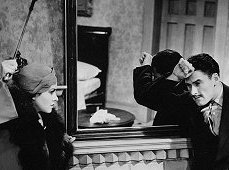 She was at a dinner given in honor of, her good friend, actress Thelma Todd, the night of Todd`s mysterious death from carbon monoxide poisoning. Totally distraught Margaret had to bow out of a picture she was filming "Murder by an Aristocrat" (1936). In 1937 she plays a devoted nurse Frances Ogilvie in "The Green Light" again opposite Eroll Flynn as Newall Paige, a young doctor.
She appeared in the Bette Davis films "Fog Over Frisco," "Bordertown," "Dangerous" and "Jezebel," in which she played Henry Fonda's Northern bride and Davis' rival.