Her B-movie experience included playing the female lead in seven Ellery Queen films. In Ellery Queen, Master Detective (1940) Margaret "Nikki" Lindsay met Ellery over the body of John Braun. The amorous relationship between Ellery and Nikki got more dignity as the series progressed. According to author James Robert Parish "Columbia's one inspired touch in their Ellery Queen series was the addition of Nikki Porter as a freelance mystery writer who goes to work for Ellery as his secretary. She added a bubbling note of pretty distraction, since more often than not the plots called for her to do some amateur sleuthing to help out boss Ellery."
The "master" sleuth is turned into a buffoon in this initial series entry, centering on the murder of a millionaire at a health spa. Lindsay has some good moments as Nikki Porter, but there's too much talk and too little intrigue.

In that same year together with Bellamy Lindsay also made Meet the Wildcat but her standout role came in the classic House of Seven Gables, with George Sanders and Vincent Price.

By the next EQ entry Ellery Queen's Penthouse Mystery (1941) the influence of MGM's successful "Thin Man" series was obvious, as Ellery and Nikki engage in more comic squabbling than in sleuthing.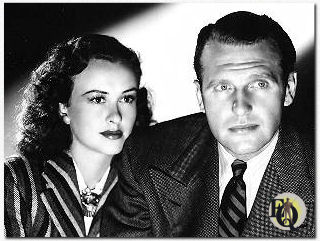 Above left: In 1941, for the first time in seven years, Margaret Lindsay was reunited with three sisters. The girls, natives of Dubuque, Iowa, are L to R; (standing) Mrs.John Page Bueheler, wife of a USA officer stationed at the Panama Canal; Mrs. Fredrick C. Keuline of Chicago; Miss Lindsay and Mary Kies, youngest daughter.
Above right: With Ralph Bellamy Ellery Queen and the Perfect Crime (1941).

The following picture was Ellery Queen and the Perfect Crime (1941). This is probably the best of the Columbia Queens, since it played fairly straight with the storyline of the novel, even while totally changing its setting and characters. Still too much Thin Manning, however, to satisfy mystery fans.
Ralph Bellamy made his fourth and final appearance as literary sleuth Ellery Queen in Ellery Queen and the Murder Ring (1941). Loosely adapted from The Dutch Shoe Mystery, this bastardization is painful to watch.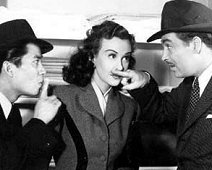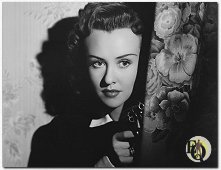 Above left: A Tragedy at Midnight (1942) with John Howard, Margaret Lindsay and Keye Luke.
Above right: Margaret Lindsay as Nikki Porter in A Close Call for Ellery Queen (1942).

In 1942 she got a part in Republic's A Tragedy at Midnight next to John Howard. In the same year she made the three next entries in the Ellery Queen serial along William Gargan who took over from Ralph Bellamy. In A Close Call for Ellery Queen a more sober approach was adopted, much to the overall benefit of the film. A Desperate Chance for Ellery Queen was the next entry and should mostly be remembered for the dead of the serial's producer Larry Darmour. The last entry Enemy Agents Meet Ellery Queen is easily the best of the undistinguished series. Columbia called it quits for Ellery Queen. Margaret was being romantically linked William Gargan ...
A prolific year as she also teamed up with John Wayne in The Spoilers (1942)
After she quit the EQ movie series Margaret Lindsay was again cast in a adaptation of a popular radio show Crime Doctor (1943). It's the first of the series, establishes the Crime Doctor's background. It is still regarded by many as one of the better detective serials. This venture did become a success, but Lindsay's contract came up for renewal and it was decided to drop her.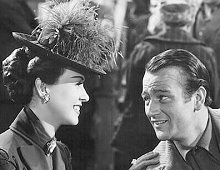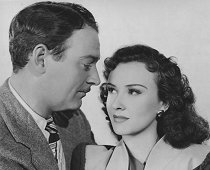 Above left: John Wayne and Margaret Lindsay in The Spoilers (1942).
Above right: With William Gargan in No Place for a Lady (1943).

Another déjà-vu for Margaret as she was cast again opposite William Gargan in No Place for a Lady (1943). Gargan plays private eye Jess Arno, while Lindsay is Jess' ever-faithful, long-suffering fiancée June Terry (above right). According to a HR news item, the picture was to be the first entry in a new series that was to replace Columbia's Ellery Queen films of which James Hogan directed many. The picture failed to spawn a series.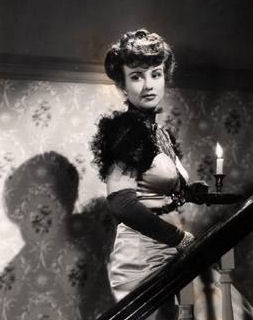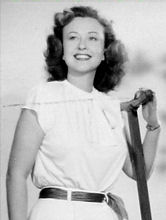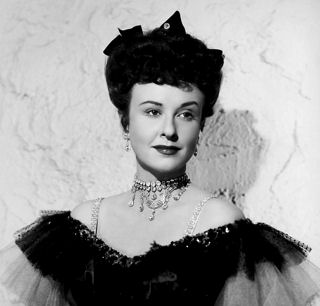 Above left: As Roxie, a sexy saloon girl in Alaska (1944).
Above middle: Louisiana (1947) a rags-to-riches bio-pic that tells the story of Jimmie Davis . Lindsay played the role of Alvern Adams.
Above right: Margaret Lindsay is cast as a sultry Gay Nineties showgirl in Universal's Vigilantes Return, exciting saga of the Montana frontier (1947).

By 1947, looking tired and overweight, Lindsay had segued into supporting roles. Occasionally appearing as a supporting role in MGM films like Cass Timberlane (1947) with Spencer Tracy, her film career was in decline with roles in films at Poverty Row studios like Monogram Pictures and PRC.
Stage provided refuge and she co-starred with Franchot Tone in The Second Man.
She debuted on television in 1950 in The Importance of Being Earnest, which called upon her ability to produce a British accent. Somewhat a false note since some sources report her scenes were deleted.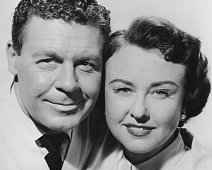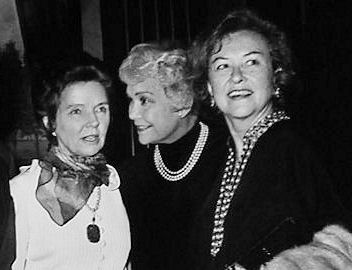 Above left: With John Archer for Emergency Hospital (1956) Dr. Janet Carey (Margaret Lindsay) is romanced by wealthy Ben Caldwell (Byron Palmer), who may or may not be a dangerously reckless motorist.
Above right: Jane Wyatt, Jane Wyman and Margaret Lyndsay at Shriner's Tribute to Pat'O Brien (1974).

Lindsay appeared in only four films during the 1950s and two in the 1960s. She retired from the movies with a release, when she was only 53, Tammy and the Doctor (1963). Lindsay played a nurse in love with doctor Macdonald Carey. On television she appeared as Elly in The Chadwick Family, an unsuccessful 1974 TV pilot with Fred MacMurray.
Margaret was relatively open about her lesbian sexuality within the Hollywood community. Although being romantically linked to several male stars she was also linked to Janet Gaynor. Her close companion was actress Mary McCarty.

Lindsay died in Los Angeles on Friday May 8, 1981 of emphysema.