Born as Dana Scott James Hutton in Binghamton, New York as the son of Helen and Col. Thomas R. Hutton, an editor and managing editor of the Binghamton Press.
His parents divorced while he was an infant. Jim recalled seeing his father only twice before his death, and moved to Albany, New York, in 1938.
Hutton was expelled from five high schools and a boarding school due to behavior problems but had excellent grades and test scores. He earned money for school by digging ditches on weekends and delivering bananas at night. After starting his school newspaper's sports column, he earned a scholarship in journalism from Syracuse University. There he lost his position in the school of journalism (& scholarship) when after playing the part of Pontius Pilatus in a school theatre production he was bitten by the acting bug. He subsequently lost academic ambition and failed three classes as a freshman.

He used his summers to train in summer stock at Ivoryton, Conn. "I paid them $12,50 a week to let me sweep out the theater" he said. "In return I got to play roles with such greats as Charles Coburn. And once I got a whiff of that greasepaint I knew it was for me."
His intentions to continue academic pursuits soon came to an end. In college he stole Syracuse's bulldozer and plowed the blue tulip bed in front of the library (while drunk) the night before the moving up ceremony where he was one of the honorees as class vice-president and was immediately expelled, although argued that his co-conspirator was let off because he was captain of the football team. At Niagara College he claimed to have drained a pond as a prank and was expelled once again for dropping his pants during an awards dinner on a $12 bet, where he was being honored by the faculty as president of the Drama Society.
He went on to pursue his career as an actor in Greenwich Village where he lived for almost a year, but when out of money and unable to pay his rent or buy food he joined the United States Army (1955). He was nearly demoted in rank for putting alum powder in his commanding officer's bowl of stew, among other pranks he pulled while in the military, almost all on higher-ups. He starred in over 40 Army training films before going to Berlin to serve in special service.
Hutton personally founded the American Community Theater by spearheading the renovation of theaters abandoned during World War II. He established the first English-speaking theater in Berlin with the GI production of the play Harvey (which he starred in). Receiving high praise from officers including official commendation, his superior officer agreed to assign Hutton to manage the theater as part of his official duties and he produced, directed, and acted in five productions over two years, receiving the European Theater Award for Best GI Theater. One of his productions, The Caine Mutiny (1954), received the attention of director Douglas Sirk who promptly cast him in A Time to Love and A Time to Die (1958). Using his entire military leave to film for 22 days, Universal was so impressed they offered him a contract, but he still had 18 months of service. "Maryline had been a lighting director for the off-Broadway theater, but by mutual consent it was decided there would be only one career in the family." Within five days of his military discharge, he had married and moved to Hollywood to pursue a career, but by then the offer was off the table from Universal. He eventually landed at MGM. In September 1959 his first daughter Heidi was born.
On TV he starred in The Twilight Zone episode "And When the Sky Was Opened" (11 Dec 1959) Three astronauts have returned from the first space flight. Jim plays Major William Gart, hospitalized with a broken leg, contacted by Colonel Clegg Forbes (an excellent Rod Taylor) which seems the only one to remember the existence of Colonel Ed Harrington.
Director Richard L. Bare attempted to cast Hutton in several TV series, including additional Twilight Zone episodes, but he couldn't convince MGM to change his exclusive film contract. While developing the romantic comedy sitcom You're Only Young Once he felt Hutton was the only working actor right for the role. He asked Hutton to appear in the screen tests with actresses in order to show the studio the dailies and allow him to take the role. They agreed to allow Hutton to appear in the pilot, but refused to break his contract to work on a TV series full time.




Above left and right: The Twilight Zone episode "And When the Sky Was Opened" (11 Dec 1959) Three astronauts have returned from the first space flight. Jim plays Major William Gart.


At MGM he got a string of lighthearted comedies, the most popular being Where the Boys Are (1960) for which he gained recognition with the youth population for his role. This despite already being a 30 years old married father of two when he played 20 year old college student TV Thompson.
He came in third in 1960's Golden Laurel Awards Top Male New Personality, was named one of Motion Picture Herald's Stars of Tomorrow, was a Photoplay Favorite Male Newcomer nominee, and Screen World Award winner for Most Promising Personality.
August 16. 1960 his son Timothy was born.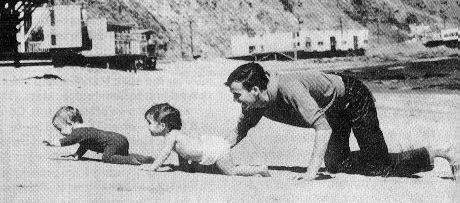 Above: Jim crawling on the beach with his one year old son Tim Tarquin (in front) and his sister Heidi Tarquin. Hutton was Scot on both sides and Tarquin (a Scottish hero) was a family name.


Perhaps MGM had plans to turn Hutton into the new Jimmy Stewart, for the studio insisted upon casting their young star in roles calling for ingenuous clumsiness. His quintessential role was perhaps as The Horizontal Lieutenant (1962), in which his constant bumbling eventually transforms him into a war hero. Hutton was romantically paired with Paula Prentiss in 4 consecutive films: Where the Boys Are (1960), The Honeymoon Machine (1960), Bachelor in Paradise (1961) and The Horizontal Lieutenant (1962).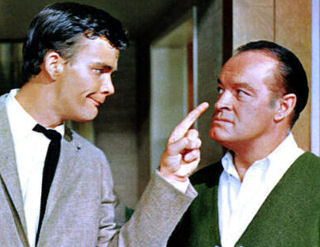 Above left: In The Honeymoon Machine (1960) Jim plays opposite Steve McQueen.
Above right: Jim Hutton and Bob Hope in Bachelor in Paradise (1961).

They worked so well together that many fans assumed Hutton and Prentiss were married when in fact she was the longtime wife to Richard Benjamin. According to Prentiss they were paired because they were at the time Hollywood's tallest contract players (he at 6' 5" and she at 5' 10").
But despite their likable personalities and on screen chemistry, none of the films captured the magic of the first film. Frustrated, Hutton campaigned for the lead in Period Of Adjustment and then refused jobs for 15 months until MGM agreed to give him better roles or dissolve their exclusive contract.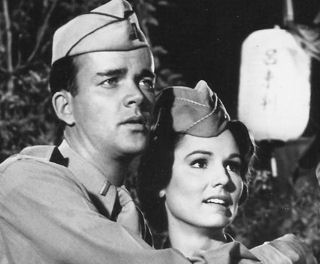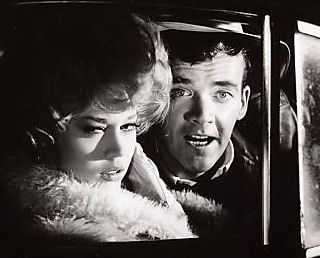 Above left: Jim Hutton and Paula Prentiss in The Horizontal Lieutenant (1962).
Above right: With Jane Fonda in George Roy Hill's Period Of Adjustment (1962).

Whilst waiting for a next assignment Jim starred in a stage production of Burlesque at UCLA. He still hankered for a bit of live theater but said he'll get that out of his system with an occasional fling in summer stock or something like this UCLA deal.

In 1963 Hutton divorced his first wife: "He told me his wife and family were standing in the way of his career." Despite this, Hutton frequently stayed at her home when visiting the family.
He lived with Susan Oliver throughout 1963 but they refused to marry after his divorce and parted when she began focusing on her career as a pilot.

Hutton had an on again, off again relationship with actress Yvette Vickers for 15 years, often rumored to be engaged and/or living together by tabloids. Vickers claimed he refused to marry her because of his inability to remain faithful to women. Between both of their second marriages they rekindled their romances. Vickers claimed the equally troubled Hutton had been the one and only love of her life & soul-mate and described him as "a typical Irish Catholic male; hard drinking, chauvinistic, funny as hell, but with the insecurities of a child."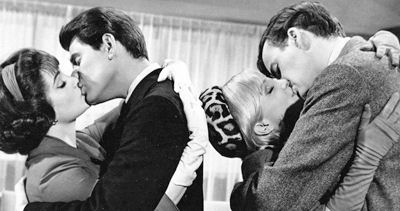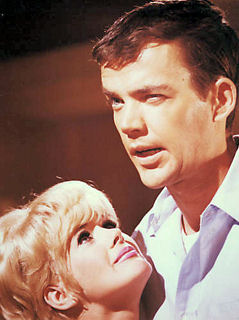 Above left: Woman kissing Joby Baker while Susan Oliver and Jim Hutton do the same in Looking For Love (1964).
Above right: Jim Hutton with an adoring Connie Stevens in Never Too Late (1965).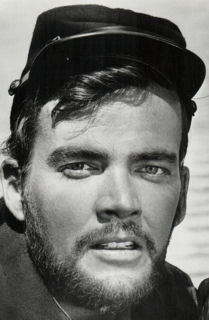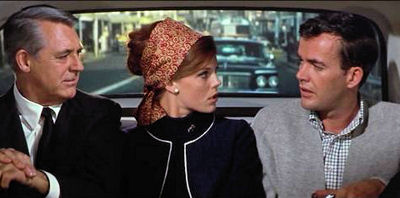 Above left: Jim Hutton as Lieutenant Graham in Major Dundee (1965).
Above right: Walk, Don't Run. Cary Grant plays matchmaker for Jim and Samantha Eggar.

He played opposite Hollywood greats as Jane Fonda in George Roy Hill's Period Of Adjustment (1962) or Burt Lancaster in The Hallelujah Trail (1965) but the next big break for Jim Hutton was the 1966 film Walk, Don't Run. Cary Grant plays matchmaker for Jim and Samantha Eggar during the 1966 Olympics in Tokyo (Above right). Although Hutton was allowed a few non-comedy "outdoors" roles in Major Dundee (1965) and The Green Berets (1969), for the most part he was locked into playing gangling young goofs. Jim Hutton starred in nearly a dozen TV movies. However, when all three of his 1965 releases flopped at the box-office his Hollywood stock took a major tumble, particularly when Gene Kelly dropped him from the lead in of A Guide for the Married Man (1967) one month before production started.

In January 1968 newspapers report Jim Hutton and his bride-to-be, Kathe Green (composer Johnny Green's Daughter) heading to London's Westminster Abbey where they plan to wed within a month. For whatever reason this didn't happen.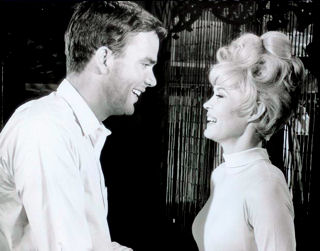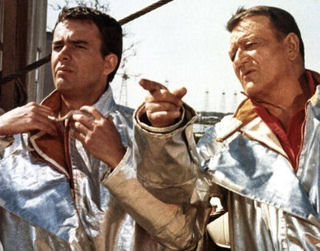 Above left: Jim Hutton and Dorothy Provine in Who's minding the mint? (1967).
Above right: Jim Hutton as Greg Parker, the right hand of Chance Buckman (John Wayne) in Hellfighters (1968).

Film roles dried up and he was relegated to TV work, which coincided with what he called an eight year depression. He did marry Lynni M. Solomon in 1970, although they had a daughter Rebecca in 1971 the marriage would last only three years ending in divorce. "Much of my career downfall was my own fault," he admitted. "And it took two failures at marriage to convince me that I'm a bachelor. I like living with a woman - but it's a mistake for me to marry."
When finally, in the mid-1970s, he snagged the television for which his screen persona worked quite well: Ellery Queen. Once he got it, he directed all his energies toward making his characterization exceptional. Hutton refused to view the films of Lee Bowman, George Nader, or Ralph Bellamy as "Ellery Queen" - not wishing to be influenced by their performances. Hutton spent two days at Los Angeles' main library researching the famous fictional detective and the two men who created him. These studies left him convinced that "Ellery Queen," as written, was a patronizing know-it-all, completely without personal warmth or a sense of humor. "That's when I decided to change the character around and make him more human. To do that, I added dimensions not in the books." Without them, Hutton believed he would lose the audience before the first commercial.
"Sure, there will be some 'Ellery Queen' purists who won't like our show because of those liberties," Hutton conceded, "but that can't be helped." "As a matter of fact," Jim added, "it might have been such a 'purist' among the network decision-makers who caused the three-week delay between the announcement that our show was on and the announcement that I would be the star. That three weeks were enough to have driven the 'old' me off into the blue funk," Jim smiled, referring to the 'old' drinking, emotional Hutton.
Surely this became the 'definite' Ellery Queen due to his likable impersonation in the NBC-TV series. The actor was charming and convincing as the self-effacing, deceptively preoccupied criminologist, especially when he turned to the camera 45 minutes into each Ellery Queen episode and invited the folks at home to help him solve the mystery.
According to producer William Link, Ellery Queen was created with Hutton in mind after NBC saw his performance in They Call It Murder. Link described him as the most dedicated actor he'd ever worked with. He recalled that Hutton literally moved into his dressing room during the 7-month production, 7 days a week. He did this in order to study his script in the morning and night and avoid all distractions at the home of women and alcohol. But the crew noticed he drank heavily after production wrapped Friday throughout Saturday.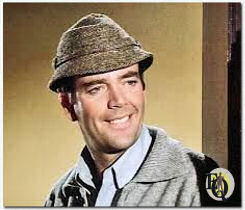 This success coincided with an upturn of theater work and reunion with Timothy Hutton (15). Father and son had gotten reacquainted in the summer of 1975, when, at Jim's suggestion, Timothy spent the summer in his dad's Laurel Canyon home while Jim was shooting a TV series. "Then he asked me, 'Do you want to come down to Los Angeles and stay with me?'" Tim says, "The idea of actually living together hadn't crossed my mind, but when he suggested it and we talked about it, the pieces all fit. The timing was perfect. When I suggested it to my mother, she thought it was a wonderful idea as well." (3)
One of Hutton's memorable television appearances was appearing as a guest star in the 1977-1978 third season premiere of the Norman Lear sitcom One Day At A Time. The episode, entitled "The Older Man", was a four-part story arc in which Hutton portrayed Dr. Paul Curran, a forty-two year old veterinarian who falls in love with seventeen-year old Julie Cooper (played by Mackenzie Phillips). His last television role was in an unsold pilot called Butterflies based on the BBC2 sitcom. It was broadcast on NBC in August, 1979 several weeks after Hutton had died. (2)
According to Tim, his father loved his profession, and that love was his legacy to his son. Father and son also shared passions for horse racing, poker, jazz, and tennis. The day after one of their tennis games, Jim Hutton visited his doctor for respiratory trouble and back pain, he was diagnosed with liver cancer, which had spread to his lungs.
"He called me one day — I was living on my own in Westwood by then," Timothy Hutton says. "And he said, 'Hut' — he always called me Hut — 'are you sitting down?' And he said. 'I've got six months to a year to live'". (3)
Hoping to prolong his life with chemotherapy, he died 8 weeks after first checking into the hospital and only 4 weeks after his condition was made public. "The biggest shock was that he was dying so quickly,"
June 2. 1979 Jim Hutton passed away in Los Angeles, California at the age of forty-five -- just short of the start of his son Timothy's career (with an Oscar for Ordinary People). Milton Berle did his eulogy. Timothy dedicated his 1980 Academy Award, to his father: "...I'd like to thank my father. I wish he was here."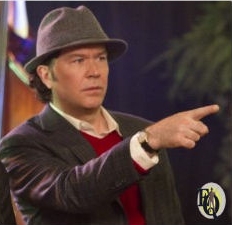 Timothy Hutton wore Jim Hutton's hat from Ellery Queen (1975-76) in both Ordinary People (1980), A Nero Wolfe Mystery (2000) and in the Leverage TV series in the episode "The 10 Li'l Grifters Job" (July 7. 2011) where a Murder Mystery Masquerade offered the opportunity for a tribute (left). Youngest daughter Rebecca 'Punch' Hutton, from his second marriage, named her daughter Ellery.
"Friends" is always the word Tim uses to describe his relationship with his father, and it is a word he insists not be taken lightly.
"My dad placed higher importance on us being friends than anything else," Tim says. "I don't think he ever said to me, 'When I was your age…' There was none of that. We were friends on an equal level. There was a tremendous amount of respect for each other. With other kids it would be, 'Oh your dad's out of town, let's have a party.' With me, my dad would be at the party." (3)
Other references
(1) IMDb
(2) Wikipedia
(3) Timothy Hutton is too good to be true, Rolling Stone, Feb 4, 1982 -
Roger Director
(4) Jim Hutton: Ellery Queen and much more Scott Rollins blog
(5) Jim Hutton views Ellery Queen Jean Lewis (17 Aug 1975)
Additional video & audio sources
(1) The Horizontal Lieutenant (Film Clip, 1962)
(2) Period of Adjustment (Film Clip, 1962)
(3) Major Dundee (Film Clip, 1965)
(4) The Adventure of the Blunt Instrument (Clip Ellery Queen episode,
1975)