He earned an Oscar nomination as Cary Grant's rival for Irene Dunne

in The Awful Truth

(1937)

, with the film shot in six weeks with a minor script (above right). The film itself was most improvisations.

Ralph parodied himself in the brilliant comedy

His Girl Friday

(1940)

.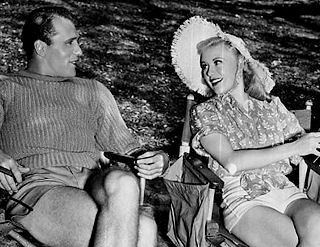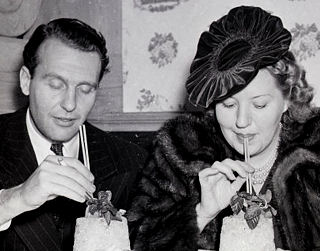 Above left: Ralph with Ginger Rogers on the set of Carefree (1938).
Above right: Ralph Bellamy drinking Mint Juleps with his wife Catherine Willard (1939)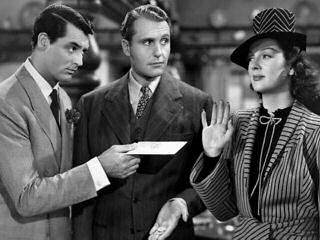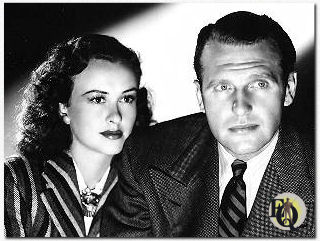 Above left: Ralph parodied himself in the brilliant comedy His Girl Friday (1940) - Click on the photo for a soundbit!...
Above right: Ellery Queen and the Perfect Crime (1941). This is probably the best of the Columbia Queens.


In 1942, he spotted a script on a producer's desk which had scribbled the description of the casting for a particular part, "Wealthy oilman from Southwest - able, but simple and naive. Typical Ralph Bellamy part." He immediately took his leave of Hollywood and its typecasting of him, knowing it was no more than a job. He took his risks, however, being at the height of a lucrative career for Broadway. As luck would have it, he had a string of stage and television successes that he would value more than any of his early films, along with the occasional film.
In 1943, he played an antifascist professor in a Broadway melodrama written by James Gow and Arnaud d'Usseau, Tomorrow the World or Tomorrow's World. In 1945, he played a lionized Presidential aspirant in Howard Lindsay and Russel Crouse's Pulitzer Prize winning comedy State of the Union, (incidentally, Spence would reprise the role in a film of the same name).
August 1945 Ralph married Ethel Smith and the couple lived in Ethel's Park Vendome apartment. In 1947 Bellamy walked out, stating that he had no intention of paying his wife alimony. Ethel charged abandonment and claimed that he drank heavily, that he was moody, and would lock himself in his room. The organist said her husband became jealous when at their parties she received most of the attention. Bellamy contended that she had advised him to be home fifteen minutes after his final curtain or he would find the door locked. (3)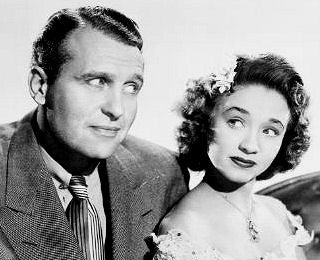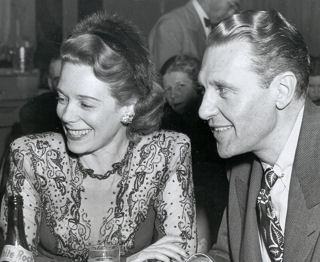 Above left: In Delightfully Dangerous (1944) Cheryl Williams, a 15-year-old (Jane Powell) is led to believe that her sister Josephine (Constance Moore) is a big Broadway star. In truth, Josephine is a stripper. Cheryl arrives in New York, figures out the truth, and tries to marry Josephine off to big-time Broadway producer Arthur Hale (Ralph Bellamy).
Above right: Ralph Bellamy with his third wife Ethel Smith in New York (1946).


Throughout the 1930s and '40s, Bellamy was regularly seen socially with a select circle of friends known affectionately as the "Irish Mafia," although they preferred the less sensational "Boy's Club." This group consisted of a group of Hollywood A-listers who were mainly of Irish descent (despite Bellamy having no Irish family connections himself). Others included James Cagney, Pat O'Brien, Spencer Tracy, Lynne Overman, Frank Morgan and Frank McHugh. (2)
In 1948 he made his a television debut in the Philco Television Playhouse. After divorcing his third wife and paying for continuing medical bills for his daughter, Bellamy had little finances when he was offered the part of Detective McLeod, an overzealous police officer, in Sidney Kingsley's drama Detective Story (1949). The play was a hit and lead to a part in the 1949 - 1954 television series Man Against Crime (aka Follow that Man). He played as a quick-fisted but otherwise well-liked detective Mike Barnett. The show was the first live weekly half-hour dramatic show on network television, and he won an Academy of Radio and Television Arts and Sciences Award for his performance on it. Now married to Alice Murphy (1949), his agent's assistant the Bellamys were now living in New York, which was an ideal spot for Ralph's two hobbies. A cook of distinction, he was given free run of the kitchen at Henri's Fifty-Second Street restaurant. He also painted New York scenes and sold his first water color at an Urban League competition.

In 1956 (28.Dec) he had a role in the TV-series Dick Powell's Zane Grey Theatre episode "Stars over Texas".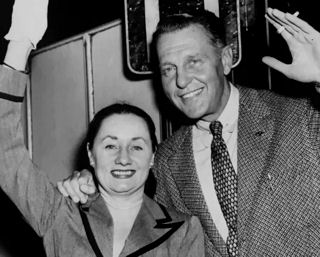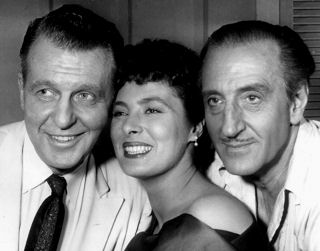 Above left: Ralph Bellamy with his (4th) wife Alice Murphy, whom he met when she was his agent's assistant. (1952)
Above right: Ralph Bellamy, Rita Gam & Basil Rathbone "Affair In Sumatra" from the series Screen Directors Playhouse (22 Feb. 1956, ABC-TV).


In 1958, he would play FDR in Dore Schary's Broadway play Sunrise at Campobello -- here Bellamy built his reputation as an actor by portraying Franklin Delano Roosevelt. By delving into the history of FDR the man and the politician, he came to an understanding of the personality and psyche of the character. He then spent weeks at a rehabilitation center learning how to manage braces, crutches, and a wheelchair, so that his portrayal of FDR, after he was stricken with polio, would be realistic and accurate. In preparing for the original part, he would consult at length with Eleanor Roosevelt and her children. He called Sunrise at Campobello the "highlight of my professional career." It can be said that character acting was defined and perfected by Ralph Bellamy. He won the Tony and New York's Critics Circle Award as best actor in Sunrise at Campobello and starred in the subsequent film version in 1960. He would play FDR once again in the miniseries The Winds of War and War and Remembrance (1988-89).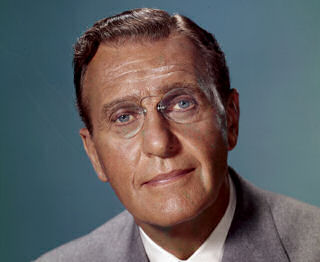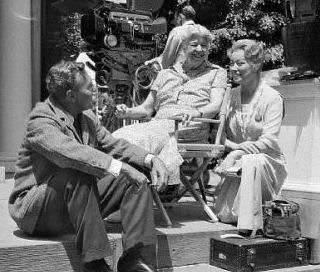 Above left: Ralph Bellamy as FDR in Sunrise At Campobello (1960)
Above right: Ralph Bellamy, Eleanor Roosevelt, and Greer Garson (filming Sunrise at Campobello), Hyde Park, 1960.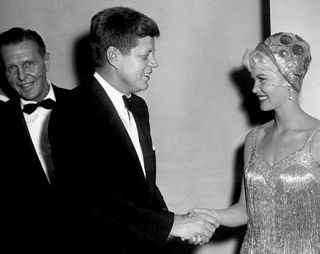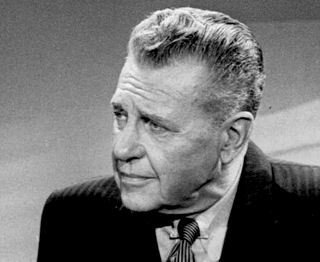 Above left: Ralph just sneaks in with President Kennedy & Dorothy Provine at W.H. Correspondents Dinner Sheraton Park Hotel, Washington, D.C. on February 25, 1961.
Above right: Ralph Bellamy starring as Dr. L. Richard Starke in the 1963-64 NBC series The Eleventh Hour.


He played as a regular in many major television series including The Eleventh Hour (1963-1964), The Survivors (1969), The Mostly Deadly Game (1970), and Hunter (1976). He returned true to his roles as detective, villain, and other man in each of these series. It was in 1969 that Bellamy made a radical character shift by playing a diabolist in Rosemary's Baby (below left). His autobiography, When the Smoke Hit the Fan, was published in 1979. Director John Landis gave Bellamy's film career a big boost by casting him in Trading Places (1983), as a ruthless Wall Street manipulator and brother to Don Ameche. He received an honorary Oscar in 1986. We come to see him in several movies e.g. Amazon Women on the Moon (1987), and Coming to America (1988, a cameo) and of course a benevolent shipping magnate in the 1990 movie Pretty Woman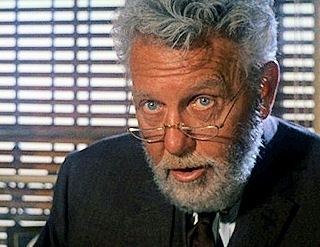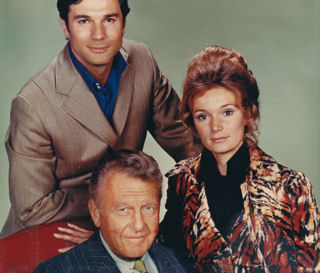 Above left: Bellamy playing a diabolist in Rosemary's Baby (1969).
Boven rechts: In The Most Deadly Game, an Aaron Spelling production,with George Maharis and Yvette Mimieux, Ralph Bellamy played Ethan Arcane one of three criminologists who took on high-profile cases. Spanning over 13 episodes it ran on ABC from October 10. 1970 until January 16. 1971.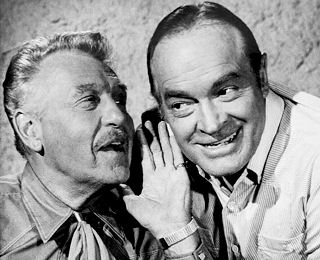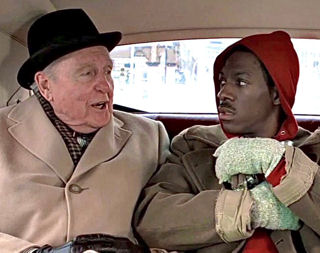 Above left: Ralph Bellamy (L), one of America's most respected and enduring actors, shown here with Bob Hope during the filming of Cancel My Reservation (1972), the new Warner Bros. release, a mystery comedy in which Bellamy portrays a land baron of the Soutwest.
Above right: Billy Ray Valentine (Eddie Murphy) and Randolph Duke (Ralph Bellamy) in John Landis' Trading Places (1983).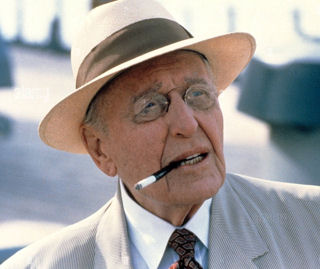 Above left: Ralph Bellamy as FDR in the TV miniseries War and Remembrance (1988-89).
Above right: Ralph Bellamy opposite Richard Gere in Pretty Woman (1990).


Bellamy was also one of the founding members of the Screen Actors Guild and a four-term president of Actors' Equity (between 1952 and 1964). Best remembered by his fellow actors as a champion of actors' rights. He doubled the equity's assets within six years and established the first actors' pension fund. Bellamy guided the Actors' Equity through the political blacklisting of the McCarthy era by forming a panel that established ground rules to protect members against unproved charges of Communist Party membership or sympathy. He also actively lobbied for the repeal of theatre admission taxes and for income averaging in computing taxes for performers.