alph Bellamy (Jun 17,1904 - Nov 29,1991)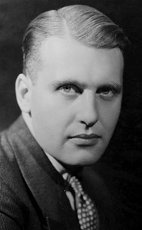 Height: 6' 1½" (1.87 m)
Marriages:
(1) Alice Delbridge, actress (Dec 28, 1927 - Feb 4, 1931,
divorced)
(2) Catherine Willard, actress (Jul 6, 1931 - Aug 6, 1945,
divorced), son: Willard Bellamy,
adopted: Lynn McCrudden
(3) Ethel Smith , organist (Aug 21, 1945 - Nov 25, 1947,
divorced)
(4) Alice Murphy, talent agent (Nov 27, 1949 - Nov 29, 1991,
his death)

Sister: Carolyn Walbridge
Mid-1904 Ralph Rexford Bellamy was born in Chicago to Charles Rexford Bellamy and Lilla Louise Smith. He would be the eldest of three children. His father worked at the Barnes Crosby advertising agency. When he was young, he lived with his widowed maternal grandmother, father, mother, brother and sister. He lived in an apartment at 5709 Kimberk Avenue on Chicago's South side. He moved from Chicago at the age of 5. He was raised Baptist and was extremely close with his red-haired grandmother; and his first experience with death was the death of his 24 day old brother and then his grandmother. He received his first semi-acting class (which he would later term 'ham acting') from his Great Aunt Ella.
The acting urge it may have taken hold at age 15 when, while working as a bellboy at Balboa Bay during a summer trip to Southern California with his mother, he met silent screen actress Louise Lovely and told her he wanted to be an actor. She got him a job as an extra in "Wings of Morning,"(1919) which was being shot there. He was paid $5 for being drenched with a fire hose in a shipwreck scene...(5)
He attended New Trier High School in Winnetka, Illinois. He was president of the Drama Club there. Soon after, he would leave, being expelled for smoking on school grounds. So in 1922 he joined a traveling troupe of Shakespearean players. Later that same year, Bellamy performed in stock and repertory theatres with the Chautauqua Road Company.
His very first major role touring in "The Shepherd of the Hills," an Ozark melodrama, had him playing two roles: the father of the lead (who was almost ten years Ralph's senior) and the villain.
His friend Melvyn Douglas, also a struggling young actor, had gotten a job as the leading man in a Madison, Wis., stock company and managed to get Bellamy on as business and stage manager at $40 a week.
In 1924, Bellamy left Terre Haute, Ind., where he was leading man in a stock company, and went to New York. He thought he was ready for Broadway. Apparently he wasn't. Things got so bad he was down to living on peanuts and water. He recalled in his book that a policeman once saw him stealing a bottle of milk from a doorstep, but turned away out of apparent pity.(5)

Bellamy went back to Des Moines in 1926 as a 22-year-old leading man in the Morgan-Wallace stock company at the old Princess Theater. During Bellamy's second season, he organized his own company and called it "The Ralph Bellamy Players". "We played 10 shows a week at the Princess," Bellamy was a star at the theater for three years which also toured Nashville, Evanston, and Iowa. Bellamy failed to appear for one 1927 performance and sent the audience into an uproar. Bellamy and Alice Delbridge, one of his actresses, had driven to Winterset and then Knoxville to try to get a marriage license. They thought they would return in time for the show, but their luck ran out somewhere. They arrived, too late to obtain a license and lost their way somewhere on the road between Indianola and Winterset. As a result, 300 ticket holders received refunds for the evening show. They were married several months later, but the curtain fell on the marriage in 1931. In her divorce petition, Delbridge charged cruelty and non-support. She said she and Bellamy had been separated since 1930. (4)
Overall, he spent nine years in repertory and touring companies, playing over 400 roles, including an average of two or three in each play. Returning to New York, he spent some time with a stock company on Long Island at $50 a week while he and Melvyn Douglas haunted the offices of Broadway agents. Finally, Bellamy won a part in "Town Boy" (1929) on Broadway. It closed after two performances, but it led to a good job as leading man with a stock company in Rochester, where he played opposite Helen Hayes.(5)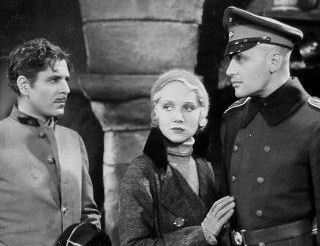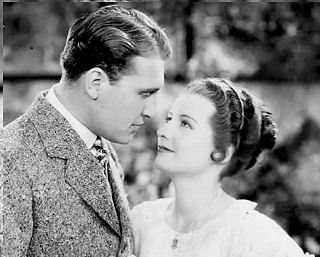 Often a leading man, Bellamy achieved greater success in supporting roles as "the other man". In a career that spanned six decades on stage and screen, Bellamy played roles that fell into three broad categories: 1) the rich, reliable, but dull figure who is jilted by the leading lady, 2) the detective who always finds his prey, and 3) the slightly sinister but stylish villain. Usually appearing in supporting roles, Bellamy often said he never regarded himself as a leading man, so no one else did either.
Making his film debut in the gangster film The Secret Six (1931).
"Forbidden," (1932) with Barbara Stanwyck and Adolph Menjou was regarded by Bellamy as his first really good movie part. "One of my biggest professional mistakes was not being more selective after that."(5)
In 1933, he became a founding director of the Screen Actors Guild and throughout his career was active in organizations designed to help actors.(5)
He starred in numerous whodunits, first as Inspector Trent (in four 1933-34 programmers) beginning with Before Midnight and then as super-sleuth Ellery Queen (in four terrible 1940-41 B's beginning with Ellery Queen, Master Detective).