Right: The young man on the right is Eddie Quillan at the age of seven when he was appearing with two of his brothers, John and Buster, in a well-known vaudeville act.

Edward "Eddie" Francis Quillan was born in Philadelphia, Pennsylvania on March 31, 1907 (Easter Sunday. His parents, Joseph Francis Quillan (1884-1952) and Sarah Owens (1885-1969) had a theatrical career as troupers in their native Scotland. After marrying and going to the U.S., they continued to be actively involved on the stage. Mr. and Mrs. Quillan were highly regarded performers and were contracted players in the most prestigious of the "big time" vaudeville franchises.
Eddie made his debut at the age of seven and by 1917, he was heading up a troupe under the name "Buster Quillan and Pals," with his brothers Thomas (aka Buster), John and Joe and sister Marie (later joined by four more sisters Helen, Margaret "Peggy", Isabell(a) and Roseanne "Rosebud" for a total of nine Quillan children)
Brothers:
Joseph Edward (Sep 21. 1903 - May 31. 1913)
John Joseph (Jun 25. 1905 - Aug 27. 1985)
Thomas James "Buster" (Jul 13. 1911 - Feb 8. 1989)
Joseph F. "Joe" (Aug 31. 1916 - Apr 6. 1961)

Sisters
Mary Ann , "Marie" (Mar 17. 1909 - April 16. 1998)
Margaret , "Peggy" (1916 - alive in 1990)
Helen (1919 - )
Isabella (1921 - )
Roseanne A. , "Rose Ann", "Rosebud", "Rose" (May 18. 1924 - alive in 2017)
During World War I, in 1917, Joseph wrote a vaudeville skit called The Rising Generation with the Quillans as part of this act, singing, dancing, telling jokes, and playing musical instruments. Their father travelled with the boys, usually during the summer months, and managed the act.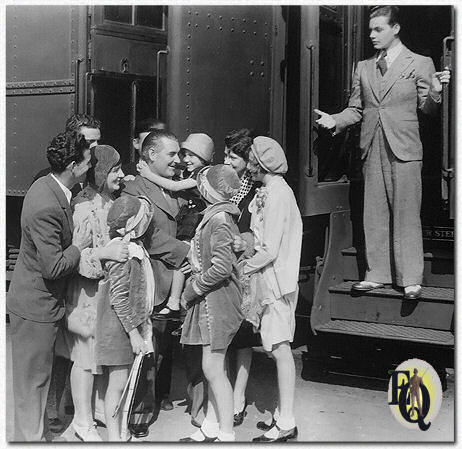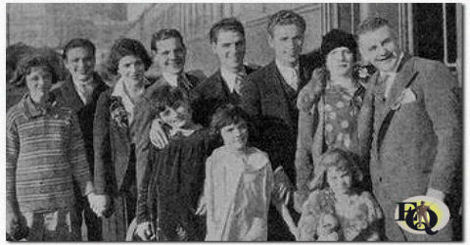 Above: Joseph Quillan (1884-1952) and Sarah (1885-1969) with their nine children (Eddie is the fourth from the left)



Edward toured together with his eight siblings throughout the U.S. In an interview with Michael Ankerich in 1988, Eddie described his early life on the road: "We played most of the places we were allowed to play as children. Because of the authorities, we couldn't play everywhere. We could never get into New York because the Gerry Society, founded to protect minors from exploitation, was so strict. "
Eddie also described a typical vaudeville day: "I would get up around 11:00 a.m., and we would do the show at 2:00 p.m. The we had another evening show, usually two, so that made three performances a day. We would finish about 11:00 p.m., and then, after we got our makeup off, would go to a restaurant to eat. So it was 1:00 a.m. or so before we went to bed."
Occasionally the family was on the road while school was in session. During this times the Quillan children received their education through the New York Professional Children's School, which was by correspondence.
By the time he was in his teens, Quillan was a consummate performer, adept at singing, dancing, and acting. In addition he played saxophone and appeared as a stand-up comic.
Growing up Eddie was a fan of motion pictures but nothing more. His mother is actually credited with planting the idea in his head. When performing in Chicago the children had their individual portraits taken. When his mother, Sarah, looked at the publicity photos, she expressed the idea that he ought to be in pictures, which made him consider the possibility.

After ten years in theatre the Quillans settled on the West Coast and seeing the opportunity silent films provided Joseph was ready to take advantage where his talented children were concerned. He made round of many studios at first with no apparent success. Finally Mack Sennett's Keystone Studio accepted and gave his four siblings an audition.
While watching the film tests, Eddie and his brothers were horrified and thinking the result terrible walked out. However, when Sennett watched the screen test, he was so impressed with Eddie that he went so far as hiring a private detective to find him. At the time the family was touring throughout California as part of the Orpheum Circuit. Sennett signed him to a contract in 1922 and his first film, Up and At 'Em.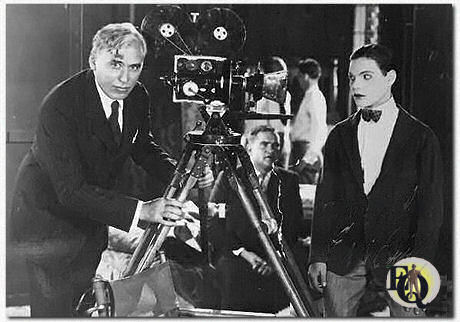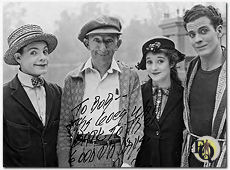 Above left: Mack Sennett on the set with Eddie Quillan (1926)
Above right: From left to right Eddie Quillan seen with director Larry Semon, Alice Day and Danny O'Shea. They were seen in Pass The Dumplings and The Plumber's Daughter (1926).


At first, Sennett tried to turn Quillan into a new Harry Langdon, so in Love Sundae Quillan played a rail-thin, pasty-faced comedian who looked every bit his age, played Buddy Jones, a soda jerk infatuated with Alice (Alice Day with whom Eddie played many of his first shorts). Quillan's father, who handled his son's business affairs played hardball with Sennett and got Eddie raised from a $65 tot a $ 175/week contract. Quillan would use the character name Buddy Jones several more times.
Eventually the slight, pop-eyed, ever-grinning Quillan established himself in breezy "collegiate" roles.
The next conflict led to Eddie breaking his contract with Sennett. The situation involved the script for one of Eddie's two-reel comedies, Pass the Dumplings (1926). When Eddie received the outline of the story, there was something he thought was a bit risqué and out of character for his comedic role. Eddie told Sennett he refused to play the scene the way it was written. Sennett wouldn't budge and ordered Eddie to do the scene. Eddie did but it would be the last picture with Sennett.

Quillan began to freelance. He starred in the comedy A Little Bit of Everything (1928), notable because it featured his siblings Marie, Joseph, and John in starring roles.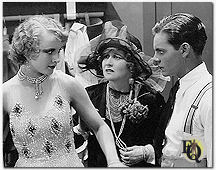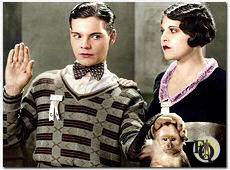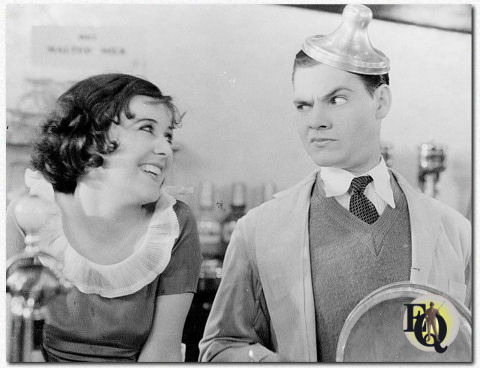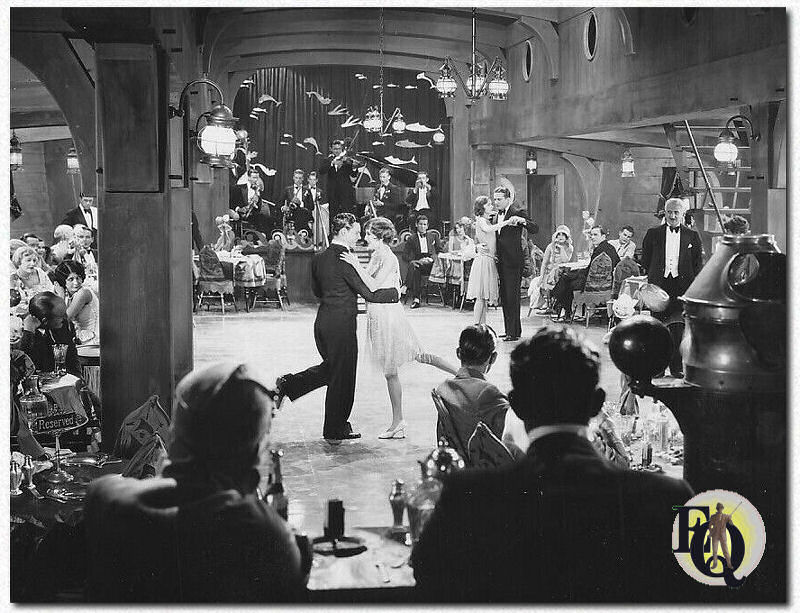 Top left: Quillan (right) with Carole Lombard (left) in Show Folks (1928)
Top right: Eddie Quillan & Lina Basquette in The Godless Girl (1928)
Above left: Sally O'Neil and Eddie Quillan, The Sophomore (1929).
Above right: Eddie with Albert Gran in 1929's Geraldine

Quillan made his first major feature-film appearance when he co-starred in Cecil B. DeMille's The Godless Girl (1928). The film is notable because it featured most of he Quillan clan as unwilling participants in a hillbilly feud. His sister Marie appeared opposite her brother in the film. This was the last time Eddie would work professionally with his mother and father.

The film led to a contract at Pathé studios, where Quillan starred in such ebullient vehicles as The Sophomore (1929, his all-talkie debut), Noisy Neighbors (1929) , Night Work (1930) (below left), Big Money (1930), and The Tip-Off (1931).