Above left: Charles Ray (right) in An Old Fashioned Boy (1920) opposite Wade Boteler (left).
Above right: Bebe Daniels and Wade Boteler in She Couldn't Help It (1920)
On to California where in films from 1919 onward, the stocky American actor hit his stride in talking pictures. He played in several Mack Sennett comedies. Boteler not only acted but also provided the story/ screenplay for several movies (Introduce Me, 1925; Let it Rain, 1927; ...)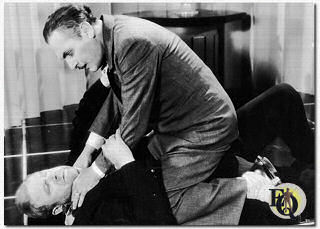 Above left: Let it Rain (1927) was as pleasant to watch as the smile of its star, Douglas MacLean (R) and just as light-hearted. A very funny Wade Boteler (who also worked on the screenplay) aided Douglas in the enmity between the sailors and the Marines.
Above right: Lew Cody "strangling" Wade Boteler in the A. Edward Sutherland Comedy The Baby Cyclone (1928), based on the play by George M. Cohan.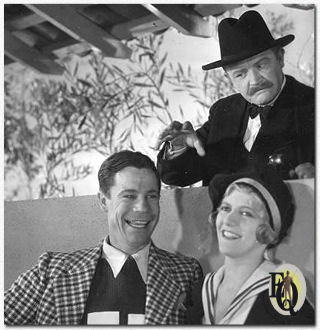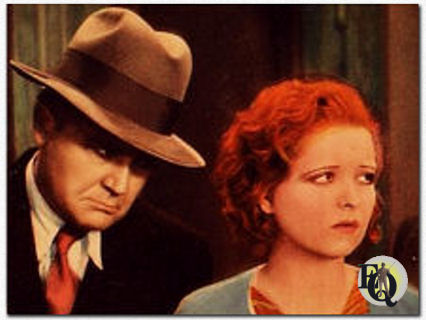 Above left: "They laughed and were happy, wholly unaware of the menace lurking in the background". Joe E. Brown and Laura Lee, comedy players in a First National-Vitaphone picture, Top Speed (1930). The danger is Wade Boteler.
Above right: Wade Boteler (L) with Clara Bow in Kick In (1931).


Blessed with a pit-bull countenance, Boteler was in practically every other "B" western made between 1930 and 1935, often cast as a hard-hearted sheriff or crooked land baron. Affecting an Irish brogue, Boteler was also in demand for policeman roles or a gruff authority figure. So no surprise when he played Inspector Queen in the, easily forgettable, Ellery Queen movie The Mandarin Mystery (1937) opposite Eddie Quillan (below left).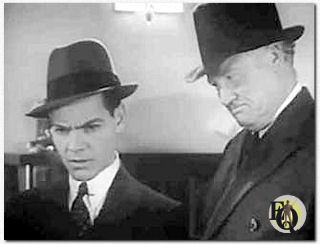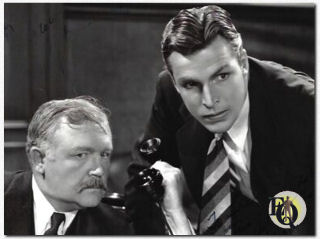 He made his first sound serial in 1938–Universal's cops-and-robbers chapter play Red Barry; based on Will Gould's comic strip, this outing starred Buster Crabbe as the titular police detective. (Above right) Boteler was cast as Inspector "Scotty" Scott, Barry's police superior–and, unlike most serial officials, wasn't relegated to simply sitting behind a desk and giving the hero orders; instead, Boteler's Scotty frequently participated in shootouts and car chases right alongside Crabbe's Barry. Boteler was easily able to make Scotty seem like a capable and toughly down-to-earth police veteran, and also did an excellent job of handling the character's more human aspects; he was at once professional, affable, and fatherly in his interactions with Crabbe.
Buck Rogers (Universal, 1939), a futuristic adventure serial that starred Red Barry's lead Buster Crabbe, gave Boteler a small but important first-chapter role as Professor Morgan–the scientist who, via radio, instructed trapped aviators Buck Rogers (Crabbe) and Buddy Wade (Jackie Moran) in the use of the suspended-animation gas that could alone save their lives (below left).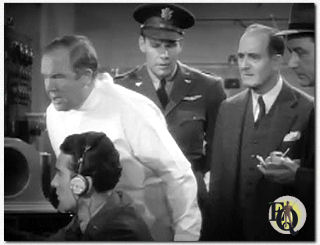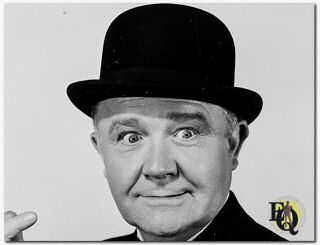 His most effective lovable-Irishman stint was as conclusion-jumping cop Michael Axford in the 1940 serial The Green Hornet (above right); in fact, when fans of the Green Hornet radio version would ask Detroit station WXYZ for a picture of Axford, the station would send off an autographed photo of Boteler, even though Gil O'Shea essayed the part on radio.
As the 1930s gave way to the 1940s, Boteler remained a very busy feature-film character actor–playing yet more policemen in many crime and mystery pictures for Warners and Fox, and portraying sheriffs and Army officers in several Republic B-westerns. He also worked frequently at Universal.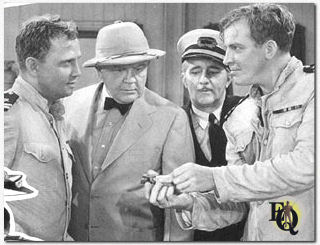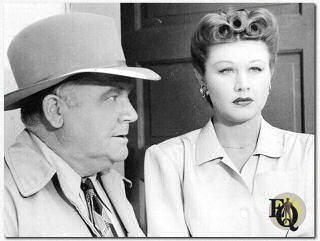 Above left: Boteler's (second from the left) next serial role was in the pre-war espionage outing Don Winslow of the Navy (Universal, 1941)
Above right: Next to Marjorie Lord in Timber (1942)


In the pre-war espionage outing Don Winslow of the Navy (Universal, 1941) Boteler played Navy Intelligence operative Mike Splendor, Boteler served as a secondary sidekick to Navy commander Winslow (Don Terry), backing up both him and his primary sidekick, Lieutenant Pennington (Walter Sande). Boteler used his Axford brogue for the Splendor part, but the Navy character was considerably sharper than the Hornet one; though entertainingly feisty and outspoken (Picture right).
Boteler's final chapter play was The Secret Code (Columbia, 1942), a wartime crime serial that starred Paul Kelly as a police lieutenant who got himself dishonorably discharged in order to infiltrate and destroy a Nazi spy ring. Boteler played the supporting role of the stern Police Chief Burns.
Wade Boteler died of a heart attack on May 7, 1943 in Hollywood, Los Angeles, California. At the time of his death he had 3 sons in the service. Due to the many films he'd completed before his passing he continued to appear in theaters. So Wade Boteler's final film was Warner Bros.' prophetically titled The Last Ride (1944), released one year after Boteler's death.