Born in Balham, London, England, to an American father and a British mother Lester Tremayne began his acting career at the age of 3 under the tutelage of his stage actress mother, Dolly Tremayne. His family moved to Chicago when he was four years old.
After a group of bullies beat him he disguised his British accent while growing up and began his career with community theater, dancing in vaudeville shows and even put those splendid vocal chords to work as a sometimes barker in amusement parks.
He was educated at Northwestern, Columbia and UCLA
Reportedly he started his legendary radio career in Chicago on his birthday in 1932.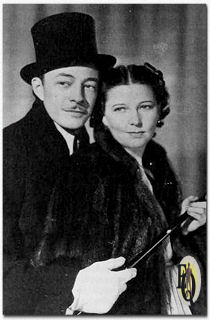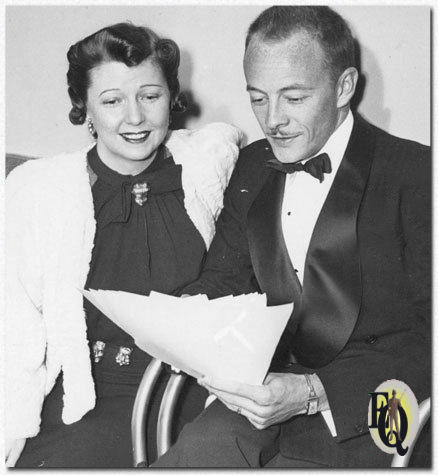 Above left: Luddy and Tremayne appeared before their microphones elegantly attired in evening clothes... to foster the illusion of attendance at a prime play-opening.
Above right: Barbara Luddy and Les Tremayne.

His first big break came in 1936, when he replaced Don Ameche as romantic co-star, to Barbara Luddy, on the dramatic First Nighter Program. This was the show that whisked its listeners to New York City, to "the little theater off Times Square" where they would be treated to a fine "3-act play"... perhaps a romance... perhaps a tense drama... always intriguing and highly enjoyable. The show's introduction was a memorable one, encompassing the usual Broadway sounds: automobile horns blaring, people gathering together,.... The fact that the show emanated from Chicago was beside the point. The show's host "Mr. First Nighter" would arrive at the theater just in time to be told: "Good evening, Mr. First Nighter, the usher will show you to your seat" (which was always 3rd row center). The host would then briefly reveal to the listeners the contents of the forthcoming play, its author and its cast. The orchestra would play a short prelude. There would be background murmuring of the audience, possibly a cough or two. Warning buzzers would sound. "Mr. First Nighter" would softly intone: "The house lights have dimmed... and the curtain is about to go up on tonight's production..." All done in the most professional and believable manner imaginable. You were THERE! Since The First Nighter Program was not only heard but viewed by a live audience, Luddy and Tremayne appeared before their microphones elegantly attired in evening clothes... to foster the illusion of attendance at a prime play-opening.... and Tremayne's already-fine reputation soared!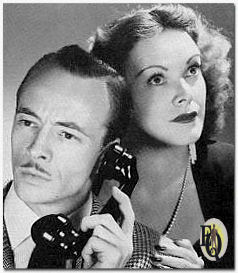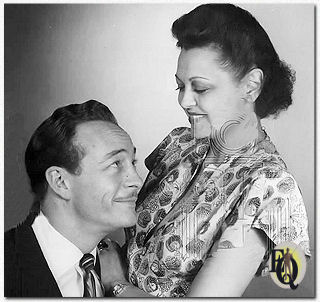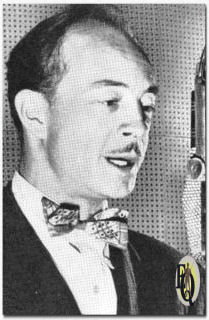 Above left: Publicity shot for Les Tremayne and Claudia Morgan, who played Nick and Nora Charles in The Thin Man on radio.
Above middle: Alice Reinheart (his 2nd wife) and Les Tremayne are MBS's detectives Abbott. (1946-47)
Above right: Publicity shot for Les Tremayne as The Falcon (1947).

In 1943 Tremayne, the original leading man in The Romance of Helen Trent. left Chicago for New York and then Los Angeles, where he enjoyed a lengthy career performing on virtually every type of radio show.
There he starred with Bob Crosby on the Old Gold Show (1944) before serving in the military service. When the show moved to New York, where he co-starred with a relatively unknown comic Jackie Gleason. New York proved to be very productive for Tremayne's career. Throughout the 1940s, he was the voice of Nick Charles on the lighthearted mystery series The Adventures of the Thin Man (1944-49). He also played detective Pat Abbott in Abbott Mysteries (1946-47) and starred in the mystery thriller The Falcon (1947).
He appeared on stage with Heads or Tails in 1947 Tremayne was in the original cast of the Broadway hit, Detective Story, for its full 18-month run.
A poll in the early 1940s cited Tremayne as one of the three most famous voices in America. The other two were President Franklin D. Roosevelt and Bing Crosby. Tremayne's credits extend far beyond drama. In Chicago Les was briefly married to the attractive actress Eileen Palmer 2, after his divorce, he co-starred with second wife, equally beautiful radio actress Alice Reinhardt, on The Tremaynes breakfast talk show on WOR/New York.

It is estimated that Les worked on more than 30,000 broadcasts, with as many as 45 radio shows a week in the 1930s and '40s.
"How I was able to attain whatever status I enjoy, with meager education and no powerful or influential friends to assist me, remains a mystery to me," he said in a 1991 interview. "Stubborn perseverance, I guess. Were it possible to live it over, I would change very little. I've been privileged to work in radio in the Golden Days. Nothing can top that." 1

After radio drama died, he moved easily into film and television work. So in the 1950s, he was a durable player in film and TV dramas. Typically playing shifty execs, errant husbands, and authoritative, no-nonsense professionals in teams of TV dramas, he appeared in numerous shows. Tremayne's credits read like a show business almanac: Alfred Hitchcock Presents (1955-60), Perry Mason (1958-66), 77 Sunset Strip (1958), The Adventures of Rin Tin Tin (1958-59), Ellery Queen (1958-59), The Rifleman (1959), ... . All this along with a few sitcoms for good measure.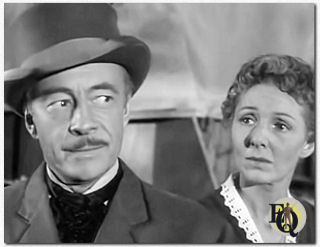 Above left: Wagon Train (1950) Les with Sylvia Marriott
Above right: Les Tremayne and Adam Williams in The Riflemen (1959)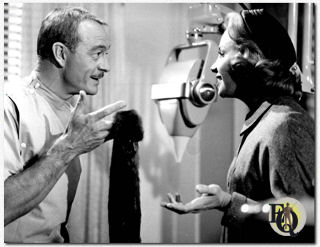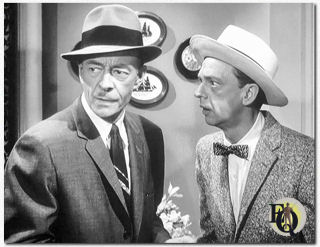 Above left: "Mrs. Bixby and the Colonel's Coat" a 1960 episode from the Alfred Hitchcock Presents series with Les Tremayne and Audrey Meadows.
Above right: Andy and Barney in the Big City an episode in the Andy Griffith series (1962)