Above right: 1913 picture for stock theater company actor "James Guy Usher".


James Guy Usher was born on May 9, 1883 in Mason City, Cerro Gordo County, Iowa, USA to William Berard Usher and Mary S. Sullivan (from Wisconsin and Massachusetts respectively)
He went to school in Emmetsburg, Iowa (1897).
As early as 1906 James Guy Usher is know to perform in stock companies. "Miss Josephine Deffrey & Co." and "The Eckhardt's Ideals" were practically the same large Eastern repertoire company who brought A Fight For Honor, and the border drama The Great Northwest to the podium. Among the clever performers are Oliver Eckhardt, James Guy Usher, Frank Howard, Melvin Mayo, Win. Cornelius, Miss Georgia Nichols, Ella Morton and Sara Drummond. (Sep 1906)
He appeared as John Travers, the friendly lawyer in the comedy The Marriage of Kitty (1911) with Max Figman, Lolita Robertson, Phyllis Gordon, Louise Glaum. (Sep. 1911, Los Angeles)
In December 1912 James was appearing in the "Bailey-Mitchell stock company" featuring Guy Hitner and Clara Beyers.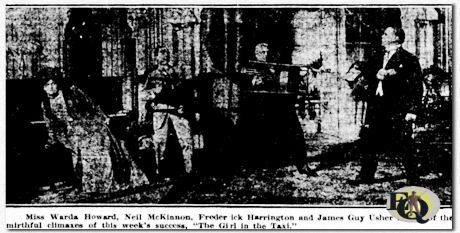 Above: Miss Warda Howard, Neil McKinnon, Frederick Harrington and James Guy Usher in one of the mirthful climaxes of this week's success, The Girl in the Taxi.


"Miss Warda Howard and her company" brought The Girl In the Taxi, the New York success by Anthony Mars. The story tells of a young married woman who has just taken her seventh husband. Neil McKinnon, as the youth, has his first, opportunity in a lead role, and shows marked ability. Frederick Harrington is the comical seventh husband, and James Guy Usher, as the youth's father, is clever. Others who have leading parts are Miss Ethel Tucker, Miss Gilbert, George Zucco, .T. Will Pike, Miss Helen Rice, Ollie Cook, Arthur Weiland, Guy K'Burg, James Mott, and Miss Dorcas Matthews. (Aug 1913)
In 1913 James kept changing stock company going from the "Princess" to the "Pantages company" where he worked with Dorothy Davis Allen. Whilst in 1914 he worked with "The Metropolitan Players", headed by Florence Malone with Dwight A. Meade, Auda Due, Florence Spencer, Max Steinle, Nina Guilbert, Marie Van Tassel, Leslie Wallingford, Will T. Lloyd, Byron Aldenn and Oliver J. Eckhardt. The latter is the art director selected by Miss Malone to stage the plays in which she appears..
Two new members of the Fletcher players, Miss Nina Gilbert and Mr. James Guy Usher, made their local debut in Over-Night. Miss Gilbert proved herself to be an actress of exceptional talents and took the role of "Elsie Darling' in a splendid manner, while Mr. Usher was quite at home in the role of "Percy Darling." The story of the play itself is centred around a huge blunder in which two young married couples are interchanged on their honeymoon. (Vancouver, Dec 1913)
In Sep 1914 manager Donnellan put together the "Frank Rich Musical Comedy company" with Miss Genevieve Blinn. Verne Layton, Guy Usher, Nina Gilbert. Mike Hooley, Jimmy Norton, Dave Williams, Florence Spencer, Marie Van Tassell and Bud Wallace.
Mr. W. B. Sherman, manager of the Majestic and James Guy Usher have formed a partnership, and are presenting an excellent stock company at the Majestic. (1915-1916) . They put on The Girl in the Taxi with James as the producer, and was supported by an excellent company. This "Sherman and Usher Stock company", with Miss Zana Vaughn and James Guy Usher was just strengthened with the addition of Mr. Jean Clarendon, Miss Clara La Mar and Jack Fleming. The personnel was Nina Gilbert, Laurel Bennetts, Allen Strickfaden, J. W. Middlemas, Charles Smith, S. G. Davidson, Perry Spencer, Jack Fleming.