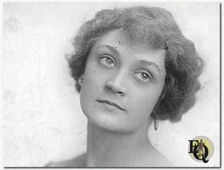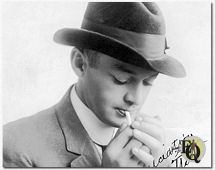 Above left: Picture of Nina G(u)ilbert in 1914
Above right: James Guy Usher stock actor in 1914

Mr. W. B. Sherman, manager of the Majestic and James Guy Usher have formed a partnership, and are presenting an excellent stock company at the Majestic. (1915-1916) . They put on The Girl in the Taxi with James as the producer, and was supported by an excellent company. This "Sherman and Usher Stock company", with Miss Zana Vaughn and James Guy Usher was just strengthened with the addition of Mr. Jean Clarendon, Miss Clara La Mar and Jack Fleming. The personnel was Nina Gilbert, Laurel Bennetts, Allen Strickfaden, J. W. Middlemas, Charles Smith, S. G. Davidson, Perry Spencer, Jack Fleming.
With the start of Summer (June 1917) Herman Lieb's stock company at the Wilson Ave. Theatre, Chicago was attracting much attention with Seven Keys to Baldpate, followed by A Full House James Guy Usher provided support for leading actors as Mitchell Harris and Marguerite Hertz.

In August 1917 he briefly made a sudden switch to a duo act, billed as vaudeville, he was playing opposite Nina Gilbert, with whom he had been performing in various companies since 1913, in a comedy playlet The Opponents which portrayed some humorous sidelights on the political activities of man and woman. Morning, Noon and Night was another little comedy they performed at the Hippodrome, Portland, Oregon. Nina Gilbert, as a suffragist who is a political rival to a non-suffraging husband, played by James Guy Usher. Described as a tussle of epigrams, wit and philosophy concerning suffrage, and winded up with the husband's election and 'wifie's' return to her kitchen. (Sep, 1917)
Soon after this start Guy accepted an offer to appear with the Alcazar Players. It's a fact that by 1917 James and Nina were husband and wife. Although it appears this marriage didn't last long, according to the 1920 census he lived (registered as single) with his brother Eugene F. and his family.
By May 30. 1920 manager W. W. Freeman of the Palace theater made arrangements to place a permanent dramatic stock company there. The opening performance by the "Associated Players", under the management of Harry J. Iceland featured James Guy Usher in the leading role. He was said to be an actor of exceptional ability and wide experience. For three years Mr Usher was Nat Goodman's leading support. He has played the leading parts with the "Alcazar Players" of Portland, Oregon, "the Empress company" at Vancouver, and had just finished a two-year engagement with the "Hippodrome Players" at Salt Lake City. The feminine portion of the cast was headed by Miss Viola Hanes.
He married Evelyn Walker (b.1902) on June 30. 1924 in Golden, Jefferson County, Colorado.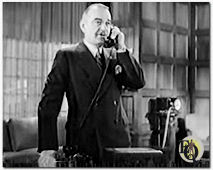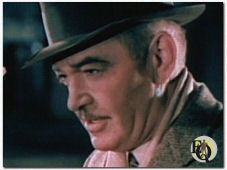 Above left: Usher in The Penguin Pool Murder (1932).
Above right: Mystery of the Wax Museum (1933) had Guy Usher playing a detective (uncredited).

The stocky, officious American actor made a spectacular film debut, somewhat late in his career, in The Penguin Pool Murder (1932), playing the drowned victim of the titular crime (picture above left).
Many of Usher's subsequent roles required a great deal of fluster and bluster: as land-developer Harry Payne Bosterly in It's a Gift (1934), he dismissed W.C. Fields by bellowing, "You're drunk!," whereupon Fields put him in his place by responding, "And you're crazy. But tomorrow I'll be sober, and you'll always be crazy."
Usher also appeared as D.A. Hamilton Burger in the 1934 Perry Mason adaptation The Case of the Black Cat. In the late '30s-early '40s, Guy Usher was a mainstay at Monogram Pictures, again specializing in murder victims.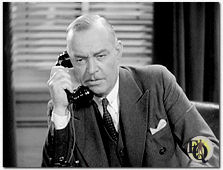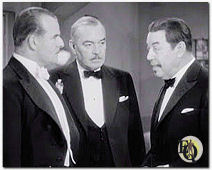 Above left: Guy Usher as Inspector Queen in the first Ellery Queen movie The Spanish Cape Mystery (1935)
Above right: (From L to R) Frank Conroy, Guy Usher, Warner Oland in Charlie Chan at the Opera (1936).


The first actor to appear, very briefly, as Inspector Queen. Guy Usher played him in the first Ellery Queen movie The Spanish Cape Mystery (1935). At one time the opening sequence (the only part of the film in which the Inspector appears) was thought to be irretrievably lost, it has Usher as Inspector Queen calling in his son to help him out with a jewel robbery (See picture above left).

As a portly supporting actor he was seen in horror films of the late 1930s and early 1940s, usually playing industrialists or business people who seem powerless in the face of evil. This is certainly the case with Henry Morton in The Devil Bat (1940) - a typical executive type sitting behind an office desk issuing orders (See below left).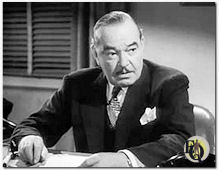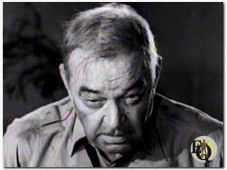 Above left: Guy Usher in The Devil Bat (1940).
Above right: Guy Usher as Admiral Arthur Wainwright in King of the Zombies (1941).

He would reappear uncredited in another EQ movie, this time as a police detective in A Desperate Chance for Ellery Queen (1942).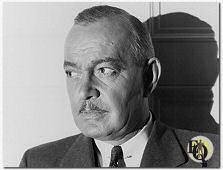 Above left: In the 1942 horror movie The Mummy's Tomb Guy Usher played a doctor (uncredited).
Above right: As Zack Rodgers in Lost Canyon (1942) one of Guy Ushers last screen performances.
James Guy Usher died from a heart attack on June 16, 1944 in San Diego, California, USA.