Howard Irving (Irvine) Smith was born on August 12, 1893 in Attleborough City, Massachusetts, USA to parents George H. Smith, a jeweler and Sybelle Pollard.
Went to school in Providence, and at McGill University, Montreal. Began as secretary, stock clerk.

Smith began as a concert singer, but his hopes of an opera career were ended after his service in the 77th Infantry Division in World War I. Enrico Caruso suggested that he try a musical act in vaudeville. He formed a team with his friend Harry Meeker and later, as a comedian, he shared bills with Frank Fay, Sophie Tucker, James Barton and Bessie Clayton.

Made his first appearance on stage at Williamsburg, Brooklyn, 1915 in vaudeville. First appeared in New York, at the 48th Street Theatre, Nov. 1, 1915 in The Eternal Magdalene with Julia Arthur, in 1916 he played the piano for Hazel Cox in vaudeville. In trying out a sketch, Miss Cox discovered that her accompanist could also play comedy, and he forthwith stepped into the role of the riding master in her famous white horse riding act; played his first comedy part in vaudeville with Hazel's sister Rae (Ray) Cox; toured, 1917, as Muggs in Turn to the Right; toured, 1918, with May Robson in A Little Bit Old-Fashioned, a melodramatic farce; he returned to vaudeville in the first act produced by Lewis and Gordon, under whose management he remained in five different acts. He continued to appear in vaudeville until 1931.
He made his film debut in September 1918, in Young America, a silent movie. Directed by Arthur Berthelet the movie was based on the Cohan and Harris production, which made a hit on stage both in New York and Chicago.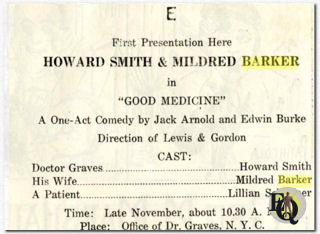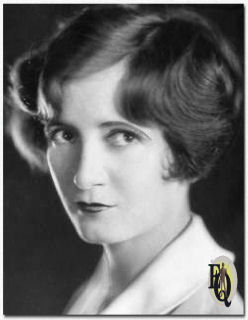 Above left: Sep 1922 add for Howard Smith & Mildred Barker's Good Medicine.
Above right: Vaudeville actress Mildred Barker (1929)

They met as early as December 1919 on the vaudeville circuit but as of December 1920 Howard also formed a duet with Mildred Barker first in The Honeymoon followed by a, reportedly fast moving, sketch full of laughs and situations called Good Medicine. In this skit Howard played a doctor who's client showed every symptom known to medical science appears. After telling her the truth, that she is all right, the patient (played by Lillian Schaffner), informs the medic that she is the donor of a big hospital...in search for someone to lead it.
Since June 14. 1911 Mildred was married to the actor Roy McNicol (later a well known painter) and on Sep 9. 1915 their son Roy B. McNicol was born. Mildred's marriage to Roy didn't survive and they divorced prior to 1920. Tragically at 5 years old her son died, after an illness of three days, on January 30. 1921 at the Merchants' Hotel, Johnstown, Pa. Mildred was appearing at "The Majestic", Johnstown, at the time of her son's death. Howard who apparently also performed there wrote another thank-you letter in Vaudeville News in April to everyone who worked at "The Majestic" for supporting Miss Barker.

On Feb 14. 1922 Howard married Mildred Agnes Barker in Manhattan, New York. They continued to perform together as late as March 1930.

In 1928, with big-time vaudeville ending, Smith landed a job on radio's popular The Collier Hour, and received $35 for three minutes work. His radio career continued with The March of Time, Cavalcade of America, Forty Minutes in Hollywood and Crime Doctor.

Smith had plenty of radio work (1934) as the following anecdote describes: "One man has been appearing on two programs at the same time in two widely separated studios. Howard Smith played the court clerk in 'The Court of Human Relations' opening on CBS at 8:30 p.m. He opened court there and sped to Radio City to play a part on the Babe Ruth broadcast from 8:45 to 9 p.m. That gave him time to hustle back to 485 Madison Avenue to close the court program at 9:15 o'clock."
Pretty Kitty Kelly was a soap opera broadcast on CBS between March 8. 1937 and September 27, 1940 about Kitty Kelly (Arline Blackburn), a "golden-haired Irish girl" trying to make her way in America. Clayton Bud Collyer was the policeman who befriended her and Howard Smith was Inspector Grady, the Irish police chief who made Kitty's welfare his concern.
Right: Photograph by Pinchot, specially posed by Clayton Collyer, Arline Blackburn and Howard Smith, of the Pretty Kitty Kelly air serial.