Bill Zuckert was born on December 18, 1915 in the Bronx, New York, USA as William Frederick Zuckert Jr. son of William Frederick Zuckert, Sr., an elevator constructor, and Ellen Hughes.
He went through local public schools - "but not very far." He quit to run an elevator, passed a Civil Service exam, moved to Washington for six years and found himself in the Office of Indian Affairs - where he stayed long enough to acquire permanent status. "If the acting business ever goes bad on me, I can always go back to the Indians. It was interesting!". In Washington, and neighboring Virginia and Maryland, Bill began to try out with little-theater groups.
He married Margaret Lottie Wallace (born in North-Ireland) on Jul 16 or 17. 1936 in Washington, D.C.
Bill counted up and discovered he'd done 50 or 60 community-service shows on the networks for free, in his spare time for such organizations at the Red Cross, US Navy and March of Dimes.
He headed back for New York, to make a living at acting - and scarcely missed a well-paid week on the air since.
He began his career in 1941 in radio in New York City where his big break came when he won the lead in a dramatic segment of Kate Smith's show (1943). He played Daniel Boone. Ever since he lent his voice to hundreds of dramas over the next two decades. His characterizations ranged from the punch-drunk pugs and whining hoods, to honest judges and crooked political bosses. He excelled also in such vocal gimmicks as laughs and sneezes. His dialects included Irish and Southern.
He served in World War II where he spent nineteen months with the 25th Special Seabee Battalion on New Guinea. Wending his way back to civilian life, he began to play both sides of the law on such radio shows as Gang Busters (1949 - ?) , Treasury Agent, Counterspy, This Is Your FBI, Official Detective and FBI In Peace and War ( - 1954 -). Various real-life police officers, working on the shows in technical capacities, claimed Bill "sounded like all the cops in the world."

Bill Zuckert and Richard Widmark before the mike for an episode of Cavalcade of America (1948) (Picture below top left)
Starting in 1949 Bill Zuckert was on Mutual's Gang Busters, the show boasted an all-star cast. Seated (L to R) Larry Haines, Ken Lynch, Bob Haag, Bryna Raeburn, Bill Zuckert. Standing, director Leonard Bass and announcer Russ Dunbar. Seen here as TV Radio Mirror Award Winners, 1955-66 as favorite Radio Mystery-Adventure Program (Picture below top right)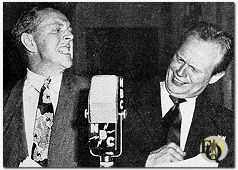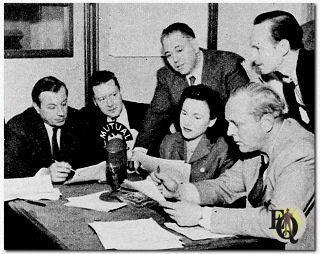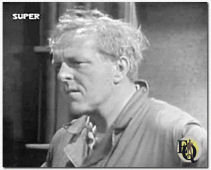 Squad Room (1954) another Mutual Radio program had Chuck Webster (L) playing with Bill Zuckert (Picture above bottom left)
TV's SF-series Tom Corbett, Space Cadet (1950-55) was set during the middle of the 24th Century at the Space Academy. In the episode "Ambush in Space "(1955) Bill Zuckert played Brock one of three men, who break out of prison by hijacking a space freighter.
With the demise of dramatic radio, Bill moved naturally and easily into live TV in its pioneer days - and interspaced this with work in the theater on-Broadway, off-Broadway, and in stock.
In 1956 he played in Sixth Finger in a Five Finger Glove, a short-lived Broadway comedy where actress Gladys Holland also had a part. They were married Jul 7. 1958.
Peter Iving puts a stellar cast through the paces of True Detective Mysteries (1957): Left to right - announcer Dan McCullough, top radio cop Bill Zuckert (standing), T.D.M. narrator Robert Haag, actress Ethel Everett, actor William Redfield. (Picture below left)