erb Butterfield (Oct 28, 1895 - May 2, 1957)
Eyes: dark brown.
Sergeant in US Army
Sibbling:
Percy (b. Sep 14. 1885 in England - d. May 6. 1929)
furniture salesman
Marriages:
(1) Isabelle Lenowitz (May 28, 1924 - Aug 26, 1926, divorced)
(2) Mildred Siemon (Mar 30, 1928 - May 1, 1957, his death)

Herbert Butterfield was born on October 28, 1895 in Providence, Rhode Island, USA to William Butterfield and Emma Lockwood (both born in Dewsbury, England, immigrating in 1886 and 1887 respectively)
Graduated from Brown University (post graduate: University of London, University of Iowa).
At one time he was assistant professor in the Brown University (Rhode Island) speech department.

The combining of emotion with the most ordinary things was Herb's absolute second nature. Early on, following one of his performances in the Fort Wayne Civic Theatre (which, incidentally, Herb started and directed), he was accosted by an intent young man with a curious proposition. "Mr. Butterfield," the fellow began, "you have something I want and I'm willing to pay for it! I've watched you act at the theatre, and every week you're different. I want to be able to do that." "You mean you want to be an actor ?" asked Herb. "No, I just want to express that same change of emotion in my own life and business. And I have a few friends who feel the same way. Would you be willing to teach us ... in some sort of class ?" Not a bit confounded, Herb got the group together. "It was a very revealing experience!". The class included some very shy and inhibited young people, oblivious to almost everything but the ordinary processes of waking, working, eating and sleeping. The project, Herb contended, enriched him as a person as much as, if not more than, any of the youngsters he helped.

In 1924 he married Isabelle Lenowitz only to divorce in 1926.

Herb first entered Radio that same year in various East Coast melodramas and daytime serials during the mid-1920's, when the medium was in its infancy. Herb really started out in radio as a director, and turned actor only by "accident". "We needed a heavy in 'Margo of Castlewood.' " Butterfield explained, "So I read the part temporarily till we could get one. I read the script twice and then kept as a permanent role." It sounded much too easy to be true, till the shy virtuoso admits he'd been on the stage for years before all this happened.
He remarried Mildred Siemon, a secretary and former real estate woman, in 1928 in Allen County, Indiana. His first credited roles came in the late 1930s with frequent appearances as a character actor in most of the more popular dramas of the era.
By the 1930's, Butterfield had regular showcases on Chicago-based programs like Jack Armstrong (1933), Kitty Keene, Inc. (1939) and Wayside Theatre (1938). In Jack Armstrong (1933), Jack and the Fairfields had a long -running fight with the master spy Weissoul, who had a thousand faces (thanks to his skill at makeup) and a thousand voices (thanks to Herb). Herb Butterfield also directed the Chicago NBC Key Station's productions of The Story of Mary Marlin (1934) in which he also played a Russian antique dealer. Butterfield's early recurring role as Preacher Jim in the serial drama Kitty Keene, Inc. (1939) first established him as an attractive and reliable co-star.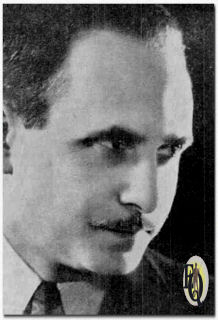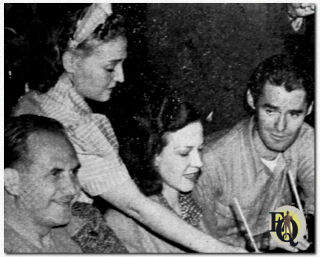 Above left: Herb Butterfield as Rex Kramer in "Dan Harding's Wife" (1938).
Above right: Cast of the radio program Girl Alone taking a break at a Merchandise Mart restaurant (Chicago) in January 1941. Seated, from left:Herbert Butterfield (Zeihm), Laurette Fillbrandt (Virginia Richman) and John Larkin (Frankie McGinnis)
After living for 11 years in a crowded Chicago apartment in "the loop" the actor then relocated to California in September 1947. The couple both were agog with their spacious new six room home in Sherman Oaks. Herb put in gardens all around the house, and happily learned the hammering, puttering and gadgeting details of "being a settler."
As one Chicago director, Sherman Marks, sadly said when Herb left for the West Coast: "Hollywood gains one of the finest actors who has ever faced a microphone. His playing range of parts is unbelievable and inexhaustible. Every superlative I can think of, when applied to Herb Butterfield becomes an accurate and modest description of his great ability!". This excellent reputation seems to have bounded ahead of him, and the effort to make himself known in entirely new radio territory evolved into no effort at all.
He found continuing work in most of the early detective and suspense dramas of the Golden Age of Radio such as Author's Playhouse (1942), Suspense (1944), The Lux Radio Theatre (1946), Lights Out (1946), The Whistler (1947), Favorite Story (1948) and Escape (1949).
A Mutual-Don Lee player for many years, Herb Butterfield was a regular performer in many of the network's earliest syndicated West Coast productions.