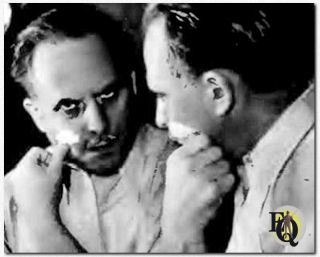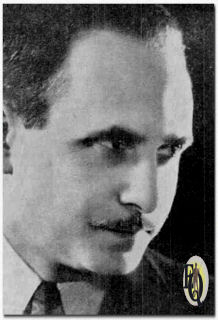 Above right: Herb Butterfield as Rex Kramer in Dan Harding's Wife (1938).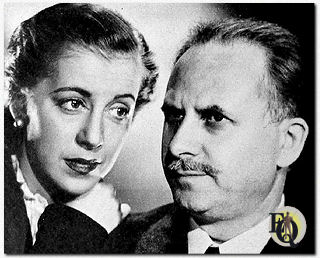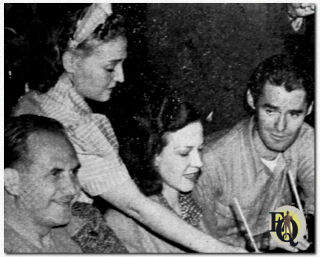 Above bottom left: Butterfield and Muriel Bremner as Mr. & Mrs. Carter Colby in the radio program Lonely Women (1943).
Above bottom right: Cast of the radio program Girl Alone taking a break at a Merchandise Mart restaurant (Chicago) in January 1941. Seated, from left: Herbert Butterfield (Zeihm), Laurette Fillbrandt (Virginia Richman) and John Larkin (Frankie McGinnis)

On April 1. 1946 a newspaper reported the return of vets to daytime serial shows. A gentleman by name of Ted Hill, for instance returned to Woman in White (NBC, five-a-week, 1:30 PM, WOW), portrayed by Herbert Butterfield. Ted, in his previous appearances, was a very nasty guy, but he's reformed now, and the author has brought him back from California to prove it. Judge and Catherine Colby, of Today's Children (NBC, five-a-week, 1:15 PM, WOW), haven't been away, really, but the characters to whom they're most closely related have been in Rio, so the Colbys took a rest. They are now played by Nannette Sargent and Herbert Butterfield.
After living for 11 years in a crowded Chicago apartment in "the loop" the actor then relocated to California in September 1947. The couple both were agog with their spacious new six room home in Sherman Oaks. Herb put in gardens all around the house, and happily learned the hammering, puttering and gadgeting details of "being a settler."
As one Chicago director, Sherman Marks, sadly said when Herb left for the West Coast: "Hollywood gains one of the finest actors who has ever faced a microphone. His playing range of parts is unbelievable and inexhaustible. Every superlative I can think of, when applied to Herb Butterfield becomes an accurate and modest description of his great ability!". This excellent reputation seems to have bounded ahead of him, and the effort to make himself known in entirely new radio territory evolved into no effort at all.
He found continuing work in most of the early detective and suspense dramas of the Golden Age of Radio such as Author's Playhouse (1942), Suspense (1944), The Lux Radio Theatre (1946), Lights Out (1946), The Whistler (1947), Favorite Story (1948) and Escape (1949).
A Mutual-Don Lee player for many years, Herb Butterfield was a regular performer in many of the network's earliest syndicated West Coast productions.
Indeed, Herb Butterfield's very recognizable voice was most associated with virtually every radio noir detective and crime drama aired over radio. A favorite of Jack Webb, Herb Butterfield appeared in virtually every Jack Webb radio and television vehicle he ever produced, invariably playing either a crusty detective or a world-wisened, sympathetic tough.
He had small roles on Webb's short-lived Johnny Madero, Pier 23 (1947) and was the first actor to play Anthony J. Lyon, boss of Jeff Regan, Investigator (1948) (Jack played the titular gumshoe).
He emoted opposite Lawrence Dobkin on ABC's Ellery Queen in the 1947-48 season, playing Inspector Queen to Larry's sleuth. He quickly replaced Bill Smith and thus became the last actor in the role of Inspector Queen in the popular radio series.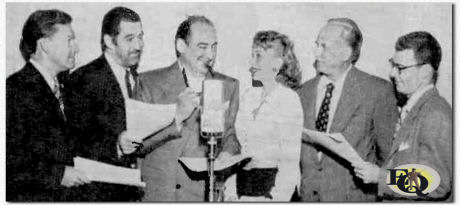 Above: Here's the Mr.President cast for the ABC broadcast of the show Aug 14, 1949 which was also performed by the hospitalized vets at Sawtelle. Left to right, Ted Osborne, Ted De Corsia (!), Edward "Mr. President" Arnold, Bea Benaderet, Herb Butterfield and Irvin Lee.

One of Herb's best known radio roles was on one of the medium's fondly remembered sitcoms. On The Halls of Ivy (1949), Butterfield played the irascible Clarence Wellman, a board member at the college where William Todhunter "Toddy" Hall (Ronald Colman) was president. At the same time, Herb was a regular on Dangerous Assignment—a vehicle for actor Brian Donlevy that featured him as special agent Steve Mitchell, globetrotting to various hot spots in order to encounter adventure and intrigue. Butterfield played "the Commissioner," Mitchell's superior who was in charge of handing out his (dangerous) assignments; he didn't have a first or last name on the show but he did make the transition to the TV version in 1952. (Butterfield also reprised his Clarence Wellman character on Ivy when it briefly appeared on the boob tube for a season in the fall of 1954.)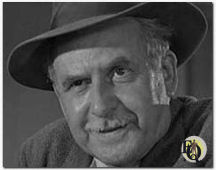 Although the movie The Wizard of Oz was released in 1939, it wouldn't be until December 25, 1950 that Judy would recreate her role as "Dorothy" for radio audiences in this CBS Radio Lux Radio Theater broadcast (above right). Sponsored by Lux Soap. Judy's co-stars were: Hans Conreid, Herb Vigran, Edwin Max, Herb Butterfield (playing the wizard), Betty Lou Gerson, and Noreen Gammill.
Other TV shows on which Herb guested included Father Knows Best (1956), Dragnet (1951-55), The Millionaire (1955-56), Lassie (1957) and You are There (1956-57). Sharp-eyed movie buffs will be able to spot him in features such as Never Fear (1949), The House on Telegraph Hill (1951), Shield for Murder (1954, picture above left) and as Royal physician in The Ten Commandments (1956).
By then a frequent CBS player, Herb Butterfield appeared in seven of the CBS Radio Workshop (1956-1957) experimental radio broadcasts in a wide variety of roles.
His career was cut short in 1957 when he passed away at the age of 64, with his last TV appearance—an episode of Frontier Doctor ("Apache Uprising") — aired in October of 1958. Despite appearing on TV he kept active on radio his last appearance there in Heartbeat Theatre (1957)
It's generally believed Herb died on May 2, 1957 in Los Angeles, California, USA despite his tombstone indicating the date to be May 1st.