And in the Big Sister spin-off Bright Horizon (CBS-Radio 1941-45) Ortega was a regular cast member in the story of a bitter singer who pretends to be a warm-hearted idealistic man. Ortega was also narrator of Green Valley U.S.A. (CBS-Radio 1942-44) which features tales of happenings in the lives of the inhabitants of a small country town.
Four actors starred in the title role of the mystery series Bulldog Drummond (Mutual 1941-47 and again in 1953-54). The first was George Coulouris, the second was Santos Ortega (1942-43), the third Ned Wever and the fourth Sir Cedric Hardwicke. Each portrayed his own version of the dashing Englishman (now "working in the U.S.A.") Capt. Hugh Drummond nicknamed Bulldog for his doggedness in tracking down criminals.
Many do remember his title role in The Adventures of Nero Wolfe (mystery) (NBC-Blue to ABC-Radio 1943-44 and Mutual 1945-46). J.B. Williams briefly played the part of Wolfe when the series was first broadcast on the New England Network in mid-1943. When it moved to ABC-Radio later in 1943 Ortega took over the role. Ortega was ably assisted by John Gibson as "his assistant, Archie". Creator of the characters, Rex Stout, thought the actors were fine but the plots were not. None of Stout's material was used ABC-Radio's chief script-writer wrote most of the scripts that Stout refused to even listen to. Stout, however, received royalties for the use of his characters (Wolfe, Archie, and Inspector Cramer). Nero Wolfe did not return to ABC-Radio after 1944 due to business disagreements. Ortega played the overweight, cranky, orchid-loving (10,000 of them on his roof) gourmet who never leaves his home, the epitome of an armchair detective to a tee. Assistant Archie does all the leg-work and brings the clues to his boss who proceeds to solve the mystery. Nero Wolfe had his own chef and someone to baby his orchids all 10,000 of them! Ortega's signature on the program was his opening each show with a wheeze.
From 1944-46 he was one of four to play famed attorney Perry Mason for CBS-Radio (1941-55). There was more gun-shootin' than court action on radio than on the eventual television series starring Raymond Burr.
More "criminal fare" again where Ortega was a regular cast member included Crooked Square (anthology - Mutual 1945).

Perhaps his most important stage role was the mill manager in Jeb, the 1946 Robert Ardrey play about a black soldier, played by Ossie Davis, returning to the post World War II South.
After the Ellery Queen series ended did there come a change of character? - Yes! Santos now addressed himself to the role of Charlie Chan in a mystery series which started on NBC-Blue (went to Mutual, to NBC-Red, to ABC-Radio and back to Mutual 1932-48 inclusive) Ortega was the third actor to portray the beloved Oriental detective on radio (1947-48) , he was preceded by Walter Connally and Ed Begley and followed by the fourth William Rees. The radio audiences adored the delightful Chan, his wise sayings and the way he solved crimes all over the world aided and abetted by "#1 son Lee" (there were 14 Chan offspring in all).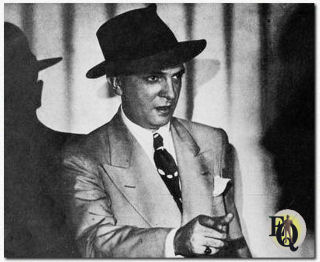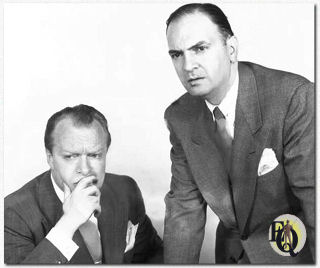 Above left: From 1944-46 Ortega was one of four to play famed attorney Perry Mason for CBS-Radio (1941-55).
Above right: Staats Cotsworth (L) as "District Attorney" and Santos Ortega "Public Defender," are featured in dramatizations of authentic cases that have faced such public servants in the new MBS feature Roger Kilgore, Public Defender. Tuesday evenings (10 to 10:30 pm. EDT). (April 30. 1948)
In 1947 The Shadow (CBS-Radio to NBC-Radio to Mutual 1930-54) made use of Ortega's fine talent as one of six actors who played Commissioner Weston in this long-running mystery series. Ted De Corsia being one of the other six. Orson Welles at the tender age of twenty-two was the original "Shadow". The somewhat spoiled wealthy playboy & world-traveler who is amazingly proficient with his two revolvers (always with him) and who has the "power to cloud men's minds" through a form of hypnotism thus rendering himself invisible to them. He covers his face because it was damaged when he was "doing spy work for the United States" during World War I. "The Shadow" also known as Lamont Cranston works with police commissioner Weston to root out crime in the big city. Since the character did not appear regularly, Ortega was able to continue his other radio roles without much difficulty or conflict.
Along the way there was a game show Who-Dun-It for CBS-Radio in 1948... wherein a mystery was shown on stage and one of four audience members who could name the culprit won $100.00 Bob Dixon hosted and Ortega was Inspector Slade.
Santos was heard on Criminal Case Book (crime drama on NBC-Radio 1948) with tales of the sordid lives of criminals. As was the case with a short-lived crime drama series for Mutual in 1948 titled Roger Kilgore, Public Defender first starring Raymond Edward Johnson (later Inner Sanctum host) then Ortega as a lawyer who defended the indigent.
Ortega also starred in the title role in the superbly written crime drama The Affairs of Peter Salem (Mutual 1949-53) about a small-town detective who used his wits to thwart big-city lawbreakers.
Ortega had the title role in the daily crime drama Hannibal Cobb (ABC-Radio 1950-51) playing a private detective who gets involved in his clients' private lives. There was simultaneously a television version of this series starring Chuck Webster. Not much is known about the radio series.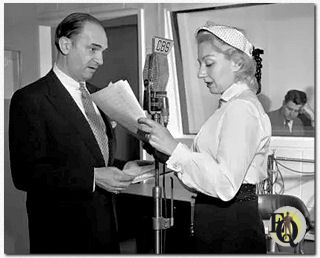 Above: View inside the radio studio during a performance of
City
Hospital
on CBS radio (1951-1958). Santos
Ortega
opposite an unknown co-star.
In City Hospital (CBS-Radio 1951-58) he had the lead role of Dr. Barton Crane (on TV 1951-53 played by Melville Ruick), the medical director of a big city hospital and his concern for and involvement in the lives of the patients. The radio version eventually became a television series. Ortega, however, seemed to gravitate towards crime series.
The coming of television did startle Santos somewhat as we learn from this newspaper clip "Two veterans of 20 years of radio acting, Michael Fitzmaurice and Santos Ortega, explained their mistrust of television the other day with the simple universal word - money. They are making a very good and very easy living in radio. Now this is seriously threatened says Mr.Fitzmaurice. Ortega is as sour on television as Fitzmaurice but differs with him on one point. He thinks radio actors should get into television for experience in case radio just vanishes some day." (Article: Many Radio Stars Wish Video Wasn't Invested by John Crosby, Pittsburgh Post-Gazette, Sep 25, 1949).

How right he was in both thinking and execution! So Santos also made a couple of movies: The Family Secret (1951) and Crowded Paradise (1956). Santos had no trouble switching over to TV because he had originally been a stage actor and knew most of the casting directors. He still continued to act in radio, but mainly in "one-off" appearances.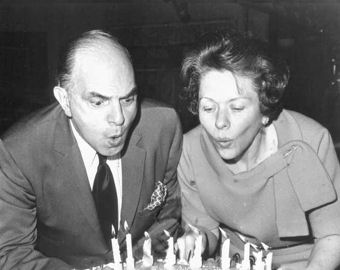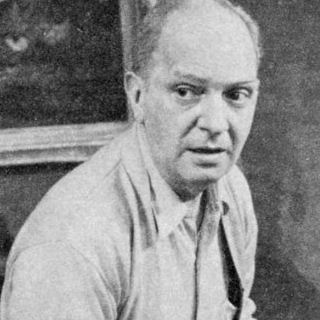 Above left: April 1966 - One, two, three: and so begins the eleventh year for the top-rated daytime dramatic series, As the World Turns, televised Mondays through Fridays, 1:30-2:00 PM; ET, over the CBS Television Network. Here, Santos Ortega and Helen Wagner, who play Grandpa and Nancy Hughes, two of the key characters on the series, blow out the candles, marking 10 successful years of As the World Turns.
Above right: William "Grandpa" Hughes (Santos Ortega).
On TV he was hired for a single shot as William "Grandpa" Hughes in the soap opera As The World Turns and the over-all reaction was so good he was handed the part permanently, a role he held for 20 years

(April 2. 1956-76) (Above right)

. ATWT was #1 in soaps for 20 years (1958-78).Ortega as Grandpa and veteran actress Helen Wagner (50 years in the same role!) were performing in a scene on a live set when they were interrupted (unbeknownst to them) by a bulletin announcing that President John F. Kennedy had been shot. They finished their scene and left the set and it was then that they heard the dreadful news. Almost immediately Walter Cronkite came on with a permanent interruption. It was a day the actors would never forget. ATWT was the first daytime 1/2 hour soap. It accumulated 42 Daytime Emmy Awards. Another cast member Don Hastings has played Dr. Bob Hughes for 45 years. Some of the soap's graduates include Marisa Tomei, Meg Ryan, Cicely Tyson and the marvelously-voiced James Earl Jones.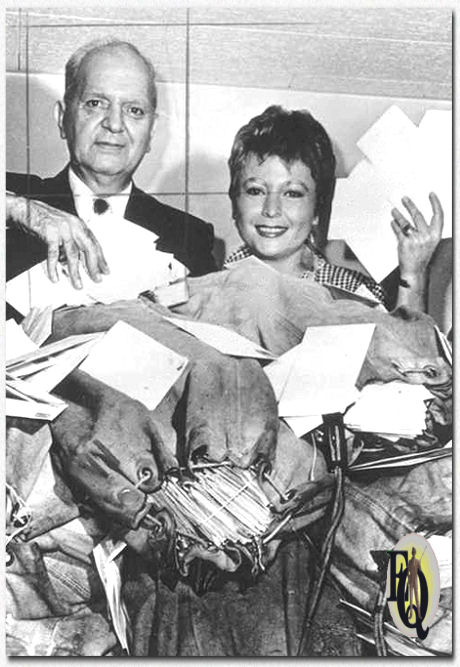 When it was announced that Grandpa Hughes was about to celebrate his 70th birthday and any viewer who'd like to drop the old boy a card was welcome to do so. A few days later a messenger from the production crew wandered over to the advertising agency's mailroom to pick up the program's fan letters. After surveying the scene he sent out an SOS for a two-ton truck because Grandpa Hughes had made a notable contribution to solving the postal deficit via an unbelievable onslaught of 175,000 birthday cards.

When Grandpa Hughes (Ortega) died his daughter-in-law found him seemingly asleep in his favorite chair. The character died but Grandpa was such a driving, well-loved force in the family that he was scripted in for several months after his passing. Oddly enough, shortly thereafter Ortega died in April of 1976 in Broward General Hospital in Ft.Lauderdale, Florida of an unknown illness. He was visiting Florida. He lived recently in Tenafly. N.J.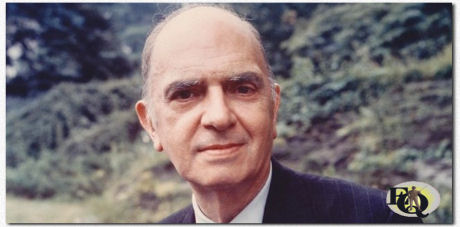 Santos Ortega was one of the stalwarts of Old Time Radio. Where his career is concerned there can never be any doubt about either his talent or his versatility.
So on Friday, June 4, 1976, something unique happened on CBS. A eulogy for Ortega was delivered on as part of the regular As the World Turns episode. Only once before had the death of an actor in a popular daytime series been publicly acknowledged, and the grief of the passing shared with viewers (the previous time, in 1973, it was for Theo Goetz who had been in the cast of The Guiding Light). Santos was a too great a friend to his colleagues, and too admired by millions of fans not to receive this final tribute."




References
(1) Old Time Radio column by the late Betsy W, Betsy Weinberg, 5 Mar 2009
(2) Wikipedia
(3) RUSC
(4) IMDb
(5) Santos Ortega: Any Detective He Didn't Play?, Jim Widner, Radio Recall,
2013
(6) IBDB
(7) OTRRpedia
(8) Radiogoldindex

Additional video & audio sources
(1) Santos in As The World Turns (YouTube video clip, 1950s)
(2) The Man who Played God (Ford Theater, Dec 21, 1947)
(3) Old Time Radio downloads
This actor profile is a part of
Ellery Queen a website on deduction
. The actor above played Inspector Queen in the Ellery Queen radio series. Click Uncle Sam if you think you can help out...!


Many of the profiles on this site have been compiled after very careful research of various sources. Please quote and cite ethically!


Page first published on Oct 21. 2013
Latest update June 7. 2023