George Joseph Matthews was born in Brooklyn on Oct 10, 1911. He was brought up in Manhattan and educated in Brooklyn. His theatre apprenticeship began by working as usher at the Mercury Theatre. Mathews really entered the theater during the Depression when he found the Post Office had no positions left. He went to work in an Italian-speaking company and then the W.P.A. (Works Progress Administration, a government agency that provided jobs for the unemployed on public works projects during the Depression) Theater program, where he had the lead in Processional (Oct 1937).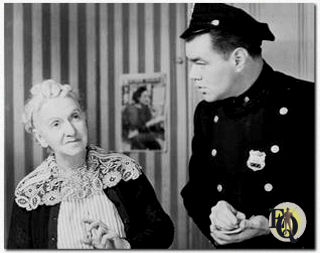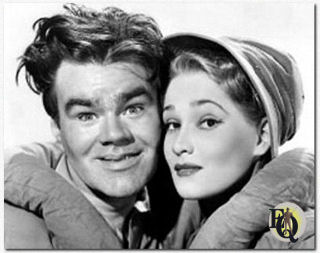 Above left: (L to R) Mabel Paige as Mrs. Garnet and George Mathews as Joe in Out of the Frying Pan (Feb 11, 1941 - May 10, 1941).
Above right: George Mathews, Constance Dowling part of the cast of Danny Kaye"s Up in Arms (1944).

A stocky man with a heavy brow, pug nose and distinctively protruding lower lip, played toughs from a variety of eras. He appeared to great effect on stage in 1942-43 as Sgt. Ruby in The Eve of St. Mark on Broadway, a role he repeated in the film version with the same name (1944).
Not just a one-note "plug ugly", he was equally as effective at portraying comic toughs. After an uncredited appearance in Stage Door Canteen (1943) where he played a Marine Sergeant with Ray Bolger he was also in Danny Kaye's first picture Up in Arms (1944).
Mathews also acted in classical plays. He later played in Candida (1946) with Katharine Cornell and Marlon Brando (in only his third stage production). It opened April 3rd, 1946 at the Cort Theatre in New York City and ran for a limited engagement of only 24 performances before going on the road.
Actress Mary Hayneworth joined the Red Cross during the war (England, France, Germany). After her return to the United States in 1946, she joined the Broadway show The Big People. She played the character of a "little person" who was the wife of a "big person" played by George Mathews. They toured it for a few weeks out of town they closed the show before it even reached New York but the romance was on.
On radio's The Adventures of Ellery Queen George played Sergeant Velie for two episodes in June 1947. George was supposedly heard two weeks on the episodes "The Green Gorillas" and "The Sky Pirates" before Ed Latimer reclaimed the role.