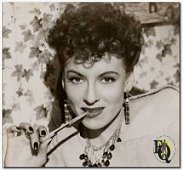 Above: Promotional photograph for Virginia Gregg in the 40s radio serie Ellery Queen.


Series returned after two months to ABC with no sponsor. Show moves to Hollywood. Dick Woolen took over as producer director.
The list of recently made available crime and whodunit shows, all of previous sponsor servitude, includes the following, with their asking prices noted:

"Ellery Queen," $4,000.
"Suspense," $7,000.
"Crime Doctor," $5,000. .
"I Deal In Crime,"; $3.500.
"The Thin Man," $7,000.
"Gregory Hood," $3,000.
"Philip Marlowe," $4,000.
"Rogues Gallery," $2,500.

(Variety, Wednesday, November 19, 1947)


329* "The Saga of Ruffy Rux"


11-27-47 :30:00*
Guest Armchair Detective: McCullah St. Johns

Ellery takes on a gangster who keeps jingling two silver "lucky" dollars...
330* "The Man in The Street"


12-04-47 :30:00* Repeat ?
Guest Armchair Detective: Gerald Mohr (actor)

The two Marners brothers swindled several people out of their savings.
Elias Marner is caught and police has a handful keeping him from an
angry mob. Elias escapes and Ellery gets called in. Joe sends a Morse
message in a newspaper to his brother Elias: they are set to meet in the
Universal hotel. Not only does Joe appear to be killed a few days ago but also
Elias is killed from a room in a hotel right across the street...
331* "Nikki Porter, Bride"


12-11-47 :30:00*
Written by Manfred B.Lee & Anthony Boucher
with Joseph Kearns, Maxine Marx, Edward Marr, Eleanor Audley, Myra Marsh
Guest Armchair Detective: Zuma Palmer (columnist Hollywood Citizens News.)

Nikki quits her job with Ellery in anger and plans to get married to Hobart
Grimman, a known bigamist and a fraud. Grimman is shot at the altar, but by
whom?
332* "The Melancholy Dane" aka "The Great Dane"


aka "The Modern-Day Hamlet"
12-18-47 :30:00*
with Stacy Harris, Eleanor Audley, Paul Frees, Georgia Ellis, Earl Lee,
Bill Bouchey
Guest Armchair Detective: Dick Williams (West coast editor Pic magazine.)

A Hamlet In modern dress is saved from murder . When Willis Dane's father
dies suddenly, his mother immediately marries Willis' uncle Claude.
Uncle Claude is murdered and young Willis is accused of the crime.
333* "Ellery Queen: Santa Claus"


12-25-47 :30:00* Repeat of 12-25-46
Written by Manfred B.Lee & Tom Everitt
Guest Armchair Detective: Favius Friedman (West coast editor Radio Best
magazine)

Ellery visits a man on death row to try to prove his innocence. A
$1000 diamond ring on the finger of a movie theatre box office clerk
is the clue he needs to pull this off. The trail leads to a department
store and Santa Claus who is knifed to death!
They had your correspondent tapped for a visit to "Ellery Queen" not long
ago, as guest armchair detective, and we must confess that it was an
intriguing experience. Shepherded by ABC's Jerry Ross, we were deposited
in an anteroom outside the studio until Dick Woolen, the program's
producer, was ready to unlatch the door and admit this nervous "sleuth."
Despite Jerry's assurances that "it wouldn't hurt a bit," it was a little like
going to the dentist. We didn't know exactly what was coming, but we were
certain, that whatever occurred, we'd remember it for some time.
As it happened, the whole thing was extremely pleasant. The armchair
detective doesn't enter the studio, but is immediately hustled upstairs to a
small room equipped with a loud speaker and microphone. He gets no
advance view of the script, and doesn't even see the actors. He sits with his
back to the broadcast and just listens, honor-bound not to grab a peek
over his shoulder.
The point is, as Woolen explained it, the guest most be kept hidden no that
he or she will be unable to watch the broadcast. If this weren't done, the
armchair detective might become confused watching the actors portraying
different roles throughout the show. Or even, perhaps, guess the culprit!
You can believe no when we say that the guest detective is just as much in
the dark as the listener sitting at home beside his radio. The clues the
armchair sleuth gets sitting up in that tiny room are exactly what you
would get and no more. Then, at the critical moment, the shaky guest is
confronted by Ellery and his secretary, Nikki Porter, and told to start
"guessing."
Well, luckily for us we managed to uphold the honor of RADIO BEST. We
stabbed wildly and came up with the right answer. It was quite a bang to
see Nikki Porter give us a silent "well- done" sign across the mike, then go
downstairs into the studio after the broadcast and meet Ellery himself. As
a "guest star" stint it had an entirely different twist and a very novel one.
We liked it. Anybody need a good, amateur "private eye ?"
(Radio Best, April 1948 WE GO SLEUTHING by Favius Friedman)


334* "The Unhappy New Year"
01-01-48 :30:00* Repeat 01-01-47
Written by Manfred B.Lee & Anthony Boucher

When trying to commit suicide an unhappy advertising man gets
nearly shot. Inspector Queen solves the case.




PROGRAM PLAYER: An Ellery Queen whodunit is revived for Ford Theater, KGNC-NBC, when "The Adventures of the Bad Boy" is heard at 4 this afternoon. (01-04-48 Amarillo News-Globe)
After one of these re-runs Kaye Brinker took over Nikki's part



335* "The Head Hunter"


01-08-48 :30:00*
Written by Manfred B.Lee & Anthony Boucher
with William Conrad, Luis Van Rooten, Charles McGraw, Tony Barrett
Guest Armchair Detective: Alyce Canfield (magazine writer).

A "head-hunter" has committed two murders in the underworld and
is after more gamblers. The masked "Head Man" commits another
murder and even shoots Sergeant Velie! Who is this guy?
336* "The Terrified Man"


01-15-48 :30:00* repeat of "The Invisible Clue" 01-15-42
with John Brown, Kaye Brinker
Guest Armchair Detective: Jerry Devine (radio producer)

A case that has only one character—and he is murdered! Mr. Brown has
received a "poisoned soap" letter, threatening his death. Brown is going to
be killed by "someone he sees every day." After Brown is killed, Ellery takes
a look at the contents of Brown's medicine chest.
The last laugh is on radio's Ellery Queen. Ellery had Jerry Devin, director of
This is Your FBI as the armchair detective on his program, and Jerry couldn't
solve the Queen Mystery. Now Jerry is casting Ellery on his FBI show as a
dumb cop who gets beat up by mobsters.
(Hollywood, Plattsburgh Press-Republican, N.Y., Friday, February 20, 1948)
337* "The Private Eye"
01-22-48 :30:00*
Guest Armchair Detective: Henry Morgan (comedian, quizmaster)
Restaged for Australian audiences 07-30-54

Private eye Cam Clubb tries to unravel the murder of a statesman in
exile. He comes across... Ellery Queen.
338* "Death House"


01-29-48 :30:00* Repeat of "The Death Traps" 05-27-43
Written by Frederic Dannay & Manfred B.Lee
with Jeff Chandler (billed as "Ira Grossel"), Lurene Tuttle, Earl Lee,
Ralph Moody, Wilms Herbert
Guest Armchair Detective: Erskine Johnson (Hollywood columnist)

When the strange Mr. Lazarus dies and leaves his entire estate to
Mrs. Madge Manus, there are two conditions...and several attempts on her life.
339* "Bubsy"


02-05-48 :30:00*
Written by Manfred B.Lee
with Buddy Rogers, Paul Frees, Edwin Max, Eleanor Audley,
Jack Petruzzi, Peter Leeds, Harold Dryanforth
Guest Armchair Detective: Charles "Buddy" Rogers

Bubsy Chum is a 6' 6" stupid killer who's a one man crime wave.
Who is behind Bubsy? After kidnapping Ellery and Nikki, Bubsy's
planning to kill them both unless Ellery can name his boss.
340* "A Question of Color"


02-12-48 :30:00*
Written by Manfred B.Lee & Anthony Boucher
with Roy Candy, James Edwards, Bill Bouchey, Roy Glenn, Frankie Lynn,
Edith Wilson, Earl Smith
Guest Armchair Detective: Edith Gwynn (Hollywood columnist)

Gamblers have set up a colored boxer into taking a fight beyond his abilities,
so they can win big. The boxer's trainer has been made drunk, severely limiting
the chances the boxer can win. Who gave Doc the whiskey?
341* "The Old Sinner"


02-19-48 :30:00*
Written by Manfred B.Lee & Anthony Boucher
with Tom Collins, Fay Baker, Wilms Herbert, Stacy Harris, Ralph Moody
Guest Armchair Detective: Virginia McPherson (writer United Press)

Uncle Bert (Burt?) has returned and is promptly poisoned after a bit of
blackmail.
342* "The Blue Egg"


02-26-48 :30:00* Repeat of 09-12-45
with Frank Lovejoy, Gene Leonard
Guest Armchair Detective: Seymour Nebenzal (movie producer)

An impossible crime has been committed. Where is that missing
fabulous blue sapphire?
343* "The Human Weapon"


03-04-48 :30:00* Repeat of 04-01-43
Adapted in an episode of the Dumont TV-series the Adventures of
Ellery Queen 11/23/50
Written by Frederic Dannay & Manfred B.Lee
with Luis Van Rooten, Lurene Tuttle, Anne Stone, Rye Billsbury
Guest Armchair Detectives
East: Joan Barton (actress)
West: John Nelson ( m.c. of Bride and Groom).

Mr. Sykes has been placed in an insane asylum by his wife. He must
be released today so that he can kill his wife...and he asks Ellery for
help! Abel Sykes escapes from the asylum and does in fact murder
his wife...or does he?
344* "The Lynching of Mr. Q"


03-11-48 :30:00*
Written by Manfred B.Lee & Anthony Boucher
with William Conrad, Edwin Max, Bill Bouchey, Buddy Gray, Georgia Backus
Guest Armchair Detective: Kirk Douglas

Ellery is arrested for murder in a small town. They take him for
"Scarface Ellery Cue," a notorious gangster and a lynch mob forms.
345* "The Armchair Detective"



03-18-48 :30:00* Repeat of 3-27-46
Written by Manfred B.Lee & Anthony Boucher
with Joan Banks, William Johnstone, Charles Seel, Anne Morrison,
Joseph Kearns
Guest Armchair Detective: Sheila Graham (columnist)
The show dealt with the murder of "an armchair detective". Ellery assured
audiences at the beginning of the program the adventure happened "a long time
ago" to avoid an Orson Welles type of misunderstanding. Sheila Graham at the
time quite powerful and feared confessed she was 'rather uneasy' in the chair
346* "The Farmer's Daughter"


03-25-48 :30:00*
Written by Manfred B.Lee & Anthony Boucher
with Anne Morrison, Jeff Chandler, Luis Van Rooten, Earl Keen
Guest Armchair Detective: Agnes Moorehead (actress)

Ellery and Nikki are visiting a farm. There's more to the farmer's daughter
than meets the eye. Cue ball Mingo has escaped from the state pen!
347* "The Vanishing Crook"


aka "The Man Who Wasn't There"
04-01-48 :30:00* repeat of __________
Written by Manfred B.Lee
with Jack Webb, Joan Banks, Eric Snowden, Paul Frees
Guest Armchair Detective: Arlyne Rogers (winner of the contest "America's
Champion Movie Fan")

An English jewel thief is being held prisoner, beaten and tortured. By the time
Inspector Queen and the cops break in, Herbert Frink has disappeared.
348* "The K.I. Case"


aka "The Sad Case of Joe Manx"
04-08-48 :30:00*
Written by Manfred B.Lee & Anthony Boucher
with Jay Novello, Luis Van Rooten, Rye Billsbury, Betty Lou Gerson,
Jimmy Starr, Frank Lovejoy
Guest Armchair Detective: Jimmy Starr (motion picture editor LA
Herald Express and mystery author).

Big Joe Manx is back in town with a Latin bodyguard. Nobody seems
particularly afraid of him. A blank piece of stationery with the letters "K. I."
are the clues to $50,000 and incriminating evidence when Manx is shot.
349* "The Slicer"


04-15-48 :30:00* Repeat of 08-01-45 "Nick the Knife"
Written by Manfred B.Lee & Anthony Boucher
Guest Armchair Detective: Gene Handsaker (Hollywood columnist,
Associated Press Newsman)

An unknown madman has murdered nineteen women by attacking them
at night while they are alone. The identity of "The Slicer" is quite a surprise.
19 corpses are counted before Ellery catches the right man.

350* "Murder by Installments"


04-22-48 :30:00* Repeat of 12-31-42 "The Man Who was
Murdered by Installments"
Written by Frederic Dannay & Manfred B.Lee
with Paul Frees, Robert Griffin, Bob Lewis, Charles Seel, Frances Chaney
Guest Armchair Detective: Mel Blanc
Dexter Prill, an elderly man who is murdered is played by Francis X.
Bushman (the one-time matinee idol)

Dexter Prill a very wealthy old man has two nephews and a niece. Two of his
greedy relatives have been cut out of the will, leaving all of his thirty million
dollars to one of the rest. Which relative's worries are over? Or have they just
begun? The old man is shot twice, but only in the arm and leg.


Dwight Hauser directed the remaining episodes. This week or the next Howard Culver took over the part of the famed amateur detective... (Sound of Detection - Nevins)

Lawrence Dobkin "When I was replaced as the voice of Ellery Queen, nobody gave me any notice. They just told me not to come back next week. They never told me why. I had done it for two years. ..."
(Have Gun-Will Travel - Martin Grams)



351* "The Three Frogs"



04-29-48 :30:00*
Written by Manfred B.Lee & Anthony Boucher
Guest Armchair Detective: Florabel Muir (columnist for Daily Variety)

Ellery vs. "The Frog" leader of a youth gang of criminals.
Nikki tries to reform a young delinquent.
352* "One Diamond"



05-06-48 :30:00*
Written by Manfred B.Lee & Anthony Boucher
with Joan Banks, Bill Bouchey, Wilms Herbert, Eric Snowden, Sidney Miller
Guest Armchair Detective: Peggy Lee

Why couldn't the murderer of millionaire Mark Gallows read
the "treasure- map" leading to the famous diamond?
353* "Nikki Porter, Starlet"
05-13-48 :30:00*
Repeat of "The Doodle of Mr.O'Drew"11-28-45
Guest Armchair Detective: Harvey Fishman (former Quiz kid)
354* "Misery Mike"


05-20-48 :30:00*
Written by Manfred B.Lee & Anthony Boucher
Ernie Felice (accordionist)
with Barney Phillips, Sidney Miller, Anne Stone, Tony Barrett, Lou Merrill,
Guest Armchair Detective: Cliff Arquette (radio comedian)

Mike was a rat with a difference; he was a accordion playing racketeer, but
only one tune from "Il Trovatore." Mike has a scheme to blackmail opera
singers. But who killed "Misery Mike"? The accordion provides a clue. Ellery
is forced to disguise Nikki, as a famous European opera singer.
355* "Mr. Gregory Snye"
05-27-48 :30:00* Repeat (with new title)
Guest Armchair Detective: Sam Abbott

Al that is known about this story is that it's about racial prejudice
leading to crime. Ellery investigates. The Ellery Queen mystery tonight is
titled "Mr. Gregory Snye," an unpleasant kind of character who sows death
wherever he goes. (Rockford Register Republic 05-27-48)

References
(5) Variety