Edward Bancroft Latimer was born on February 14. 1897 in Philadelphia, Pennsylvania to Daniel B. Latimer (b. 1866 d. Mar 21. 1924), a salesman and Bertha M. Hayney (b. 1869 - d 1929)
A student of psychology In Philadelphia, a Master of Arts Mr. Latimer had some very practical ideas about "audience psychology", a subject in which he was intensely interested and one with which he said every actor should be familiar. He considered the study and practice of "character" makeup's a delight, and spent much time on it when necessary.
"The Aeschylean Players", a Tioga N.J. organization much lauded for its excellent stage performances, performed the comedy Polly In Politics. Edward B. Latimer not only participated but was the club's president (1914-1915).
Began his theatrical climb at the Little Theater, Philadelphia in a repertoire of Shaw, Galsworthy, Chekov, Ibsen,.... And at 18, received the only laudatory poem review of the entire company for his Dr. Rank in "A Doll's House" (1915).
To add to his income Ed took on a daytime job. The two jobs dovetailed neatly in an A to Z pattern. At night in the theatre he played roles ranging from juveniles to aged, bearded grandfathers; during the day he completed the A to Z pattern—working as a typist.
The first performance of Altruism, a satire by Karl Ettlinger was given by "The Stage Society Players" of Philadelphia at the Little Theatre, Philadelphia, on January 28, 1916 with Ed Latimer playing a Parisian. Philadelphian Edward B. Latimer made his vaudeville debut with Marie Baer in The Lingerie Laureate, a novel playlet by Lee Pape, a Philadelphia newspaperman. The sketch was the comedy hit of the Stage Society's season at the Little Theatre. (Jul 8, 1917) and was also performed at Keith's.
With a good foundation secure after two years in the city of his birth. Lewis & Gordon engaged him for one of their acts, which played the Orpheum Circuit an entire season. While on the Coast Mr. Latimer played with Mae Murray in de theaterversie van Danger, Go Slow (1916?). The next season came a transcontinental tour in Frank Wilcox's presentation of It Pays To Advertise, in which he enacted Ambrose Peale (Dec 1916 -?).

So he made his first trip "on the road" as one of "The Washington Square Players" in a one-act play on the Orpheum Circuit, traveling from Philadelphia to the West Coast (WSP toured from Oct 1916-Feb 1917).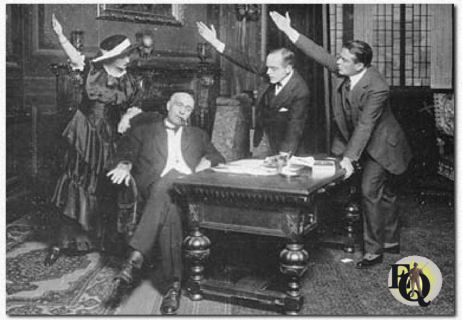 Above: Publicity photographs, like this one for It Pays to Advertise, usually relied on pictures from professional productions, often from New York, and gave Circuit audiences little indication of what the production they would see actually looked like. Iowa. Ed Latimer is possibly the second from the right.


Following a season in London & Winnipeg, Canada, and Salem and Lowell, Mass. he spent two years with the southern company of Abie Irish Rose and then signed a five-year contract with the "Century Players" van de John B. Mack Co. of Lynn, Mass. (ca 1923-24) After more engagements on the road Latimer established and developed a little theatre movement in Elizabeth and Plainfield, N.J. He has acted with "The New York Civic Repertory Co." and "The Theatre Guild" and was at one time associated with Jasper Deeter, founder of the Hedgerow Theatre in Philadelphia.

Descriptions of his early career vary as the following shows. Then followed stock, with "The Mae Desmond Players", Philadelphia; "The Majestic Players", London, Canada; stock in Hamilton, Ont. Canada with "The William Grew Players" at the Grand Opera House in Civilian Clothes (Summer 1921). He also did spend time to be the deputy of the 100 per cent Equity company in Lynn, Mass. A tour thru the Dominion in Charley's Aunt.
For one season Edward joined "The Frances McGrath Resident Players" which presented comedies* such as Turn to the Right, Cappy Ricks, The Brat, Fair and Warmer, Broadway and Buttermilk, Ten Nights in a Barroom, Dawn O' the Mountains, The Naughty Wife, and Getting Gertie's Garter at the Lyceum Theatre in Paterson, NJ (Sep 1921-Mar 1922). This led to his engagement with "The Permanent Players", Winnipeg, Canada in September 1922. Afterward he announced in May 1923 he would go on the road with a New York company.
* For Alma, Where Do You Live? (Feb 6. 1922) he was replaced since the morning of the performance Latimer suffered an attack of pneumonia and was confined to bed.
On February 7. 1924 Ed married Catherine Weber, a secretary, in the St. Pauls Cathedral in Boston.
On March 29. 1924 Edward Latimer of "The Century Players" is described as not only an able actor but also a well-read journalist, who has contributed to the trade journal The Billboard and other publications, including the breezy little house program of the Auditorium Theater, Lynn, Mass.
"Ed Latimer, Jr., in a character role, was well made up, but his voice showed the strain of imitation of an elderly man" (1926).
In 1930 he was taking leads in musical stock companies in the burlesque and regular circuit in New York.
In August 1932 he also appeared as Sloppy in a Broadway play called The Devil's Little Game. But his theater experience was far greater than this one credit seems to imply.

In April 1936 Edward was chosen to replace Charles Schofield as company director at the Binghamton Repertory Theatre. Among the credits mentioned were roles in Street Scene and Abraham Lincoln.

Specializing in straights, heavies and narrations in the 30s (since 1937?) he already had an impressive list of radio shows in which he had appeared: Mrs.Wiggs of the Cabbage Patch, Just Plain Bill, David Harum, Mr. Keen Tracer of Missing Persons, Alias Jimmy Valentine (with Bert Lytell), Gang Busters, Society Girl, Columbia Workshop, Americans at Work, Arch Oboler's Plays to name a few.
Ed Latimer became program director of WBNF, and in 1937 directed the WPA Federal Theater Radio Division's oldest series, Pioneers of Science then in its second year over WHN.

Having played supporting parts in films starring Nancy Carroll, Claudette Colbert and Maurice Chevalier one other report in 1941 boasted Ed played 2,327 performances of Abie's Irish Rose on the legitimate stage.
Together with Sean Dillon, former member of the Irish Players Dublin Ed Latimer collaborated on a comic Irish series Two Harps In Three-Quarter Time (Aug 1941)
The radio actor who has played more than 300 different roles in four years on the air, stepped out of all his characters to visit Nancy Craig's Woman of Tomorrow, Ed described the development of his hobby: makeup for the theater, and demonstrated several of the dialects collected by him in more than a decade of theatrical experience. Like other good radio actors, he talks in the voice of the character he plays. Whether that character be king of rackets on The Adventures of the Thin Man, sheriff on The Mystery Man, Middle-Western farmer The World is Yours, tramp on Famous Jury Trials or Sergeant McKenna on the Mary Marlin program. (Nov 1941)
In 1941 he was presented with two season passes for the 77th session of Congress. Not only did this imply studying New York-to-Washington train schedules. He also loved to ride on those "roller-coaster" cars that swish around under government buildings to facilitate legislative transportation.

Ed Latimer (R) played Doc Gordon opposite Casino (Sammie Hill) in Home of the Brave (1941) radio's tender story of gallant people. (Picture below left)