Although Dannay once recalled there was talk of an Ellery Queen newspaper comic strip it is said nothing came of it.

Starting September 30, 1946 the newspaper The Wilkes-Barre Record ran the first in a series of eight mystery novelettes by famous detective fiction writers.
Each story was contained in six installments. Starting with "A Tale of Two Women" by Dashiell Hammett it also included: "The Adventure of the House of Darkness" by Ellery Queen (from Oct 7. to Oct 12. 1946), "Borrowed Crime" by William Irish, "Cocaine" by Cornell Woolrich, "Death Rides the Train" by Eric Stanley Gardner, "The Mystery of The Spotted Pup" by Dorothy D. Hughes, "The Seventh Murder" by Carroll John Daly and "Intruder at Scotland Yard" by Eric Ambler.

I'm still unsure if these novelettes published in prose were accompanied by any comic panels...
The art in the following panels was done by Paul Norris and the feature was syndicated by King Features Syndicate. Norris, best known for his work on the comic strip Brick Bradford and Aquaman with Mort Weisinger was a prolific artist who also worked on Dashiell Hammett's Secret Agent X-9. He started to work for King Features after he returned from World War II.
Norris published similar work to accompany a 6 part publication of the short story "The Adventure of the Seven Black Cats" in Washington D.C.'s The Evening Star in September 1950.

Picture above left: "The dainty woman moistened her lips , she looked faint" - Panel from the late 40s comic "House of Darkness" by Paul Norris
Picture above right: "Chapter III - If he replaced it as he felt like replacing it the entire instrument would be smashed". An illustration for "Intruder at Scotland Yard." This piece is rendered in ink and blue pencil.(Date unknown)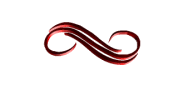 everal ads for Superman (and spin-offs) comic books sometimes included the phrase "Challenge to the Reader!" to predict mystery plots inside. We have to agree with Michael E. Grost who stated that more than one aspect of the mystery plots in Superman resemble Ellery Queen or Van Dine for that matter. Brainy amateur detectives usually solve the case by pure logic. Use of disguise and impersonation recalls Drury Lane. The showbiz settings, the many scholarly and intellectual characters also recall the Van Dine School. As do the museums; the private collections of Jimmy Olsen's Superman souvenirs and Superman's Fortress of Solitude recall the many private museums in Van Dine school books. Metropolis is a thinly disguised version of New York City and there is a consistent liberal politic about the stories.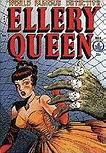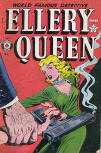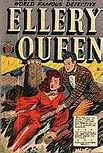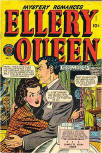 Above (from L to R): Superior series #1 with artwork by LB Cole contains the story "The Challenging Case of Faith, Hope and a Charlatan!"
Superior series #2 with artwork by LB Cole, includes stories "Terror Tide", "Calamity Clock," "Vanishing Phantoms", "Devil in the Vault". Centre story is "The Bell That Screamed" by Maxfield R. Pater.
Superior series #3 featuring dope use, lingerie and torture scenes! Condemned by Frederuc Wertham. In "The Bubble Gum Mystery" Ellery discovers kids getting drugs that have been smuggled into the country inside bubble-gum balls. In "The Turbulent Tomb!" Ellery deduces how an isolated lighthouse keeper was killed in the middle of the storm. Contains some of the earliest drug stories. Find out how a practical joke by the Captain on Ellery helps solve the crime. Also, is it murder or can a pair of pyjamas be the reason for someone's death?
Superior series #4 includes the stories, "The Case of the Seventh Raven" and "The Crooked Mile" artwork Jack Kamen

In 1949 Ellery appeared for four issues in Superior Comics. Despite the artwork by Jack Kamen, Matt Baker, L.B. Cole (#1), John Forte and the S.M. Iger studio, the series was essentially forgettable --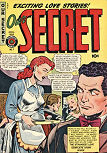 appearing bimonthly from May through November. Written by Ruth Ann Roche. The fifth issue was in the works when the title was canceled and the name of Ellery was changed to Edmond Blake and Nikki to Nola. The names were pasted over the original lettering. To make things more confusing, Edmond Blake poses as Tim Keene in the story (Ellery Queen posing as Tim Keene). The 9 page story intended for unpublished Ellery Queen nr 5. appeared in Our Secret #7 (April, 1950).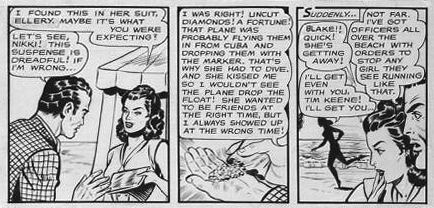 Above: Original panel for the Our Secret story "Kiss and Tell" (1950). In the first panel you can see the original usage of the names "Ellery" and "Nikki". In the last panel some cut and paste work 'old style' to change "Ellery" into "Blake".
There were also Canadian editions of these comics. Some of these comics were translated in foreign pulp magazines e.g. Pistas in Argentina around 1950. The 4 EQ-stories were reprinted in Haunted Thrills #'s 1 and 2 a few years later (6/52 and 7/52). Accion Policiaca, a 1953 comic book published monthly in Spanish by Export Newspaper Service in New York City for Mexican Distribution also included these stories.

"Rest(less) in Peace" originally appeared in Ellery Queen #1, 1949 and continued as "Chant of the Dead" when it re-appeared in Strange Fantasy #2, 1952. Ellery by now became Jerry. The story was also found in 2 Eerie Publications Tales of Voodoo (v2, 1968) and Terror Tales (v.3,1969) as a 7 pages B&W reprint with some (blood, bats,...) alterations. Finally a 5 pages version found it's way into Horror Tales (v2, 1969).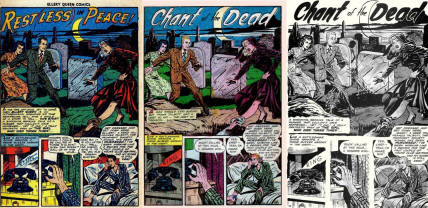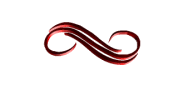 n 1952 Ziff-Davis (the latter later becoming publisher of
EQMM) which was producing comic books then, chose to issue an Ellery Queen book in conjunction with the Dumont television series. The four stories where drawn by two artists one of the signed with "R.Kay". Some of the stories broke with the usual format by being just action-crime adventures instead of whodunits. Although topped of by great Norman Saunders painted covers, the book lasted just two issues (Spring and Summer of 1952), becoming more obscure than the Superior title that had preceded it. And although Ellery appeared in a several forms on television from 1954 through at least 1959, comics publishers avoided making the mistakes of their predecessors.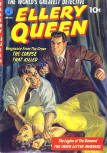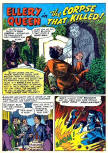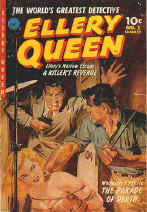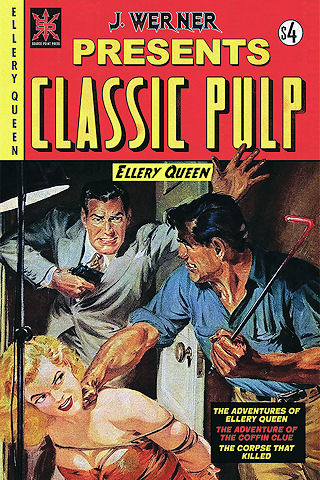 Above: Ziff Davis' Ellery Queen included "Vengeance From the Grave" - "The Corpse That Killed" - "The Legion of the Damned" - "The Chain Letter Murders" and Slippery Slim in "The Hopeless Diamond". "The Corpse That Killed" re-appeared digitally restored in a Source Point Press publication with a collection Ellery Queen comics. "J. Werner Presents Classic Pulp" series (release April 29. 2020) was named Classic Pulp: Ellery Queen: Oneshot.

Ellery's next appearance in comics was brought about by the same company that introduced him. Dell Publishing gave us Ellery Queen (Detective) for three issues of their Four Color series (1165, 1243, and 1289), dating 3-5/61, 11/61-1/62 and 4/62. This rendition of Ellery was somewhat modernized for the 60's but still carried the same basic plot concepts as earlier comics versions. Artwork was done by the late Mike Sekowsky and his Ellery differs from the rest by wearing glasses.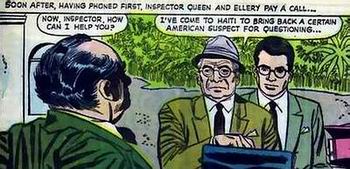 Above: Ellery and his dad in "Voodoo Victim"
These comics were translated for different countries (e.g. Australia,...). Between '61 en '62 the publisher Zuid-Holland published a Dutch version (Nos. 1-3-5 in a series of 6 issues). They were alternatingly published with an edition called De Detectives. Strangely enough the comic was printed in black and white. Also the extra trivia pages at the beginning and the end of the comic were omitted... From June1962 on Spanish editions of these three issues were published in Mexico for Editions SAE (Domingos Alegres presents).
December 14. 2015 Coachwhip Publications republished the three Dell comics as one volume under the title Ellery Queen, Detective (A Dell Comic Reprint) . This volume collects the three Dell Four Color comics in the Ellery Queen, Detective, set.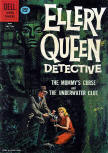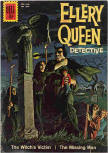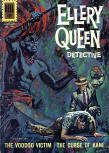 Above bottom (from L to R): Dell Four colour series N°1165 - 1961, N°1243 - 1961-62 and N°1289 - 1962.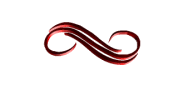 Despite all this Ellery again disappeared from the comics scene. Or did he? He actually did return in a spoof, in a comic called New Inferior 5 (Nr.7 March-April 1968) the five "heroes" encounter "Allergy Queen" the sleuth for a criminal mastermind. Right before his great revelation Allergy is reduced to dust...
Until 1976 when Marty Pasko wrote the script for a 12 page Batman story called "A Clue Before Dying" (Detective Comics Nr. 459 - May 1976) It involved the work of artist Jose Luis Garcia-Lopez. Batman tries to find the man who killed mystery writer Elliot Quinn, and who may be the same man who killed an architect in Quinn's home years ago. On the cover one can clearly make out Alfred Pennyworth, the police, Batman unmasking, and Elliot Quinn's corpse. Not only an homage to Queen but in the story also "a" Lt. Dannay appeared!

Above right: Detective Comics No. 459 - May 1976 On the cover one can clearly make out Alfred Pennyworth, the police, Batman unmasking, and Elliot Quinn's corpse. (Art: J.L.Garcia Lopez - Editing Julius Schwartz)


Above: Panel from "A Clue Before Dying" where we see Lt.Dannay and find another classic imitation of the Challenge to the Reader! Click on the panel for a the title page of the story...