Harry was born in Detroit, Michigan, in April 10. 1915, as Harry Bratsburg, the son of Hannah Christine Olsen and Henry Arnold Bratsburg, a mechanic, who were of Swedish and Norwegian ancestry.

Shortly after his birth, his family moved to Muskegon, Michigan, 42 miles west northwest of Grand Rapids. His father and 2 uncles worked on the Erie Canal. When Morgan's father Henry registered at junior high school, the registrar spelled it Bratsburg instead of Bratsberg. Bashful Henry did not demur.
Young Harry was a popular classmate at Muskegon High School, being named class president in his senior year (1933). His specialty was debating and in his junior year he and and fellow debaters went all the way to a state championship, defeating Oxford in the finals at the University of Michigan campus in Ann Arbor. Curiously, the boy who would become the high school's most accomplished thespian did not even participate in plays produced at the school.

Harry was offered a scholarship to the University of Chicago but opted out for financial reasons, he quit after two years, to continue his education locally at Muskegon Junior College, where he again starred on the debate team. Through his public speaking and debating classes, Morgan apparently realized what assets he had in his strong (and distinctive) voice and his presence. He began acting while a junior at the University of Chicago in 1935.
After graduating from JC in 1935, he joined the sales dept. at Shaw-Walker Company and soon relocated to Washington D.C. He was selling (or not selling, as he clarifies) office equipment making $20 a week selling office supplies, in 1937. "I only made $10 a week as an actor" he recalled bitterly, "and the week after I quit my job a fellow I was working with made $200,000 - selling all the filing cabinets to the Social Security office." He tried out for some summer stock parts with local theater groups. This led to roles and try-outs with more important companies, and then to summer stock companies outside New York City.
He successfully auditioned for a part in The Petrified Forest (1937), a play with Frances Farmer, and she helped him get an interview with The Group Theater, comprised of a great many of the finest dramatic talents ever in U.S. history: Clifford Odets, Howard Clurman, Elia Kazan, Lee J. Cobb, Sanford Meisner, John Garfield, Karl Malden. Morgan was accepted into the Group, and appeared in a very successful Odets play called Golden Boy (Nov 1937), in which he played a boxer, Pepper White. (he used to have a nasty family dog by that name.) It played Broadway for a year and then another six months in London, where the cast spent some time with Paul Robeson and met Winston Churchill. A host of successful Broadway roles followed. Morgan also did summer stock at the Pine Brook Country Club located in the countryside of Nichols, Connecticut.
Frances Farmer was from Seattle, where she had grown up with Eileen Detchon, another aspiring Broadway actress, the latter met Harry while working together in a William Saroyan play called My Heart's in the Highlands. They were wed in 1940 and Harry found work in small theater and in radio. Frances Farmer persuaded the newlyweds to relocate to the West coast. Hollywood soon beckoned and in 1941 he was signed with 20th Century Fox.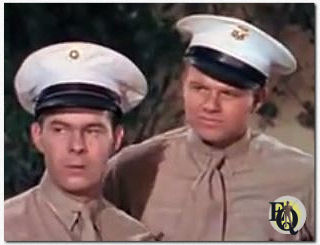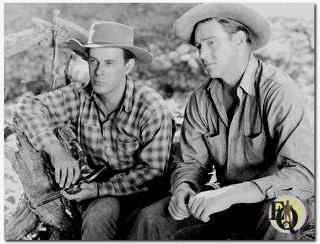 Above left: Morgan (L) made his screen debut (originally using the name "Henry Morgan") as contract actor in the 1942 movie To the Shores of Tripoli.
Above right: Harry Morgan (L) and Paul Langton (R) in Gentle Annie (1944).

Upon his return to Muskegon, Michigan, his mother, Hannah Olsen, passed away in January 1942.
Morgan made his screen debut (originally using the name "Henry Morgan") as contract actor in the 1942 movie To the Shores of Tripoli. His screen name later became "Henry 'Harry' Morgan" and eventually Harry Morgan, to avoid confusion with the popular humorist of the same name.
Morgan served in the US Army during WW2 where he joined other actors making training films. One of his works, The Rifle Platoon made in 1942 is available on YouTube.

Between 1942 and 1946 the family celebrated the birth of four sons, all were born in Los Angeles, the last two being twins. "There was an entire year in there early on when my dad didn't get a single day's work, and he had four young mouths to feed." (3)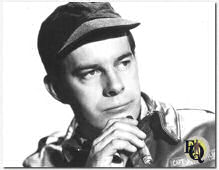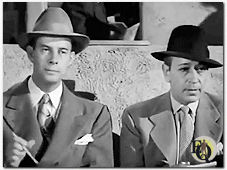 Above left: Harry Morgan in Johnny Comes Flying Home (1946)
Above right: Harry Morgan and George Raft in Race Street (1948).

Morgan hosted the NBC radio series Mystery in the Air starring Peter Lorre in 1947.
One memorable role was in The Big Clock (1948) in which he plays a very menacing bodyguard/henchman to Charles Laughton. His lines were perfunctory and so he suggested that they just have the character be a mute — a touch that works very well.
He had a sort of breakthrough in another Saroyan play called Hello, Out There! (1949) (a very charming one-act work with just two characters, the other part played by Jennifer Jones), which was staged in a playhouse in Santa Barbara. The film was a paring of Hello, Out There! with another one-act work, but it was never released and there is no known surviving print (according to the UCLA Theater Arts archive). Hello, Out There! did lead to a contract with Fox Studios and a few years of security, with Harry appearing as Henry Morgan in a few dozen films, often as comedic character or a heavy — not much in between.
In 1950, Morgan appeared as an obtrusive, alcohol-addled hotel clerk in the Dragnet radio episode "The Big Boys".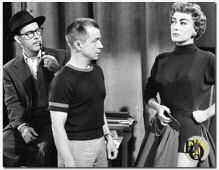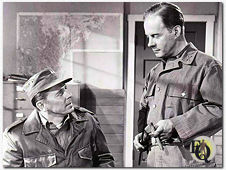 Above left: Harry Morgan, Eugene Loring and Joan Crawford in Torch Song (1953)
Above right: Harry Morgan shown in a scene from the 1954 MGM movie Prisoner of War. He's about to send the actor (Ronald Reagan) on a dangerous mission behind communist lines in Korea. The M*A*S*H gang at 20th Century-Fox had fun with this photo!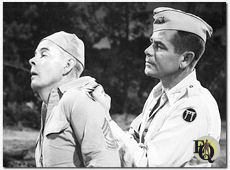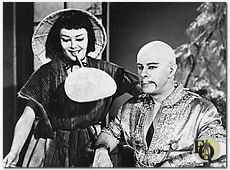 Above left: Glenn Ford (R) grabbing Harry Morgan (L) in The Teahouse of August Moon (1956)
Above right: Cara Williams (L) and Harry Morgan (R) in Pete and Gladys (1960).

Harry Morgan's hobbies included photography, horseback-riding, handball and bicycling. He also loves to cook and is a collector of fine symphonic music recordings. When television became an everyday reality in the '50s, Morgan was ready.
On CBS, he played Pete Porter in Pete and Gladys (1960–1962), with Cara Williams as wife Gladys. Pete and Gladys was a spin-off of December Bride (1954–1959), starring Spring Byington, a show in which Morgan had a popular recurring role.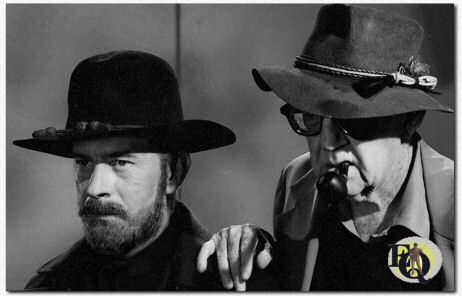 Above: Harry Morgan as general Sherman in a candid photo with John Ford director of How the West was Won (1962)

In 1964, he directed the Alfred Hitchcock Hour episode, "Who needs an enemy?".
He was an active opponent of the anti-communist campaign in Hollywood. Enjoyed golfing, traveling, dining, fishing, spending time with his family, reading, raising quarter-horses, horseback riding, animals, painting and poetry.
In 1966 Harry played opposite Elvis Presley in Frankie and Johnny (below left), for Ellery Queen fans the picture has more familiar cast members: Eddie Quillan as cashier (uncredited) and the "faux" Robert Strauss.
He received the Gold Award of Purple Heart Veterans Rehabilitation Service in the 1970s.