Home of the Brave (Soap, CBS-Radio 1/6/41 - 9/19/41) a short-lived series told of Joe the telephone linesman madly in love with the pretty girl Casino who does not return his affection and his vain attempts to change her mind. Ted played "Patrick Mulvaney".
A life-long Brooklyn Dodgers fan, Ted de Corsia even went as far as to ask the announcer to announce on air The Bums' scores during relevant performances of Joe and Mabel (Comedy- NBC-Radio 1941-42). Joe was a Brooklyn cab driver in love with the beautiful manicurist Mabel. She was ready to get married but Joe was altar-allergic and Mabel was out to change his mind. Ted played "Joe Sparton", the preacher-shy hero and Ann Thomas was his ever-lovin' "Mabel".
In Twenty-Six By Corwin (Anthology- CBS-Radio 5/4/41-11/9/41) de Corsia along with harmonica virtuoso Larry Adler and Frank Lovejoy (Nightbeat) stars in the delightful comedy of an unprepossessing little harmonica player who becomes, of all things, a diplomat! Written and hosted by the brilliant writer Norman Corwin.

Saturday Showdown (Variety, NBC-Radio 1943). John Gibson was the host and the Murtock sisters, Tommy Taylor and de Corsia were regulars on this program of music and songs.
McGarry and His Mouse (Comedy, NBC-Radio then Mutual 1946-1947) Dan McGarry is a young rookie policeman with the NYPD. The "Mouse" is what he affectionately calls his girlfriend Kitty Archer. Where Dan goes, so goes Mouse and Dan has a penchant for getting into trouble! de Corsia was the second of three actors to play Dan McGarry (1946). Ted left because a Hollywood film project kept him too busy to keep the role. Orson Welles, de Corsia's old pal from the Mercury Theater days, had asked him to come to Hollywood. So de Corsia's first credited film role was in Welles's The Lady from Shanghai (1947) starring Orson and his soon-to-be bride Rita Hayworth.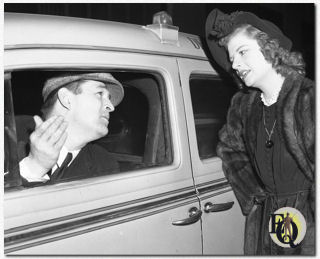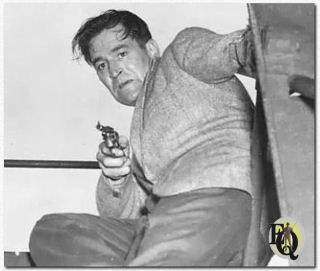 Above left: In Joe and Mabel (1941-42) Ted played a Brooklyn cab driver "Joe Sparton", the preacher-shy hero and Ann Thomas was his ever-lovin' "Mabel".
Above right: Among Ted de Corsia's most remembered roles was that of "Willie Garzah the Harmonica" who famously fell to his death from a steel-girdered bridge in Jules Dassin's in The Naked City (1948).

Among his most remembered roles was that of "Willie Garzah the Harmonica" who famously fell to his death from a steel-girdered bridge in Jules Dassin's in The Naked City (1948) with Barry Fitzgerald and Howard Duff.
In Pursuit (Crime drama- CBS-Radio 1949-1952) Ted was cast in the role of first Inspector Harvey of Scotland Yard, then quickly changing to Inspector Peter Black of Scotland Yard by the second episode of the series. Ted de Corsia left the production during March of 1950.
Mr. President (Drama, ABC-Radio 1947-1953) starring film character actor Edward Arnold in little known episodes in the lives of various U. S. presidents. He was supported by William Conrad (radio's Matt Dillon in Gunsmoke) and Betty Lou Gerson. At times Ted de Corsia served as performer, narrator (1950-53).
Obviously, from the above listings, de Corsia was able to perform well in just about every type of acting role available to him. In 1951 he took over Orson Welles's role in the Lux Radio Theater presentation of "The Third Man")
Another outstanding movie role for de Corsia was that of "Rico" in The Enforcer (1951) which starred Humphrey Bogart as a police lieutenant. This movie allegedly was based on real-life crime happenings such as the criminal "Rico's" falling out of a window to his death, while in custody, after turning state's evidence. It did happen in an actual police case.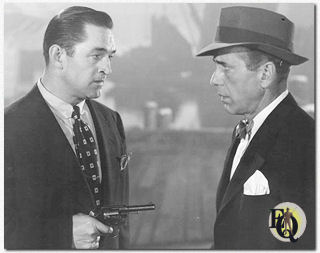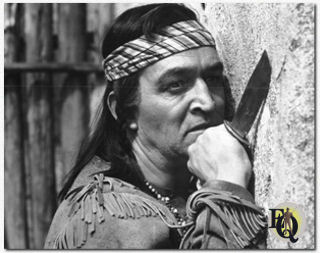 Above left: Opposite Humphrey Bogart in The Enforcer (1951).
Above right: One of many times Ted de Corsia was called upon to play "Chief" or "Indian" here in New Mexico (1951).

A Place in the Sun (1951) with Elizabeth Taylor and Montgomery Clift (a "good guy" role for a change, he played the Judge).
That Hammer Guy (Crime drama- Mutual 1952-1954) another tale of a tough NY-based private eye who loves women, gets beaten up regularly, and is always involved with criminals in one way or another. Based on a Mickey Spillane character "Hammer" which was played by Ted de Corsia during the entire Hollywood production run (Nov 24, 1953 - Oct 1954).

When film and TV work began to occupy more of his time, he dropped out of radio in the early '50s. His film career could certainly be called much more than moderately successful.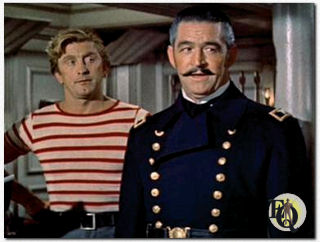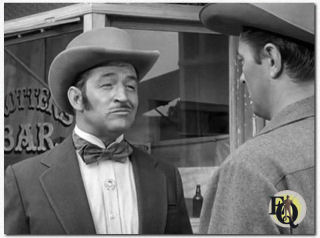 Films with which de Corsia was affiliated included: 20,000 Leagues Under the Sea (1954) with James Mason as the mad "Capt. Nemo", co-starring Kirk Douglas and de Corsia as Capt. Farragut (see above left); Man With the Gun (1955) opposite Robert Mitchum (see above right).
1956 proved a very busy year for the actor with films such as: The Killing and Mohawk, another gangster flick Slightly Scarlet with John Payne, Dance With Me Henry were de Corsia cavorted with the zanies Abbott and Costello, and The Kettles in the Ozarks were de Corsia even joined Ma and Pa. But one film from that year many remember is The Conqueror not for particularly happy reasons. The film was directed by Dick Powell (the singer turned excellent actor and director) and starred the great John Wayne in the title role. The movie was shot, evidently for scenery purposes, near a nuclear test site in Utah. It is alleged that many of the people connected with this film eventually died of cancer (due to, and caused by, or accredited to the film site). Included were its stars, John Wayne, Susan Hayward, Agnes Moorehead, Powell himself and Ted de Corsia.... We will never know for certain.
The following year brought us: Gunfight at the OK Corral (1957) starring Burt Lancaster and Kirk Douglas (de Corsia was "Shanghai Pierce"), the gangster flick Baby Face Nelson (1957) starring Mickey Rooney, and The Joker is Wild (1957) with Frank Sinatra playing the embattled comedian "Joe E. Lewis".
Other performances include the role of "Police Chief Hagedorn" in TV's Steve Canyon (1959) from the comic strip created by Milton Canniff.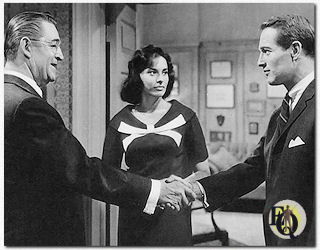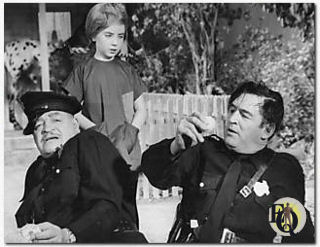 Above left: Ted de Corsia with Ina Balin opposite Paul Newman in a scene from From The Terrace (1960).
Above right: In the TV series Shirley Temple's Storybook Ted is a police officer playing in the episode "Pippi Longstocking" (1961) with Gina Gillespie and Wiliam Edmundson.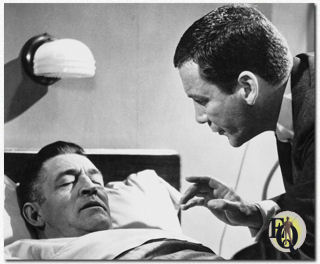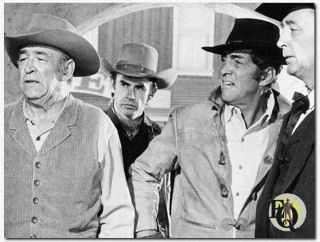 Above left: Ted with Cameron Mitchell in Inside the Mafia (1959).
Above right: Ted de Corsia (left) with Dean Martin and Robert Mitchum in Five Card Stud (1968).

In 1960 he was "Ralph Benziger" in From the Terrace a potboiler starring the handsome blue-eyed Paul Newman and his stunning wife Joanne Woodward and he was "Buffalo Horn" in Oklahoma Territory(1960). Other movies included King of Kings (1961) with Jeffrey Hunter, It's Only Money (1962) with Jerry Lewis in which de Corsia was a policeman (again good guy), Blood on the Arrow in 1964 were he played "Jud".
One of his vilest, most depraved characters was created in Audie Murphy's Quick Gun (1964). Leading lady Merry Anders thought, "He was just great though. Just perfect as his character. It helped me in a way because I was supposedly so terrified of him I was speechless."
He was "Captain McTigue" in The King's Pirate (1967), "Eldon Bates" in Five Card Stud (1968) opposite Dean Martin and Robert Mitchum.
Seems he covered all bases and had a most successful and steady film career but de Corsia had his share of television work as well appearing in episodes of. among others: The Twilight Zone, Get Smart, Gunsmoke, Rawhide, Green Acres, Perry Mason, Death Valley Days and an episode of The Monkees' second season in 1968 when he appeared in "The Devil and Peter Tork".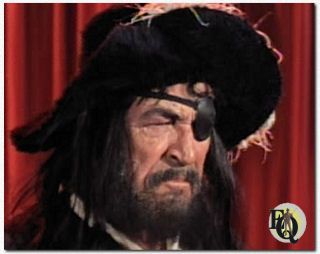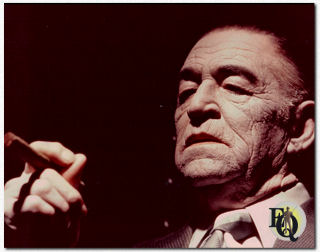 Above left: In an episode of The Monkees' second season in 1968 Ted de Corsia appeared in "The Devil and Peter Tork" as Blackbeard.
Above right: In The Outside Man (1973) starring Jean-Louis Trintignant, Ted de Corsia played the mobster Victor.

Ted's last film was the French-made movie The Outside Man (1973) starring Jean-Louis Trintignant in which he played the mobster Victor. After his character is killed, de Corsia later appears as his embalmed corpse, posed in a chair, holding a cigar.

Ted de Corsia was divorced and living at 320 North Lapeer Ave. in Beverly Hills, California. He died April 11, 1973, in Encino, Los Angeles, at 67 of cerebral thrombosis. He'd been a patient at West Valley Community Hospital for two weeks prior to his death. His body was willed to medical science.







References
(1) Wikipedia
(2) IMDb
(3) Dec 28. 2006 Old Time Radio column by the late Betsy W(einberg)
(4) RUSC
(5) Remembering Ted de Corsia
(6) IBDB and IBDB
(7) OTRRpedia
(8) Noir's Goon Squad: Ted de Corsia at ciminalelement.com

Additional video & audio sources
(1) Gunfight at the O.K. Coral (1957) film clip
(2) Crime Wave (1954) film clip
(3) The Big Combo (1955) film clip
(4) The Killing (1956) film clip