rederic Dannay was not only a highly popular writer and an
influential editor, he was also a great bibliophile. In 1938, Dannay edited Challenge to the Reader, the first of numerous Queen-edited anthologies (70), including 101 Years' Entertainment; Great Detective Stories, 1841-1941 (1945). Dannay updated and expanded Haycraft's list a number of times until it reached its final form in 1952 and became known as the Haycraft-Queen Cornerstones list (or H-Q). This list begins with Voltaire's Zadig in 1748 and continues through the early 1950s.
Under their Queen pseudonym, Dannay and Lee published a number of books and essays relating to the history of detective/mystery fiction that began to generate interest in collecting. Dannay's critical writings in EQMM, are partly collected in their major critical works on the detective short story. Among those books were The Detective Short Story, which appeared in 1942 followed by In the Queen's Parlor, and Other Leaves from the Editors' Notebook in 1957. Their most influential work was Queen's Quorum, A History of the Detective/Crime Story which was published in a variety of forms until its final appearance in 1969. Dannay was the principal author of this landmark scholarly work which provided in-depth historical and bibliographical information regarding the most important short-story volumes by single authors in the genre. The work of many writers was discussed following a time line from 1845 with Poe's Tales up through 1967 when Queen gave up adding to the "lustrum". Although wide ranging, the book centers around the best books in each era or decade, and these volumes are now know as Queen's Quorum. This important work gave focus and direction to a generation of new collectors and Queen's Quorum, like the H-Q List is still used as a "shopping list" by many collectors today.

arly in 1945, a group of mystery writers met at a New York
watering hole to discuss forming a professional organization. Among those present were Ellery Queen, Baynard Kendrick, and Erle Stanley Gardner. From this small meeting grew the Mystery Writers of America, with membership in the thousands and nine chapters nationwide. The MWA holds regional monthly meetings and an annual meeting in New York at which the Edgar Awards are given. They excluded most of Ellery's classic novels from award consideration.
But Ellery Queen' did receive more awards than any other 'writer' in crime fiction history, and has left an indelible, uniquely American mark on the crime genre.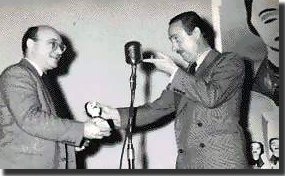 Above: John Dickson Carr presents Fred Dannay the Best Short Story Edgar for ten years of editing Ellery Queen's Mystery Magazine, 1950.

For nine years The Adventures of Ellery Queen was a weekly favorite on the radio; and in 1950 TV Guide gave the Ellery Queen program its national award for the best mystery show on TV. Ellery Queen has won an unprecedented five annual Edgars (the national Mystery Writers of America Awards, similar to Hollywood's Oscars), not including the Grand Master award in 1961, three MWA scrolls and one Raven (Edgar) and both the silver and gold Gertrudes awarded by Pocket Books, Inc. (in 1946 for The New Adventures of Ellery Queen) Mystery writers of Japan gave him their gold and onyx Edgar Allan Poe ring at that point only awarded to only five non-Japanese authors. In 1968 Iona College honored Queen with its Columbia Prize in Mystery.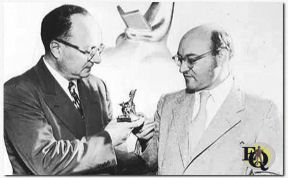 Above: Manfred B. Lee and Frederic Dannay holding their Gold Gertrude, awarded by Pocket Books, Inc. for over 5,000,000 - copy sales of Ellery Queen Pocket Books editions (1934)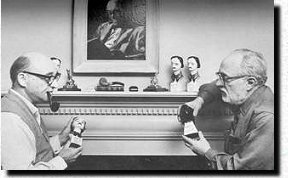 Above: Dannay and Lee in Dannay's living room in Larchmont (1967), surrounded by their MWA Awards, Lee (right) is holding a MWA's Raven whilst Dannay (left) holds an Edgar. The portrait of Dannay above the mantel is by Maurice Libby.