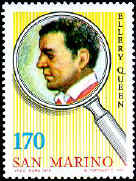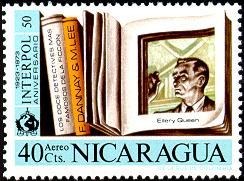 Above left: Celebrated investigators of fiction on a set (700,000) issued on July 12, 1979. Multicolour offset combined with recess by the I.P.Z.S. in sheets of 40 on white unwatermarked paper perf. 13 x 14, with PVA gum, engraved by Giorgio Toffoletti.
Above right: issued commemorating the 50th Anniversary of Interpol.




ne writer EQ influenced, although this is not much discussed in history books, is John Dickson Carr. Carr's impossible crime plots are modeled after G.K. Chesterton. But his logical, systematic crime investigations remind me of Ellery Queen's. Both authors explore every aspect of the crime in great depth, constantly looking for new insights into its underlying causes, new clues, new information. Both put great emphasis on the movements of people within a building at the time of the crime, and their interactions, which they build up into complex patterns. Both are interested in direct, in-depth investigation of the crime itself, whereas Agatha Christie's sleuthing often looks into the background of the characters, their hidden past, their relationships, and so on ...

(Michael E.Grost)

The concept that the three great writers of the classical detective novel are Christie, Carr and Queen is not new. The linking of the three names was seemingly first used by Anthony Boucher. He casually listed them once together in passing as the "greatest names" in detective fiction. More centrally and emphatically, Jon L. Breen described them as the big three of the classical novel. He also expressed his disappointment that there weren't more writers like these three lurking in detective tradition. Since Breen, this grouping, has been fairly casually referred to, in many other writers. It is beginning to take on the status of a cliché or a truism, as if it were a well recognized fact. People often cite the three merely to invoke a tradition, that of the well done puzzle plot novel, rather to launch a complex argument about detective history. For example, a reviewer might write (accurately) that Bill Pronzini's Case File excellent puzzle plot stories contains in the tradition of Christie, Carr and Queen. A basic excellence seems to be recognized here. Ultimately, one might say reality is source of this idea. The Big Three are the only detective writers I yet know of, who wrote a large number of brilliantly puzzle plotted novels. Much of his technique that would later dominate Ngaio Marsh's novels. There is the floor plan, and the wanderings of the characters through it. They are well defined and varied types, each with its own active interest in the outcome. The chapter titles are all schematic. One may have wondered if Marsh is a Van Dinean; perhaps it would be more accurate to wonder if she were directly influenced by Ellery Queen. (Michael E.Grost)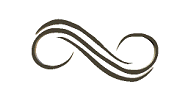 In his article "Ellery Queen is alive and Well and Living in Japan" Ho-Ling Wong describes Ellery Queen's influence on Japanse writers.

In the 1980s, a new movement arose, a departure from the usual light hearted novels. Sōji Shimada's The Tokyo Zodiac Murders can be considered it's first novel and Shimada's maiden work was a tribute to the classics like Ellery Queen and John Dickson Carr. It had an intricate puzzle-plot with a locked room, a master detective, a Challenge to the Reader to solve the crime, even the classic, headless body. Or to be exact, bodies.

The term shinhonkaku-ha, the New Orthodox School, was first attributed by Shimada to the novels of Yukito Ayatsuji.
It became the name of the whole literary movement that took its cues from the Golden Age detective novels. Writers of this school would incorporate classic elements but most importantly, would set the stories primarily in contemporary times and contemporary settings. These writers proved that the puzzling mystery could also work, perfectly even, in modern times.
Other popular writers of the New Orthodox School are Rintarō Norizuki and Alice Arisugawa. Both writers are strongly influenced by Ellery Queen. Both of them have named their protagonists after themselves, like their great example. Both writers often insert a Challenge to the Reader in their stories. As one can derive from his first name, Arisugawa often delves into imagery of Alice in Wonderland, just like Ellery Queen, while Norizuki Rintarō's characters mimic Ellery Queen almost exactly. His protagonist is a writer, also called Norizuki Rintarō, who helps his father, a police inspector, mirroring the Inspector Queen dynamic. Norizuki's prize-winning short story "An Urban Legend Puzzle" is a great example of the New Orthodox School. While it features a classic puzzle plot, the incorporation of urban legends is distinctly modern. More recent writers of this type include names like Natsuhiko Kyōgoku and Mori Hiroshi.
Writer-artist Gōshō Aoyama provided ingenious plots and puzzles that would entertain any crime fan for his Detective Conan series, ... more on those you read here.