n the late thirties the influence of two new media began to
influence the work of the two cousins pulp magazines: (Red Book, Cosmopolitan,...) and movies. They were lured into thinking that more love-interest, a more loose construction would please both those media and result in a more profitable income. So they let go of their highly developed technique to take on some more modern form. This included a more individualistic approach to problems, placing them in a new and different light. Gone was the symbolism in chapters, finished were the diagrams, quotes, list of characters,...the patterned title was dropped, the murder scene was less bizarre, there was a recognition of the world outside the story, the solution was arrived at more by intuition than logic,... Together with the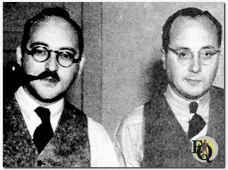 Ellery Queen books the character of Ellery Queen changed. And what did we get? Romance... they treated us to affaires of the heart. Our by Queen battered brain got some romantic elements to consider. The first novels being very down to earth, the subsequent were very grave and metaphysical and at a certain moment Ellery Queen gave his stories a warm heartbeat. Some of the less cerebral readers had stated a wish for Ellery not being so alienated from day to day life. The murderer must be very shrewd but there had to be a limit somewhere for human machinations and a criminal's strategy. Queen's speech pattern was more American slang than American formal, and he began to worry that he might be too quick with his solutions. His investigations began to affect other people's lives.

They only published five novels and the three-act stage play Danger, Men Working (base for the movie The Crime Nobody Saw) written with Lowell Brentano, co-author of The Spider and other spine-chillers for producer Jed Harris and it closed after a few nights in Baltimore and Philadelphia. Their play has to do with three mystery story writers incarcerated in a Twelfth Street house collaborating on a thriller. Unable to agree on a plot, they are overjoyed when a real honest-to-goodness murder occurs in their midst. Instead of notifying headquarters, as all good citizens should they endeavor to solve the mystery themselves before the police arrive. Ellery Queen (the author) attended the rehearsals, the play had Hal K. Dawson in the leading role. (Feb 1936)
The reason for the rather thin output was the fact that they had been hired by Hollywood as screenwriters at the story departments of three different studios: Columbia, Paramount and M.G.M. Little is known about this less successful period in their careers. Larry Darmour has been credited with signing Manfred and Frederick to come to Hollywood to work on the first of the series to be produced for Columbia. The cousins themselves never elaborated much on any of the work they did in Hollywood claiming they didn't remember much. We found a late 1936 newspaper article in which Ellery Queen ("He is two people,...") is hailed as the new writer for an upcoming Randolph Scott movie Betting Fever (Paramount) with Barney Glazer as producer and J. Theodore Reed as director. This movie about horse racing was their first Hollywood assignment. However no such movie was ever made. They made it to the West Coast by train as the following anecdote from a 1936 newspaper illustrates: "... The two authors are now at Paramount writing for the movies. On their way out here, they made a train acquaintance, a congenial spirit, and the trio often played cards together. It was as the train was nearing Los Angeles that the big shock came. Dannay and Lee went to tell the acquaintance goodbye and discovered him handcuffed to two men. He was wanted on the coast for bigamy."

Their most known contribution The Shadow of the Thin Man (M.G.M. 1941) didn't warrant screen credit. Their highly argumentative methods of working together caused friction with people in the neighboring offices and, while the pay was lucrative, they did not write anything that earned them a screen credit. So after trying their luck on stage and movies another medium would come to their rescue. A medium for the masses about to hit his own "Golden Age": radio.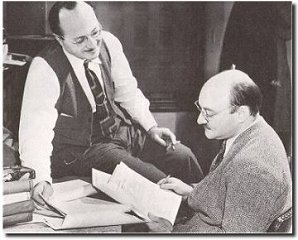 Above: Lee and Dannay in their EQ office, around 1942. Dannay is reading
a radio script.



On a more personal note by 1939 Fred and Mary Dannay together with their children Douglas (6) and newborn Richard lived in the suburbs of Great Neck, Long Island. Fred continued collecting stamps and writing poetry. He also set out to collect all detective crime-short stories, and who's to say he didn't succeed.

Manny and Betty were separated in 1938 and by 1941 he had divorced his first wife and lived with his daughters, Jacqueline and Patricia in a New York apartment at 1050 Park Avenue. In his spare time he continued to play violin or listen to his collection classical records. But mostly they were putting in 12 hours a day at home and met once a week to compare material in an office rented under the name of "Ellery Queen". Both men alternated between Pall Malls and pipes, with the occasional cigars, which probable accounts for the fact that Ellery, as a character, is one of the great connoisseurs of tobacco in detective fiction.
They were contacted by a young executive at the Columbia Broadcasting System (CBS) who was looking for someone who could write a new sort of radio-drama: an hour-long detective series. George Zachary offered them 250-350$ a week and an own radio show, still they felt reluctant to accept. One can only suspect they finally preferred the vast potential audience it offered. The learned the ropes writing for radio writing for several radio shows some known some forgotten (even by themselves). Meanwhile preparations where on the way for the Ellery Queen- radio series. During 1939 they must have spend nearly every minute on the radio series, the hectic task of delivering an one-hour original drama each week! So it was no surprise that seven weeks (with two reruns) into 1940 the show was cut to half an hour.

Late November1940 Fred had been driving to Long Island to visit his mother when a car without lights and driven by a drunk, who turned out to be an AWOL serviceman without a license or insurance, hit his Buick head-on, leaving it unrecognizable. Fred had been so seriously injured that Walter Winchell on his national news program actually announced him as dead. It did leave him in critical condition with several broken ribs, severe internal injuries, and shock and he had to spent months in the hospital recovering. On 15 January 1941 Variety reported Dannay on his way to Florida for a month's vacation to recuperate. The cousins had started work on a new novel and stayed in touch by telephone and wire. However the proposed novel employed the same basic plot as Agatha Christie's And then there were none (1939) and had to be re-scheduled (as the 1943 release There was an Old Woman). It was during this time the cousins agreed to have the plots of the first two motion pictures fictionalized and published. They may have been unsatisfied with the movies it was not above them to pass these plots off as the work of Ellery Queen.

During the fifteen months the radio show was off the air they wrote one of their finest novels Calamity Town (1942), the start of the Wrightsville-period. Dannay had somewhat completed his collection of short stories and wrote 101 Years Entertainment (1941). He also launched Ellery Queen's Mystery Magazine during this time.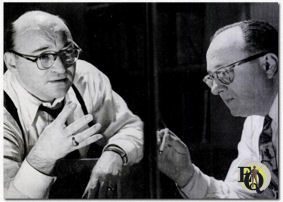 Above: "Ellery Queen" in a Ballantine' s add (1952)



s Frederic Dannay and Manfred Lee became frustrated with
the limitations of the formal deductive puzzle, they tried to break away from tradition and experiment with something else. Why not use the detective story format in a novel that would explore human motivations and relationships? Calamity Town began a new era, the first in a subseries within the Queen canon: the Wrightsville Stories. Read in sequence, the novels of the third period show an inevitable change in Ellery Queen from solver of artificial puzzles to something of a philosopher-detective. Introduced is the angst that infuses the series - especially the Wrightsville novels - of the same period. No more are these "problems in deduction," as the earliest works were defined. Ellery suffers over his cases and their consequences now. He even fails, at times. When Calamity Town was turned down for pre-release by a national magazine for no apparent reason they returned to radio considering it safe to place their bet on several numbers. Theater and movies had proven unsatisfactory and although it was hard work they had much more impact over their radio work.